Personalized Christmas Ornaments for 2020
Sep 18th 2020
Have you ever felt like you're running out of creative ideas for Christmas gifts? It happens to the best of us, but luckily, there are some classy and timeless ideas that you will definitely want to consider for the fast-approaching holidays.
Personalized Christmas Ornaments
Take your usual ornaments to the next level with personalized Christmas ornaments . Not only will you be able to give a unique gift, but this is also the perfect chance to make it a meaningful gift for family and friends. You have so many ornaments you can choose from that you will be sure to choose the perfect gift, no matter what.
You can even celebrate with the non-traditional Christmas ornaments like a first home ornament to congratulate a friend or family member and help bring in the holidays just right. First home ornaments are also a wonderful idea for family and friends who just might be a bit nostalgic around the holidays and want something to remember their first home by.
Ornaments for Families
Another go-to favorite for personalized Christmas ornaments for 2020 would be personalized family ornaments. The possibilities are endless for family ornaments because you can add a very special touch for each family member. For family ornaments it never hurts to pick a special quote that can be shared among all the members of the family.
When you want to focus a little more on each individual within a family, create a custom glass ornament that you can fit a photo of the entire family on. Every person is sure to enjoy having a family photo and being able to celebrate by hanging it on their tree every year.
Baby's First Christmas Ornaments
There's nothing more exciting that to create and give a gift like baby's first Christmas ornament. This could even be the start of a holiday tradition. For all the new parents, choose a quote that is just perfect for the new family and you might even want to consider a sweet heart-shaped ornament to make the gift even more special. Just think of how happy the new parents will be to receive a gift that is so heartfelt and meaningful to them during the holidays.
Personalized Memorial Ornaments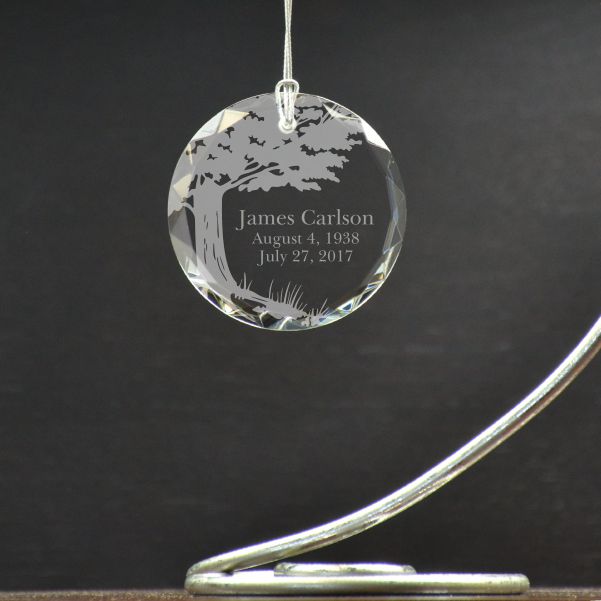 As part of the best personalized Christmas ornaments for 2020, consider giving something very meaningful like personalized memorial ornaments . What better way to show that you care and that you remember, than by making sure loved ones that have gone on, can still be a part of the holidays. With many designs to choose from you will easily be able to find loss of dad ornaments, loss of mom ornaments and even an ornament for the loss of a pet.
Take a look at the beautiful glass ornaments that can make a stylish and everlasting gifts for pretty much anyone you could think of. Use monograms for a more subtle look to the ornament and to make it a universal gift that can be shared with both friends and family.
Any ornament you choose is going to be special and with having so many personalized Christmas ornaments for 2020 to choose from, you are bound to find the perfect gift for every person on your list!