5 Useful Housewarming Gifts They'll Love
May 20th 2022
Finding a new home is always an exciting adventure and being able to decorate that home in a unique way is always a fun time. There's always a celebration to be had with friends and family and that means there's also a time to give gifts for a wonderful housewarming gathering. You get to search for the ideal gift to give so you can be very unique and creative with this.
If you think it would be hard to find the perfect housewarming gift, you don't have to worry because there are more choices than you can imagine. There are gifts that make beautiful music, signs that really cozy up any home and lighting that creates and warm and inviting space for all to enjoy. Not to mention that all these gifts are going to be a thousand times better with the fact that you can personalize them all.
Bless This House Wind Chime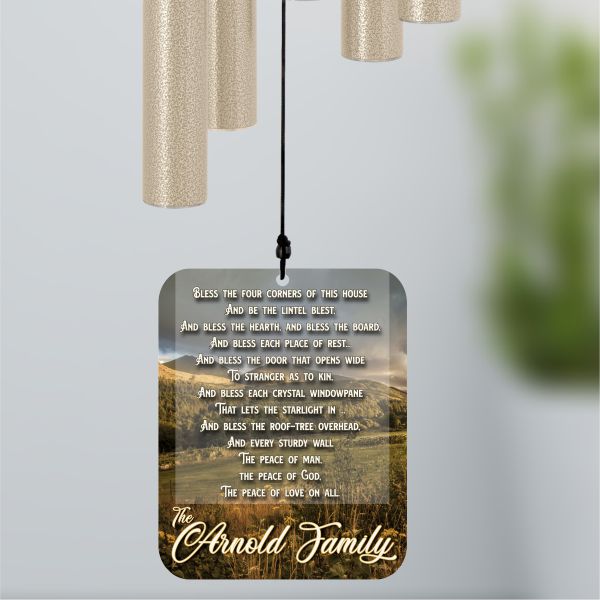 Anything that can make magical music throughout a home and even on the outside of a home is considered a gift worthy of any housewarming occasion. This is when the gift of wind chimes is going to be the best idea ever and the recipient is guaranteed to love it just as much as you do. The Bless This Home Wind Chime is just one of many personalized housewarming gifts that you can give and know it will be loved.
This has such a unique design with it being made completely of aluminum, having a darker base and warm colored tubes. The contrasting colors make a great gift that can match nearly every décor theme you can think of. Truthfully, this wind chime is designed to be a wonderful gift for any occasion and that's because of the amazing personalization that comes along with it.
For this wind chime, a sweet poem is attached to the pendant below the tubes and also provides a space where the family's last name can be placed. A timeless mountain scenery is set behind the poem and really makes this one of the most personal and touching housewarming gifts for new homeowners. Buying one or even two of these is a great way to give the new homeowners a way to fill their front and backyard with beautiful music.
Gather Serving Board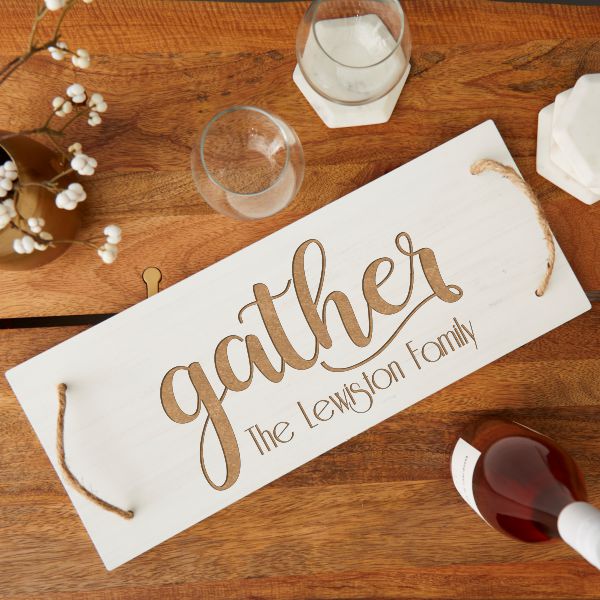 Everyone knows that when new homeowners enter their home, one of the very first things they want to do is get all their décor in order so they can throw a get-together, welcoming friends and family to their new home. When getting ready for such a special occasion, there are a few things that the new homeowners will need in order to get their home ready for the party guests. One way to help them get what they need is with the Gather Serving Board as one of their new home gifts.
This is a beautiful serving piece that goes great in any home, but also makes it easier for the new homeowners to serve up their favorite drinks or snack foods in a stylish way. The serving board has a white background with neutral wording on the front that lets it be matched with everything easily. The personalization that you can do with this is wonderful because you can add the family name to match the wording already on the serving board.
Personalized housewarming gifts like this serving board are not only great as a gift, but also as a conversation piece during any housewarming parties or friends and family gatherings. This is also the perfect size serving board for the new homeowners to place their favorite small home décor pieces like fresh flowers and succulents. With a couple of these, the new homeowners will have more room to display all their gifts as well.
Home Sweet Home Block Sign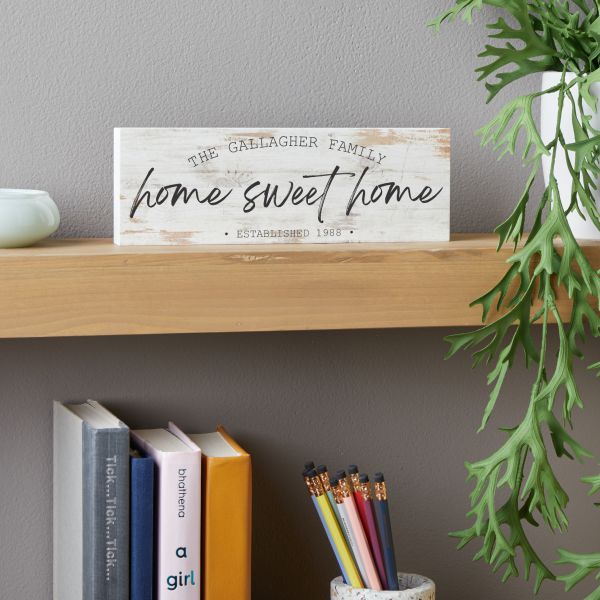 No new house would be complete without the proper décor to fit right in it and signs are definitely the new go-to style for any homeowner. When searching for new home gifts, take a closer look at the Home Sweet Home Block Sign and how it fits perfectly with everything in a home. It's designed with neutral colors so it can match anything, but also give off that personalized touch.
To make it a wonderful gift to be given, you can personalize it by adding the family name and the established year, which will be displayed above and below the "Home Sweet Home" words. It can be placed practically anywhere in the home such as on top of a bookcase, kitchen counter, coffee table, accent table or even a nightstand. The number of ways in which to display this beautiful sign are endless.
If you decide to buy multiples of this sign, you can give the recipient plenty of options on where they can place them and enjoy them daily. Get a little bit more personal with this gift by adding a separate gift message and getting it gift wrapped perfectly, so it can be given in the most precious way possible. Imagine the delight in the recipient's eyes when they unwrap such a thoughtful gift that they can display right away or save for that very special spot in their new home.
Family Initial Lantern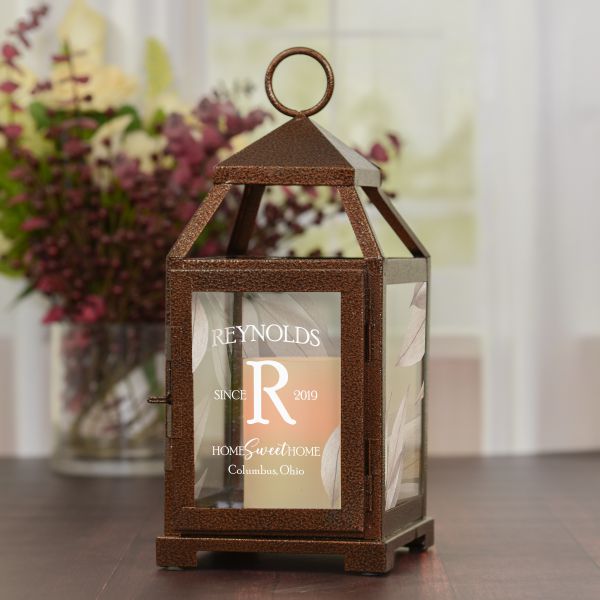 Lighting says everything about a home and when you are thinking about personalized housewarming gifts, you can consider this a great time to try out some lighting gift ideas to brighten the new homeowner's day. You can also take some time to consider if you want to get lighting that can be used inside the home or outside the home, because there are some options that can help your gift giving go smoothly. The Family Initial Lantern is a gift that can take care of both of your gifting needs for lighting.
This lantern is wonderful in that it has a classic design that fits any home interior or exterior and comes in a neutral bronze color to highlight its overall beauty. To make this a truly amazing gift, you can personalize it in a very detailed way. The details like family last name can be added to the top and a large initial is also placed just below it along with the established year and location of your choosing.
This is another one of housewarming gifts for new homeowners that you can really enjoy giving because it has all the features of a gift that is both creative and inviting. Anyone would love to have this in their home and that's how you will know the recipient will absolutely love it. Not to mention they can enjoy having beautiful and decorative lighting throughout their new home.
Be Blessed Light Box
If you want to continue on with the lighting idea, then the Be Blessed Light Box is exactly what you are looking for in new home gifts. This might be a different type of lighting décor from the lantern, but it's just as unique and creative. There's a beautiful phrase that can be accompanied by a family last name against a serene leafy background.
This light box also comes in two different sizes so you can choose a smaller one for just a touch of housewarming style or a larger design that can help the recipient fill up an empty space in their home easily. Add a separate gift message to this sweet gift that would make any new homeowner happy every time they look at this light box.
Any new homeowners could probably think of a million different things that they could use in their new home and because of that, it's much simpler than you might think to find the perfect gift for them. Wind chimes are the type of musical décor that can be a relaxing moment in the new homeowner's day. A serving board is great for more than just serving up food and drinks because it can also be great as a standalone piece in the home.
Simple décor can be signs, but especially block signs that fit perfectly around the home and easily make a home more inviting. Housewarming gifts for new homeowners that include lighting styles are always welcome because they can help set the tone in a home and provide relaxing light throughout the day and night. Whether you choose a lantern or light box, the lighting will be ideal for a new home and the homeowners can easily have great décor for any room in their home.
All of these gifts are great as housewarming gifts and can really make all the difference to new homeowners. Think about what they would need most and you cannot go wrong with any of these gifts. Brighten their day and give them a nice gift to make their house feel more like a home!