Best Gifts to Thank a Coworker
Apr 21st 2023
Any time you know of someone who is retiring, the first thing on the list of things to do would be to find the perfect gift for them. While there are definitely enough traditional choices of retirement gifts out there, consider going the extra mile to get a coworker something even more amazing than that. Going with personalized gifts for coworkers is always a great idea because that personalization can mean the world to the retiree.
This also gives you the chance to be even more creative than if you bought a regular retirement gift because you have the option to personalize each gift in just the right way. If you're having a little trouble thinking of some personalized gifts that would work great for a retiree, here are some wonderful ideas that you can choose from.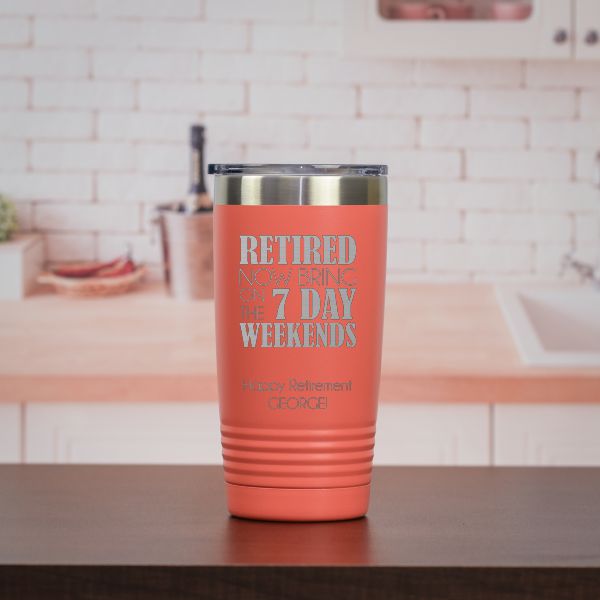 7 Day Weekends Retirement Travel Mug
One of the many perks of retirement is that it gives a person time to travel the world as they see fit and enjoy all the wonderful experiences that come along with it. When traveling, no matter how far, it's always good to take a little something along to make the journey easier. That's why any retiree is going to love a gift that they can enjoy on any of their travels.
The 7 Day Weekends Retirement Travel Mug is just one of many personalized gifts for coworkers that you can get for them to enjoy during their retirement. Not only is this a convenient travel companion for your coworker, but you can also personalize it for them in the easiest way. Think of a short message and pick a favorite color in order to make this one of the best personalized gifts you can give a coworker for their retirement.
Cheers To Retirement Wine Gift Bag
Retirement is a time to relax and there's no better way for you to help a coworker relax than to get them a gift that will help remind them of how they can relax. If you're looking for personalized retirement gifts that go hand-in-hand with relaxation, consider a gift that you can get creative with. The Cheers To Retirement Wine Gift Bag is exactly what you need to make sure your coworker knows that their retirement should be all about relaxation.
There are a couple of ways that you can personalize this wine gift bag that will make it the perfect gift to give to a coworker and make sure they can keep using it well into their retirement. You can pick a gray or brown leather color and even add a message in there to make an extra special gift that any retiree would love to be given. Consider adding their favorite bottle of wine to this and even getting it gift wrapped to make it a gift that goes beyond the ordinary.
Hello Pension Cigar Holder
If you know a classy coworker who's about to enjoy their retirement or even just planning their retirement you can always choose a gift that gives them every reason to make time to relax. Retirement gift ideas are easy when you choose something as classy as the Hello Pension Cigar Holder for them and this is the perfect opportunity to surprise them in several ways. Aside from adding a short message to this cigar holder, you can also choose to have it gift wrapped and even create a separate gift message so that you can spend a little extra time giving them all the positive thoughts in the world.
To make this gift even more amazing, you can always add a few cigars in there for them to enjoy the moment they open this wonderful gift. It gives them an immediate reason to relax the moment their retirement kicks in and they'll be thankful to you for giving them such a memorable gift.
Hello Pension Retirement Chime
Following a classic gift option, you can also go with personalized gifts for coworkers that will give them the sweet melody of freedom from the working world. Any chance to sit back, soak up the sun, and listen to a beautiful tune the entire time, is sure to be a gift worth giving to anyone who is retiring. This is why the Hello Pension Retirement Chime is such a great idea as a retirement gift for anyone you know who is retiring.
Just like with many other personal gifts, you can add a simple message to this chime, which will be displayed on a beautiful charm at the bottom of the chime. It's a simple touch but makes an overall amazing retirement gift for any coworker. A chime also makes for a great conversation piece, so any retiree will love to have such a meaningful gift to talk about with others.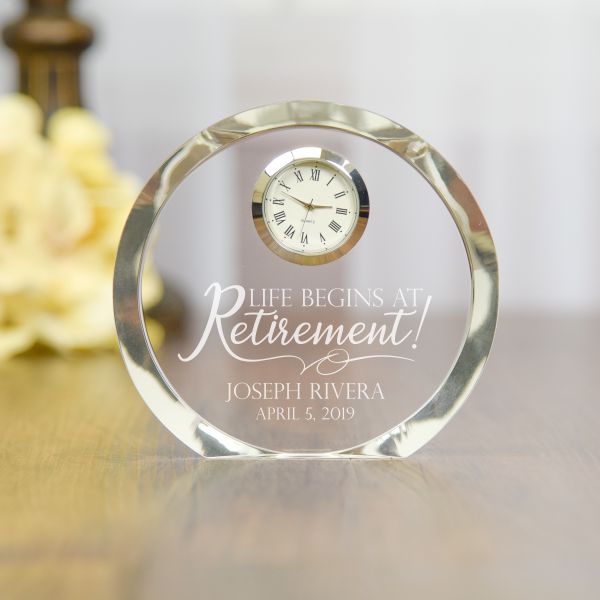 Life Begins at Retirement Personalized Clock
Sometimes you might want to consider personalized retirement gifts that can be given as a gift from everyone in the office. This is where you want to get something that's not just unique, but something that also has a sweet meaning of the time your coworker spent at their job. For this, the Life Begins at Retirement Personalized Clock would be perfect as a gift that would be appreciated by everyone, but especially the retiree.
A beautiful crystal clock like this can be personalized just right for your coworker and presented to them in an ideal manner. Just add their name and the date of their retirement to this incredible clock and you'll have yourself one of the best retirement gifts you can ever imagine giving.
Monogram Decanter
If you're still struggling to come up with retirement gift ideas, then you might want to look even closer at some unique retirement gifts that go well alone, as well as part of a set. The Monogram Decanter is a wonderful idea if you plan on surprising the retiree with something they would never expect. If you want to personalize this decanter, all you have to do is pick out the initial of the last name of the retiree.
It's such a simple personalization that goes a long way when you consider how great a gift a glass decanter is to someone who is retiring. Knowing that this gift works great alone, you can still consider adding some glasses into the mix to make a truly unique retirement gift. The retiree is guaranteed to love it no matter what you choose.
One Happy Retiree Wine Set
If you know that the retiree is a wine enthusiast, then you can easily find personalized gifts for coworkers because there are more than a few out there that are perfect for those who love wine. A set that works well for this kind of occasion would be the One Happy Retiree Wine Set and the fact that you can personalize it makes an even more amazing retirement gift. This wine set is a little different from the usual because you can personalize it by choosing a favorite color and adding a simple gift message.
Any wine lover would be thrilled to have such a gift and as a retiree, it gives them the motivation to get some extra relaxation in each day.
Retirement Adventures Wind Chime
Another chime is always a great idea for any occasion and when you are looking for personalized retirement gifts, there's nothing better than choosing a chime you can customize. The Retirement Adventures Wind Chime is a beautiful chime with beautiful navy blue tubes that are not only unique but also offer up a beautiful sound. To personalize it, just add a short message and you will have yourself an amazing retirement gift for anyone to enjoy.
All of these retirement gifts are more than perfect to treat the retiree to something special and make them feel as if their years of working were all worth it. For coworkers that love the outdoors, choosing wind chimes or a travel mug are great ways to help them enjoy their time outside even more. If sitting at home and relaxing as much as possible seems like a better fit, then you can bet a cigar holder, wine gift bag, and decanter are all great choices.
To make a coworker feel extra special, a crystal clock would be wonderful as a retirement gift idea from the entire office. Either way, you cannot go wrong with all of these unique choices in retirement gifts.