Best Personalized Gifts for Grandparents
Jun 8th 2022
Becoming a grandparent is one of the most exciting times in life and celebrating that joy with everyone is only part of the amazing journey into grandparenthood. There are so many new experiences to be had and a number of different ways in which to celebrate each of them. This is also the perfect time for new grandparents to spoil their grandchildren as much as they want.
While there's always a celebration for couple's becoming new parents, there's also a time make the new grandparents happy by celebrating them becoming grandparents for the first time. You can keep it simple if you want to and simply have a small family gathering for the new grandparents or you can also just keep it between the couple and grandparents. As another option, you can always choose to go all out and have a party with family and friends to celebrate the new grandparents in a big way.
No matter what you choose to do to help the new grandparents celebrate, the one thing you want to stand out would be the grandparent gifts that you could choose. There are plenty of personalized gifts for grandparents that you can find that are not only unique, but offer a lasting memory to go along with their creative uses. Here are some of the best personalized gifts that you can give new grandparents.
Grandma Spoiling Game Coffee Mug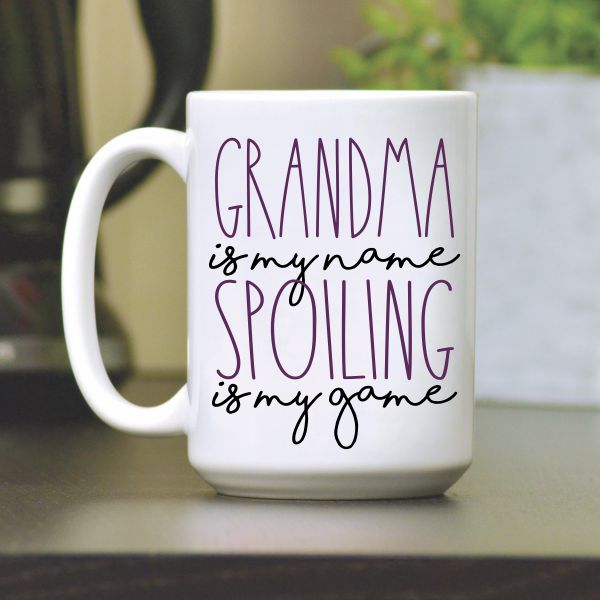 If grandma loves her morning coffee, then she is going to love the Grandma Spoiling Game Coffee Mug. You can add her name or a nickname to this coffee mug and let grandma enjoy a sip of deliciousness every single day. Gifts for grandma like this are the kind of gifts that are really appreciated because you took the time to personalize it just for her.
This is also a gift that would be great for collecting. Changing the words just a little makes this a gift that can be given throughout years to come.
Personalized Light Box with Picture
If you want creative gifts for grandma, then you will definitely love the idea of a lightbox and especially one that can be personalized. The Personalized Light Box with Picture is one that you can add a picture of the grandkids to and their names as well. When the grandparents turn on the light, it will be filled with the sweetest photo and a great reminder of how much they are loved by their grandkids.
The great thing about this light box is that you can choose a small or large size to give to the grandparents. You can even decide to get a few of the smaller light boxes, change up the pictures and add different captions to them to make a truly perfect gift set.
Grandma's Cookies Personalized Cookie Jar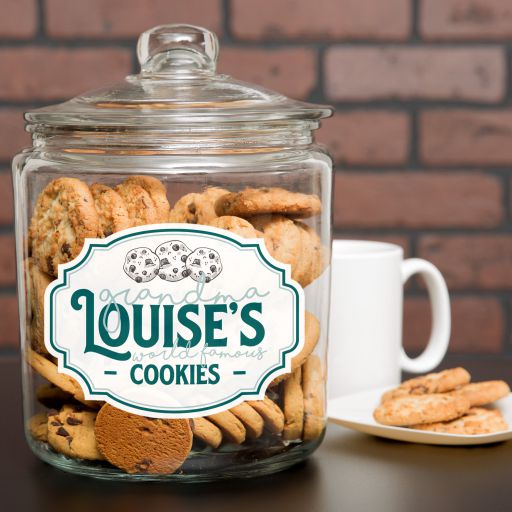 Everyone loves grandma's cookies and when you get a fresh batch made just for you, it's the best thing in the world. While grandma definitely enjoys the baking part, she will also enjoy having a place to store those delicious cookies as well. The Grandma's Cookies Personalized Cookie Jar is great as part of any gifts for grandma that you want to get her. All you have to do is add her name to this jar and it's set as a great gift for her to enjoy.
You can even add a separate gift message to make it extra special.
Grandkids Personalized Photo Album
One of the sweetest personalized gifts for grandparents is in the form of photo album and it's the type of gift that they can enjoy for years to come. The Grandkids Personalized Photo Album is a gift that grandpa and grandma will be excited to get to work on because you can be sure they already have plenty of pictures to get them started. You can even add a few special pictures to the album so when they open it, they'll immediately smile.
As for personalizing this album, all you have to do is add the grandchildren's names to the front and you're all done. The grandparents can enjoy a wonderful personalized gift just for them and can have fun adding to this amazing gift as well.
This Grandpa Belongs To Travel Mug
Any grandpa can always use a little pick-me-up in the morning or really every morning and because of that, he might need a stylish mug to go along with it. The This Grandpa Belongs To Travel Mug is exactly what he might be looking for when trying to wake up the right way in the morning. There's also the fact that this mug can be personalized just for him.
When you pick out gifts for grandpa like this, you can personalize it by adding all the grandchildren's names and picking blue or black as the color. Grandpa is sure to love this travel mug and the fact he can take it with him anywhere. It also doesn't hurt to have the loving grandkid's name on it as well.
Cut Above Personalized Knife for Grandpa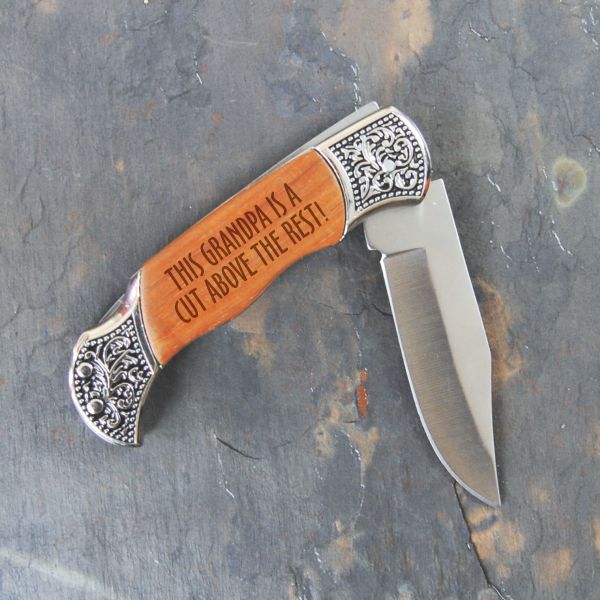 It never hurts to add to grandpa's tool collection and even a knife can be included in those tools. If you are looking for the ideal personalized gift to give to grandpa, then the Cut Above Personalized Knife for Grandpa is surely a winner. For the personalization, you can add a sweet message to the back of the knife that really lets grandpa know just how much he is loved by his family.
This is also a great gift to have gift wrapped and to add a separate message to it. This is a gift that grandpa can definitely use every single day so every time he looks at he can see just how wonderful his family is and know what he means to them.
World's Greatest Grandpa Fishing Lure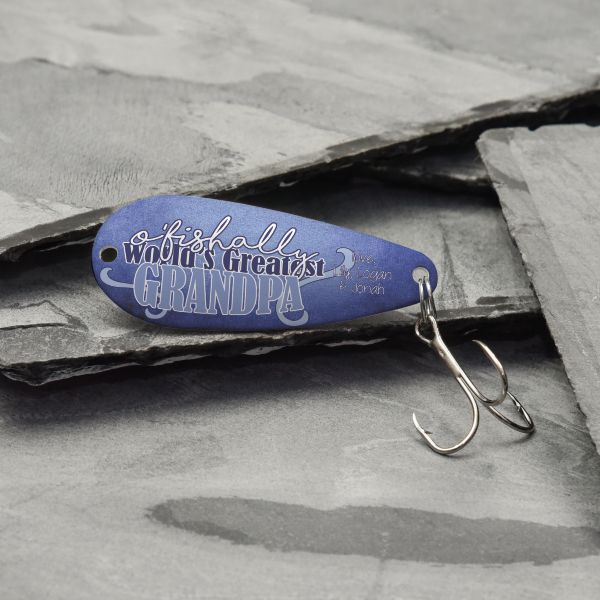 If grandpa loves to go fishing or just likes to relax while spending the day hoping to catch a few fish, then his new grandpa gift should reflect that. When searching for gifts for grandpa, something as amazing as the World's Greatest Grandpa Fishing Lure is exactly what grandpa needs to get his fishing time started just right. You can even personalize one with a short message or get a few of these and have a several different messages just for grandpa to enjoy anytime he goes fishing.
Grandpa will definitely want to keep a few just to collect, but I'm sure he will enjoy using some of these to fish with as his lucky fishing lures.
My Grandpa Personalized Hammer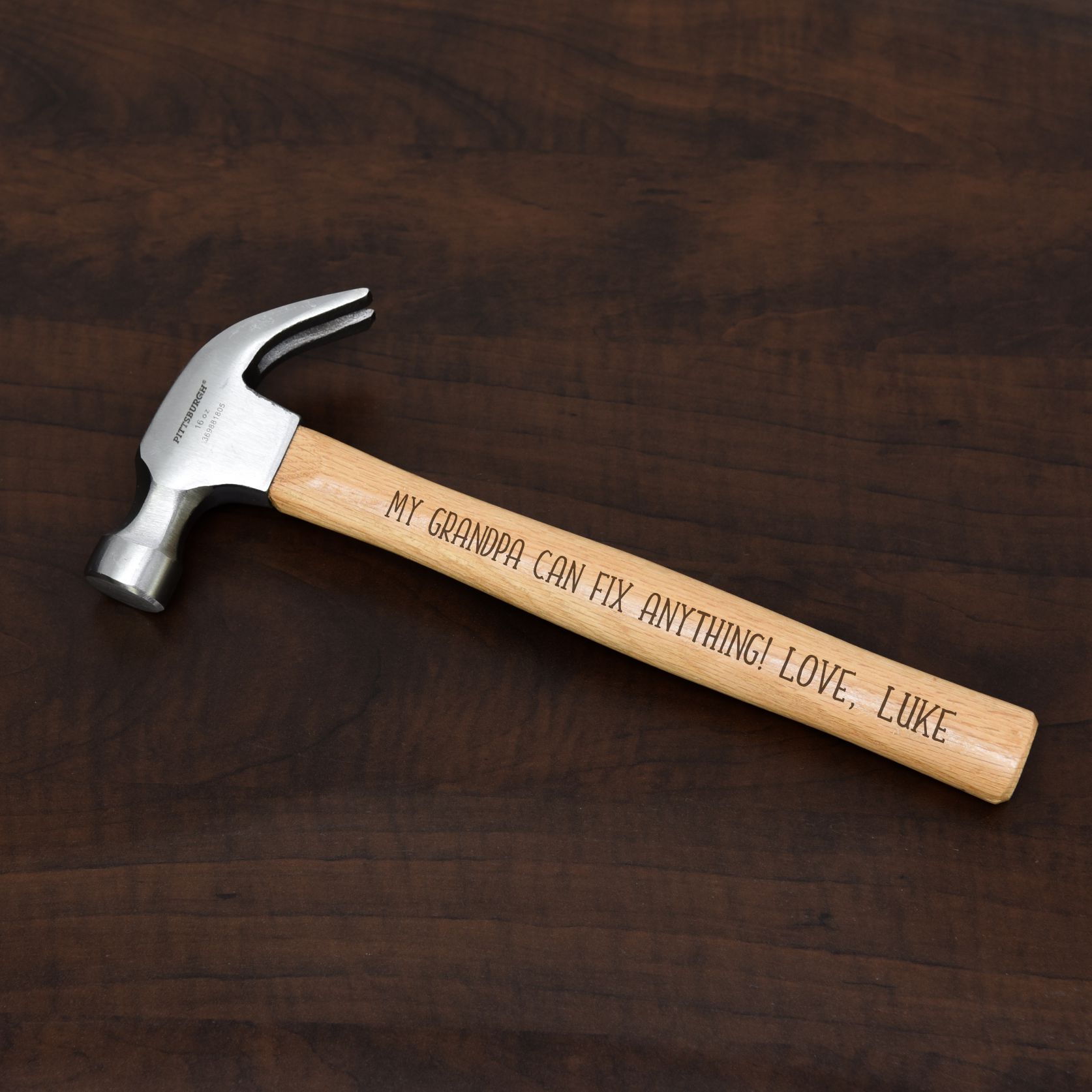 Everyone likes to think that grandpa's can fix anything, no matter what it might be and because they can fix so much, they deserve the very best. For a new grandpa, it's even more of a special time for them to find that perfect balance between spoiling their new grandchild and spoiling themselves whenever they can. This is the ideal time to find the perfect gifts for grandpa and let him enjoy life to the fullest.
Personalized gifts are the best and the new grandpa will really have fun if he can use a new gift to create something magical. The My Grandpa Personalized Hammer is exactly the type of gift that grandpa can use to do anything, including building something special for their new grandchild. Not only will he love the fact that his hammer is personalized just for him, but he will also love the fact that it's a gift that's made just for him.
Every new grandparent is going to make more time to spoil their new grandchild, but maybe you can help give them reasons to also enjoy their lives as a whole. Personalized gifts say more than the obvious and really show how much a person cares for one another. Getting grandparents personalized gifts they can use every day reminds them of how much they are appreciated, but also lets them just have a little fun throughout their day.
Coffee mugs, travel mugs, and cookie jars are a staple for grandparents who love to travel, love to just sit back and relax or for grandparents who enjoy their time baking in the kitchen. Personalized gifts for grandparents like photo albums and light boxes are sweet gifts that are a great way to express memories in physical form and enjoy looking back on those memories. A knife, fishing lure, and hammer are all great gifts for grandpa that he will cherish and use every moment that he can because these gifts are truly special.
All of these personalized gifts for grandparents are amazing and unique in that they serve more than just one purpose. As new grandparents, they will love each of these because they were given with love and bring sweet memories along with them. These are also a great way to represent a wonderful new milestone in the new grandparent's lives.