Best Retirement Gifts Your Coworker will Love
Nov 10th 2022
There's always a great reason to celebrate with coworkers and when one of those coworkers is retiring, then you have a great reason to go all out for them when celebrating their years of hard work. If you want to throw a party within the company, that's a great idea and you can even plan on throwing a party outside of work as well. Any way that you can help them celebrate is a great way to show your coworker that you appreciate everything they have done.
No matter where you plan on having a party or if you even plan on having a retirement party, you can provide more than a good time for your coworker. Think about their favorite foods and have those available so they can really feel the love and take some time to think about what types of gifts can be given as well. When you think about anyone retiring, you always want to make sure they have a gift that's memorable, but also perfect for someone who plans on living their best life after working so hard.
Personalized retirement gifts are always a great option for anyone that's retiring and the best part about gifts like these is that they can be customized to fit the retiree just right. There are so many choices that you have when it comes to the type of personalized retirement gift you can get a coworker and they are guaranteed to love it. Since it can definitely be a struggle to figure out some wonderful personalized retirement gift ideas, here are some of the best ideas that you can choose from that are guaranteed to be loved by any retiree.
---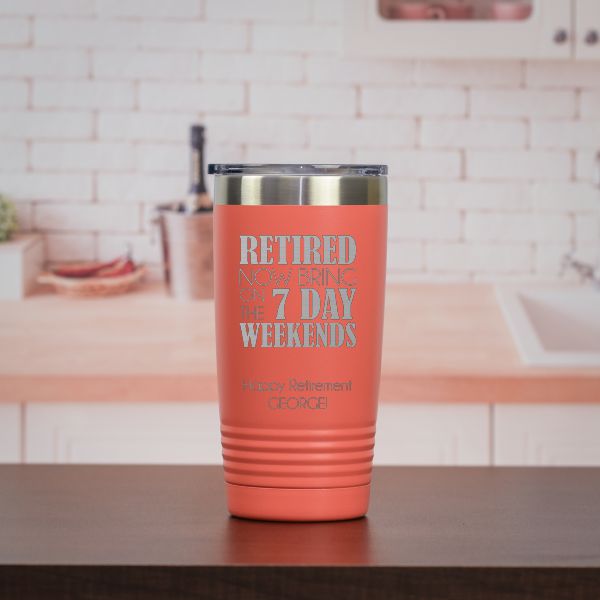 7-Day Weekends Retirement Travel Mug
The best gift that a retiree can get is something that gives them a reason to travel as much as they want and the 7 Day Weekends Retirement Travel Mug, which is perfect for taking their favorite beverage along for the ride. It's also great that you can choose a favorite color for the travel mug, making it great for a coworker who might love a specific color. To make this a really great personalized retirement gift, all you need to do is add a short message to this and it's an amazing gift that any retiree would love to have in their life.
---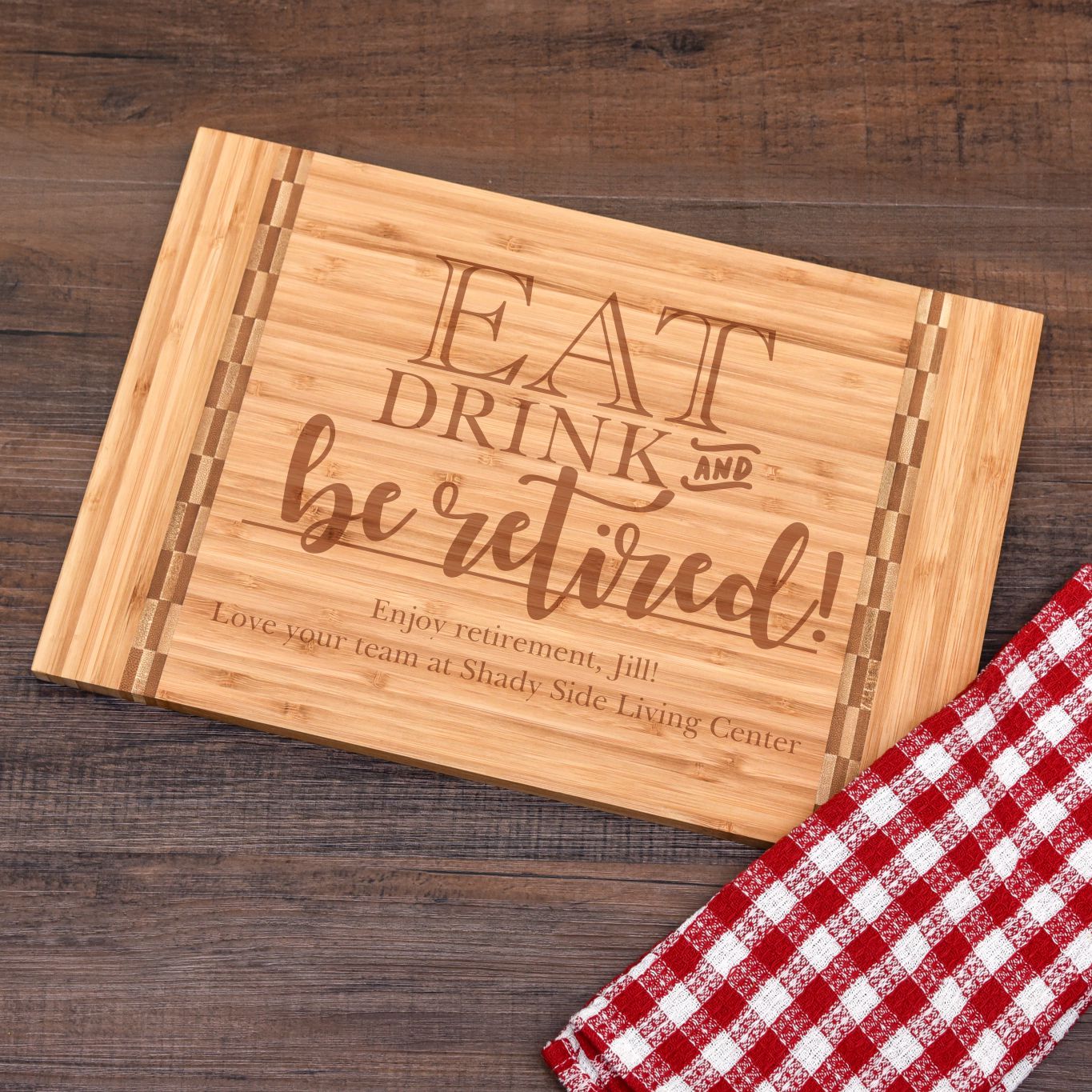 Eat Drink Be Retired Cutting Board
A coworker that loves to cook is a coworker that's going to love a personalized retirement gift that can help them make their best dishes. The Eat Drink Be Retired Cutting Board is the perfect idea for a gift to get a retiree and the fact that it can be personalized makes it an even better gift than you may have thought possible. This is a beautiful bamboo cutting board that you can personalize for your coworker by adding a short message to them, making it a very special retirement gift.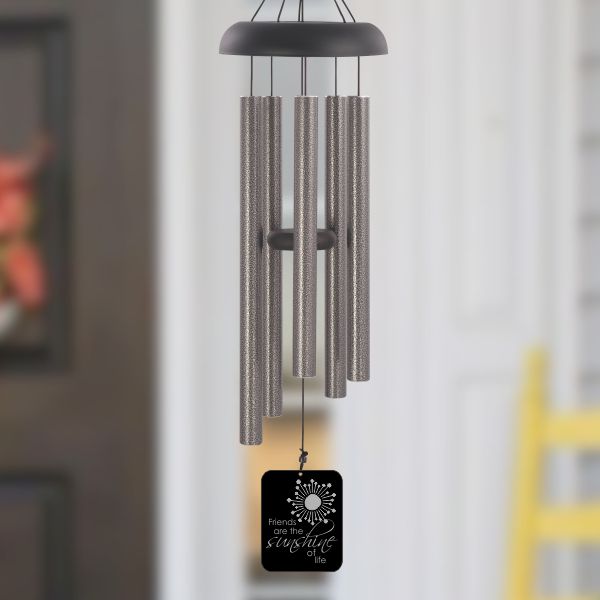 ---
Friends Are The Sunshine Pewter Wind Chime
A great gift for any retiree is a gift that helps them relax as much as they want and that can mean something as wonderfully simple as the Friends Are The Sunshine Pewter Wind Chime. You can add a message to the charm at the end of the chime and it's great because this can even be a gift that comes for several coworkers. The retiree can sit back, relax a little bit and just enjoy some amazing soothing sounds from this chime while letting every note remind them of how much their coworkers thought of them to get them such a wonderful gift.
---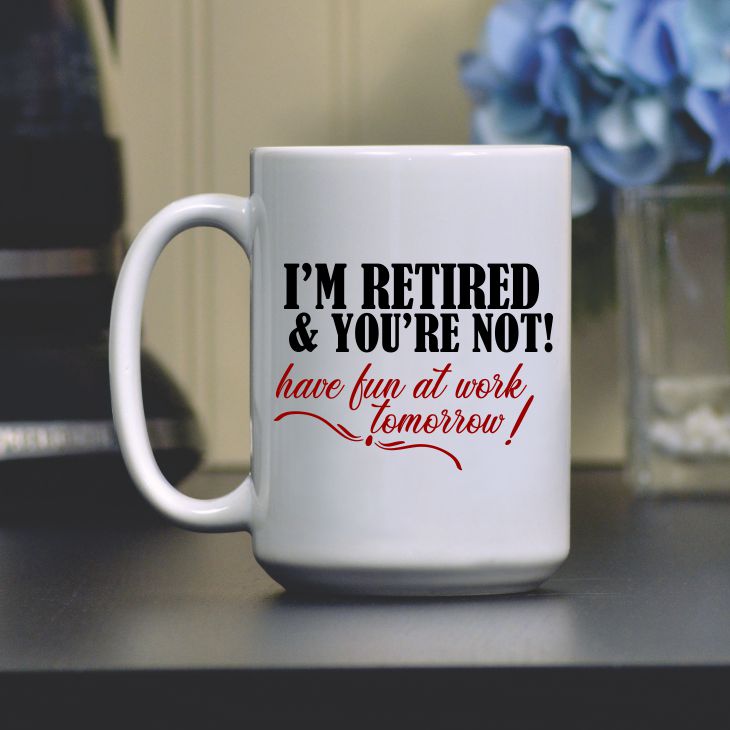 I'm Retired Coffee Mug
Sometimes a retiree might just want to take their retirement as a chance to brag about the fact that they get to relax a little bit in life and that's perfectly fine, especially when you can find a gift to match that for them. The I'm Retired Coffee Mug is perfect to put those bragging rights out there and give your coworker every excuse to enjoy their favorite beverage whenever they want. Having a coffee mug like this is also a great way to show off during a retirement party and keep on showing off even after.
You can personalize this for your coworker by adding a short message for them and even consider having it gift wrapped for that extra special touch.
---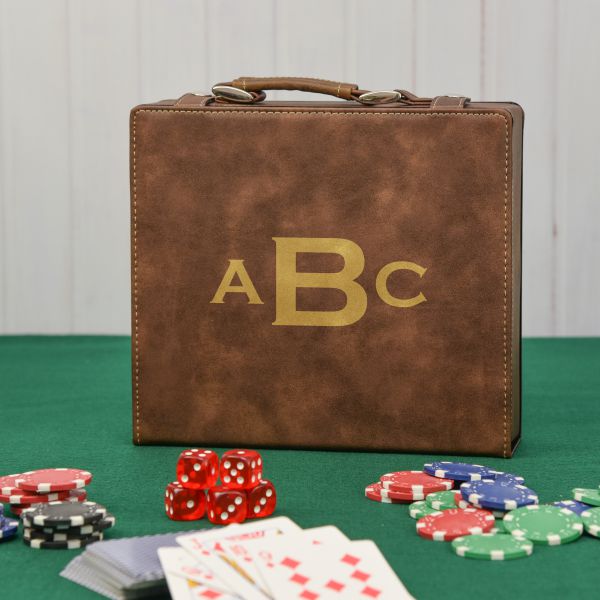 Monogram Poker Set
During retirement, anyone is going to want to take some time to actually enjoy time with as many friends and family as possible. One way that all of this can be done is by finding a game that fits perfectly for the retirement occasion and the Monogram Poker Set is the best gift that you can possibly get to fit this. There's no better way to enjoy the perfect day that to take it easy, sit back, relax, and enjoy a good game with family and friends.
What's great about this poker set is that you can have it personalized by choosing the retiree's initials, as well as picking the perfect faux leather color for the case. They are sure to love every part of this set and have plenty of fun with friends the entire time they're playing it.
---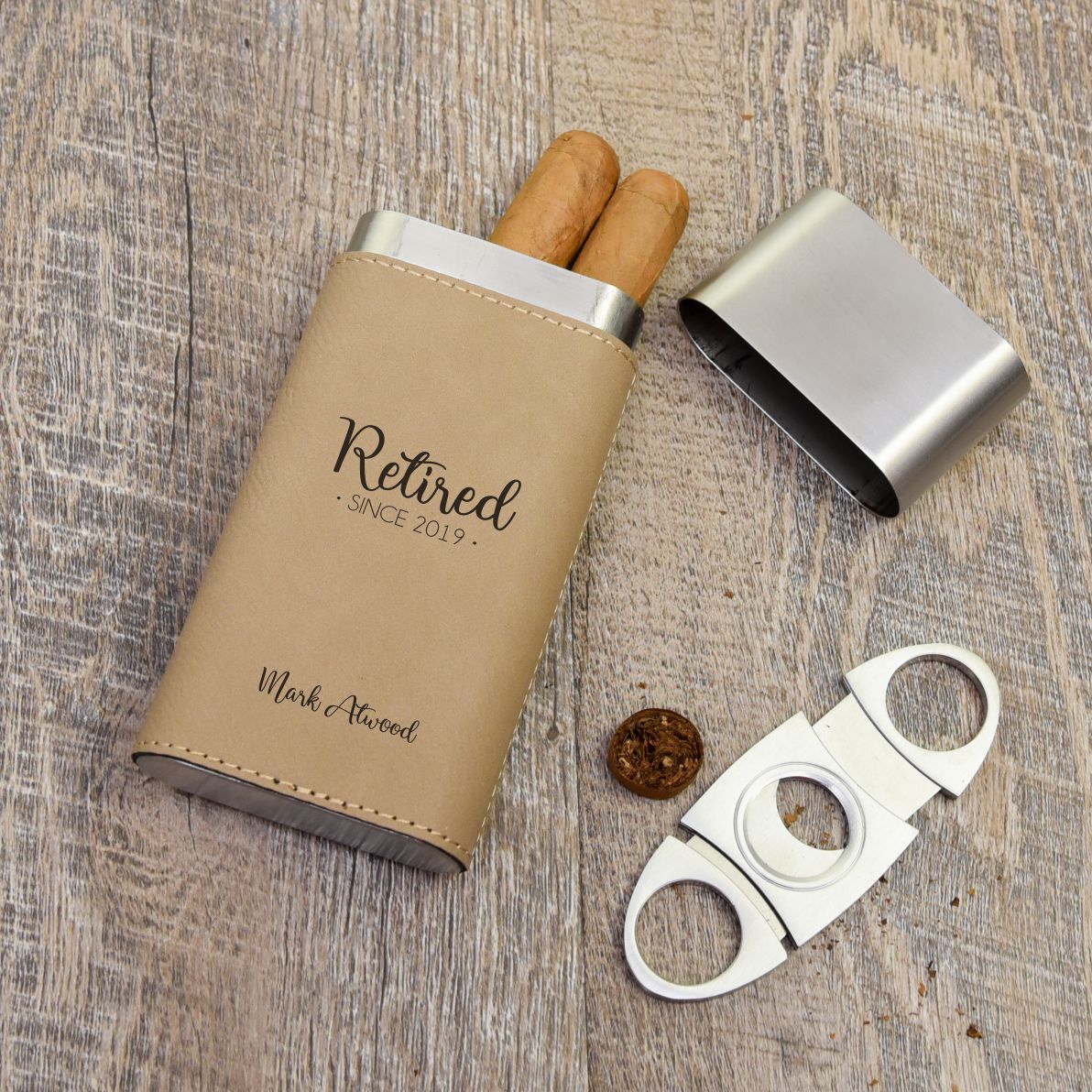 Retired Cigar Holder
Whether it's enjoying time with friends or just taking some time to relax alone, there are always personalized retirement gifts that can fit perfectly in with this. The Retired Cigar Holder is just one retirement gift that can be personalized in a way that makes it ideal for the retiree to have handy whenever they like. They can celebrate with friends and have their own personal way of sharing in the moment of good talk and great times.
To make this gift extra special, you can add the name of the retiree and the date of their retirement to the front of the holder, creating something special for just them to enjoy.
---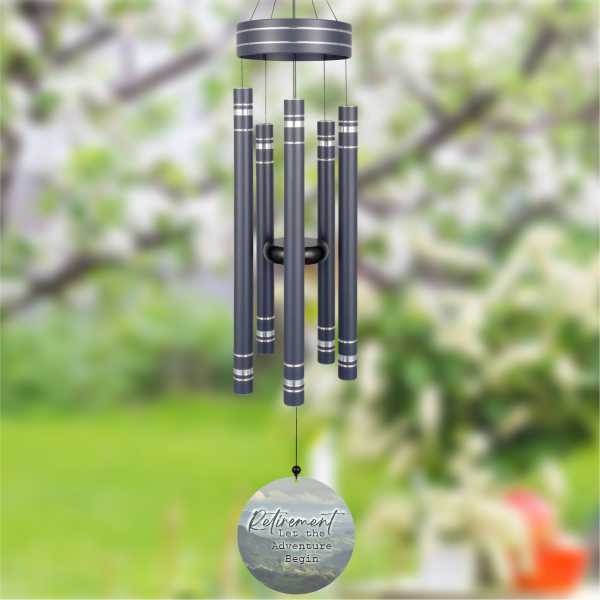 Retirement Adventures Wind Chime
Any retiree that needs a little bit to relax with can definitely enjoy a gift that's made for both the outdoor and indoor scene, but also something that can give them a little music to relax to. The Retirement Adventures Wind Chime is exactly what your coworker can use to retire in a soothing way, while still having a gift that shows just how much you care about their achievement. Personalized retirement gifts like this wind chime are exactly what a retiree needs to have an excuse to sit back and relax each day away with a warm breeze and gentle tones.
At the end of the tubes is a charm that you can add a special message to, making it even more special to the retiree in their relaxation days.
---
All of these gifts are great as personalized retirement gifts and it's even better with the fact that they can be personalized to fit the retiree. Any retiree that wants to focus on their travels, can enjoy being able to use a travel mug to go along with them, but they also benefit from having a travel mug that's a constant reminder of just how much everyone appreciates them for the hard work they've given throughout the years. For the retiree that plans on spending their days relaxing in the sun or just enjoying being around a group of friends, a poker set and cigar holder are useful to keep the games going strong and the fun at maximum.
If retiring gives the retiree a chance to enjoy one of their hobbies, such as cooking, then a cutting board is more than the perfect gift to personalize and give to them so that their passion for food can continue into their retired years. For complete relaxation, whether inside or outside, wind chimes are great because they can help soothe any stress away with simple sounds created by a gentle breeze. It gives the retiree an excuse to simply sit and relax, no matter when and where they choose to do so.
These personalized retirement gifts are wonderful in every way and they can each cater to a different type of retiree and their interests. If you and your friends plan on helping the retiree celebrate together, you can each choose a gift to give multiples of so they can really enjoy their retirement time. With all these choices, any retiree is going to be living their best life with the most thoughtful and fun gifts to celebrate this major milestone.