Birthday Gift Ideas for Dad
Jun 21st 2022
Shopping for birthday gifts is always a fun treat, but when you have a chance to shop for dad, you can get creative in so many ways and make his birthday the best he's ever had! Get the balloons ready, invite the guests, and make dad's birthday a special one that everyone will be talking about. You can even plan on bringing a few extra gifts, just to be certain that dad has everything he will need.
Great birthday gifts for dad can be anything from his favorite cookware to his favorite drinkware and include items that compliment those interests. You can also choose gifts that will give dad a reason to relax any time he wants and even invite a few friends over to help him relax with a little fun. There are plenty of gift ideas that can help dad with everything he needs and it'll be great giving him something to help bring out the happiness on his birthday.
It might seem like a very difficult task to find dad something that is both unique and meaningful, but when you consider buying a gift that is personalized, it gives you the opportunity to choose from a large selection of amazing gifts. This is also a great way to make sure you are getting dad something that he really wants and can use as well. Here are some of the best personalized birthday gifts for dad.
Triple Initial Water Bottle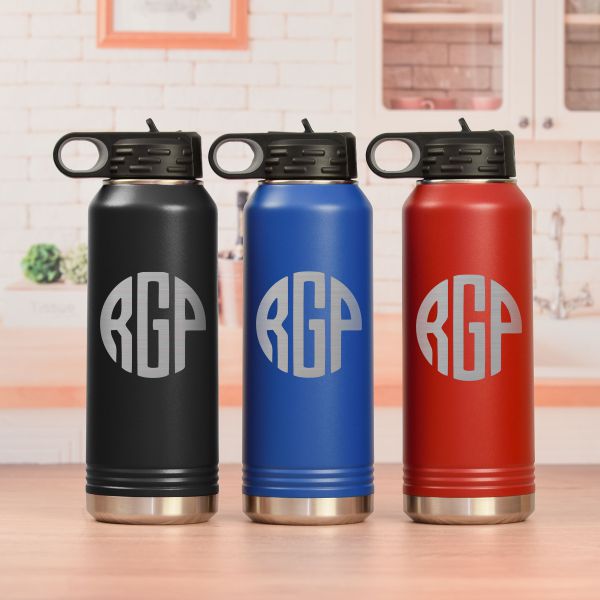 If dad spends a lot of days running around with his errands or just running around in general, then he's going to need something to help him along all of his daily travels. A water bottle is a great idea, but choosing one like the Triple Initial Water Bottle, which can be personalized, will leave dad amazed and happily working his way through each day. Just pick out a color you know he'll love, add his initials, and give him a gift he can appreciate, but one that can also help him hydrate.
#1 Dad Personalized Keychain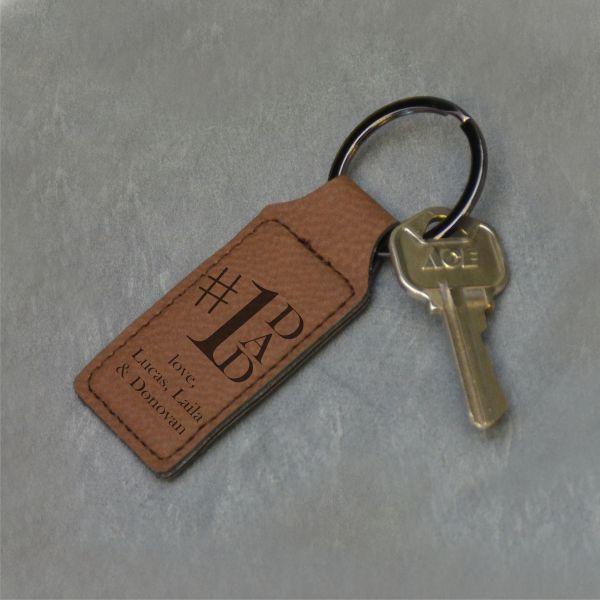 Getting something for dad on his birthday doesn't have to be an overly large gift, because finding something small that's just as meaningful can make him just as happy. The #1 Dad Personalized Keychain is just the right size to represent how much you love dad, but it is also great for personalizing with dad's name. All you have to do is choose a light or dark brown leather color, maybe add in a separate gift message just for good measure, and then give it dad so he can enjoy a little daily reminder of just how much he is loved by his family.
Mancave Pilsner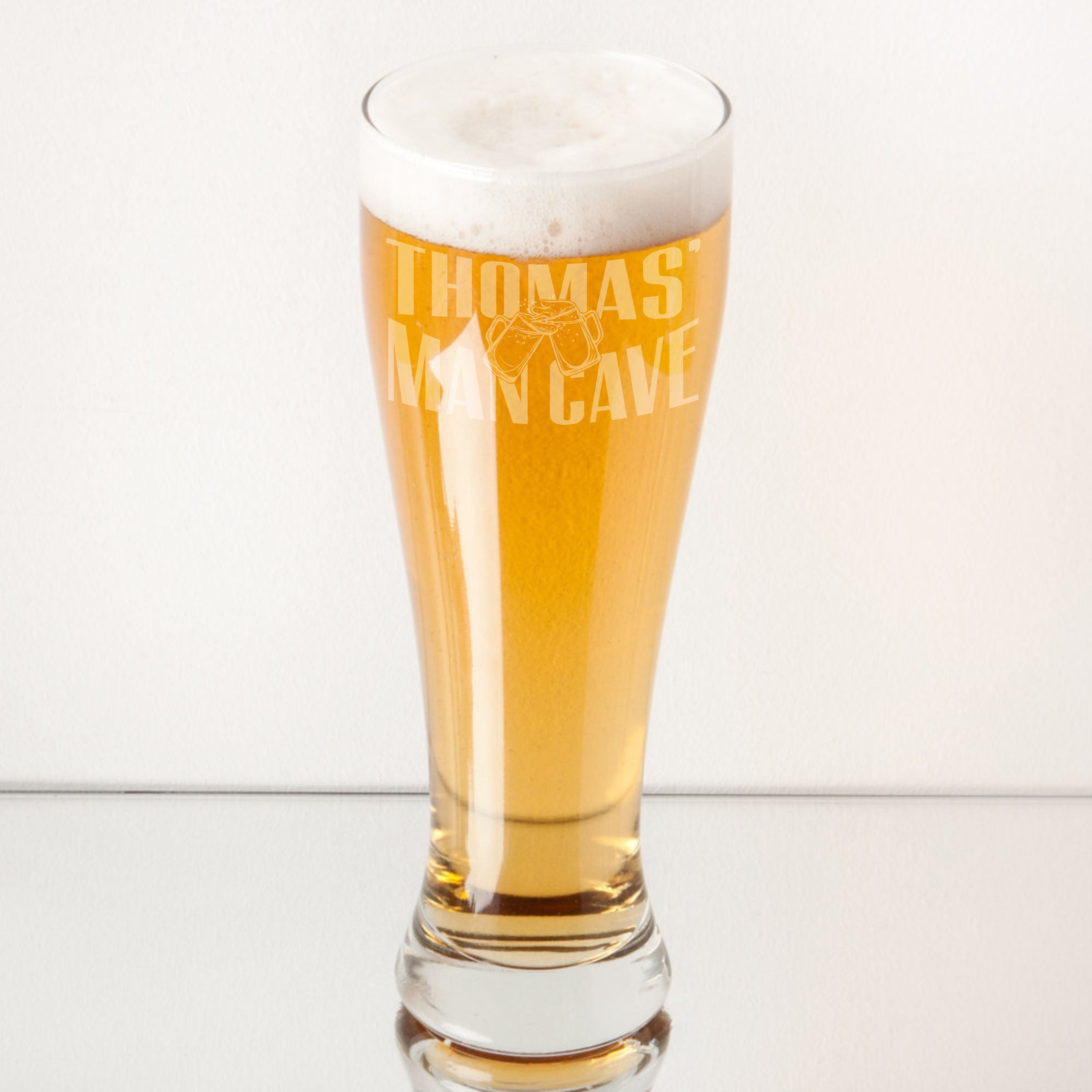 Great birthday gifts for dad should always include a pilsner that he can use anytime he's feeling the need for a few beers. The Mancave Pilsner is simple, but unique in that it can be personalized with dad's name, making it all his to enjoy. You might even want to add in a separate gift message so you can make dad's gift even more special with a few words that are straight from the heart.
Garden Grill Slate Cutting Board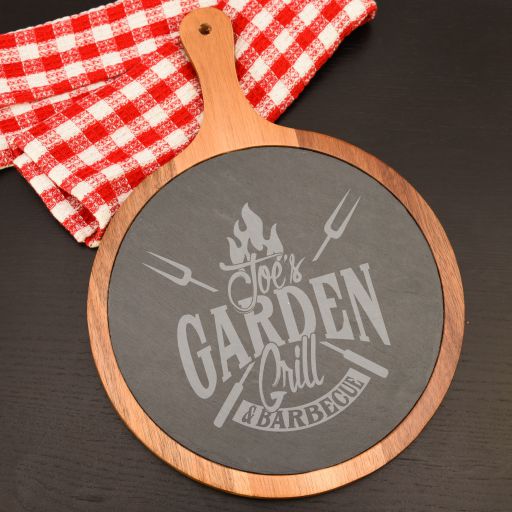 For the dad's that love to get cooking from the moment they wake up, or at any part of their day, then a cutting board is going to be a much needed tool for their cooking arsenal. The Garden Grill Slate Cutting Board is not only a great gift that dad can use all the time, but it can also be personalized with his name. If dad finds himself liking this cutting board a little too much to cook on, then he can enjoy it as the perfect kitchen décor.
The Real King Personalized Apron For Him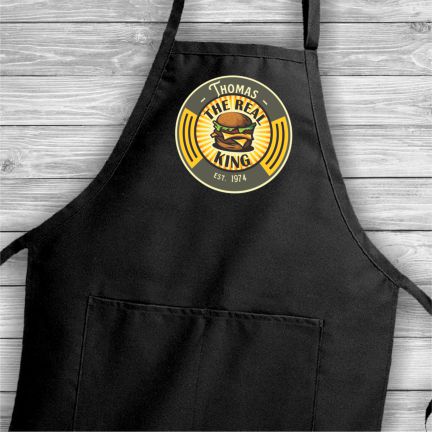 Probably the most important tool for all of dad's cooking needs, is going to be an apron to catch all the mess that comes about when creating delicious dishes. Personalized gifts for dad like The Real King Personalized Apron For Him is a useful and helpful gift to encourage dad to cook as much as he wants, without the worry of creating a huge disaster on his clothes. Add dad's name and birth year to make this the best gift that any "cooking dad" could ever want.
World's Greatest Dad Fishing Lure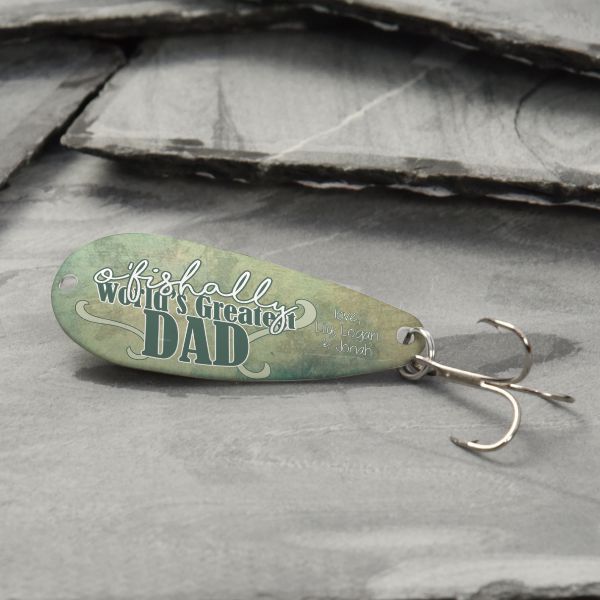 Treating dad to a fishing trip on his birthday day is never a bad idea, but you want to make sure he is well prepared with a few fishing necessities when he goes. The World's Greatest Dad Fishing Lure is definitely necessary for landing the perfect catch and the fact that it can be personalized with a short message, makes it even more incredible. Dad will more than enjoy fishing with this wonderful gift, or simply using it as his lucky fishing charm.
Established Dad Growler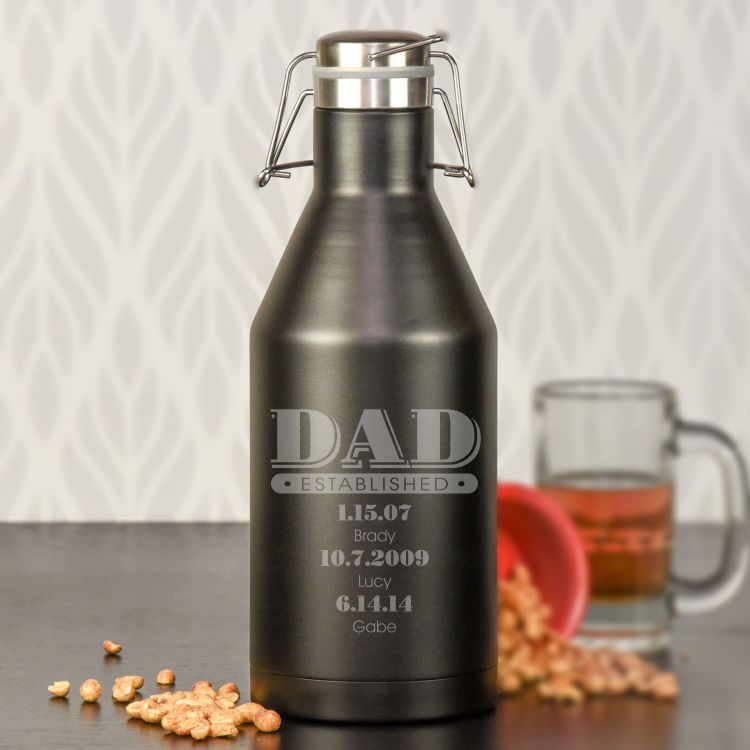 When you want to think about great birthday gifts for dad, you can take a look as his finer hobbies and get an idea of what type of gift might be the best for him to enjoy, but also love. If dad has a love of craft beer, then you can consider getting him the Established Dad Growler so he can be prepared any time he decides to visit a brewery. Just add the name and dates of the kids on this growler and dad will have the perfect gift to go along with a perfect trip to any brewery.
Awesome Dad Cutting Board
If dad's a chef, then you want to be sure he has everything covered, and that includes him having all the essential kitchen tools that he needs to keep his favorite dishes flowing. Times like this call for personalized birthday gifts for dad and the best idea for helping his cooking interests is with the Awesome Dad Cutting Board. All you have to do for this classy cutting board is add a short message to dad, that will be displayed right below a cool quote, and you are all set to give dad a helpful, but fun gift.
Greatest Golfer Bag Tag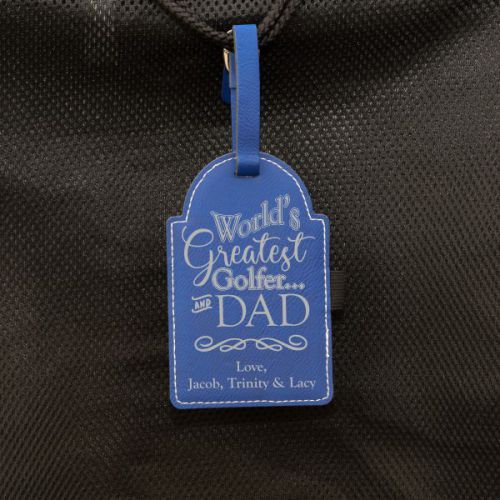 Maybe dad can get in a few good rounds of golf while on his birthday, or maybe you want to convince him that he deserves some time away to play. Either way, the Greatest Golfer Bag Tag will help keep dad's things unique from all the rest and makes sure that he will be able to play his best game ever. Great birthday gifts for dad can really take any form, but when you get him something to help him relax or just enjoy his favorite pastime, then you are getting him one of the best possible gifts he could ever ask for.
Vegas Style Personalized Poker Set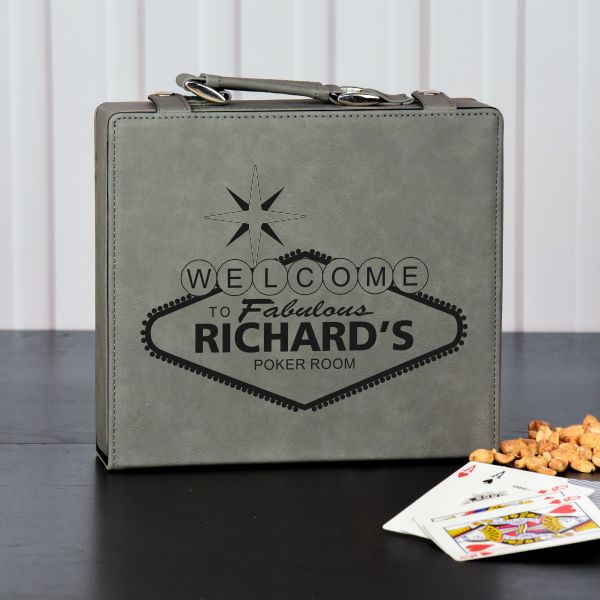 When you want to give personalized birthday gifts for dad, but you also want to consider finding something that will help him relax and have fun, then a simple game is all you need. The Vegas Style Personalized Poker Set goes beyond being a great choice because you can personalize it in a way that dad will absolutely love. Just choose between gray or brown leather, then add dad's name, and you will have a more than perfect gift that will motivate dad to have a little fun in his spare time.
Having all of these gifts to choose from are just a few of the many ways in which you can show dad that he's the best, but even more so on his birthday. The water bottle, key chain, and growler are wonderful gift ideas for dad to use every day, while the bag tag and fishing lure and creative ways to let dad get away for a while and relax a little bit. Cutting boards are a great way to convince dad he needs to enjoy his culinary skills and maybe let you be the taste-tester, just to help him out.
If dad does plan on doing some cooking, then getting him a personalized apron is the safe way to keep him cooking in style. Choosing a personalized poker set for dad is a fun way for dad to get together with the guys and just enjoy a good game while relaxing and having all the fun they want. You can also get dad the personalized pilsner and maybe even a whole set so he can enjoy that poker game with plenty of drinkware style.
Even if you are still struggling to find dad the perfect gift, you at least have quite a few options available to choose from. Personalized birthday gifts for dad are gifts that you know will make dad happy, but could never compare to the greatest gift of showing him nothing but love on his birthday. A personalized gift, that's straight from the heart, is just an extra clever and sweet way to show dad how much you love him!