Birthday Gifts for the Grandparents
May 3rd 2022
Birthdays fly by without even knowing it, but that doesn't mean you can't be prepared for when they do come. When it comes down to celebrating your grandparents birthdays, that's an incredibly special time for them and yourself as well. This is also a chance to really get into the birthday spirit and buy your grandparents something they will never forget.
Buying birthday gifts for grandparents can be a bit complicated if you are not sure of what exactly they can actually use. When you're feeling a little bit lost on birthday gifts for grandparents, never fear because there are plenty of unique and memorable options that you can choose from. Buying birthday gifts for either your grandmother or grandfather is a chance to get creative, but also give them something they wouldn't expect.
This is why a personalized gift is going to be a great choice for making their birthday fun and amazing at the same time. If you're a little lost on what to get them, here are some wonderful gift ideas that are personalized, unique, and guaranteed to forever hold a special place in their heart!
Love Desk Plaque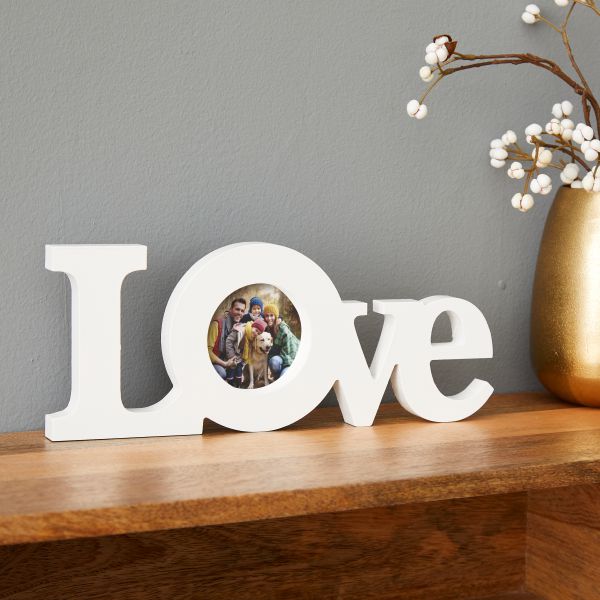 If you're specifically looking for birthday gifts for grandma, then the Love Desk Plaque is a very unique and sweet gift to give. Aside from the beautiful word as the plaque itself, you can add a favorite photo to this gift and make grandma super happy every time she looks at it. Since this is a universal design, this plaque would go with practically any of grandma's décor, making it easy for her to choose her favorite spot to place this wonderful gift.
This Grandpa Belongs To Travel Mug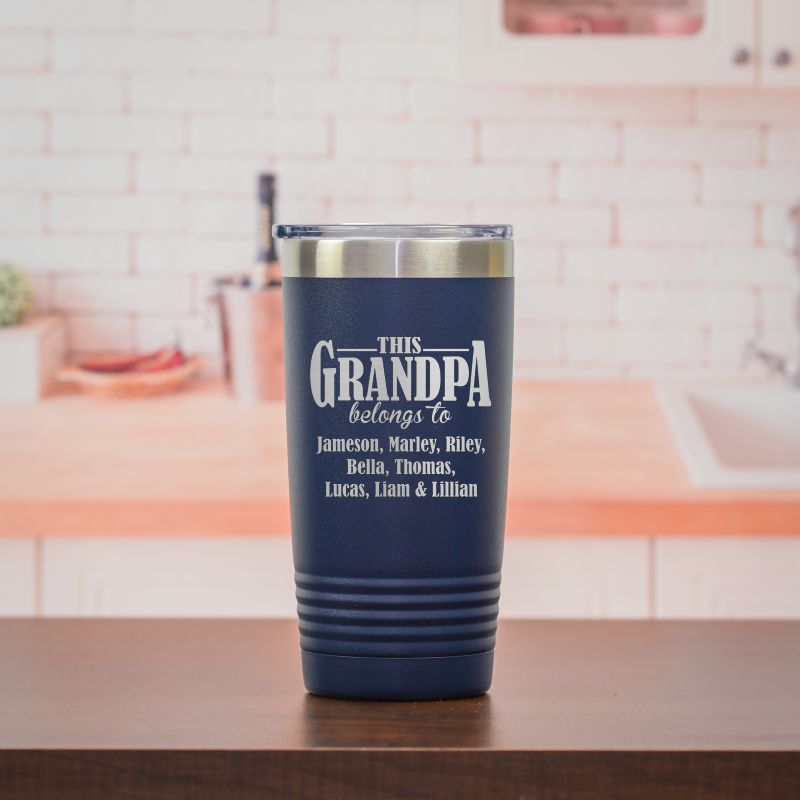 Birthday gifts for grandpa should be simple and straight to the point and the This Grandpa Belongs To Travel Mug is exactly what grandpa will be reaching for any time he wants to enjoy his favorite beverage. You can choose a navy blue or black finish for this travel mug so you can be sure grandpa will love the color and the message. The best part about this mug is that you can list the grandchildren's names to make sure grandpa can show off just who he belongs too.
Grandma's Garden Light Box
One of the sweetest types of gifts that you can give to grandma would be a gift that is personalized with all the names of her grandchildren. The Grandma's Garden Light Box does this, but takes it a step further by allowing you to place the names of the grandchildren on a beautifully designed floral background. Not only does it make this gift special, it also makes this a very unique gift that grandma will love to look at every single day.
Personalized Trivet For Her Kitchen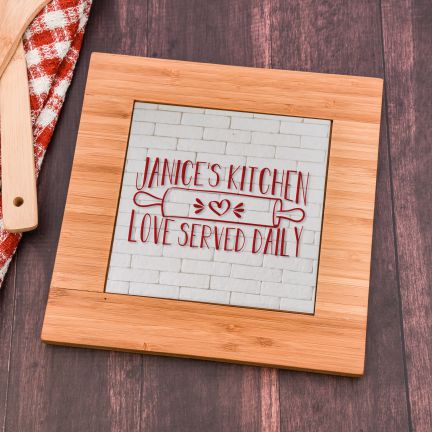 When looking into birthday gifts for grandma, don't forget that she loves to serve up smiles in the form of food. Give grandma a classy way to show off her cooking skills with a personalized trivet for her kitchen. This is a very special gift with a timeless design that's let's you add grandma's name and include a separate gift message to really make her smile on her big day!
Don't forget to give grandma a few these so her kitchen collection can be complete and she has plenty of options when displaying her delicious meals.
Grandma Bakes Us Happy Personalized Cake Pan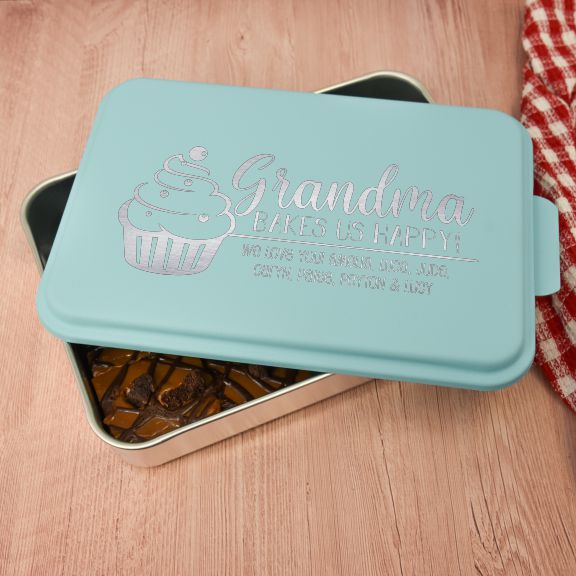 To go along with all of grandma's cooking needs can be the Grandma Bakes Us Happy Personalized Cake Pan. If grandma loves to bake her way through the day, then she'll need some stylish storage for all her culinary treats and this cake pan is both beautiful and functional. It's made even better with the fact that you can personalize it with a short and sweet message just for grandma to see.
If you want to make this an even better birthday gift, you can take some time to bake grandma her favorite cookies or cupcakes and fill the pan. It will definitely make her birthday a special one.
Recipe For A Wonderful Grandmother Cutting Board
Sometimes grandma just like to get in the kitchen and cook the day away and when that happens, you want to make sure she has the right tools for the cooking job at hand. If she's known for cooking from scratch, then the Recipe For A Wonderful Grandmother Cutting Board is exactly what she will need as part of her kitchen décor. Birthday gifts for grandma that include her being able to do something that she loves, is exactly why this is such a delightful gift for her.
There is also the fact that you can add a sweet message that will be displayed right below the recipe that describes all the wonderful things that go into making a grandma. If you want to make it even more personal, add a separate gift message just for her.
Worlds Greatest Grandpa Fishing Lure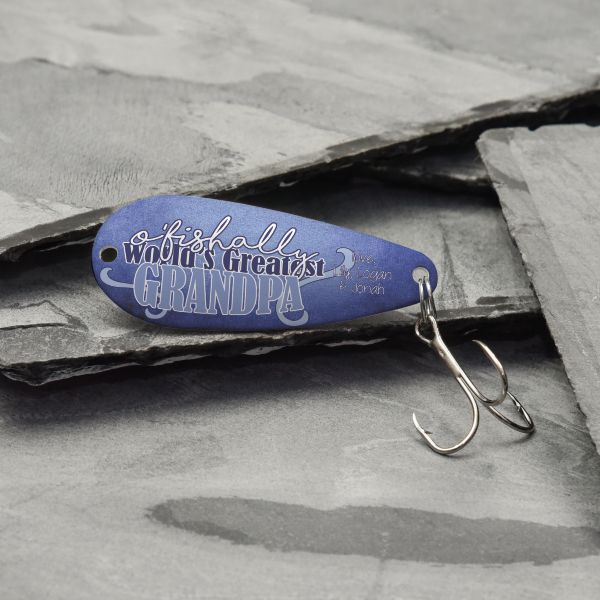 Is grandpa a fisherman at heart and does he love to show off his fishing skills any chance that he gets? Then getting him something that is not only personalized, but also functional, is the best idea when considering birthday gifts for grandpa. The Worlds Greatest Grandpa Fishing Lure is definitely a gift that grandpa can take with him on any of his fishing trips and enjoy the message behind it as well.
To personalize this gift, all you need to do is add a short message that will be displayed on the front of the lure. You can even gift wrap it and add a separate message that will really make this gift stand out. Buy a few of these so grandpa will always have his back up well at hand and add a different message to each to give him plenty of love every time he opens his tackle box.
My Grandpa Personalized Hammer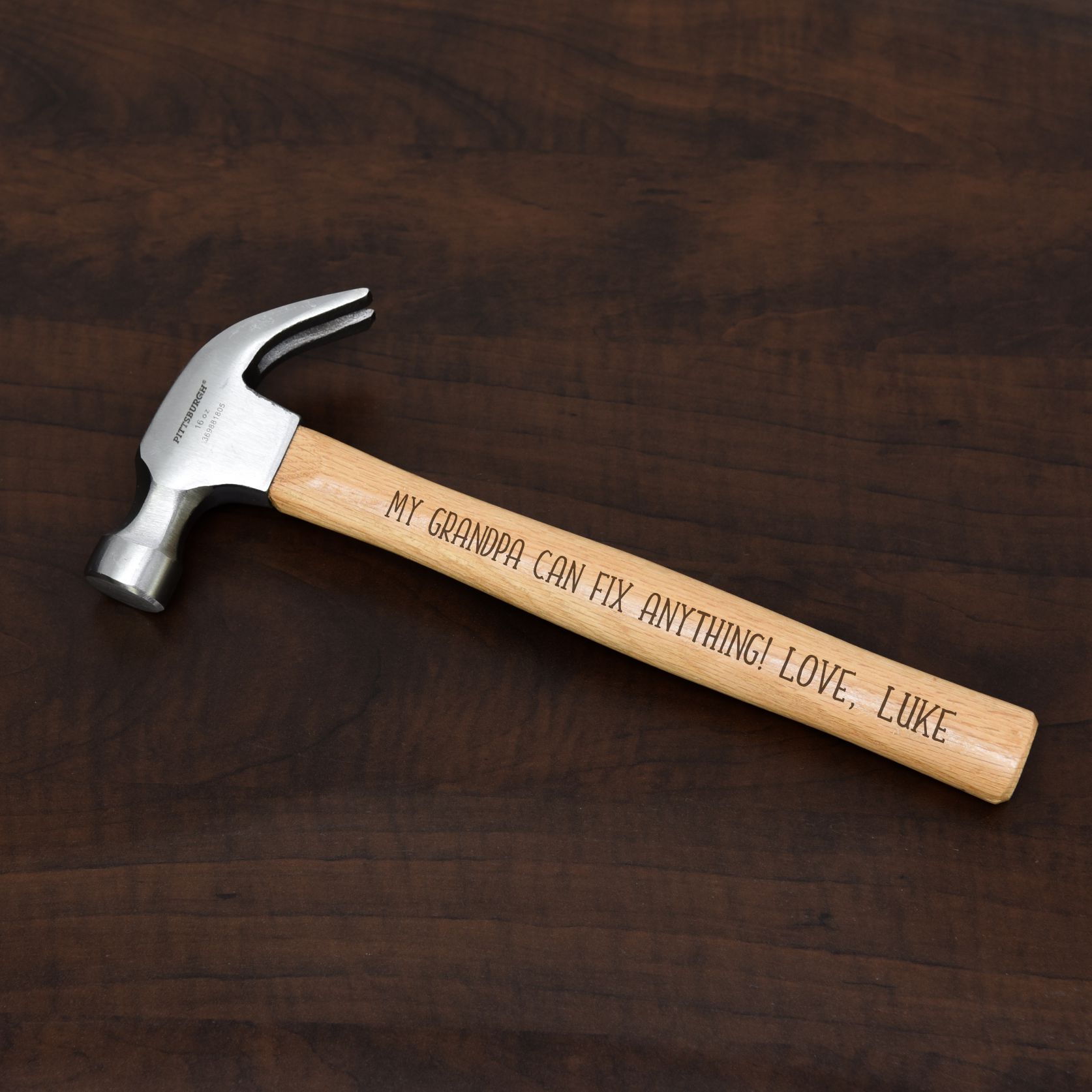 If grandpa likes to be handy in the garage or really anywhere he works, then he's going to need the most useful tools for the job. The My Grandpa Personalized Hammer is a gift that not only helps grandpa out with all his projects, but it's also a gift that has an amazing message that comes with it. The front of the hammer read "My grandpa can fix anything" and this statement is very true for a lot of grandpa's out there.
Birthday gifts for grandpa that are like this also give you a chance to add grandpa's name and make sure everyone knows this is his very special hammer. Make it even better by thinking of nice message for grandpa and adding it to this gift separately. Grandpa will definitely appreciate the gesture of not only getting him a tool he can use, but also getting him a gift that's straight from the heart.
World's Greatest Grandpa Mug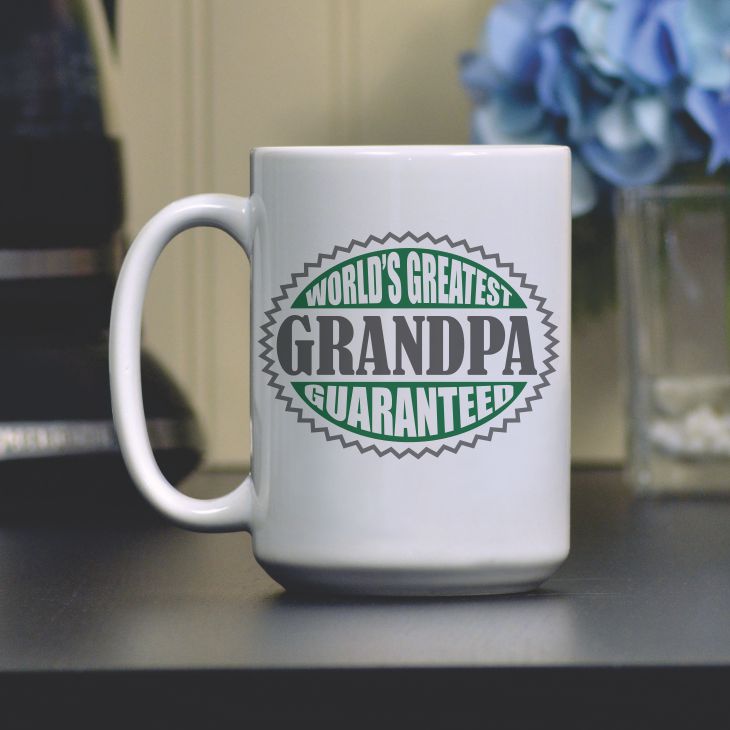 Make sure grandpa has all his favorites to start his day and be sure a handy coffee cup is a part of those favorites. Your choice of birthday gifts for grandpa can be a lot of things, but the World's Greatest Grandpa Mug should definitely be a part of the plan. It's especially amazing that you can add your favorite photo to this mug and make a truly unique and sentimental gift for grandpa.
He'll be sure to love every inch of this mug while drinking his favorite beverage and relaxing as much as he wants. The photo will be a great reminder of the wonderful family he has in his life and it's something he can reflect on with every sip.
Sometimes it can be a little difficult finding personalized gifts for grandparents, especially when you feel like they already have everything they could ever want. The truth is, grandparents may have all the material items they could dream of, but having a gift that is personalized especially for them is an entirely different story. Personalized gifts like mugs or desk plaques are the types of gifts where you can add your own fun photos, giving the grandparents sweet memories to cherish every day, along with their gifts.
When focusing on grandpa, you find great birthday gifts for grandpa in the form of travel mugs, hammers, and fishing lures. These are all things that can encourage grandpa to relax, have fun and just enjoy his hobbies. The same can be said for birthday gifts for grandma and her baking fun with gifts like trivets, cupcake pans, and cutting boards.
The most important part of buying a gift for grandparents is to make sure you personalize it in just the right way in order to give them a big smile every time they look at it. The fact that you can get their favorite gifts personalized is an added bonus to all their birthday entertainment. When getting birthday gifts for the grandparents, make it fun and a birthday they will never forget!