Celebrating 50 Years of Marriage
Aug 25th 2022
When it comes time to celebrate a 50th anniversary, this is the time to get as creative as possible and there's no better way than to find the perfect gift that'll help with sharing a 50 year marriage with the world. In finding the right kind of gift you can consider personalized 50th anniversary gifts that really show how special the couple is to have made it to 50 years of marriage. It's truly an honor and having a gift that'll show that is literally icing on the cake.
Gifts like wind chimes, wine gift sets, and frames are all a part of the number of gift ideas that you can choose from when you want to get the happy couple something unique and amazing. You can also take some time to consider gifts like photo frames and wedding clocks. Regardless of the gift you choose, these are all wonderful ideas for gifts that can be personalized in just the right way making them an excellent choice.
The 50th anniversary is considered the golden anniversary, so why not choose gifts that reflect just how special this anniversary is? Here are great ideas of gifts that you can choose to help celebrate a 50th anniversary.
---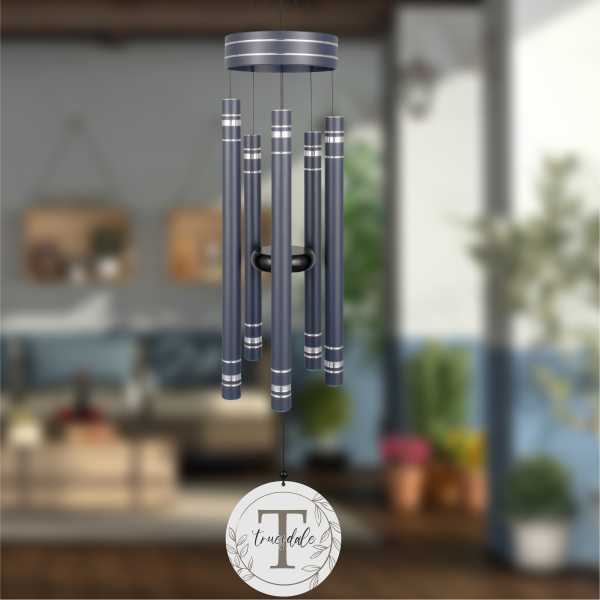 Elegant Monogram Wind Chime
Some of the best anniversary gifts are the ones that you never expect to actually be given as gifts and wind chimes often fall under this category. The Elegant Monogram Wind Chime is a little different from most wind chimes in that it is a beautiful navy blue color with accents of a classic silver color. What makes it so wonderful is that it can be personalized by adding a family last name that will be displayed on a sweet charm, which hangs from the bottom of the wind chime.
These chimes would look great anywhere inside the home or even outside, especially considering these chimes are a good 36 inches in length. Anyone would love to have 50th anniversary gifts like this and the chimes are a gift that can be admired for years. Chimes are also considered a wonderful classic gift, especially for anniversaries.
---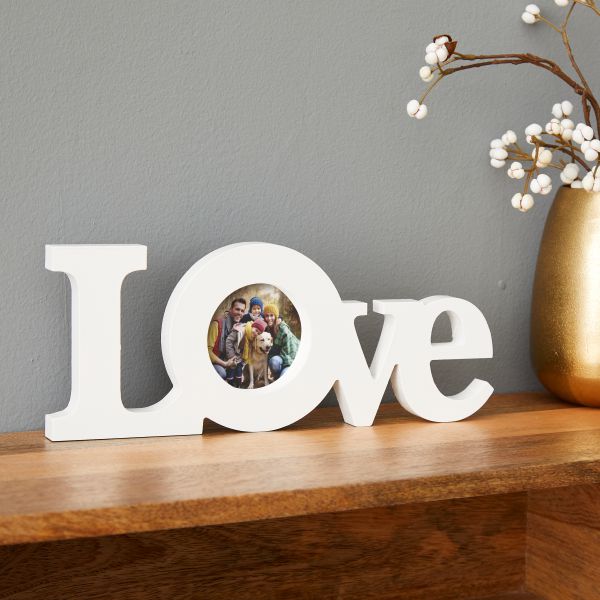 Love Desk Plaque
When celebrating a 50th anniversary, it's a time to really get creative with the gifts that you choose, and picking out the best personalized 50th anniversary gifts is easy when you have something as amazing as the Love Desk Plaque. This plaque is unique in that it's in the shape of the word "love" and you can personalize it by adding a favorite photo to the "o" in the plaque. It's a great gift for an anniversary and it's a gift that can be placed practically anywhere within the home.
To have a little fun with this gift, you can choose a silly photo to have placed on this plaque and get a few great laughs in while celebrating a great anniversary. This is the type of gift that's also good for adding in a separate gift message and making it an even more memorable anniversary gift.
---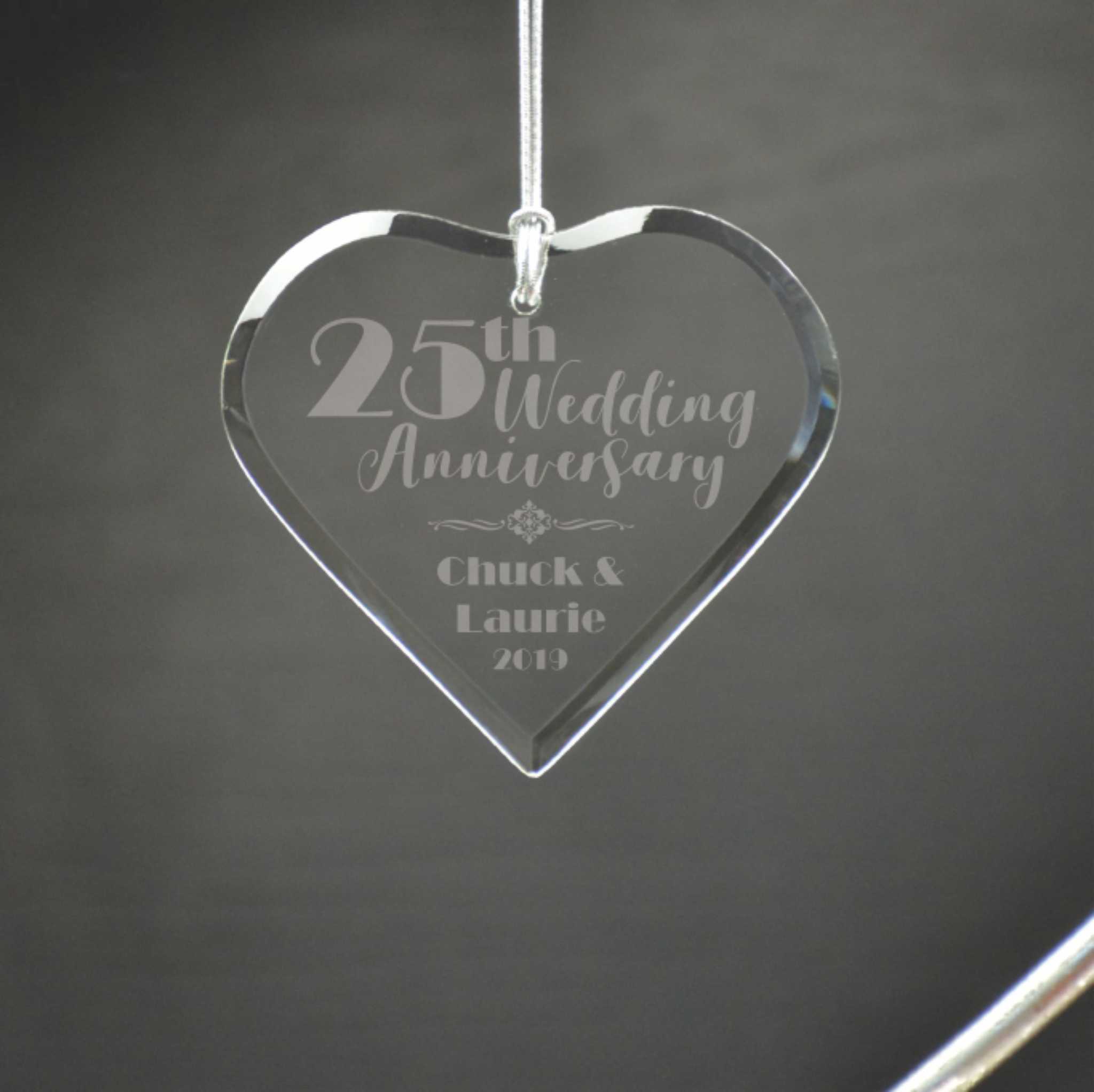 Couples Personalized Anniversary Ornament
You might think that ornaments are made mostly for the holiday season, but the Couples Personalized Anniversary Ornament is great for many occasions, especially as a milestone anniversary gift. This is such a great gift in that you can personalize it by adding the number of years married and also adding the couple's first names, which are shown at the bottom of the ornament. This heart-shaped crystal ornament is amazing in that you can purchase a stand in which to hang and show off how far your relationship has come through the years.
Not only does it make a great conversation piece when guests come over, but it's also a great addition to any home décor. With the use of the stand, it can be placed anywhere and displayed all year long.
---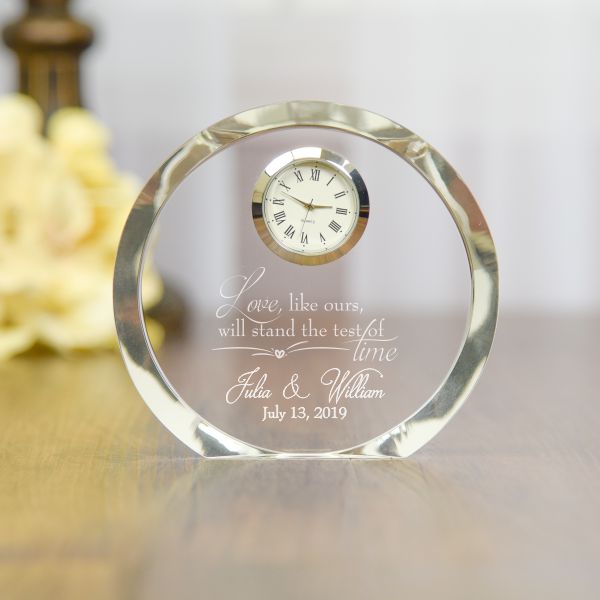 Test of Time Personalized Wedding Clock
If you're looking for a gift that is more symbolic than anything else, then something that reflects the time spent married is going to be the perfect idea. 50th anniversary gifts such as the Test of Time Personalized Wedding Clock is the perfect gift for a 50th anniversary and is a great representation of the time spent loving each other. The 50 year mark is usually represented with either gold or crystal so having a crystal clock as a gift is a great way to keep with the tradition.
When it comes to personalizing this wedding clock, you can add the first names of the couple and the wedding date, which is all engraved on the front of the clock. This, like the other personalized 50th anniversary gifts, can be placed anywhere in the home and enjoyed every day as a reminder of lasting love.
---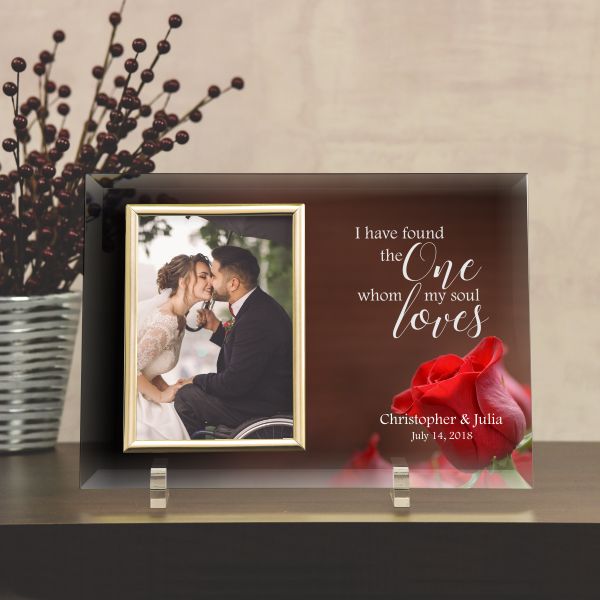 The One My Soul Loves Frame
You can never go wrong when it comes to sharing a special photo with the one you love and that can be made even better during anniversary time. The One My Soul Loves Frame is exactly the right kind of personalized anniversary gift that's needed to show off the perfect picture while celebrating a very special number of years together. Just like with the previous anniversary gifts, this frame can be personalized with the name of the couple as well as the wedding date.
This is really going to stand out among anniversary gifts with its beautiful glass frame, rose background, and a stand that allows the frame to be placed anywhere. If you already have a favorite photo in mind, you can place it in the frame before giving it as a gift or give several photos to choose from as a special surprise.
---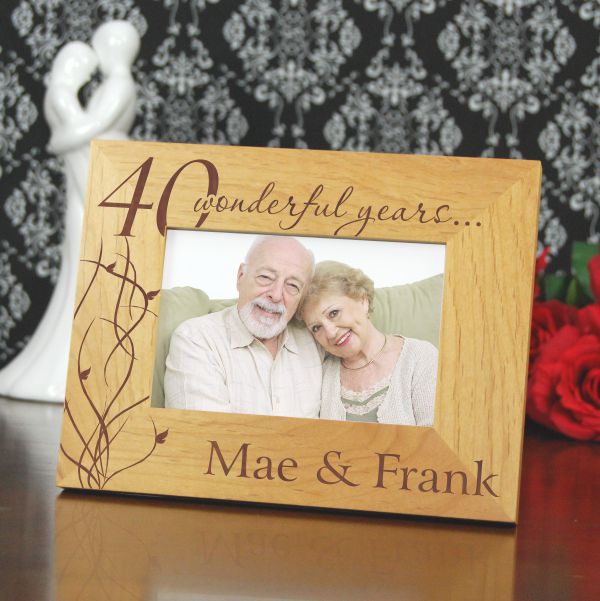 Wonderful Years Anniversary Frame
Framing the very best of memories is one of many 50th anniversary gifts that you can make into something amazing. The Wonderful Years Anniversary Frame is a creative personalized gift that you can add the wedding date to, along with the names of the couple. With having a beautiful wood finish, this frame is a wonderful gift idea for anyone who is celebrating an anniversary, and finding the perfect photo for the frame will definitely be a part of the fun of unwrapping this gift.
---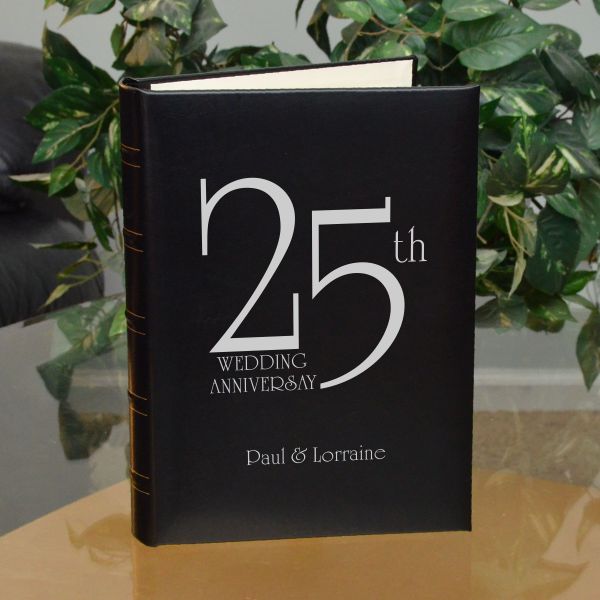 Anniversary Album
In keeping with the photo-themed gifts, you can choose a gift that will allow the happy couple to display all of their best photos throughout their 50 years together. A milestone anniversary gift, like the Anniversary Album, is a great way for the couple to spend time together choosing the perfect photos that they want to place in the album. To make this even better, the album can be personalized with the number of years that the couple has been together as well as their names.
This makes for a great gift, but also a great way to keep the couple working together. Picking out fun and beautiful photos for this album is just one way this gift will bring more than a smile to the happy couple's faces.
---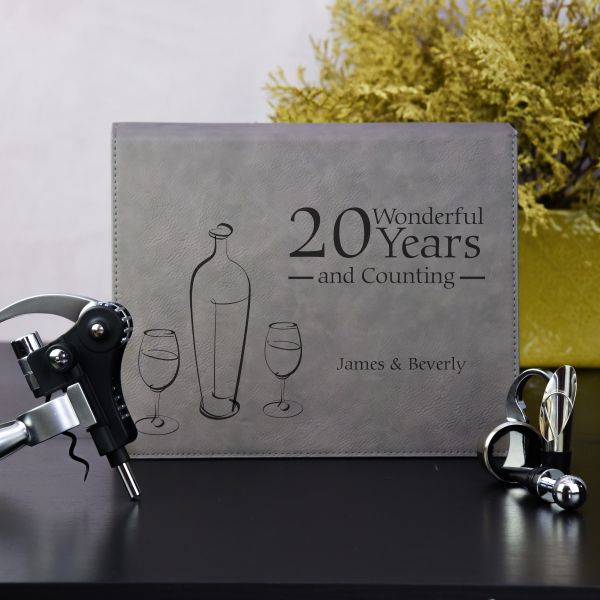 Happy Anniversary Personalized Wine Gift Set
Finding a gift that can be for the couple to enjoy together is sometimes a bit of a task, but there is always something perfect when it comes to personalized 50th anniversary gifts. The Happy Anniversary Personalized Wine Gift Set is the ideal choice for what you can get the happy couple and it's something that they can enjoy as part of a wonderful anniversary day. There are so many personalizations with this gift set that this is sure to be the perfect gift choice for any couple celebrating their 50th anniversary.
Just choose the favorite faux leather color, add the couple's name, along with the number of years they have been married, and you will have a wonderful gift to give.
---
With so many wonderful gifts to choose from, finding just the right 50th anniversary gifts is a lot easier than you could imagine. Wedding frames and photo albums are always going to be a great choice for the couple to display their favorite photos for a daily dose of happiness. Desk plaques and ornaments are great for choosing smaller anniversary gifts that can be displayed wherever the happy couple wants.
Wind chimes and wine gift sets are a great reason for any couple to sit back, relax, and enjoy their anniversary day with smooth tones and relaxing wine moments, while a wedding clock symbolizes the years they've shared together. No matter the final choice in milestone anniversary gifts, all of these are sure to make the couple happy and give them a creative way in which they can celebrate.