Father's Day Gifts He'll Love
Apr 26th 2022
Nothing's better than a father's love and whether he's a dad or grandpa, it's the perfect time to show him how much you care about him. The task of finding just the right gift can be a little puzzling at times, but there are some products out there that say more than just "I love you dad".
There are gifts for the dad that loves to just relax and have fun, as well as gifts for the dad that enjoys a good cup of coffee any time of the day. Some gifts will help with dad's love of fishing and others will give dad a nice little reminder that he is loved by so many. Here are some super helpful choices of personalized Father's Day gifts that you can choose for dad or grandpa.
The Patriot Travel Mug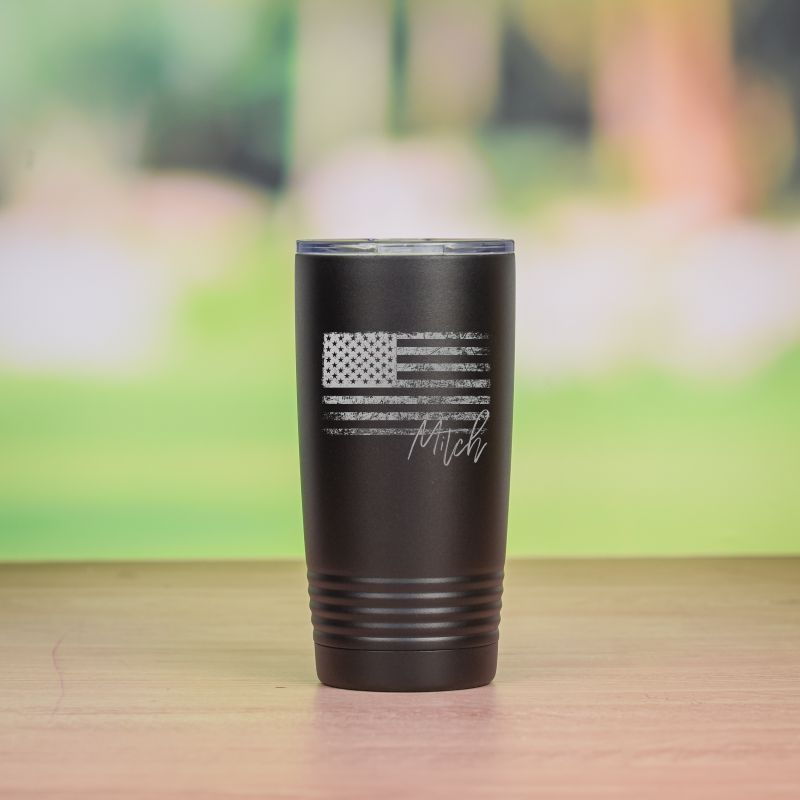 When you think of dad or grandpa, do you think of either of them as a real patriot? If so, then you can consider the Patriot Travel Mug as a top gift for them to really enjoy. You can add their name to this already classic mug and have it featured right underneath an engraving of the American flag. You can also choose a black or blue color, making it easy to give them their favorite.
There's more than enough room to hold their morning coffee or any of their favored drinks throughout the day. Aside from having their name on this travel mug, you can also be sure to leave them a wonderful gift message separately. Give them some positive words for the day or a nice little laugh to make them really enjoy Father's Day.
Cut Above Personalized Knife for Dad or Grandpa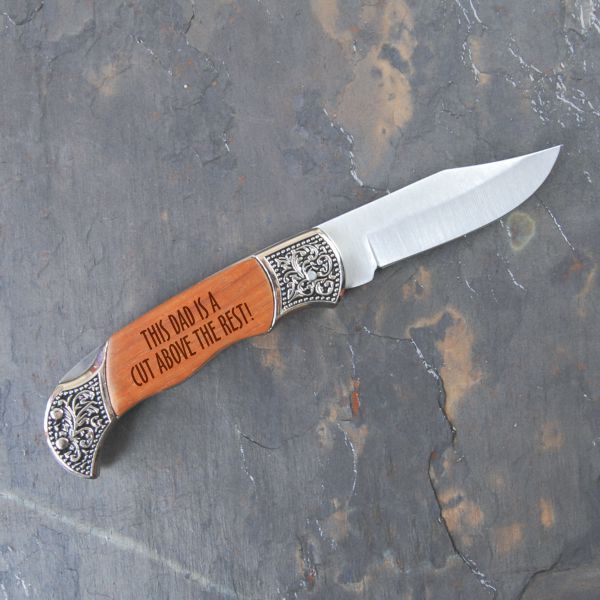 Dad's and grandpa's all over the world love to collect different things and knives are usually included in those collections. Choosing a gift like the Cut Above Personalized Knife for Dad or Grandpa is one way that you can help them add to their collection, but also a great way to show how much you love them on Father's Day and every day.
Whether dad and grandpa plan on tinkering around in their shops or packing/unpacking a lot of things, they can have this handy knife right there with them to help. You also don't want to forget to leave a separate gift message for dad and grandpa. You can make it a funny message to give them a good laugh or go with a message that is short, but to the point, showing how much you love them.
Daughters First Love Keychain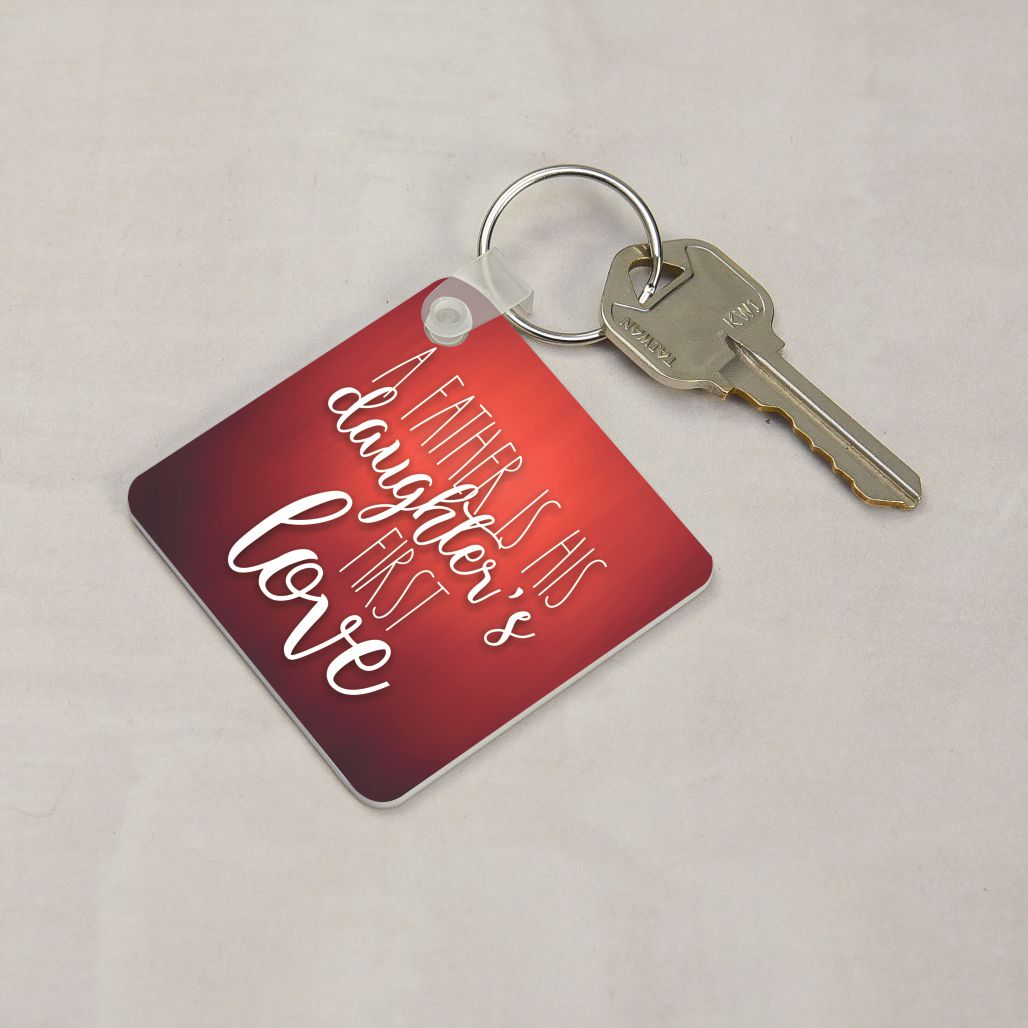 Every daughter's first love is going to be her dad. He's always there for her, supporting her in every way he can and makes it known that he will always love her. On Father's Day, you can make sure dad knows just how much he's loved with the Daughters First Love Keychain as part of gifts for dad. There's a sweet message on the front that says "A father is his daughter's first love" and a photo can be added to the back of the keychain as well.
Dad will really be pleased to see such a wonderful keychain message, but even more surprised to find a personalized photo on the back of the keychain. This can remind him of how much his daughter loves him every single day of his life. All he has to do is take a look and read a little bit to really know how much he is loved and appreciated.
Father Hero Keychain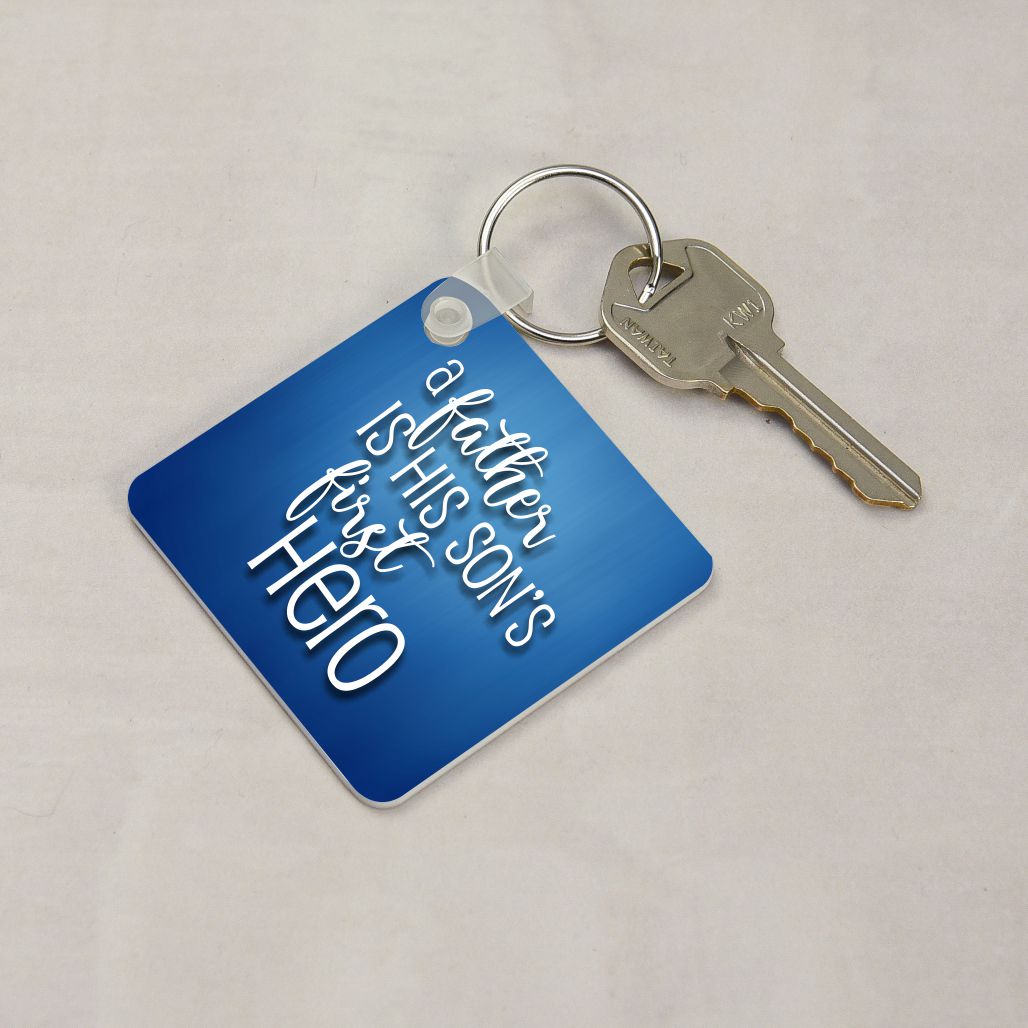 Every father wants to be a hero in the eyes of their children, so why not show dad just how much of a hero he really is with the Father Hero Keychain? Personalized Father's Day gifts are always going to be special to dad's heart and choosing something small, but meaningful is often the best idea yet! Dad can keep this with him everywhere he goes and look at it as a sweet reminder of all his heroic deeds as a father.
The fact that this keychain has a wonderful message and can be personalized with a photo, makes this the ultimate Father's Day gift. You can even get a few of these keychains so dad can switch it up as much as he wants. When it's time to choose a photo for this keychain, you can go with a photo that marks a very special memory or funny photo that will always give dad a good laugh whenever he looks at it.
Brewing Company Pilsner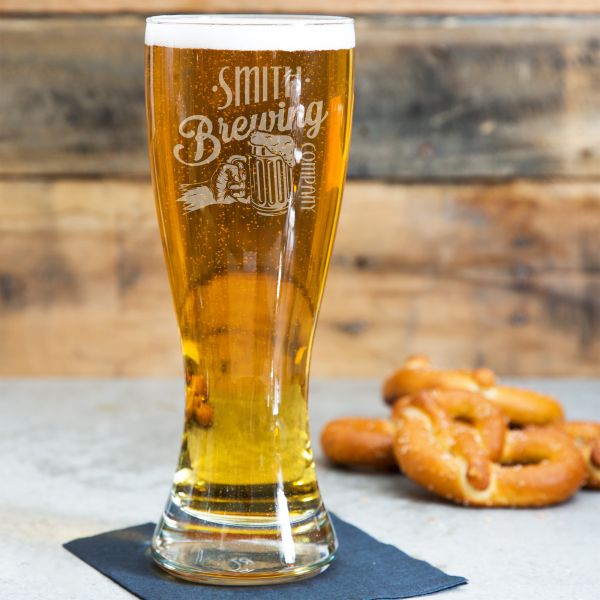 Personalized Father's Day gifts come in all shapes and sizes and if dad likes to have a nice relaxing drink while enjoying his day, the Brewing Company Pilsner is the perfect choice for him. This is a classic pilsner style that looks just as elegant and the engraving that's on it. Just place dad's last name up here and let him have his drinks in classic style with this favored gift.
What's even better about this product is that it would be perfect for the dad or grandpa that makes their own beer. You can buy them one of a few of these pilsner's to show your support and your love at the same time. No matter what, dad and grandpa would both love having this as part of their décor.
World's Greatest Dad Fishing Lure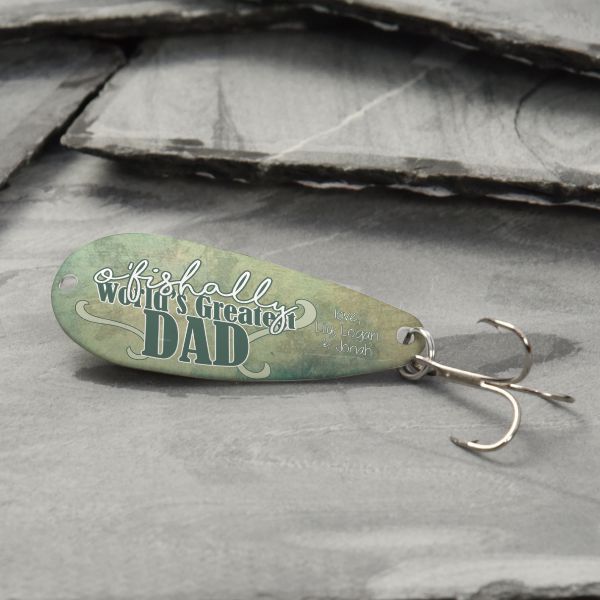 So many dad's love to go fishing and equally enjoy collecting a ton of fishing lures to show off as they fish for that big catch. This is why the World's Greatest Dad Fishing Lure is such a popular and memorable gift for all dads. It's not just the fact that this lure can be displayed as a collectible, but it can also be used to fish with in style!
Get your creative words flowing with this one because, aside from this lure already having a perfect phrase, you can also add your own short message to it as well. Even if dad isn't a pro at fishing, this is definitely going to spark his interest and maybe even get him back into the fishing spirit. With this lure as part of your gifts for dad, no one will be able to deny that he is "o'fishally" the world's greatest dad!
Best Dad Ever Hammer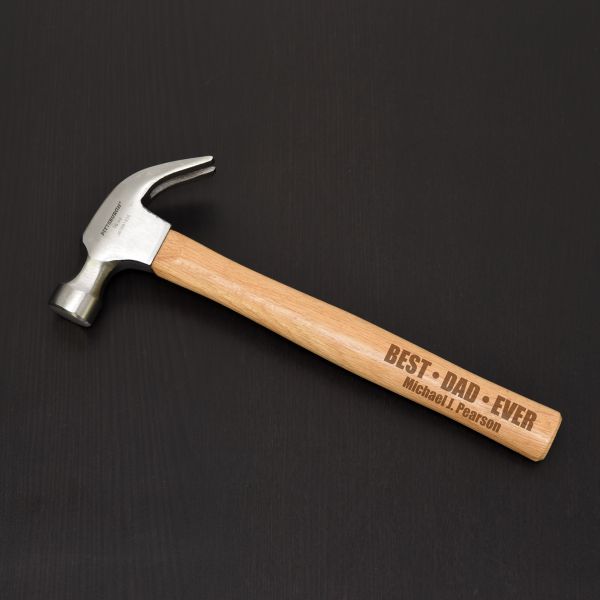 Got a dad that loves to do some handy work or just like to add to his tool collection? If so, the Best Dad Ever Hammer is an ideal choice for personalized Father's Day gifts. This is a heavy duty hammer that can be engraved with dad's name and make a truly personal gift for him.
Dad can get his tools together with this hammer being the prime tool he can show to all his friends. It's a gifts for dad with the added greatness of him being able to use this gift every day.
Greatest Golfer Bag Tag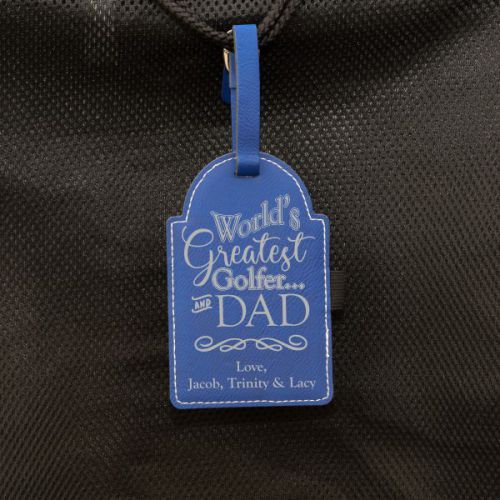 Is dad a hard worker on some days and an avid golfer on others? He might just want to make things a little more personal with the Greatest Golfer bag tag. He can really make his gear his own and show it off to his fellow golfers.
With a message that reads "World's greatest golfer…and dad" he is sure to know his skills are appreciated just as much as his love. Not to mention that you can add a short message to the bottom of the tag to remind him of how much he is loved as a golfer and a dad.
Established Dad Mug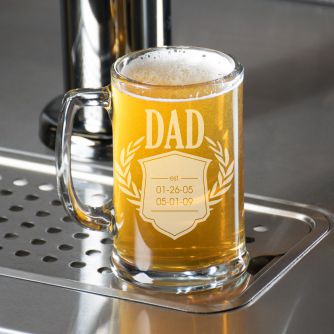 To go along with personalizing dad's golf bag, give him something to enjoy in his "chill time". The Established Dad Mug is one way he can relax and know how much he's loved all at once. You can even add birthdates of the children to let everyone know the happiest days of dad's life.
This mug is definitely a Father's day gift that will keep on giving for years!
Finding the right gifts for dad really doesn't have to be that hard, especially when there are so many that you can choose for him. Just take a moment to consider what dad or grandpa might like, such as their favorite hobbies or their daily routine. This can help you pick the right gifts that will be useful to them, along with showing how much you think about them.
If dad or grandpa travel a lot to and from work or maybe just like to travel in general, then any type of mug is going to be incredibly useful for them as part of their everyday routine. For working dads and grandpas, personalized Father's Day gifts like knives and hammers can be lifesavers in their tool collection. Now for the dad that just likes to relax and have fun pilsners, keychains, fishing lures, and golf bag tags are the perfect addition to their relaxation time.
The most important thing to remember about Father's Day is that dad and grandpa will just appreciate the love you have for them, just by being there with them. Material items can never replace the time and love shown to dad and grandpa by their loved ones. The fact that you decided to give them personalized Father's Day gifts is considered an added bonus to an already amazing day for the both of them!