First Anniversary Gift Ideas
Oct 6th 2022
Every time an anniversary rolls around, there are plenty of ways in which you can celebrate, but when it comes to the first anniversary, you want to make it extra special in every way possible. You might want to plan a special day with that special someone and provide them with all their favorite things throughout the day, just to make them happy. In the planning process, always consider a few extra ideas to keep the first anniversary a very special one.
First anniversary gifts are going to be one way that you can get really creative and give your significant other a gift that's very unique and comes straight from the heart. One of the best ways to do just this is to find perfectly personalized first anniversary gifts that you can customize in just the right way. What's great about choosing gifts that you can personalize is that you can find a gift that fits that special someone just right, but also take a few extra steps to make it something that fits just them.
If you are struggling with some ideas for making that first anniversary special with a gift, you can take ideas from practically anywhere. You can think about that special someone's favorite hobbies or maybe think ahead and have a gift that is holiday related. These are some of the best ideas for anniversary gifts that you can have personalized perfectly for the first anniversary.
---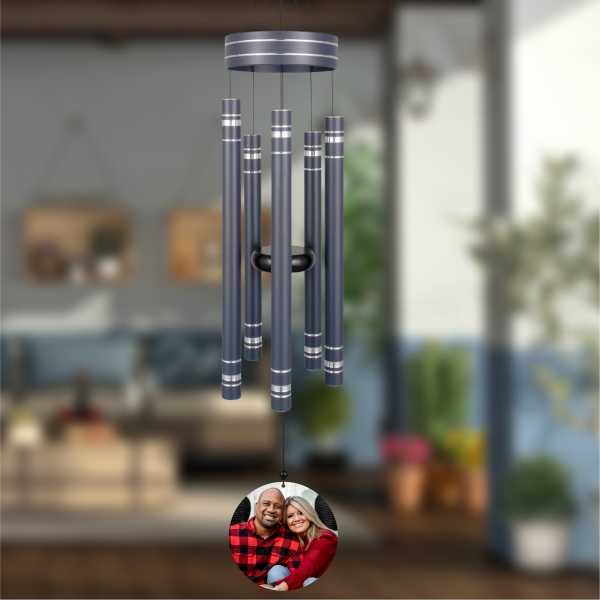 Love Lives Here Wind Chime
Soothing tones are more than perfect for personalized first anniversary gifts and there are plenty of gifts that can fall into this category. If you want to get a gift that can be used both indoors and outside, then you can take a look at the Love Lives Here Wind Chime as the perfect way to complete any day. As an anniversary gift, any type of wind chime is going to be ideal for anyone that wants to spend their days relaxing as much as they can.
This wind chime is wonderful in that you can personalize it with a favorite photo of a special moment or something familiar and fun.
---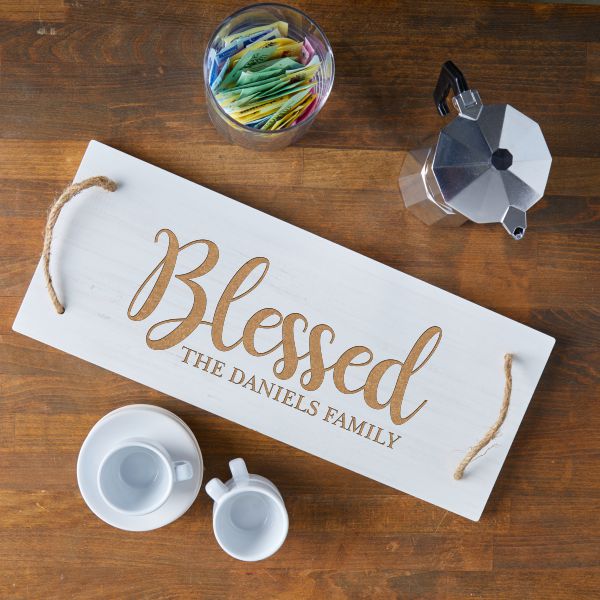 Blessed Serving Board
There's nothing better than being able to give a very special gift to someone you love and choosing a personalized first anniversary gift that you know they will be able to use every day is even better. If your significant other happens to love being the life of the party or maybe just wants a wonderful personalized addition to their kitchen décor, then consider the Blessed Serving Board. This is a great way for them to show off their gift to everyone, enjoy a little reminder of how much you care, and have a great décor piece to display their favorite meals or drinks on.
You can have this serving board personalized with the family's last name and make a very memorable gift that they will absolutely love.
---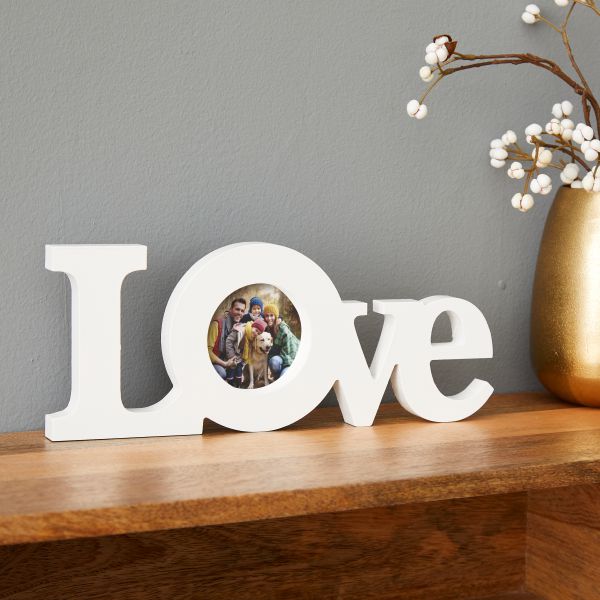 Love Desk Plaque
If home décor ideas fit along the lines of the right personalized first anniversary gift, then you can look at the Love Desk Plaque as a beautiful sentiment to any loved one who appreciates a good photo as well as a wonderful way to display love. You can choose a photo that holds a special memory between the two of you or a photo that's the memory of a fun time together. Either way, the photo that you choose will be displayed directly on this plaque and make a wonderful home décor statement about your love and relationship.
This is also a great gift to have gift wrapped, but also add in a separate gift message that can add a sweet touch to such a beautiful gift.
---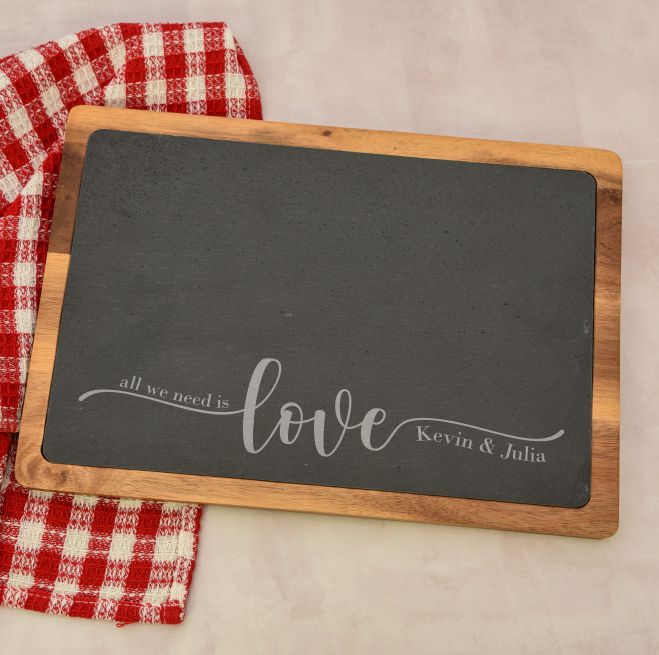 All We Need Is Love Cutting Board
If your special someone loves to keep themselves busy in the kitchen, then they just might love first anniversary gift ideas that allow them to really enjoy using their cooking skills. To keep those skills sharp, but also provide them with the perfect gift, consider the All We Need Is Love Cutting Board as the perfect gift for them and their skills. What's so sweet about this cutting board is the fact that you can personalize it with the couple's names and make it a memorable piece of kitchen cooking décor that you can both enjoy throughout each day.
---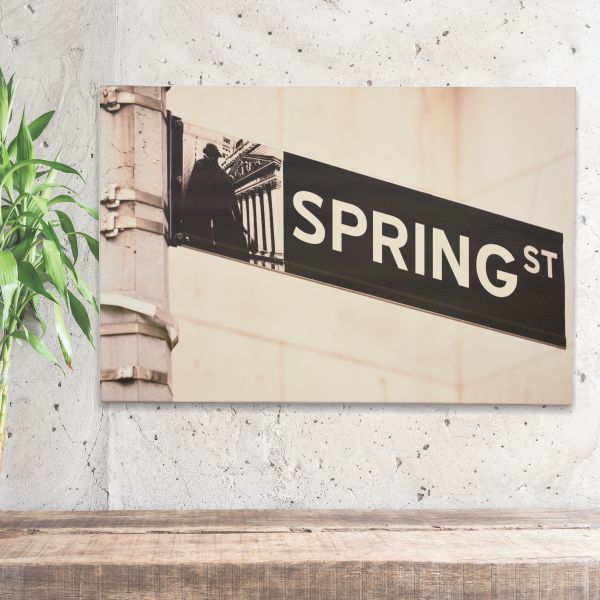 Family Street Sign Custom Canvas
If you're leaning more towards a gift that goes perfect as home décor as well, then you can consider another type of personalized first anniversary gift that will leave them in awe of the creativity behind it. The Family Street Sign Custom Canvas is a beautiful piece of home décor that anyone would love and the fact that it can be personalized to fit your first anniversary makes it a wonderful gift to give that special someone. To personalize this canvas, all you need to do is add the family's last name, but you also have the option of choosing either a large or small size for this canvas, making it fit any room within the home.
---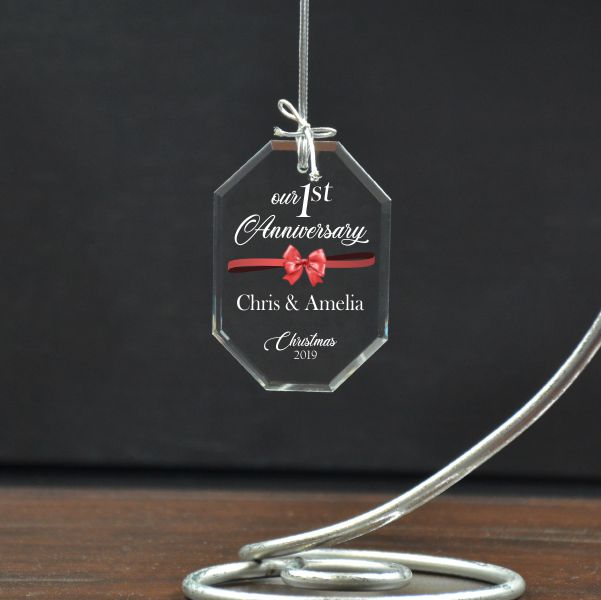 First Anniversary Christmas Ornament
The holidays are coming closer and closer so going with an anniversary gift that will be great for the holidays as well is a wonderful idea. The First Anniversary Christmas Ornament is a gift idea that lets you personalize it by adding the first names of the couple and also adding the year. It's a great way to display the first year of being together and being in love, but also a wonderful memory that can be physically displayed in a number of ways.
You can always choose to wait to add this to the Christmas tree, but you can also purchase a separate ornament stand and have it displayed whenever you like. It's the perfect way to celebrate a wonderful year together at any time.
---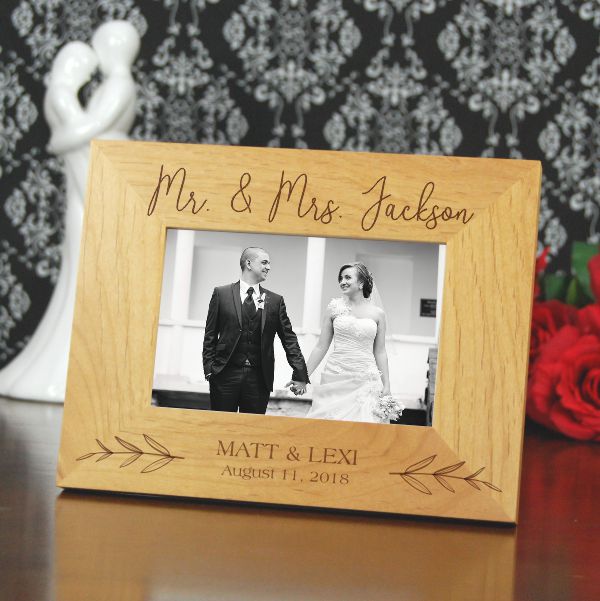 Mr Mrs Personalized Wood Frame
Personalized first anniversary gifts are amazing in that you can find so many different gift ideas to match what that special someone would like. Displaying a favorite photo in a frame is perfect and going with the Mr Mrs Personalized Wood Frame is the ideal way to give a great personalized gift for your first anniversary. There are so many ways in which you can personalize this frame, including adding the couple's first and last names and even adding the wedding date.
All these personalizations make for a wonderfully unique gift that will definitely be appreciated.
---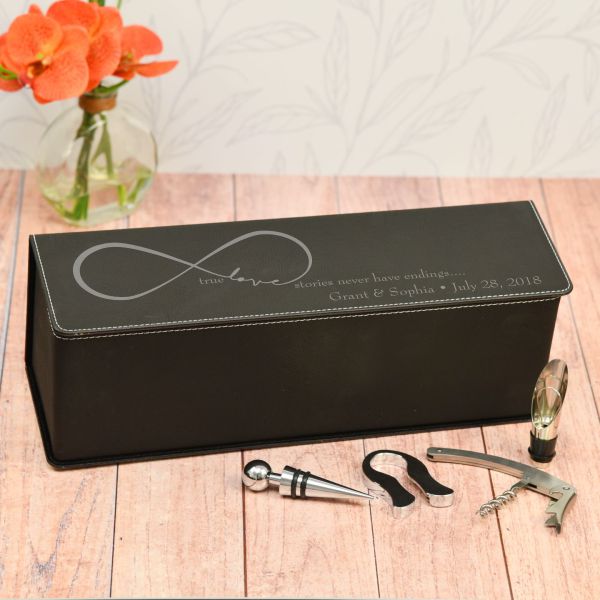 True Love Personalized Wine Box
If that special someone has a love of wine, then there is one particular gift that they will love. The True Love Personalized Wine Box is a great first anniversary gift and they will truly appreciate the personalization that comes with it. You can add the wedding date and the couple's first name, as well as pick the perfect color for the box.
---
With personalizations like these, you can have a wonderful gift that you would be more than happy to present to your significant other.
Choosing the right gifts for a first anniversary is not at all hard when you look at all of these wonderful gifts that make a first anniversary special. There are so many personalized first anniversary gift ideas that you can choose to be a part of a larger, special day with your significant other. Anyone who loves wine and may want to relax a little bit with their favorite wine would love to have a personalized wine box all to themselves to enjoy whenever they like.
For anyone who loves to cook, they will always be able to use a useful kitchen tool like a cutting board and it will be a constant reminder of much you love and care about them. You could even follow that gift up with the serving board so they have a great way to present all their favorite homemade cuisines. You can never go wrong when it comes to picking out home décor as gifts so choosing a canvas, frame or plaque are always going to be great first anniversary gift ideas.
You can even decide to start the holidays off the right way and choose a personalized ornament as a great first anniversary gift. The choices are endless and being able to personalize these gifts in just the right way is a great way to make sure your first anniversary is a special one. Choosing these gifts and adding in a special gift message is a wonderful way to make a first anniversary amazing and give that special someone an anniversary that they will never forget!