First Birthday Gift Ideas
Aug 31st 2022
First birthdays are always fun because it gives you a chance to be a little creative and really have some fun with how you celebrate baby's first birthday. There are literally a million ideas that you can come up with to help baby celebrate in just the right way and usually a special party is considered a favorite. If you do decide on a party, you can have lots of fun with different themes that can be shown throughout the entire décor and you can also add in accents of things that baby likes, like a special cartoon.
You can take colors from any of their favorites and make a themed party that is better than you would ever expect. There's also the food and gifts that can be thought of and this is where you can really add a special touch to baby's overall birthday and get them something you know they will love. Choose baby's favorite foods to have at the party and make sure you have a little extra for them to have on their very special day.
Choosing a personalized gift for baby's first birthday is not going to be as hard as you might think and you have plenty of options for unique gifts when it comes to finding the perfect gifts that baby will like. You can choose from gifts that baby can keep in their room to give them comfort in every form, or you can choose a gift that can help baby learn a little bit as they grow. Either way, you have more than enough options and here are some of the best baby's first birthday gifts that you and baby will love.
---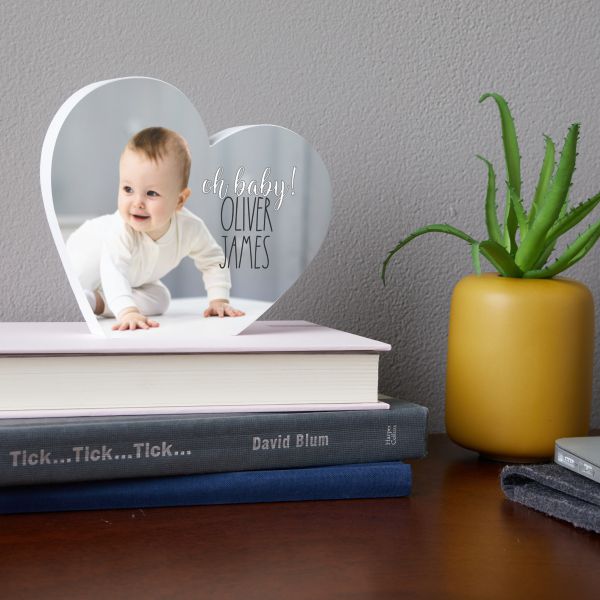 Oh Baby! Heart Plaque
Baby's first birthday gifts can be so many different things that you should consider a personalized gift that can be placed anywhere around the home. Anything that can include a photo will make this an even better gift because it will be considered much more meaningful to the recipient and very unique. The Baby Heart Plaque is a great gift idea because you can personalize it by adding a favorite photo.
You can choose a baby photo that's fun or just plain sweet. No matter the photo you choose, you're going to have a wonderful gift that you can also add a name to and make the perfect personalized gift to give for baby's first birthday. With the plaque being in the shape of a heart, you will have more than enough creativity when it comes to this gift and it can be a wonderful piece of home décor in any room.
---
Dream Big Night Light For Babies
For an amazing idea for a personalized gift for baby's first birthday, anything that lights up is going to be a winner in any baby's eyes. When using an idea like this, it's easy to see why the Dream Big Night Light For Babies is going to be the best idea for baby's first birthday, especially when you can add personalizations to this night light. Baby's name can go right on the front of this night light and sits just below sweet animal pictures and a lovely quote.
What's even better about this night light is that you can also choose the size that will work best for baby. For larger rooms that you want a little more soft light to filter into, the large size would be great for making sure baby has the perfect lighting to go along with peaceful dreams. For smaller rooms or if you want to keep a limited amount of light filtering in, you can go with the smaller size of this night light and make it the ideal gift for baby.
---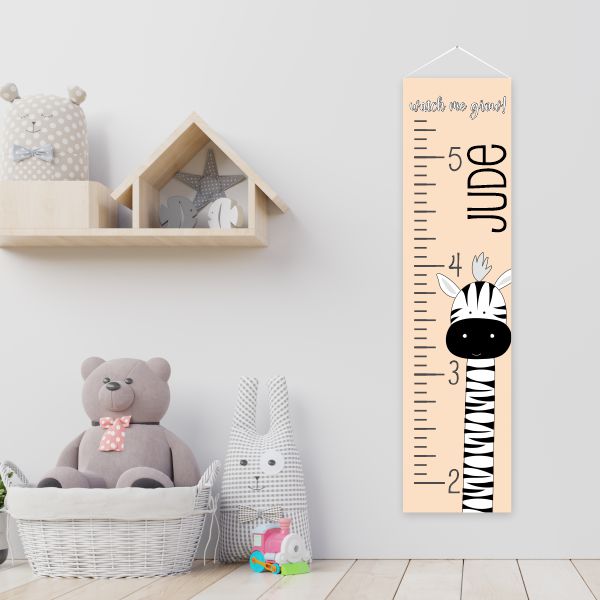 Personalized Growth Chart with Giraffe
Sometimes, you might want to go with something that is both functional and fun for baby's first birthday gifts and that is perfectly okay. Tracking the milestones in a baby's life is important for the whole family and having a personalized gift to help record those milestones is something that baby and parents will both love. This is why the Personalized Growth Chart with Giraffe is such a great personalized gift that can be appreciated over and over again throughout baby's life.
This is a giant-sized ruler that you can add a name to and give it as a wonderful gift for baby's first birthday, but also as a creative gift for the parents as well. What better way to decorate, than with a unique personalized gift that can be used throughout the years of baby's growth. It's a great way to watch the little one grow and when they get older, you can pass this growth chart to them as a sweet memory gift that they can cherish.
---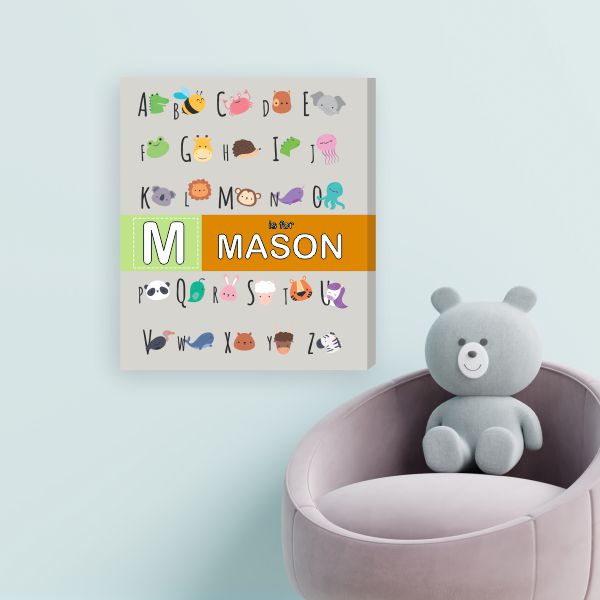 Alphabet Custom Canvas For Kids
A personalized gift for baby's first birthday could be anything you can imagine, but when it comes to choosing that gift, you can go for something that has multiple functions for you and baby. If you happen to be decorating baby's room again and want to make their birthday gift be a part of the décor, then the Alphabet Custom Canvas for Kids is a gift that you and baby with both love very much. You can personalize this creative gift by adding baby's name, which will be shown right in the middle of this adorable wall art.
The great part about this type of gift is that it has more than one use for it and it's something that parents will greatly appreciate in helping with baby's growth and development. While this is definitely considered a work of art to be hung in baby's room, it can also be used to start learning the alphabet early. The colorful prints and easy to see alphabet is a great way to help baby associate letters and words and learn their own name while they're at it.
---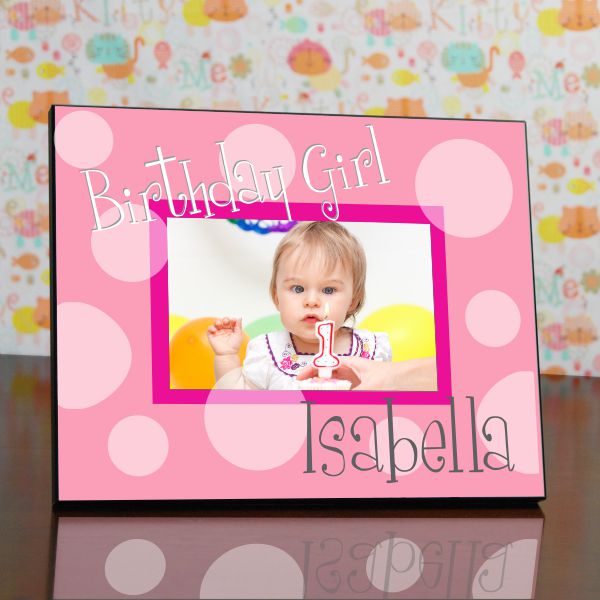 Polka Dot Birthday Frame
If there's anything that you can get as a personalized gift for baby's first birthday, a creative frame like the Polka Dot Birthday Frame says all that it needs with the ability to display a favorite photo of baby. The fun part of this gift, aside from being able to add baby's name, is choosing the ideal photo to go in it. It's a chance to get create and have fun with different photos of baby or making up an entirely new photo shoot, just to have the perfect photo of baby displayed in this frame.
The fact that you can choose between a pink, green, and blue frame is another personalization that makes it easy to choose what works best for you and baby. If you want to have plenty of options for photos, you can purchase more than one frame and be able to display all the best photos of baby, all over the home. This is also a great idea for baby's first birthday gifts for twins, triplets, and so on.
---
All of these gifts are more than perfect for baby's first birthday and they all have unique ways in which they can be personalized and made into the ideal gift for baby. A plaque is for more than just the baby because the parents will be just as happy to have something so sweet that they can place anywhere they would like. A night light is always a good idea for any baby and when you are able to combine that with a personalization that's just for them, it's the type of warmth and comfort baby can enjoy every night for the perfect sleep.
Growth charts work for baby, but they also work for the parents as well because while baby might like the colors and shapes on the chart, the parents can enjoy a representation of their child's growth through the first years. An alphabet canvas is a wonderful idea for any child because, just like with the growth chart, they can enjoy the abundance of colors and images to associate with the alphabet, but also learn the overall alphabet as well. No matter the idea you have in mind, baby's first birthday gifts are going to be extra special with a frame because you can take a favorite picture of baby and have a home for it to be displayed in anywhere.
Above all, these gifts are so unique that everyone is sure to love them and enjoy giving them to baby, so they can admire and cherish the love that so many have shared with them on their special f