Gifts for Kids that Aren't Toys!
Jan 11th 2023
---
There are so many choices when it comes to what you can give kids as gifts and you may not even know all the choices that are out there for them. While kids are extremely happy with receiving gifts that are toys, you can give them something a little different that is also considered very useful to them as well. When looking at all the different choices, you may not have considered that personalized gifts for kids would be a huge success, but these types of gifts are often the best ideas that you can have.
Personalized gifts are something that kids are going to love for how unique they are, but these gifts are also great for making sure each child gets something that is memorable throughout their life. There are different ideas for what you can consider for personalized gifts and some of the most unique ideas can be wall décor and items that kids can carry around wherever they go. Other ideas can include room décor that they can place anywhere and even creative lighting ideas and something that helps them keep their childhood recorded for years.
No matter what you decide to choose when it comes to personalized gifts, you can always be sure that kids will love something personalized just for them. If you are unsure where to start when searching for personalized gifts for kids, then you can take a look at some of the best gifts that are out there. Here are personalized gifts that kids are sure to love and enjoy every day.
---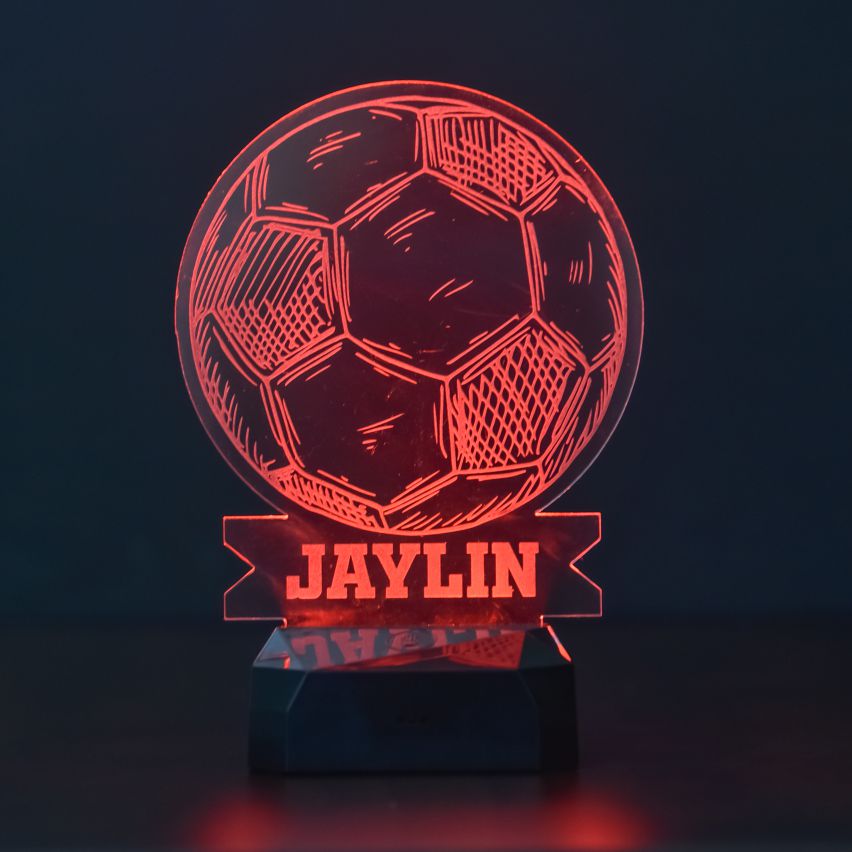 Personalized Soccer Ball LED Sign
A very cool gift idea would be to get a kid something that is not the usual and something that can go in their rooms for them to show off as much as they want. This can be anything, but room décor is often the best idea, and when you combine that with personalization, it becomes a great gift idea for any kid. If you know kids who love soccer then you can definitely get them room décor that reflects their passion for the game.
The Personalized Soccer Ball LED Sign is one of the personalized gifts for kids that they can do more than just hang in their room because they can also use it as a conversation piece with friends and show their love of the sport at the same time. To personalize this sign all you need to do is add their name and it'll be displayed brightly below the soccer ball image. This is a wonderful way to light up their room and give them something unique as a gift in the process.
---
You Are Loved Light Box
Another great idea for room décor would be to have other lighting ideas to brighten up any room. The You Are Loved Light Box is perfect when you're choosing personalized gifts for kids and there are quite a few personalizations that you can do to this light box to make it the perfect gift to give. You can choose between a boy and girl version of the light box that has either a lion or an owl on the front of it and you can also decide on a large or small size for the light box as well.
This is especially good when you want to pick a size that matches the size of the room and also choose an image that matches the kids you are buying for. To add even more to the personalization, you can add a name on the light box as well. It's more than just a regular gift because it provides kids with fun and can literally light up their lives.
---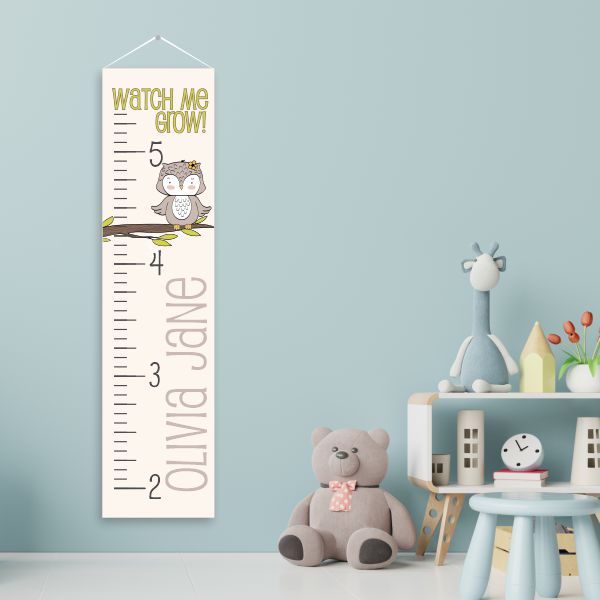 Baby Owl Personalized Growth Chart
Something that can count as a gift to any kid, but can also double as a wonderful delight for parents, would be the Baby Owl Personalized Growth Chart. Personalized gifts for kids can be anything, but having a very meaningful gift like this is what many kids will love, especially when they can keep this gift throughout the years and remember where they started. You can add their name to this growth chart, which is shown in big letters right on the front.
It makes for the perfect idea for a gift for a kid that does not involve it being a toy and one that can easily be personalized for any kid to enjoy in their room. One of the great things about this growth chart is that it's waterproof which ultimately makes it kid-proof, so you know it's going to last quite a while. If you're getting gifts for more than one child in a household, you can easily personalize each one for each child, making it a very easy way to make the kids happy.
---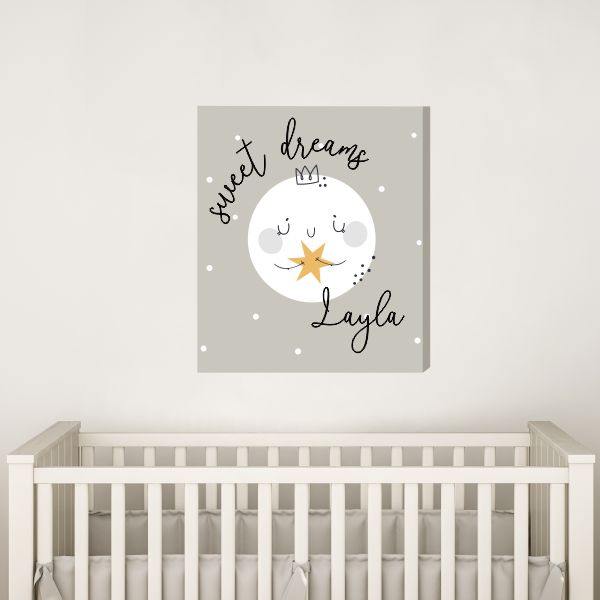 Sweet Dreams Custom Canvas
Wall décor is another type of personalized gifts for kids that will definitely make both parent and child happy. Kids that have their own wall canvas can have a very unique way of expressing themselves, but also have a great gift that's been made just for them. If you are looking for something that fits perfectly with this, then the Sweet Dreams Custom Canvas is a great idea for a gift that you can be sure any child will love to have displayed in their room.
This is a great gift to personalize because you can choose between two sizes to fit the kid's room and you can also add a child's name as well. This is a great way to give a kid a unique gift, but also a gift that they can display wherever they would like in their room. It's also a wonderful accent that's added to their room and can be perfect no matter what wall you hang it on, making it a great way for them to personalize their room in just the right way.
---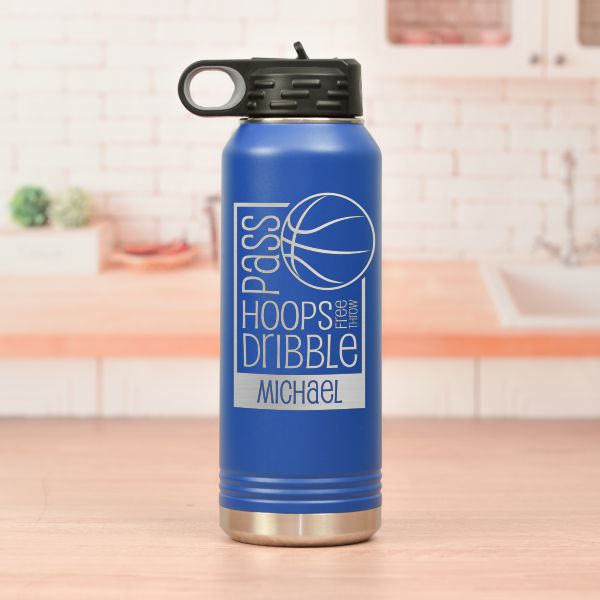 Words of the Game Basketball Water Bottle
Regardless of whether or not a child has toys, the one thing you can always count on is the fact that they will run themselves crazy throughout each day. This is where personalized gifts for kids will come in handy because you can choose a gift that's going to help keep the kids hydrated at all times. To really get creative and give them a good amount of hydration, give them the Words of the Game Basketball Water Bottle.
There are a ton of wonderful things about this water bottle that can make it a very unique gift for any child to enjoy throughout everything that they do. To personalize it, you can add their name and even choose between several different colors as well. You can also make this an extra special gift to any child by adding a separate gift message letting them know how special they are.
When you're first thinking about the different types of personalized gifts for kids, these are some of the most unique gifts that not many think about. While toys are the usual way that so many buy for kids, having these personalized gifts are more than a way for them to enjoy what they receive because they can also use these gifts every day. Water bottles are wonderful for every stage of life and kids can use this on a daily basis to stay hydrated as much as they need.
An LED sign is a fun way for any kid to express themselves, but also a great way to make their room their own by making it brighter and more fun, giving them a reason to enjoy their own space. When adding more lighting to any room for a kid, you can never go wrong with a light box, which can also be the center of attention for any kid. Decorating the walls is just part of what kids love to do so giving them a custom canvas is more than the perfect kind of gift.
A growth chart is definitely for kids and parents and it'll be fun letting them watch their growth throughout the years. With so many fun gift ideas, it will be very easy to bypass toys and let the kids enjoy some creativity with their gifts. All of these ideas are wonderful ways to give the kids something special and memorable just for them, but also a great way for them to enjoy having gifts that can last throughout their life.