Her Birthday Wishlist: 10 Best Birthday Gifts for Her
Jun 13th 2023
Even if they won't tell you their age, most women appreciate being celebrated on birthdays. If you're searching for the perfect birthday gift to celebrate that special lady, consider unique, personalized birthday gifts for her. Here are 10 of the best birthday gifts we've found.
"Bless This Home" Lantern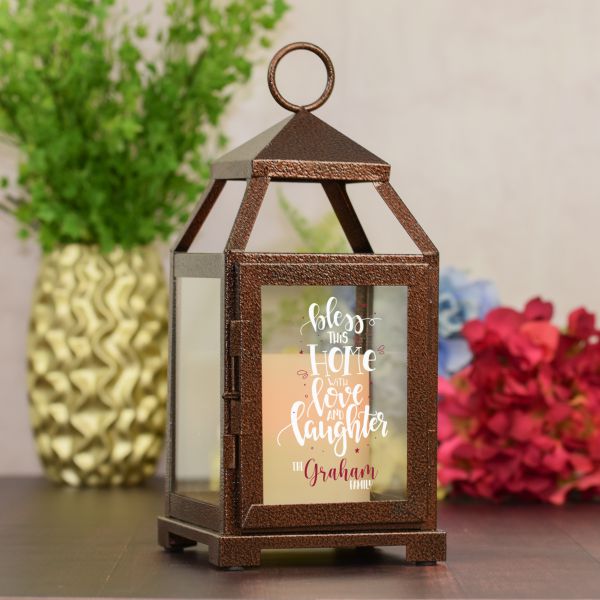 The best birthday gifts are the ones that are beautiful and unique. This personalized lantern fits that bill nicely. The iron lantern is glazed with a burnished copper coating and features acrylic panels that filter the light.
The 6"x12" lantern reads "Bless this home with love and laughter" and is personalized with the recipient's last name. The lantern is safely lit with a 4-inch LED candle and includes the necessary batteries for operation.
"Bon Appetit" Personalized Cutting Board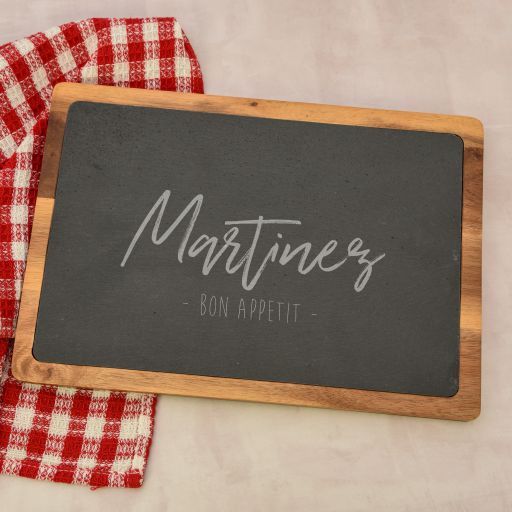 When you are looking for personalized birthday gifts for her, don't overlook this acacia and slate cutting board. Whether she uses it for cutting veggies, serving charcuterie, or as a decorative display, she and her guests will appreciate the beauty of this board. The slate insert says "Bon Appetit" and can be personalized with your loved one's last name.
The board measures 13"x9" and the slate insert is easily removed for washing. This cutting board is not dishwasher safe.
"Just Beat It" Personalized Cake Pan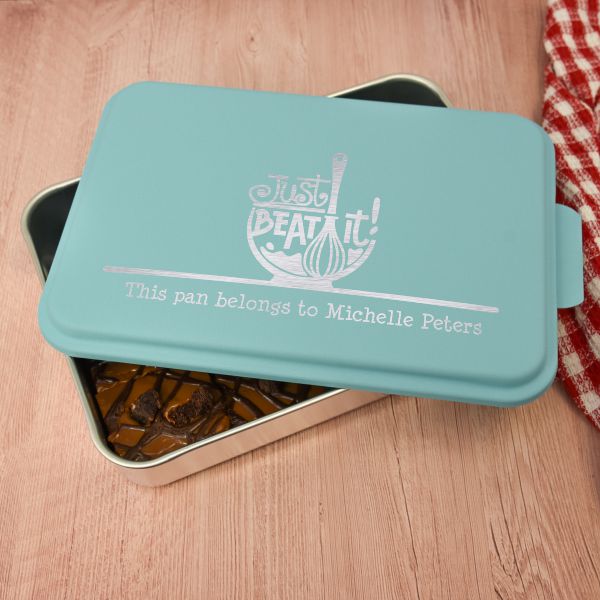 If the baker on your gift list has a sense of humor, she will love this personalized cake pan. This 9"x13" cake pan is the perfect dish for carrying baked goods to a family gathering or work party. The lid features a mixing bowl with the words "Just Beat It" inscribed on it.
Her cake pan won't get left behind at the party when you personalize the aqua-colored lid with her first and last names. The aluminum pan is great for cakes, brownies, or other baked goodies. Just make sure she knows that the pan isn't non-stick!
Wood Long Distance Friendship Lamp
Are you sending birthday wishes to someone who lives at a distance? This friendship lamp will remind her that no matter the distance, you keep her in your thoughts. The lamp you give her will match the one you keep. Simply touch your lamp, and hers will begin to glow.
The lamp is designed to stay lit for an hour and a half by default. However, the timer can be adjusted to stay illuminated for up to 24 hours. These unique birthday gifts for her do require a Wi-Fi connection, but the visual representation of your connection is priceless.
Indoor Herb Garden in a Mason Jar
Fresh herbs add levels of flavor beyond that of the dried, jarred variety. This herb garden provides her with the ability to grow fresh herbs even if she has no outdoor garden space. The Mason jar design adds a touch of vintage flair to this charming gift.
The Mason jar herb garden includes all she will need to successfully cultivate herbs in her own home. Even if she doesn't have a green thumb, the hydroponic growth system takes the guesswork out of growing the herbs.
2022 Live Life Beautifully Planner
If the lady you're shopping for needs organization, this planner from Good Housekeeping could be one of the best birthday gifts you could give her. It features inspirational quotes for every day of the year as well as checklists and easy recipes.
This beautiful planner features weekly, monthly, and yearly calendar views, so her to-do list is organized the way she needs it. The monthly "feel-good goals" feature could be just what she needs to remember to take a little time from her busy schedule for herself.
Farm Fresh Flower Box Subscription
When looking for unique birthday gifts for her, don't skip the beauty of a floral arrangement. Rather, send her a beautiful arrangement once a month with this flower box subscription. Each month she will receive a flower bouquet made with the fresh flowers of the season.
When she opens her subscription box each month, she will find an arrangement as beautiful and unique as she is. The arrangements are comprised of 20-25 stems of flowers and are delivered directly from the farm to her door.
Conclusion
The best birthday gifts are unique, personalized birthday gifts for her. These are just a few of the many choices available.