Inexpensive Milestone Anniversary Gifts
May 10th 2022
Every single day, there are couples who are celebrating their anniversary or close to the time they celebrate. The first thoughts that anyone would have about an anniversary would be the kind of gift to be given. There are, of course, the usual gifts like candy, flowers, jewelry, or a card.
On the other hand, sometimes it's better to step outside the box and get a little bit more memorable and creative with your anniversary gifts. One of the most unique ways in which do this would be through milestones. For each milestone, a different type of gift can be given to represent your union.
People celebrate different anniversaries in a marriage and the number of years is often a fun time to get in on the gift shopping. The main years that most celebrate are 1, 5, 10, and 15 year marks. These are usually symbolized by many things, including materials like wood, aluminum, and crystal, and there are some really amazing anniversary gifts that come from going with these types of materials.
Year 1: (Modern Gift) Clock
The first year is always the fun year where you can play around with the one year mark, make the anniversary gift simple and yet meaningful at the same time. For the first year, a modern gift like a clock is the perfect symbol of one year down and many more to go. It's also a literal timeless gift that the happy couple can enjoy throughout each and every day.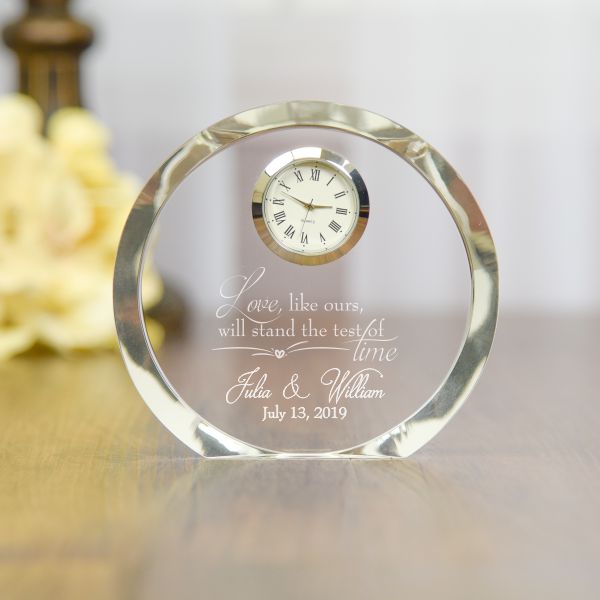 The Test of Time Personalized Wedding Clock is one of many personalized anniversary gifts that works great as a first year gift. A clock itself represents not only the start of a bountiful relationship, but also that very same relationship continuing to shine and prosper for years to come. Not to mention the crystal design is made to be the ideal anniversary gift.
This beautiful crystal clock is so much more special with the fact that it can be personalized with the couples names and wedding date. It's a beautiful and classy design that works great as inexpensive anniversary gifts, no matter how long the happy couple has been married. A separate gift message is another way to make this gift very special for the happy couple.
Year 5: (Traditional Gift) Wood
The five year mark is considered the first official highlight of any marriage and the way of celebrating it is even more elaborate than the first year mark. This doesn't mean that you have to go broke in the process of celebrating because there are plenty of inexpensive anniversary gifts that are available to you. Since this is year five in the marriage, a traditional type of gift is often chosen for this and the choice of material is usually wood.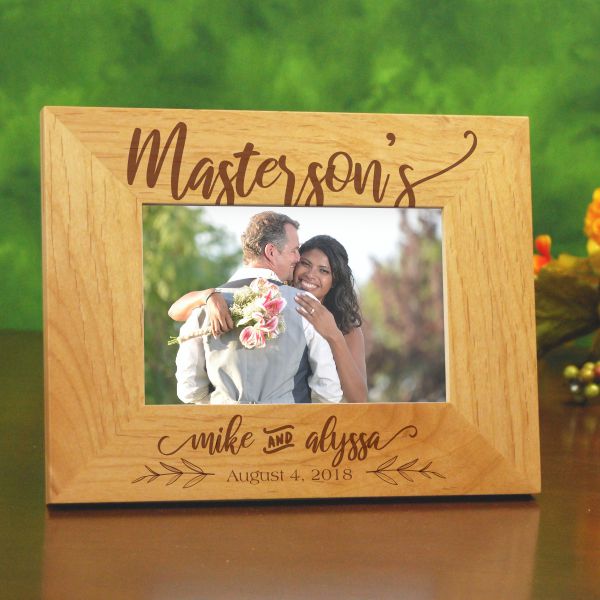 Couples take photos throughout their relationship, for those special photos, there needs to be the perfect way to display them around the home. Combining the wood material idea and display ideas, you can be on the Happy Couple Personalized Frame as a winner in this marriage year category. It's the ideal way to not only display a favorite photo, but to also have a happy reminder around the home of the couple's loving marriage.
You can add the couple's last name to this and it will be beautifully displayed at the top of this frame, in fun lettering. There's also space to add the couple's first and last names, as well as the marriage date, to make this one of the best personalized anniversary gifts possible. Choose to get this gift wrapped with a special separate message and this will be a guaranteed winner as an amazing anniversary gift.
Year 10: (Traditional Gift) Aluminum
Year ten is considered a true milestone in any marriage and finding the perfect anniversary gifts for him or the best anniversary gifts for her might seem complicated at this stage in the marriage life, but it's not impossible. There are gifts available that any couple would be more than happy to have and that can be a great representation of their many years together and the many more they have to come. This is another stage in which a traditional gift is the best option and the usual material for this marriage year is aluminum.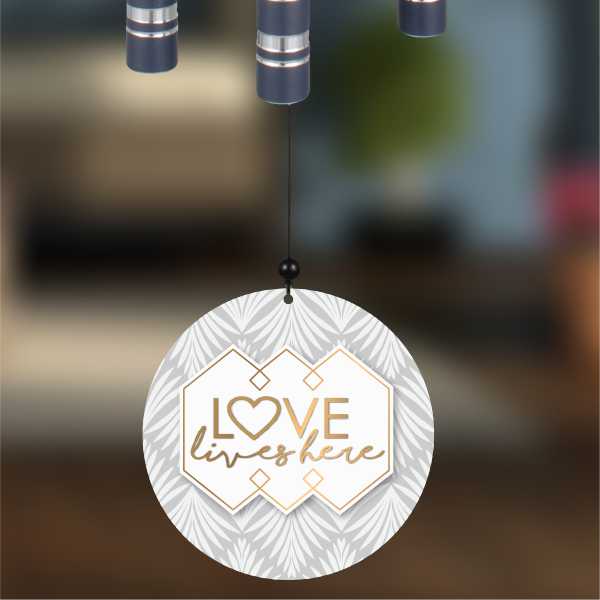 With aluminum being the metal of choice, you might be wondering how you would be able to work it into any personalized anniversary gifts. One of the easiest and yet unique gifts you can choose would be wind chimes that can be seen, heard and used on a daily basis for any couple in their married life. The Love Lives Here Wind Chime is the best example of a simple anniversary gift that can be personalized and turned into an amazing gift for every married couple.
Personalizing this anniversary gift is going to be very special because you can actually choose a photo that will go directly onto this wonderful chime and hang happily while whistling in the breeze. What's really unique about this gift is that the chimes, while made of aluminum, are actually a beautiful navy blue color and have etchings in silver on them, making it a very classy gift to be given. Wind chimes like this are inexpensive anniversary gifts that any couple would be more than happy to have.
Year 15: (Traditional Gift) Crystal
Year fifteen is yet another milestone for any marriage and with that comes even more possibilities for anniversary gifts. This is the year that is known for the material crystal, so choosing a gift with that representation not only means showing a little extra love, but also giving a unique gift worthy of the crystal anniversary. Whether you're looking into choosing anniversary gifts for her or having a little trouble finding anniversary gifts for him, the Personalized Anniversary Ornament is just the right gift to choose.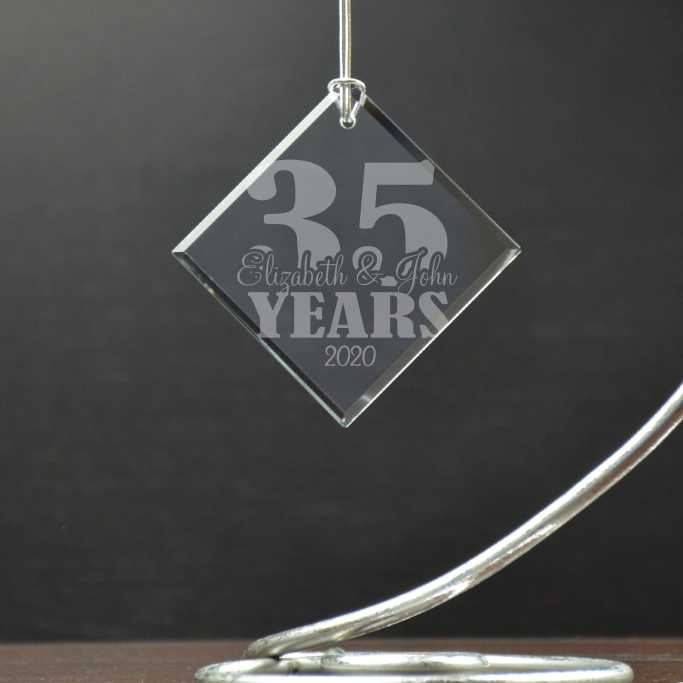 Crystal gifts are definitely popular no matter how many years you have been married, but there's something about the 15 year mark that makes this an especially good time to choose a crystal gift for that special someone. Remember that it doesn't have to be a holiday to give an ornament as a gift and they definitely applies in any anniversary situation. This ornament is perfect for the occasion because of the ability to personalize it with the number of years married and the couple's first names.
The engraved crystal design makes this a timeless piece that anyone would want to display as much as they possibly could. You can also buy an ornament stand to go with it so it can be displayed anywhere in the home easily. This is just another option for inexpensive anniversary gifts that are not only unique in every way possible, but is also memorable for anyone that receives it.
Most married couples celebrate specific years like year 1, 5, 10 and 15, but you can honestly choose whichever years you really want to highlight and go with that as the basis for a very special gift. It's true that year one is a very momentous occasion for any couple, but truly, every day together is enough reason to celebrate being married. With the first year out of the way as the modern stage, it leaves the happy couple hopeful about continuing through the years.
On year five of marriage, this is where you can get traditional because you've been in it for five years, you know what to do and you know how this marriage thing works. This is why traditional gifts are literally the symbolization of the fifth year of marriage and why it is considered one of the most special occasions in any marriage.
The same can be said for the ten year and the 15 year anniversaries as well. It is another traditional anniversary time in which a traditional gift is often given in celebration of either one. You can always go with any material you chose to represent the milestone on a marriage, but make sure you choose a personalized gift that allows you to get creative with it. Personalized gifts make all the difference in the world, especially when it comes to getting the best anniversary gifts possible!