Meaningful Gifts for Grandparents
Sep 28th 2022
There's nothing better than being able to celebrate each and every day with grandparents and having just as much as you possibly can with them. There's a special day that rolls around every year and on that day, you can give grandparents some extra love and attention. Grandparents Day is a great time to show your grandparents just how much you care and it's also the perfect time to plan something special for them.
Special planning can involve a day of fun and excitement just for them, but it can also include giving them the perfect gift. Grandparents' day gifts do not have to be anything complicated because it's the message that these gifts represent that will be the real prize. There are also a number of different gifts that you can consider for grandma, grandpa, or both grandparents, making it easier to find the best gift.
Personalized grandparent gifts are one way that you can show just how much you care because these gifts are made with love and personalized to fit the grandparents in every way. If you're having a little bit of trouble thinking up some gift ideas, here are some great choices and all of these gifts can be personalized to fit grandma and grandpa perfectly.
---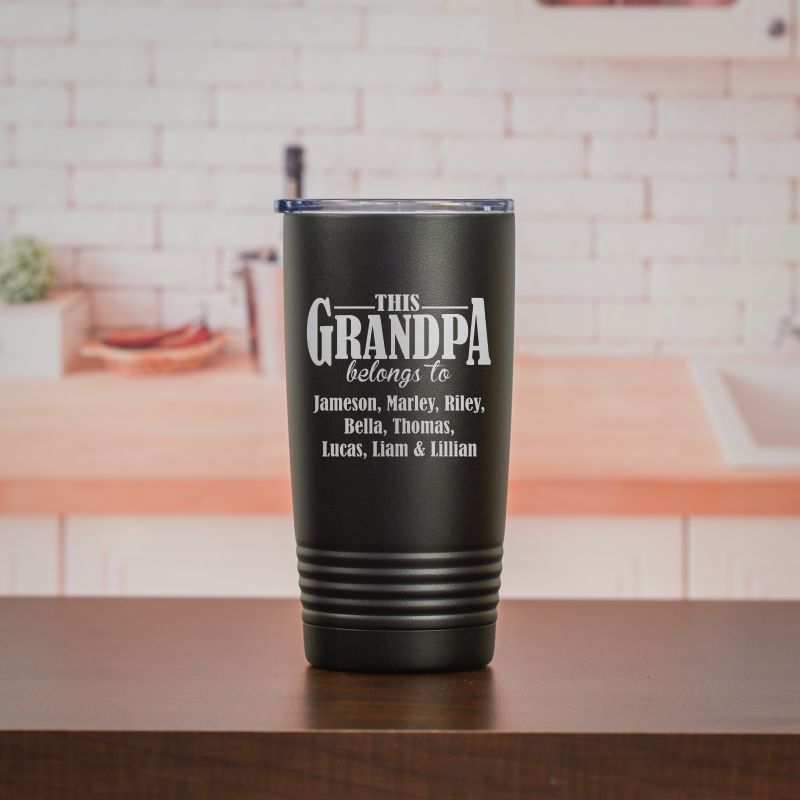 This Grandpa Belongs To Travel Mug
There's nothing better than deciding to go with something traditional and when choosing a gift that fits this category, you can go with something simple. A gift like the This Grandpa Belongs To Travel Mug is a gift that any grandpa can use throughout each day and fully enjoy. You can choose between blue or black colors and even add the names of all the grandchildren to this travel mug, making it a touching gift that's perfect for grandparent's day gifts.
---
Personalized Light Box With Picture
A truly wonderful gift idea for the grandparents would be giving them something that goes great with their home décor, but also something that can light up their life. The Personalized Light Box With Picture is a beautiful gift to give to grandparents, especially because it can be personalized in a few ways. All you need to do to make this gift perfect for the grandparents is add a favorite photo, choose a caption or add names to go underneath that photo, and choose the perfect size to fit the grandparent's home.
---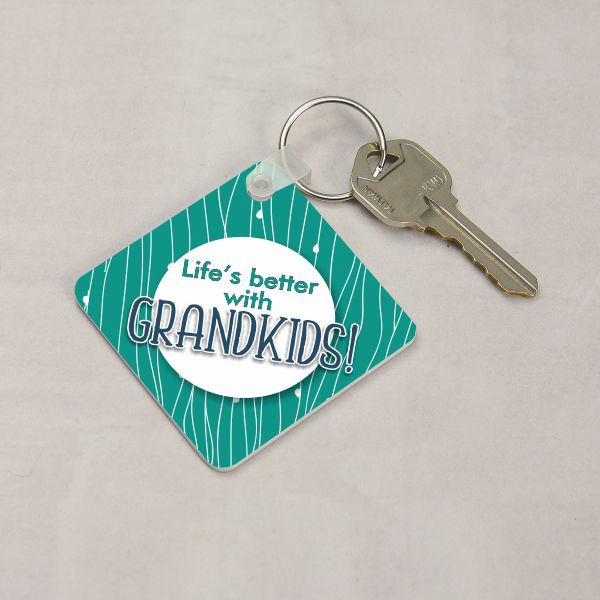 Life Is Better With Grandkids Keychain
Having a small gift that the grandparents can carry around with them is another type of gift that works perfectly for grandparent's day gifts. The Life Is Better With Grandkids Keychain can be personalized with a sweet or fun message that's guaranteed to make the grandparents smile. Don't forget to get two of these keychains and give grandma and grandpa gifts they can truly cherish.
---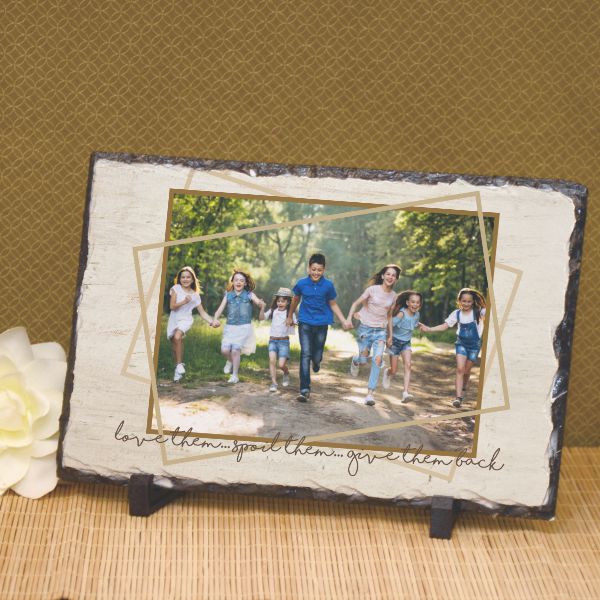 Grandparents Give Them Back Plaque
A wonderful gift that you can give your grandparents is the gift of something they can place anywhere around their home. The Grandparents Give Them Back Plaque is a fun way that you can show your grandparents just how much you love them, but also helps them add to their home décor. Pick out a favorite photo to add to this plaque and give it as the perfect gift.
---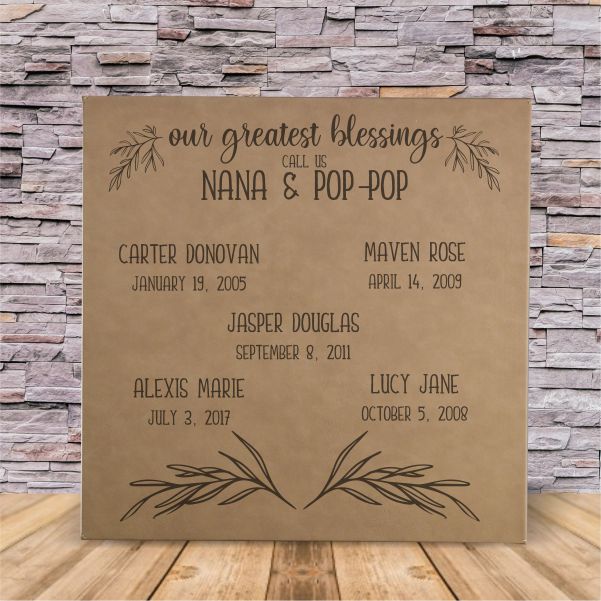 Grandparent's Greatest Blessings Wall Art
If you're still wondering about which personalized gifts for grandparents to get, then you can think about gifts that would suit both grandparents and fit perfectly into their home. With the Grandparents Greatest Blessings Wall Art, you can help the grandparents show off their grandchildren with a very unique piece of décor. Just add the grandparents' names and the names of the grandchildren to this wall art, and they will be more than happy to display this gift anywhere in their home.
---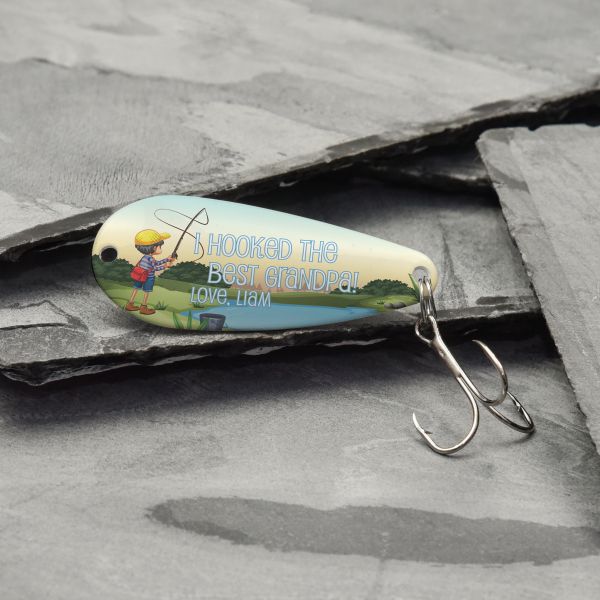 Best Grandpa Fishing Lure
When grandpa's ready to go fishing, you can give him a gift that will fit perfectly into his tackle box and give him the best fishing experience he's ever had. The Best Grandpa Fishing Lure is great for grandpa because you can personalize it just for him by adding his name. It'll be the best gift in the world for a grandpa who loves to spend his days fishing or one who just loves to relax and let the fish do all the work.
---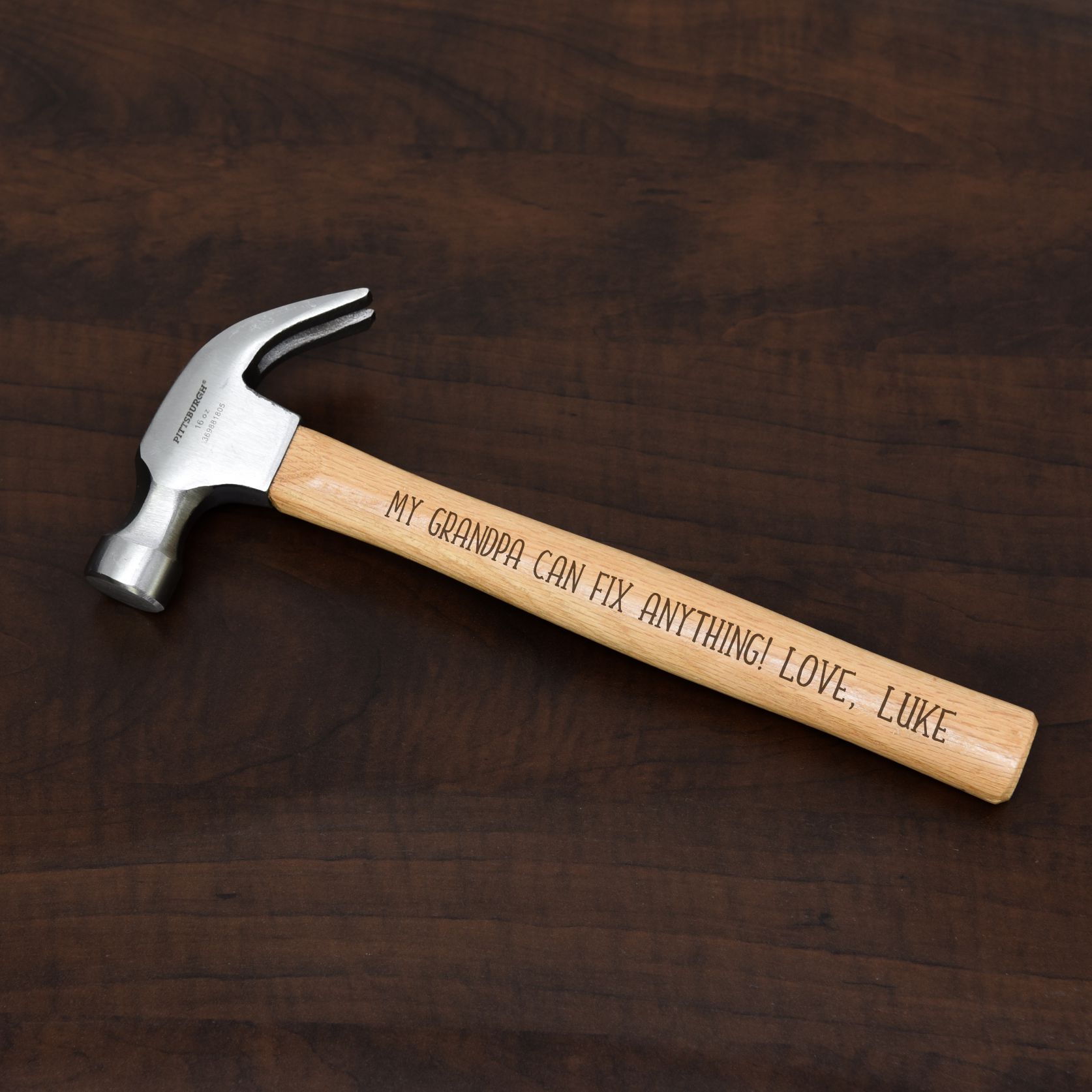 My Grandpa Personalized Hammer
Personalized grandparent gifts can also be something to help out around the house or something that grandpa can add to his collection for everyday enjoyment. The My Grandpa Personalized Hammer is a prime example of a gift that grandpa will absolutely love. You can make it an even more special gift by adding grandpa's name to it and even going so far as to add a separate gift message to make it more than just a special gift made just for him.
---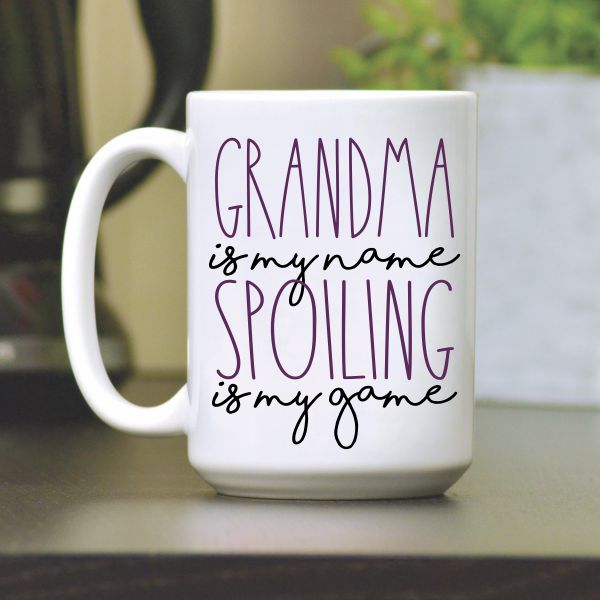 Grandma Spoiling Game Coffee Mug
For grandma, you can give her a gift that really shows off just how great she is at spoiling everyone around her. The Grandma Spoiling Game Coffee Mug is the perfect gift to represent grandma's abilities to spoil those she cares about. Just add grandma's nickname and this gift is ready to travel around with grandma throughout her day and make it easier for her to get a few sips of her favorite beverage whenever she wants.
---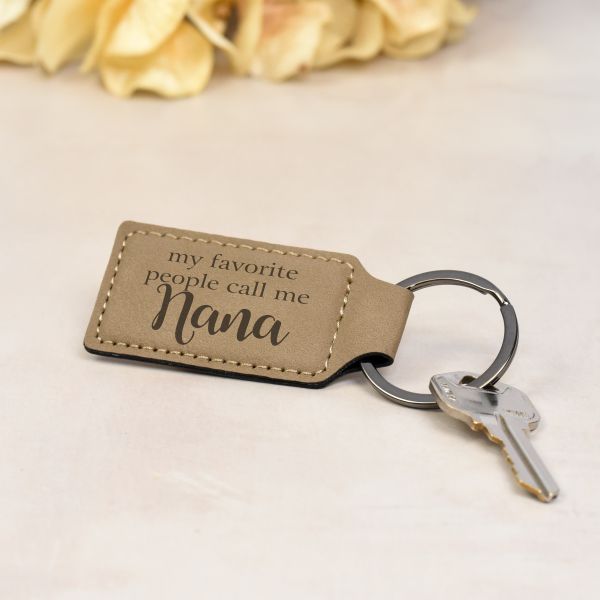 They Call Me... Personalized Keychain
Simple gifts can be just as special as extravagant gifts and a gift as simple as the They Call Me Personalized Keychain is exactly what you need for grandparent's day gifts. You can choose a color for this keychain, as well as a nickname to add, and make this a special gift just for grandparents to enjoy. The best part about a gift like this is that the grandparents can easily carry this around everywhere they go and always have that special reminder right there with them.
---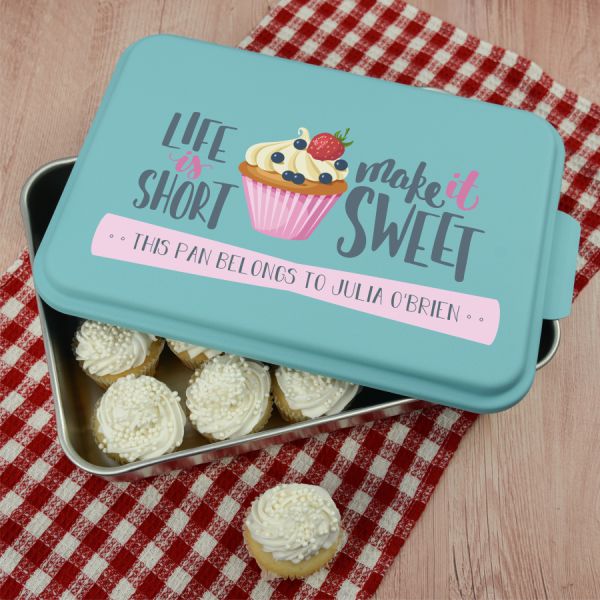 Make It Sweet Personalized Baking Pan
Whether it's for grandma or grandpa, the right gift can come in the most unlikely form and that form can be that of cooking accessories. The Make It Sweet Personalized Baking Pan is perfect for when the grandparents get the urge to bake some cupcakes or even cookies because this pan comes with a lid that can keep all their delicious treats fresh. Adding a first and last name to this baking pan will make it a very unique gift fit perfectly for grandparents and an even better way to get some wonderful treats baked up faster than ever.
---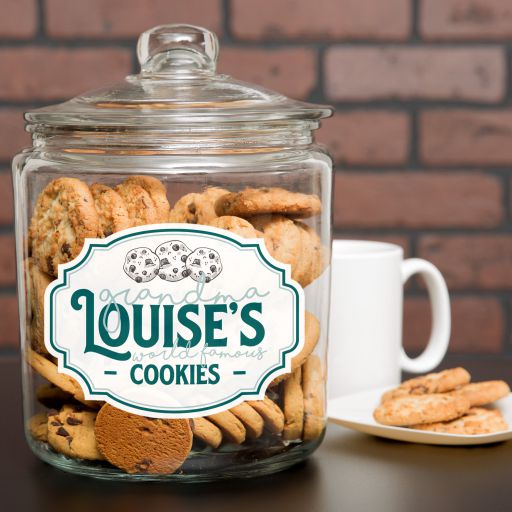 Grandma Cookies Personalized Cookie Jar
If you are looking for personalized gifts for grandparents, then you can consider a gift that not only benefits the grandparents but everyone else as well. The Grandma's Cookies Personalized Cookie Jar is a great gift to give to grandma, but if she happens to make some delicious cookies, you can bet that you will get to enjoy this gift just as much as her. Just add her name to the front of this and you have a wonderful gift made special just for her.
---
All of these grandparents' day gifts are amazing and truly unique in their own special way, but they are also great choices that can work for any grandparent as the perfect gift. You can wow the grandparents by choosing gifts that fit their home, like the light box, plaque, and wall art. Then there are the gifts that work great in the home but also help with making it easier in the kitchen like the cookie jar and baking pan.
If you want to go for smaller gifts that are easy for the grandparents to admire, but also keep up with it easily, then keychains are a wonderful choice. For grandparents that love to travel around or just want some simple for their relaxation times, then gifts like coffee mugs or travel mugs are going to be great choices. For grandpa, you can help him relax more than ever by getting him a gift that helps him with his hobby like a fishing lure.o
With having so many choices in gifts, there are plenty of options for either grandma or grandpa and even both grandparents. When you're thinking about what to choose for grandparent's day gifts, think about what grandparents could use the most and how you can personalize those gifts to fit into their everyday life. You'll have no problem picking out the right gifts that give the best of everything to grandparents who deserve the world!