Memorial Gift Ideas for Loved ones
May 17th 2022
Any time a loved one is lost, it can be a very difficult time and trying to get through such a difficult time, especially by yourself, can be even more stressful. You would be amazed what a simple and thoughtful gift can do to help lift a person's spirit and encourage them to remember all the good times, while keeping the sadness at bay. Personalized sympathy gifts are often the highlight of the recipient's day not only because of how unique they are, but because of how thoughtful they are as well.
There are small gifts that can be the little reminder that they need, but you can also go for larger gifts that really show just how much a person is thought of and how much you want the recipient to enjoy the gift. Some gifts might be just the right size to hold all the memories in the world that a person has about a loved one and others may brighten up the dark time of losing a loved one. With so many choices, you are sure to find the right sympathy gift.
Angel Wings Key Chain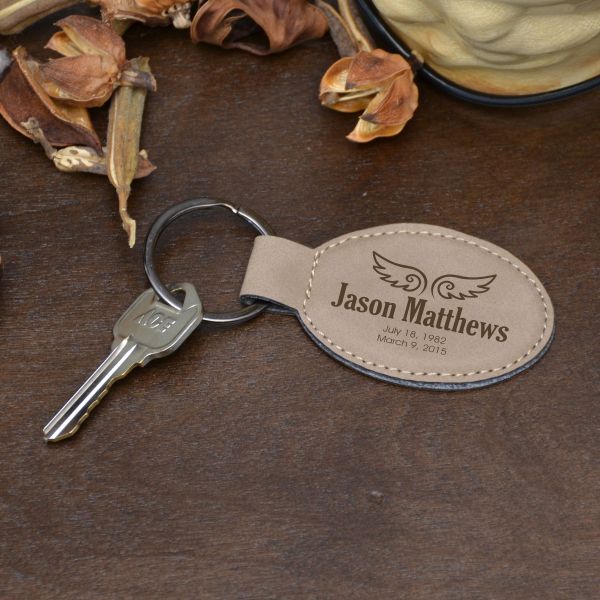 If you are looking for smaller personalized memorial gifts, then the Angel Wings Key Chain is the perfect gift to give. This is a gift that is small enough to fit anywhere, but easily placed with a set of keys or hooked onto a purse so the recipient can have this sweet reminder everywhere they go. You can pick a light or dark brown leather and add a name and dates to this key chain as well.
Find a few simple words that you can add as a separate gift message and even gift wrap this key chain to let the recipient know that you are thinking of them during such a difficult time. While this is a small gift, it might be just what they need to brighten their day.
Smile Memorial Candle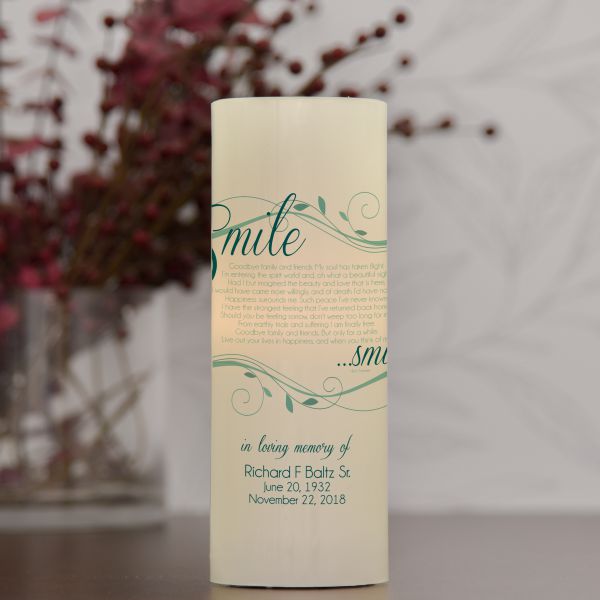 Candles are often something that we use to fragrant or light our homes, but when it comes to memorial gift ideas, a candle makes a gift worth giving to anyone who has lost a cherished loved one. The Smile Memorial Candle is a classic and yet uniquely designed candle that has a memorial poem on the front of it. When looking for this as a gift, the personalization is key and with this candle, you can add a name and dates that are placed just after the poem, making this gift even more memorable.
Living Without You Frame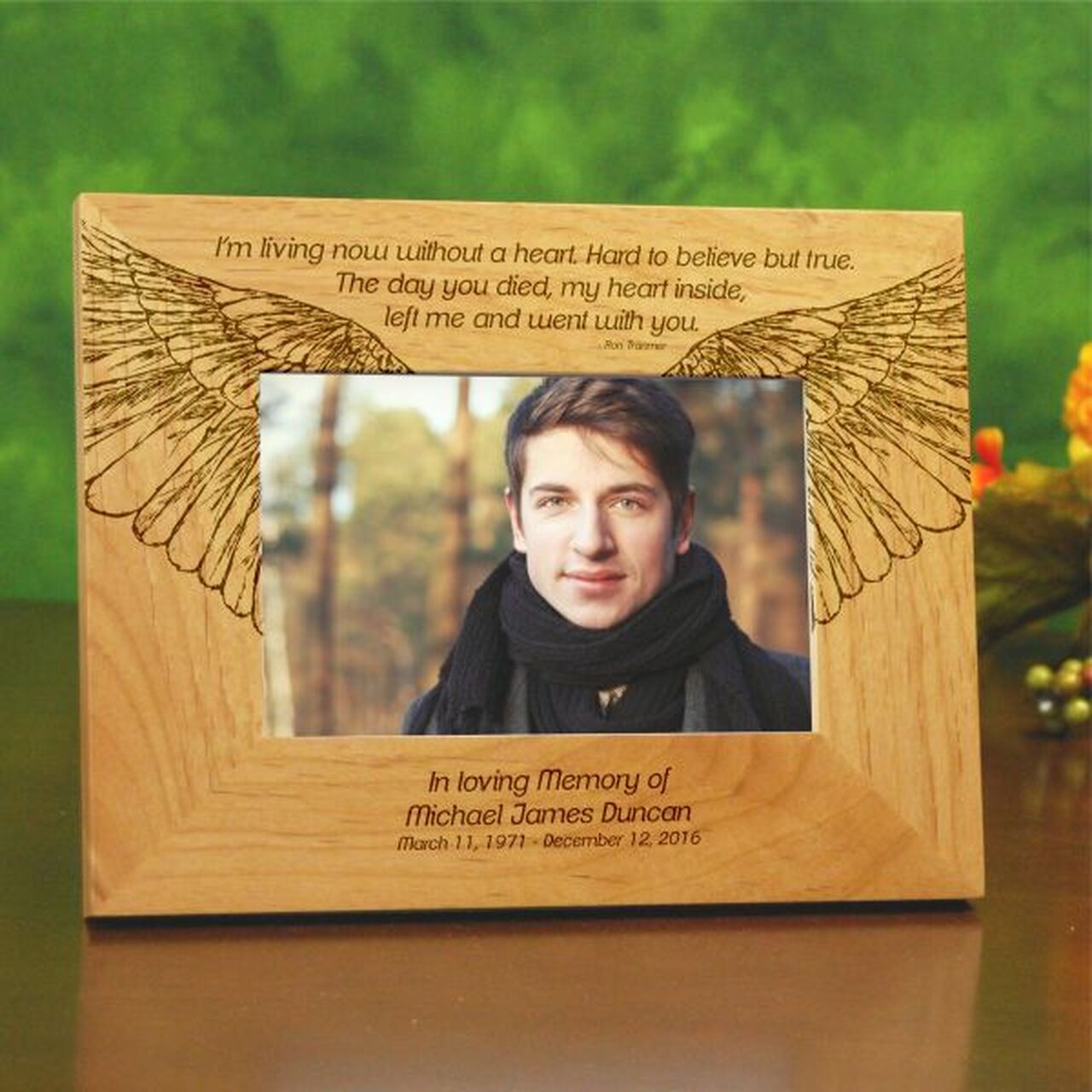 Many people make a point to keep photos of loved ones, but there are often specific photos that really make them smile or even laugh because they give them a special memory of person. This is no different when it comes to personalized memorial gifts and the Living Without You Frame is an ideal example of a gift that can allow the recipient to display their most cherished photo of their lost loved one.
The frame itself is beautifully crafted and the personalization is simple with being able to add a name and dates. This is the kind of gift that allows a person to pay a small tribute to someone they have lost, but also a good way to remember the fun times they had with that person.
Guardian Angel Personalized Memorial Cross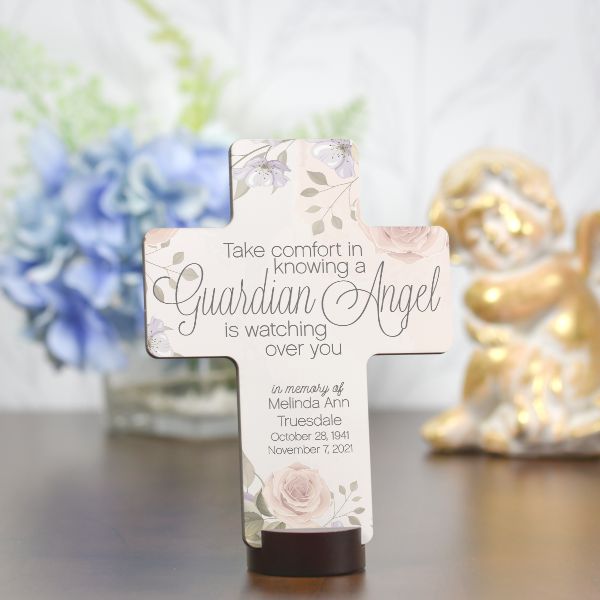 Another small and yet mighty reminder of a loved one would be the Guardian Angel Personalized Memorial Cross. Like the picture frame, it allows you to personalize it with a name and dates of a lost loved one and it's small enough to be able to fit anywhere. A beautiful floral background accompanies a comforting saying and really makes this cross one of the sweetest memorial gift ideas.
Forever and Always Heart Plaque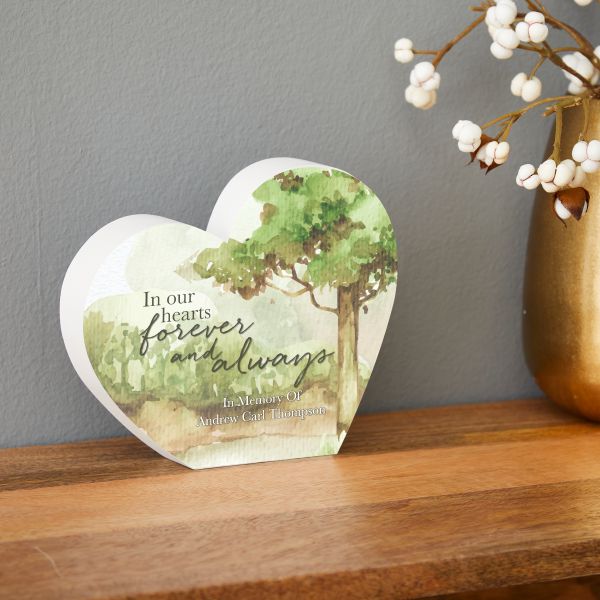 Keeping with smaller personalized sympathy gifts, the Forever and Always Heart Plaque is an ideal gift that keeps on giving, every single day. It's small enough to go anywhere and has a simple saying that reminds the recipient of how much their lost loved one was appreciated and loved. A name and dates can be added to this plaque and are placed alongside a serene landscape background.
Gift wrapping this plaque is another way to show how thoughtful a gift this really is and even adding a separate gift message will make the recipient's day that much better.
Forever Loved Memorial Dog Tag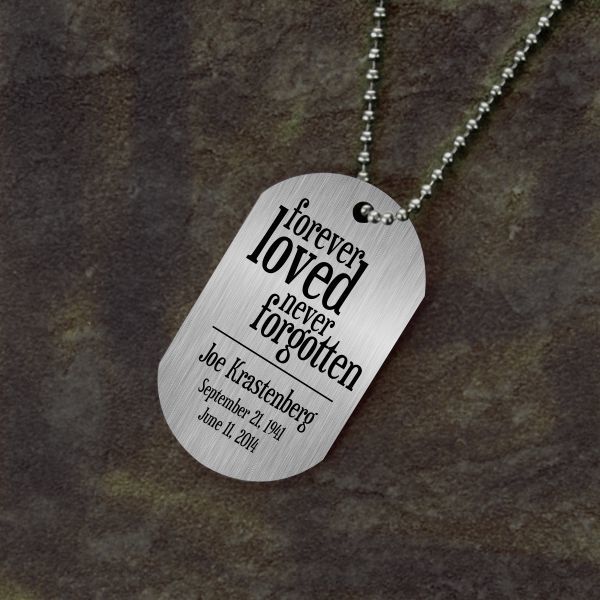 For smaller memorial gift ideas, dog tags have always been a type of memorial gift that allows a person to keep their lost loved one close to their heart at all times. The Forever Loved Memorial Dog Tag is an example of what it truly means to have a small but meaningful gift. It's a simple design that allows you to put the name and dates of a loved one on it, but also has a memorial phrase to accompany it as well.
This dog tag is made of a classic silvery design and can either be worn or carried around as a memorial gift that gives a gentle reminder of how much a person was loved throughout each day.
One Wish Memorial Lightbox
There are many choices of memorial gift ideas that you can choose from and there are some that are very symbolic to the light of your life that may have been lost. The One Wish Memorial Lightbox is stunning as a gift in itself, but when giving it as a sympathy gift, it's truly one of the sweetest gifts you can give to anyone. While it can be used as décor, it can also be a soft night light to help a friend or family member fall asleep peacefully with positive and happy thoughts.
While you can choose a small or large design, the really special part of this sympathy gift is that you can also add the passing dates and a name. Not only does this personalization make it unique among personalized memorial gifts, but it also makes it more meaningful to the recipient of this lightbox. The warm light from this memorial gift will brighten the day of anyone who has lost someone they love.
The Broken Chain Poem Keepsake Box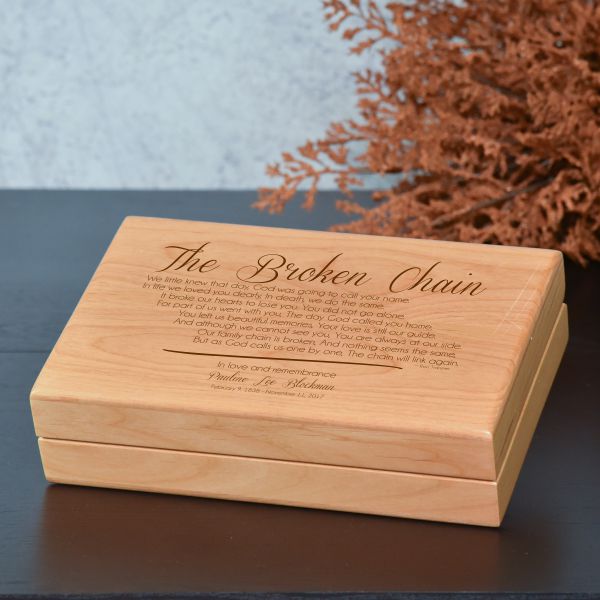 When losing a loved one, it's perfectly normal to hold onto cherished memories as well as cherished items that can help you remember the happy times. One way that you can do this is with the Broken Chain Poem Keepsake Box, since it allows you to store small memorial items within it. Keepsake boxes are special in so many ways because they can be given as gifts to others who have lost loved ones, but can also be kept as a personal gift for yourself.
This keepsake box is incredibly heartwarming as it has a lovely poem engraved right on the front and can be personalized. On the front of the keepsake box, a name and the sunrise and sunset dates can be added and placed just below the touching poem. The neutral wood color makes easy to match all décor in a home, so it can be placed anywhere for easy access to precious memories.
Losing a loved one is hard for anyone to not only accept, but to live through each day. A sympathy gift can make all the difference in the world to someone who is going through a rough time, such as losing someone they truly care about. Keychains and dog tags, along with a keepsake box can create one very special combined sympathy gift.
Memorial gift ideas that you can choose from could also be choosing several small or large lightboxes to give to a family so that each person can place their gift where they want and enjoy the calmness that comes with each one. Candles, memorial crosses, and plaques make beautiful memories all on their own. They can be placed anywhere throughout the home and used as a subtle reminder of the positive times with lost loved ones.
No matter the gifts that you decide to choose, remember that the meaning behind the gifts is the most important aspect of finding the right sympathy gift. For some, little gifts are the most meaningful to them, while some others may prefer a gift that is large enough to sit distinctively around the home. No matter their choice, just keep in mind that the fact that you bought a sympathy gift for someone is reason enough for them to both love it and enjoy the thoughtfulness behind it.