Mother's Day Gifts She's Sure to Love!
Apr 4th 2022
We have a few Mother's Day celebrations every year. They pop up so random that many people are surprised when they are hit by quotes that announce their arrival. Women are awesome, no doubt. Therefore, surprised or not, for every Mother's Day, you have to get the right gifts for mom.
Choosing the right gifts for mom is not an easy task as you have to consider many things. For example, the best gifts would speak well of yourself as having tried to get her something, bring a smile to your mother's face, be relevant, etc.
Many people would fancy going to a car dealership to get a car gift for mom. However, you don't need to spend a lot of cash on a gift. Instead, you can get personalized gifts that reflect your value and only require a little cash. You can also add a personalized gift to such a high-end gift you want to get. We would introduce our top six perfect personalized Mother's Day gifts and how you can choose the perfect one from the list. Happy reading!
Six Personalized Mother's Day Gifts for Mom
Here are our top picks of personalized Mother's Day gifts for women. Every gift on the list is unique and personalized based on what we think is best for your mom. If we are out of the picture, you can check out other personalized gifts that will surely bring a smile to your mom's face.
Gift Idea #1: Personalized Picture Gifts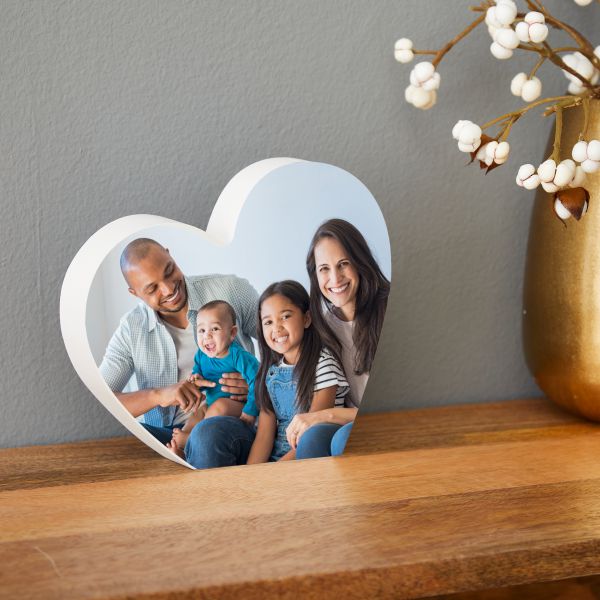 Everybody likes taking pictures, but women love taking pictures more than men. This gift ranks first on our list because with the right picture, you have something that can sit on your mother dressing table, room's wall, or in the sitting room, displaying a strong woman. You can also add a few flairs by choosing a picture you know would bring a smile to her face. For example, a picnic where she melted with the wind, laughing at whatever makes women happy, would be a perfect fit.
You already have an idea of the gift, but many designs are available. However, we recommend one we consider top tier in terms of functions and design, i.e., the Heart Picture Block. The gift measures 6 x 5 x1 inches with a heart shape for the picture. It can sit on any surface displaying your mom's picture in bright colours. Would you say a no to such a gift? No! We doubt your mother would say no also.




Gift Idea #2: Personalized Cutting Board
Women are the best cooks! No offence to men; it is a simple truth. There is a way the kitchen and its tools align to fulfil their wishes and bring forth the most delicious meals ever every time. You could lean on this to get mom a gift that makes cooking fun for her, such as a cutting board. Just imagine it, your mum bringing out a cutting board with a beautiful inscription highlighting her uniqueness. Definitely, she is going to smile throughout the day.
There are many cuttings boards with different types of inscriptions you can use. However, the best one that qualifies as one of the gifts for mom is the Recipe for a Wonderful Mom Cutting Board. This gift is made of strong bamboo. It measures 7x13.5-inches and is laser engraved with the words Recipe for a Wonderful Mom. You can also change the wordings to a sentence of your choice.






Gift Idea #3: Personalized Photo Album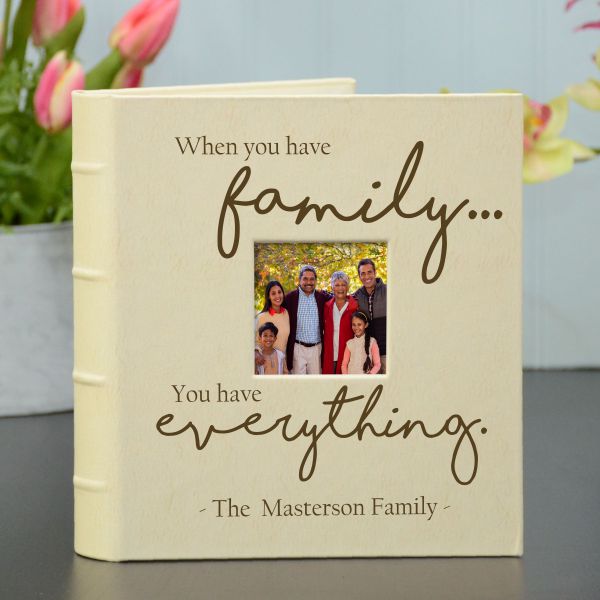 Mothers role in society and the family is unrivalled. Suppose you can find a way to piece the different sides of their memories together. In that case, you have a perfect personalized Mother's Day gift. A photo album is one of the unique ways of getting such memories together. Of course, the pictures could be what happened in the previous year. However, the better option is to piece everything in her life together. Even pictures she doesn't know exist.
There are many designs for photo albums, but the one that represents the best personalized Mother's Day gift in this aspect is the Family is Everything Photo Album. The photo album has a leather cover measuring 9.25" x 8.25" and is personalized with the Family name. It Includes 30 sheets for (120) 4" x 6" photos, with each photo printed with gold lettering.






Gift Idea #4: Personalized Travel Mug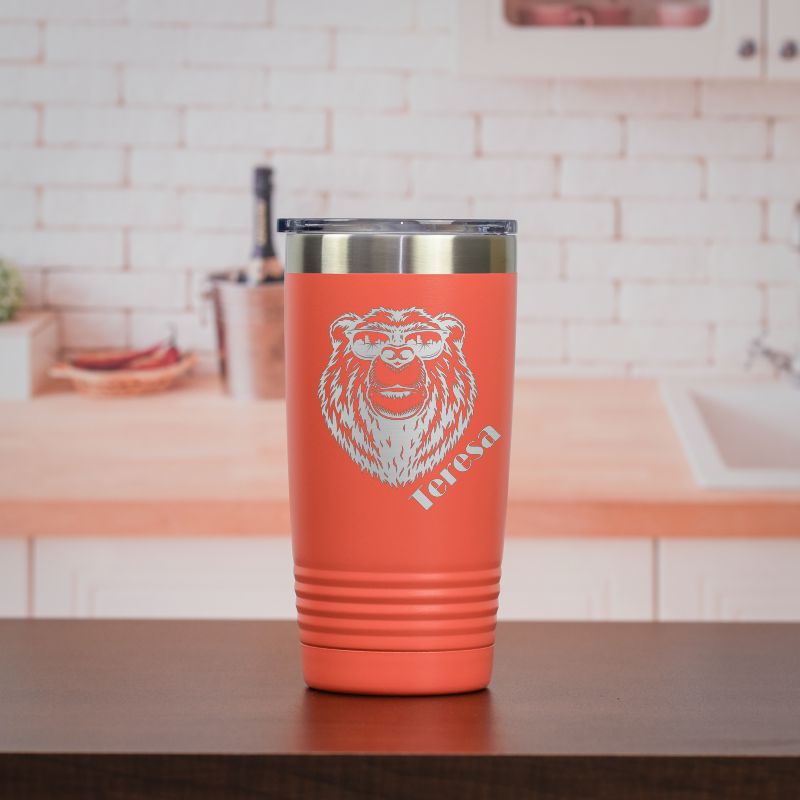 After every day's hustle and bustle, it is normal for anybody to want to rest, and women are not exempted. Therefore, a travel mug could be the best personalized gift for a working mother. Of course, you could go for many types in terms of function, aesthetics, and personalization. Still, the one which reflects what we are dealing with is the Mama Bear Personalized 20 oz Travel Mug.
The Mama Bear Travel Mug comes in three colors (navy blue, black, and coral). It has double-wall insulation with a clear lid and can hold up to 20 ounces of liquid. We recommend this product due to its personalization, "Mama Bear," highlighting how a mum will protect her own at all costs. So, gift your mum a travel mug, let her have a refreshing day after a hard day thinking about the family.






Gift Idea#5: Personalized Water Bottles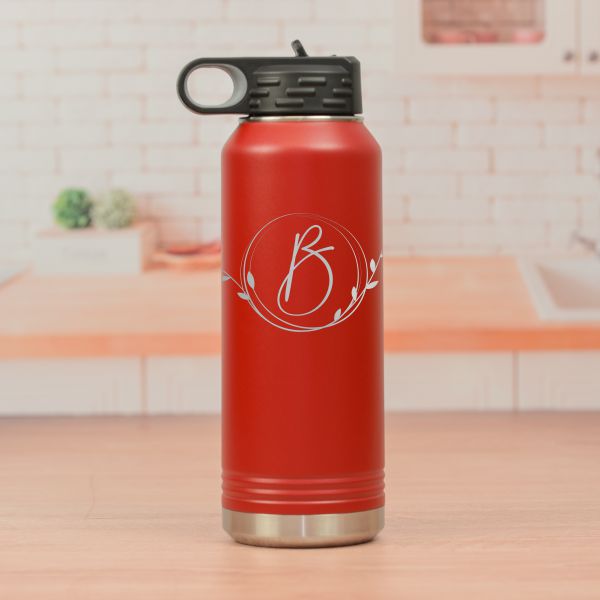 A monogrammed water bottle can also be the ideal personalized Mother's Day gift if you have a working-class mother. Like the travel mug, it also comes in different color variations. We recommend the Monogram Waterbottle for Her. This insulated water bottle is made from stainless steel. It is 10 5/16 inches tall with a capacity of 32 ounces and has an easy flip lid and removable straw. You can personalize it with her first initial for a simple, classic look that mom will love to carry around to keep her hydrated.










Gift Idea #6: Personalized Cake Pan and Cookie Jar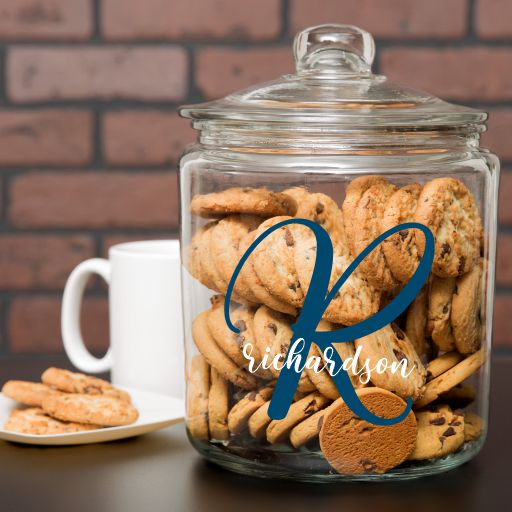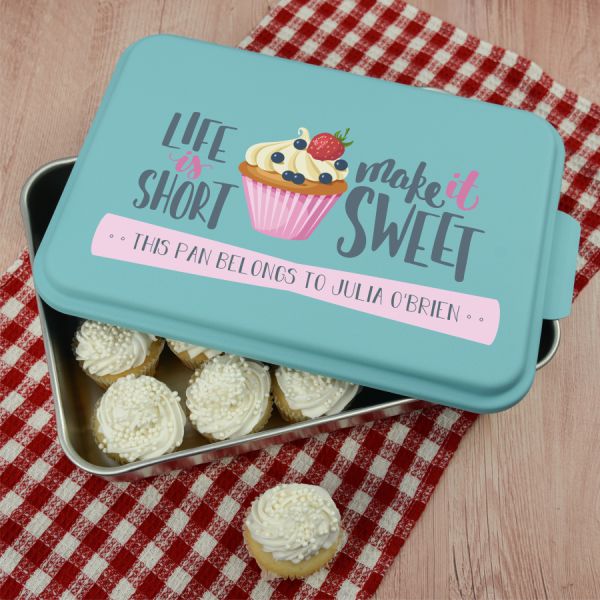 For people with moms into baking, getting a cookie jar or cake pan can be the ideal personalized Mother's Day gift. It is not only about the function of both products; the personalization makes them both simple, precious, and perfect.
There are many types of designs you can get. However, the Personalized Cookie Jar for Family really speaks into the moment. This cookie jar is made from lead-free glass. It measures 9.5 inches high and 7 inches in diameter. It has a 1-gallon capacity you can personalize with your mom's last name and initial, last name.
---
How to Choose the Right Personalized Mother's Day Gifts
Personalized Mother's Day gifts are a good idea to try out regardless of your relationship with the woman you are trying to celebrate. The gifts can vary depending on your research, sense of creativity, etc. However, the most important part is personalization. It must be something that they find amusing, evoke a memory for them, or generally means much to them.
Choosing from the above list can be a little challenging. Therefore, we further introduce three things you should consider that will help you choose the gifts for mom.
What is Your Relationship with Her?
Personalized gifts are the best since you literally won't spend much when compared to off the market gifts. They normally evoke emotion from the recipients, yet, choosing the right one comes with knowing your place in the family. For children, a personalized mother day gift could be the Mama Bear travel mug which depicts how she loved you in every aspect. A picture frame or photo album could do the trick for the husband. If you fall more outside, the best one would be the kitchen related utensils such as the cutting boards and cookie jar.
What Do You Think Your Mother Likes?
You should understand the recipient before you get a personalized mother days gift. This tip would be for people outside the family as the immediate family would probably know about their mother. Know about what your mother like before you try to get her a gift. For example, if she loves cooking, the cutting board and cookie jar would be the sweetest of gifts.
Don't Give Something That Reflects Her Age
Women generally don't like talking about their age, and if you can avoid age-related gifts, do so. But, instead, channel your creativity towards getting them something that speaks of memory and how important they are to you.
Conclusion
While shopping for the perfect Mother's Day gift might be a challenge, you can access our list of personalized Mother's Day gifts for gifts that will leave a mark on their your mom's mind. Want more personalized Mother's Day gift ideas? Shop our full line of personalized gifts for her by clicking here.