No More Flowers…A Guide to Lasting Memorial Gifts
Sep 2nd 2022
Remembering a loved one can be through several different ways and involve a number of unique memorial ideas to go along with it. Having something personal and meaningful to honor a loved one is one of the greatest ways to keep good memories alive and cherish every moment that you were able to have with that loved one. Most think that memorial gifts need to be traditional flowers, but a gift given straight from the heart can include more than just the usual flowers.
If you want to consider something that a person can truly appreciate as a memorial gift, consider choosing personalized memorial gifts as a way to show how much you care. There is never a limit when it comes to the gift ideas that last as memorial gifts. You only need to think about how you want to personalize a gift for who you plan on giving it to.
If you are a little unsure of what your options are as far as personalized sympathy gifts, then it never hurts to have a little help in choosing the perfect gifts. You can take a look at all of these memorial gifts and get a really good idea of exactly what you would like to give as the ideal gift. You can also look at all your options so you'll know exactly which gift will be perfect for the right recipient.
---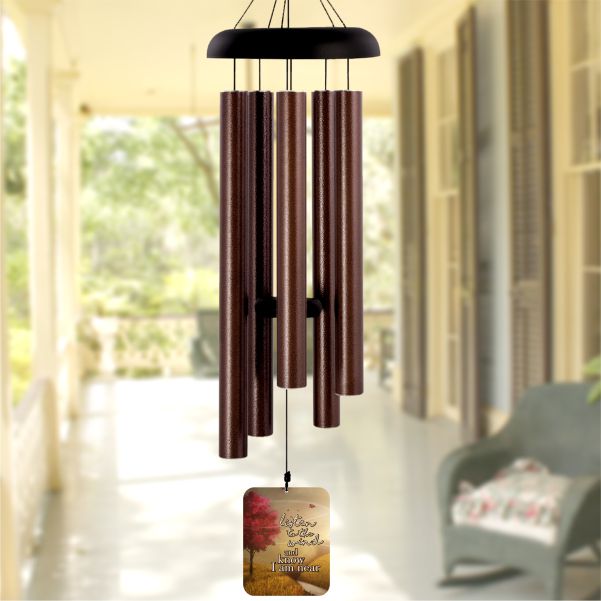 Listen To The Wind Bronze Chime
Simple personalized memorial gifts, like the Listen To The Wind Bronze Chime, are a wonderful choice to give as a gift that can help someone remember the sweetest memories of a lost loved one. The chime is a classic bronze color and can be personalized by adding a name and dates, which will be displayed on a beautiful charm beneath the chimes. This chime is the ideal gift for someone who loves the outdoors and wants to have soothing sounds and sweet memories of a loved one they have lost.
---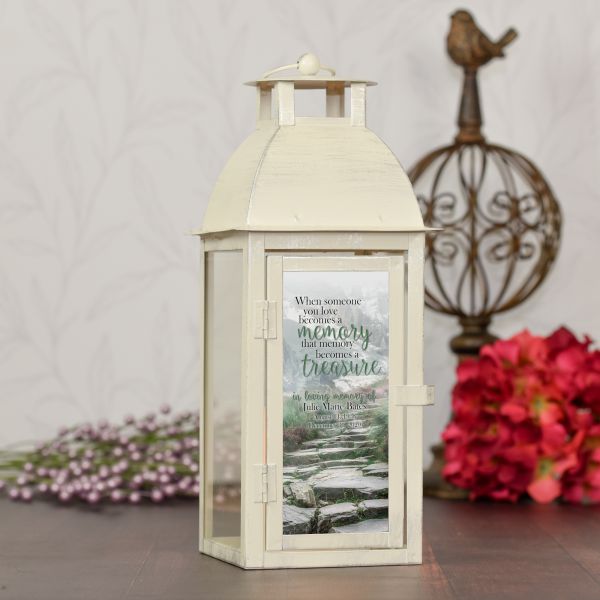 Your Memory Is A Treasure Lantern
Another gift that would be great for someone who loves the outdoors is the Your Memory Is A Treasure Lantern and just like the chime, you can personalize this gift or the recipient. You can add dates and a name to this lantern and it will be displayed atop a serene snowy background on the front of the lantern. This lantern also comes with an LED candle, so it will be ready to use as soon as the recipient opens this gift.
---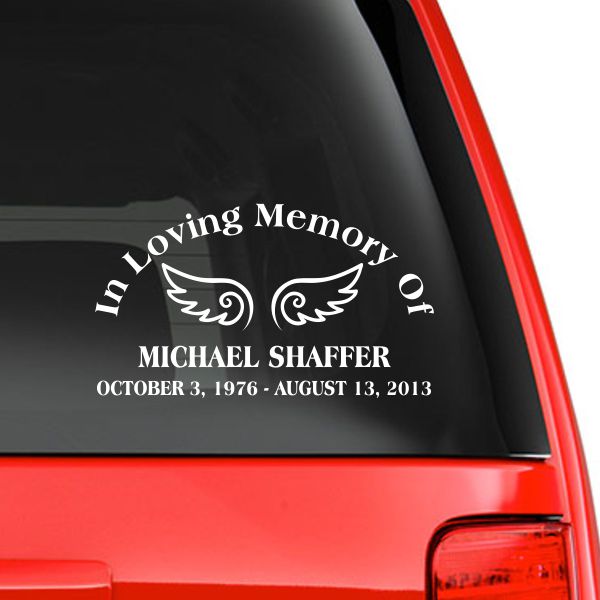 In Loving Memory Memorial Car Decal
If you are looking to find personalized sympathy gifts that are simple, but still show compassion and care, then consider the In Loving Memory Memorial Car Decal. Adding a name and dates to this car decal will allow it to be shown beautifully beneath angel wings. It's a very subtle tribute to a lost loved one, but it is also a very unique way in which to remember a loved one that has passed on.
---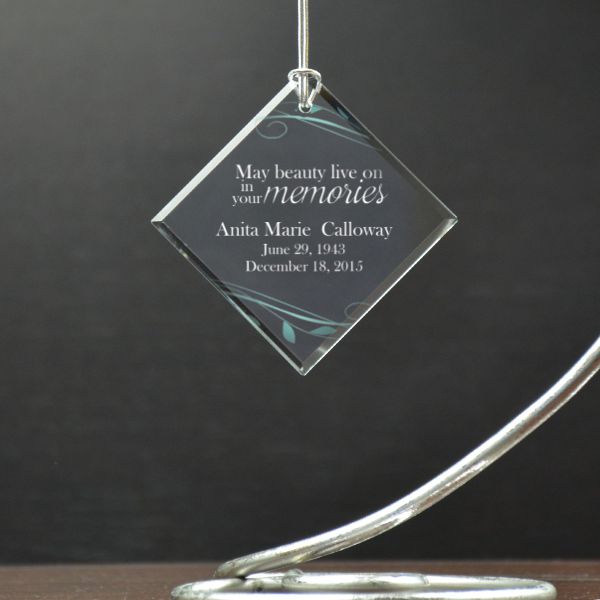 Your Memory Lives On Ornament
An ornament may not be the gift idea you had in mind, but the Your Memory Lives On Ornament is a sweet personalized memorial gift that will be greatly appreciated. Dates and a name can be added to the ornament and a stand can be purchased separately to create a wonderful gift anyone would appreciate.
---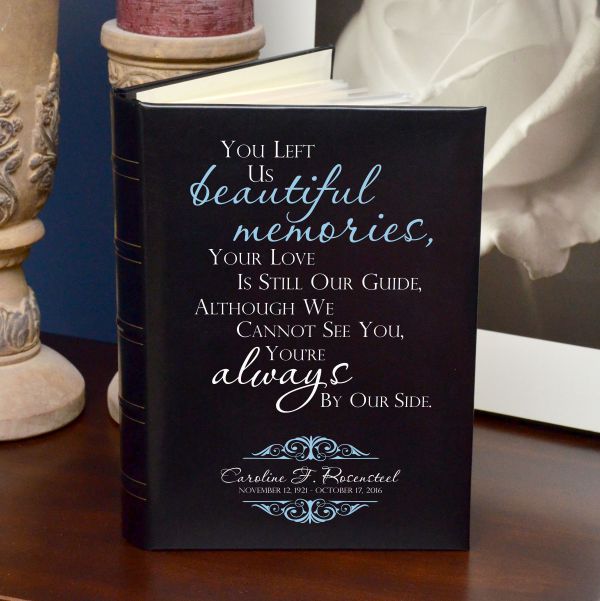 Beautiful Memories Album
An album full of memories is a touching gift that a person can appreciate, especially when they have lost a loved one. The Beautiful Memories Album has space to be personalized with dates and a name. It's classic and a wonderful way to help someone create a book of precious memories, dedicated to a loved one they've lost.
---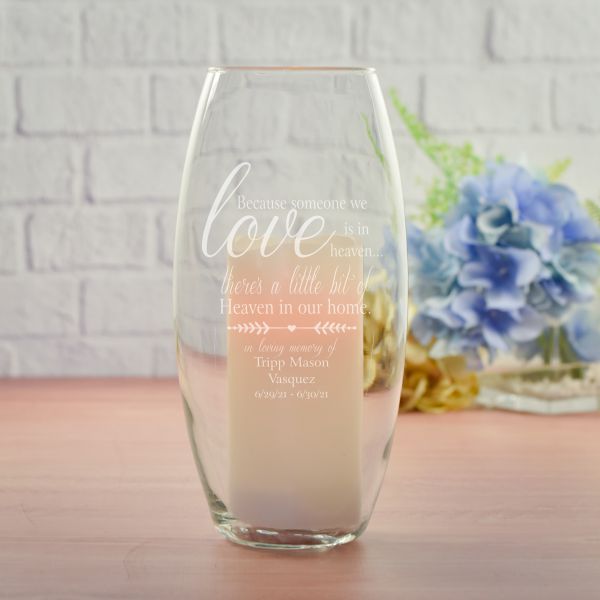 Heaven In Our Home Hurricane
A unique gift you may not have thought about is the Heaven In Our Home Hurricane and the fact that this can be personalized makes it an amazing personalized sympathy gift. After adding the name and dates, be sure to have this gift wrapped and make it a wonderful memorial gift for anyone.
---
Angels Are Near Plaque
Something simple is all a person needs to help remember a loved one that they have lost and the Angels Are Near Plaque is the ideal gift for this. A name and dates can be added and displayed just below a beautiful picture of two cardinals. The chipped edge frame makes this a very unique gift and the ability to personalize it creates an amazing memorial gift.
---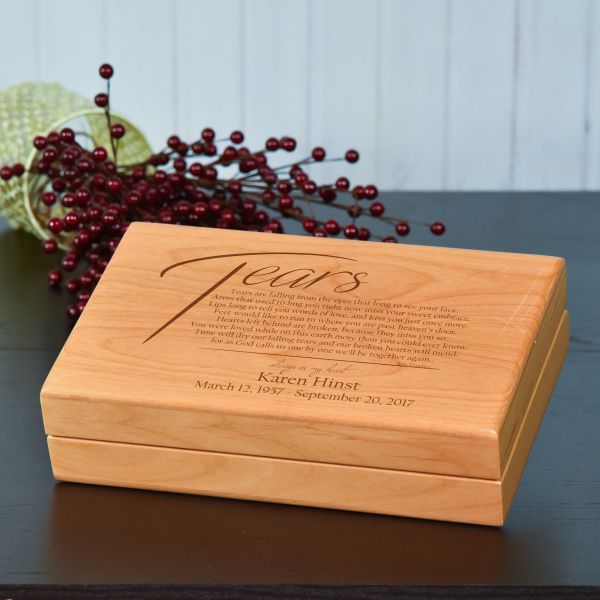 Tears Keepsake Box
Holding memories close is one of the many ways that some grieve and choosing a gift like the Tears Keepsake Box is ideal for helping someone through this process. Add a name and dates to make this gift even more personal for the recipient and give them the gift of positive memories.
---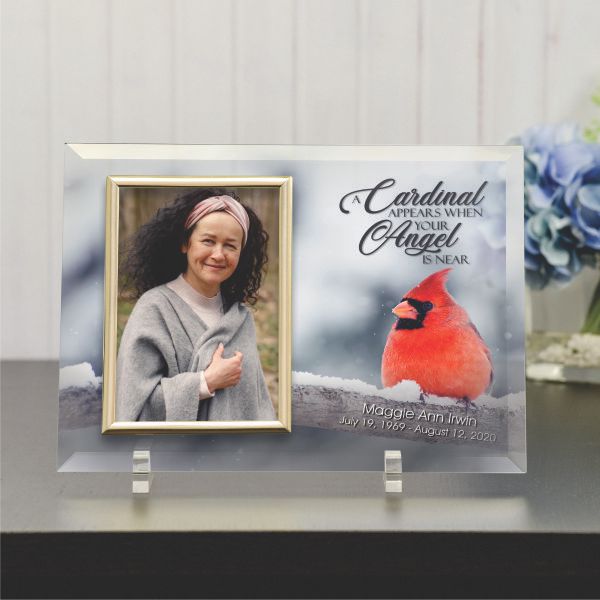 Cardinal Memorial Glass Frame
Precious photos are what we hold dear to our hearts and having a personalized photo frame, might just be the best sympathy gift that can be given. The Cardinal Memorial Glass Frame is elegant and wonderful in that it can be personalized with the name and dates of a loved one. A gorgeous cardinal accents this frame and makes it a very sweet gift to give someone who may be struggling with grief.
---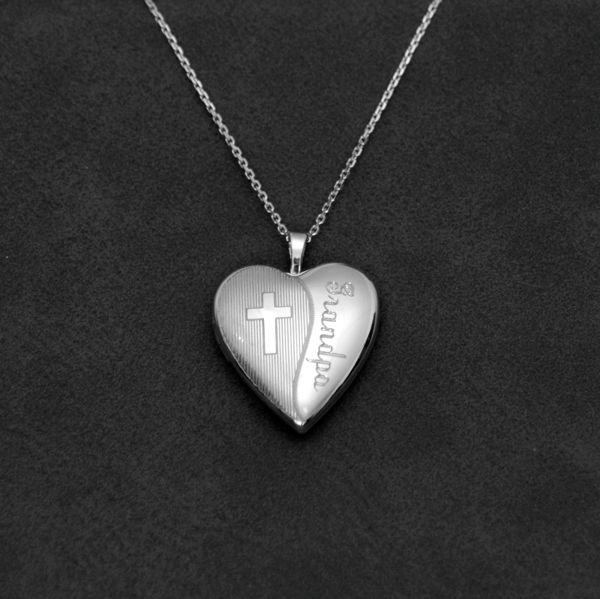 Memorial Heart Shaped Locket With Cross
A truly beautiful gift that can be considered part of personalized memorial gifts, is the Memorial Heart Shaped Locket. This locket can be personalized with a name and you can even take the time to add a small photo to the locket, just before giving it as a gift. It will definitely brighten anyone's day and give them sweet memories of their lost loved one.
---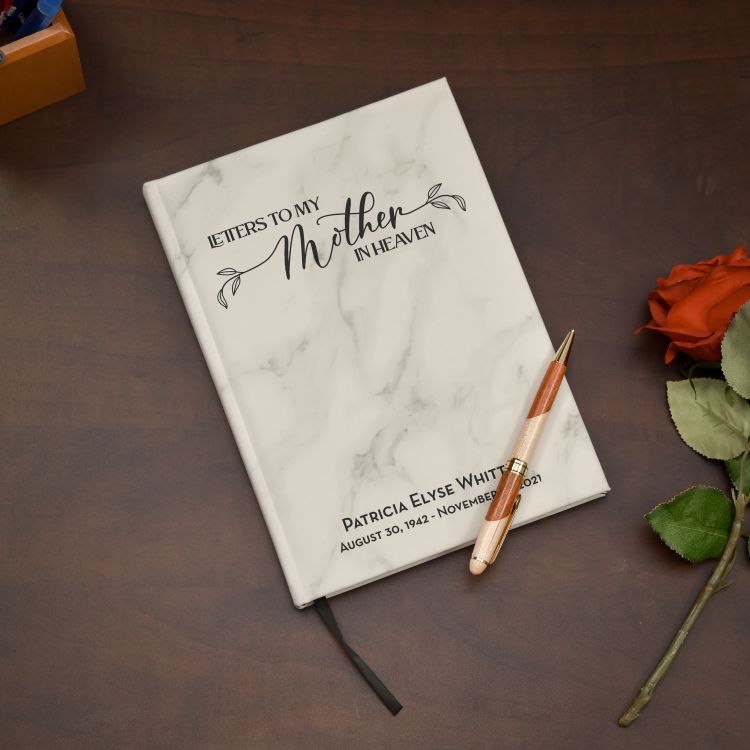 Letters To My Mother In Heaven Journal
Having a way to get all of your emotions out, especially when you have lost someone close to you, is often one of the best methods by which to grieve. The Letters To My Mother In Heaven Journal is exactly the type of memorial gift that can help someone express their feelings and write their way through the grieving process. Have this journal gift wrapped to make it even more special and appreciated.
---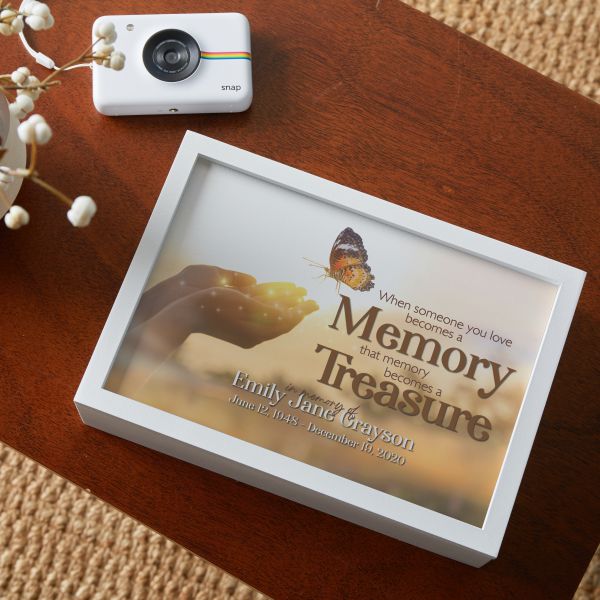 Memory Becomes A Treasure Keepsake Box
Precious memories of a lost loved one should be cherished in the best way possible and one of the ideal ways in which to do this is with a gift that can hold plenty of memories. The Memory Becomes A Treasure Keepsake Box can be personalized with a name and dates, but can also be filled with wonderful memories of a loved one. You can even take smaller personalized memorial gifts and add them to this keepsake box before giving them as a gift.
---
All of these personalized sympathy gifts are probably more than you ever thought possible when it comes to finding a lasting memorial gift and when so many personalization options, it's a lot easier to find the right gift for the right recipient. Chimes and lanterns are the types of gifts that work well for someone who spends a lot of time outdoors and can truly enjoy the pleasant memories these gifts will give. Car decals, hurricanes, and ornaments are unique gifts that are not the usual memorial gifts and can be perfect for someone who just needs small reminders of a loved one, every day.
Plaques, frames, and crosses are all important memorial gifts that can be placed practically anywhere and bring good memories to the recipient whenever they need them. Albums and keepsake boxes are a wonderful way to not only collect beautiful, physical, memories of a lost loved one, but they are also personalized memorial gifts that last throughout the years. Journals make the ideal gift for someone who is having a particularly hard time with losing a loved one because this can be a safe outlet for them to express their deepest thoughts and positive memories of the one they lost.
These gifts are more than just the average sympathy gifts that you can give and every one of them shows a large amount of sympathy and compassion that you want to convey to the recipient when they are honoring someone they have lost. Having a way to remember the one you care about, especially when it can be done in such a personalized way, is more than enough to make all of these gifts ideal. There's nothing that shows so much support more than a gift that is made perfectly with a lost loved one in mind.