Perfect Gifts for the Perfect Couple
Apr 13th 2022
The wedding season is upon us and what could be more exciting than finding that perfect gift for the bride and groom? There's no need to worry when it comes to choosing something to make their wedding day one to remember. There are plenty of wedding gifts that you can choose and many of them are items you may not have considered.
You have an abundance of personalized choices that include wind chimes, serving boards, signs, cutting boards, ornaments, wall canvases and even photo albums. There's really no limit the imagination and creativity you can create with each, in order to get the perfect gifts for the bride and groom.
The big wedding day is a day for the bride and groom to enjoy the start of the rest of their lives. It's a time spent with family and friends, but it's also a time to find the perfect gifts for the perfect couple. It can be a real challenge trying to find a special gift to make their day, so here are some unique gifts that are sure to be couple-approved every time!
Love Lives Here Wind Chime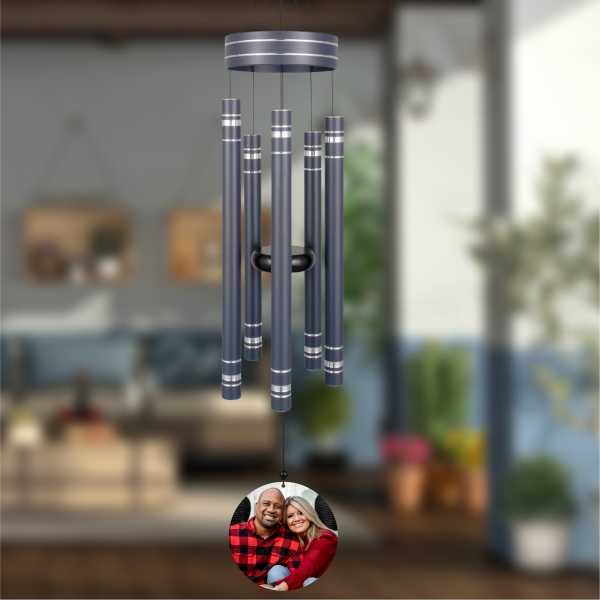 Personalized touches to the home are always a huge hit with everyone and the happy couple will absolutely love the Love Lives Here Wind Chime. Not only will the bride and groom be able to enjoy a sweet melody in the wind, but they can also appreciate taking a few glimpses at a memorable photo. You can add a funny photo of the couple or keep it sweet and simple.
The silver color of the chimes, along with the beautifully crafted "Love Lives Here" text, matches perfectly as a wedding-themed gift. The best part about this wind chime is that the bride and groom can enjoy these as both a wedding gift and an everyday gift!
Family Tribe Serving Board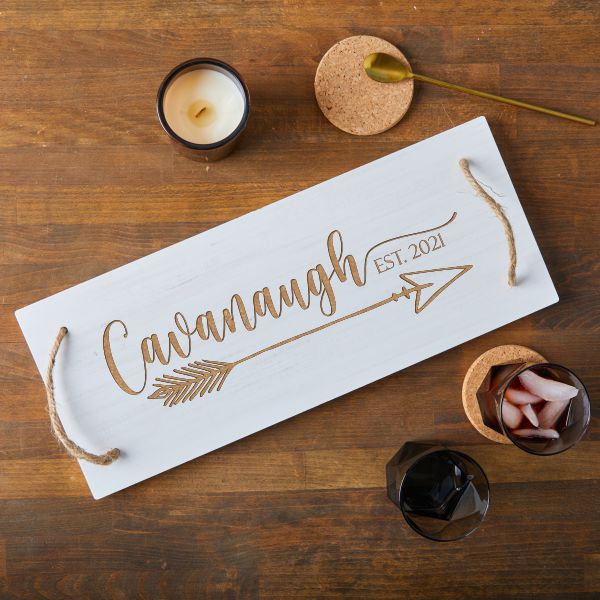 For a little something different to give as gifts for the bride and groom, you can choose the Family Tribe Serving Board. What better way to show the couple how much you want to celebrate their union, than to give them a gift as personalized and as special as this?
Just add the last name and the wedding date to make this the ideal wedding gift that's great for simply showing off in the couple's home or being used as a great conversation piece. Give this as a gift for a bridal shower or make it the perfect housewarming gift to give during the reception. The golden arrow accent simply points the way to the happy couples' future.
Home State Sign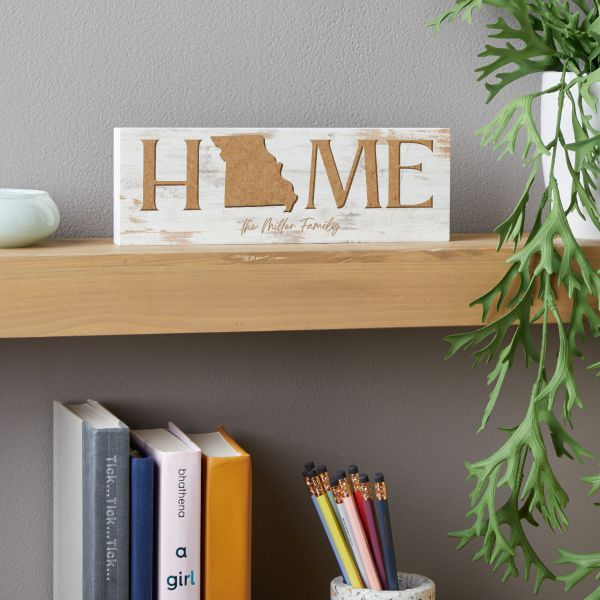 The Home State Sign is not only a great wedding gift, but it also has a few good uses beyond the big day. As far as personalized wedding gifts go, this is an ideal choice for couples who love their home state and want to show their passion for it. What could be better than a perfectly engraved sign that shows some state spirit on the big day!
If the couple plans on moving to another state, but wants a little something to remember their home by, this sign is going to the best choice for them both! You can get one sign for bride and another for the groom, if they are from different states. Every time they look at the sign, they can know they have a little piece of home right there with them.
All We Need Is Love Cutting Board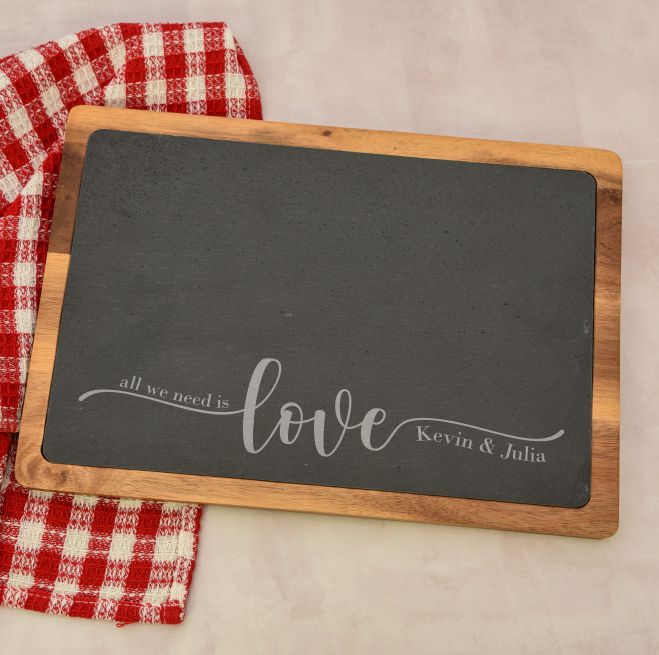 After making their way down the aisle, the bride and groom may want to make their way to decorating their home. Having a thoughtful gift like the All We Need Is Love cutting board is a great way to help them get started with their decorating. This cutting board is made of a classic wood and slate design, so you know it will fit in perfectly with any of the couple's kitchen décor, making it easy for them to place anywhere they like.
If either the bride or groom happens to like cooking, this will be considered a very special and equally useful gift for them both. Being able to use a personalized gift that was carefully and thoughtfully made, is one of the best gifts that the happy couple could ever ask for. Whether they plan on using it for their cooking specialties or just want to admire it every day, this is one gift they will truly appreciate.
Mr Mrs Clause Personalized Ornament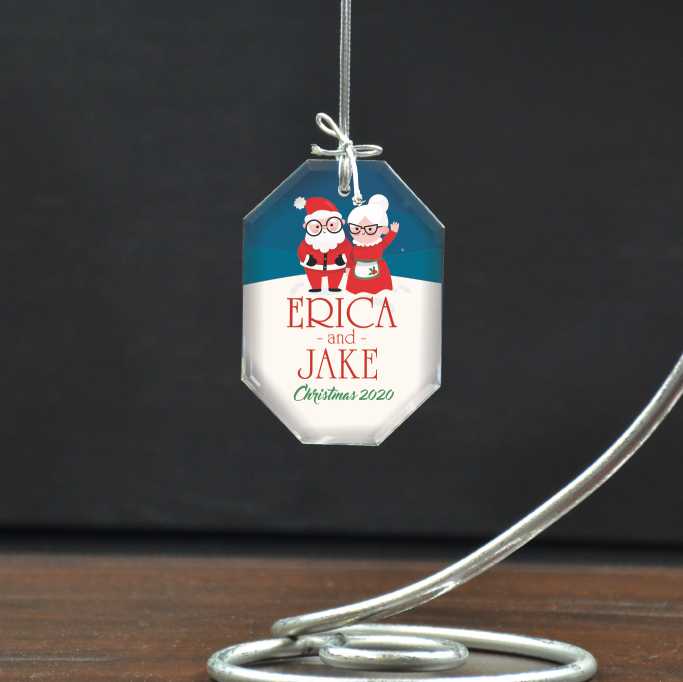 Whether it's Christmas time or not, every couple deserves to have their own ornaments and the Mr & Mrs Clause personalized ornament can make great gifts for the bride and groom. If you are looking for something that goes beyond adorable and happy, this personalized ornament is going to be a big win in no time at all. Adding the couple's names and the year makes this a truly personalized gift that the bride and groom will fall in love with.
Other than the adorable picture of Mr and Mrs Clause on the ornament, the elegant script and timeless glass design makes a great wedding gift that can be used every single year and throughout every day. Grab one of the classy stands so the bride and groom can place this ornament on display and have everyone admire it as much as them. It makes for the perfect wedding gift, but also a sweet reminder of the love between the bride and groom.
Family Name Floral Wall Canvas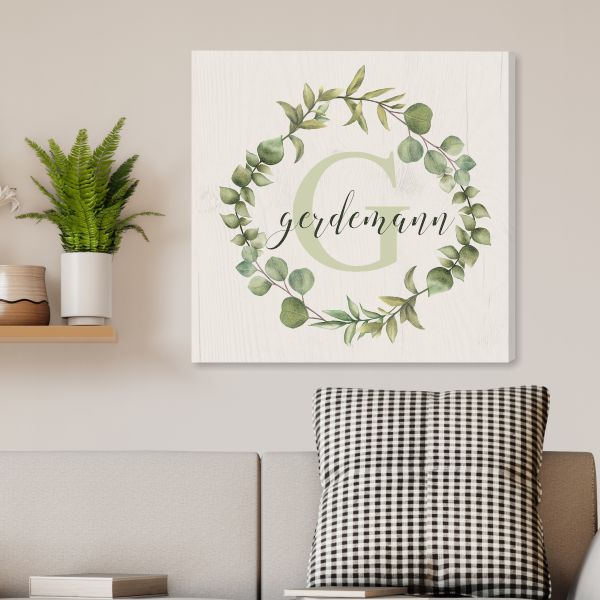 One of the most unique personalized wedding gifts that you can give to the perfect couple would be a Family Name Floral wall canvas that can be more than just décor to display. This is an overall elegantly designed wall canvas piece that can be the perfect wedding gift, bridal shower gift or simply a creative housewarming gift. The couple's last name can be displayed at the heart of this nature-inspired wall canvas.
If you're thinking that one canvas may not be enough. You can choose several different sizes of this same canvas and a simple word or name to each. The great thing about this type of wedding gift is that you can really get creative with your personalization of each canvas and the size you choose, so you can be sure the bride and groom will be able to fit these in anywhere in their home.
Our Honeymoon Photo Album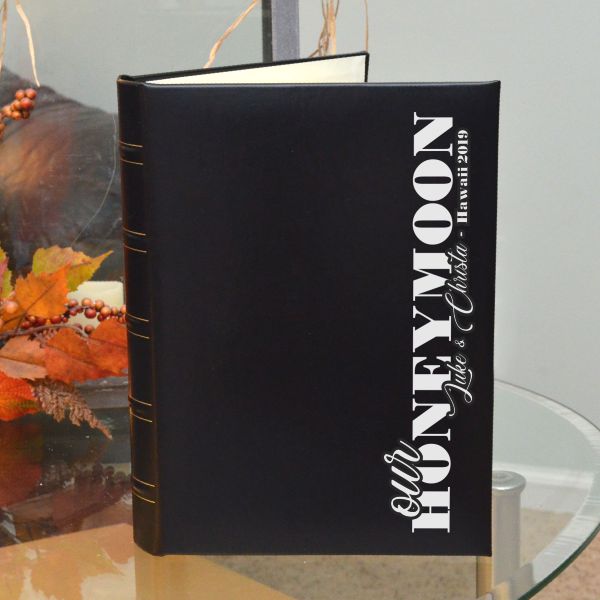 The most memorable way to appreciate any special day, is through taking more than enough photos of every moment and having those moments captured forever. If the bride and groom want to easily look back on photos from every moment of their wedding, then you can give them a gift they will really appreciate. The Our Honey Moon photo album is not only great because it can hold all their favorite wedding photos within it, but because it is one of those personalized wedding gifts that can be appreciated every single day beyond the wedding.
What makes this such a sweet gift is that you can add the couple's names, the year, as well as their honeymoon destination. This photo album can be motivation for the bride and groom to fill it with their most cherished memories and enjoy it for years to come.
With all of these wonderful and amazing gifts, your search for the perfect wedding gift is going to be much easier, but also a fun experience in the process. Between the bride and the groom, they'll be able to enjoy the personal touch that each gift brings and have more than just a few special memories from their very special day.
These gifts for the bride and groom can each be personalized to suit their individual tastes or be created as gifts for them as a couple. For a little relaxing time for the couple, wind chimes are going to be number one on the gift list. Personalized wedding gifts that will tug on the heart strings will be the Home State Sign, personalized ornament and Our Honeymoon photo album.
Gifts that are fun and the perfect addition to any newlywed's homes are going to be the All We Need Is Love cutting board and Family Name Floral wall canvas. If you are still not sure about which gift to choose, just think about the couple's personalities to help you and there's also no rule that says you cannot buy more than one gift. Try several personalized gifts to the give them more than enough happiness on their big day!