Personalized Anniversary Gifts the Couple will Love
Jun 30th 2022
Anniversary time is a moment in time that you spend with the one you love and take a few moments to make that day an extra special celebration of the union between you both. It's also a great time to share fond memories, eat special treats, and just enjoy the lasting love that you have as a couple. Moments like this are something special that should be celebrated every chance you get and there are a few things you can do to make the celebration one that you both will never forget.
Personalized anniversary gifts are more than just an expression of love because they can also be something to keep that love going strong throughout many years to come. Whether you're a friend or family member buying for the happy couple, a son or daughter wanting to help your parents celebrate, or a spouse trying to find that perfect gift for your significant other, there are so many gifts out there that can help show the love between the couple. Choosing gifts that are personalized is where the magic will happen because you are giving the happy couple something that is unique, but also something that you put your heart into buying for them.
It will definitely show that you care about them because your gift is from your heart, with hopes that it will help them celebrate such a momentous occasion together. If you want to throw an anniversary celebration in their honor, you can get together with friends and family to find the perfect gifts to give them. If you think picking out the right gift will be a challenge, here are some helpful and unique personalized anniversary gifts that you can choose for the wonderful couple.
---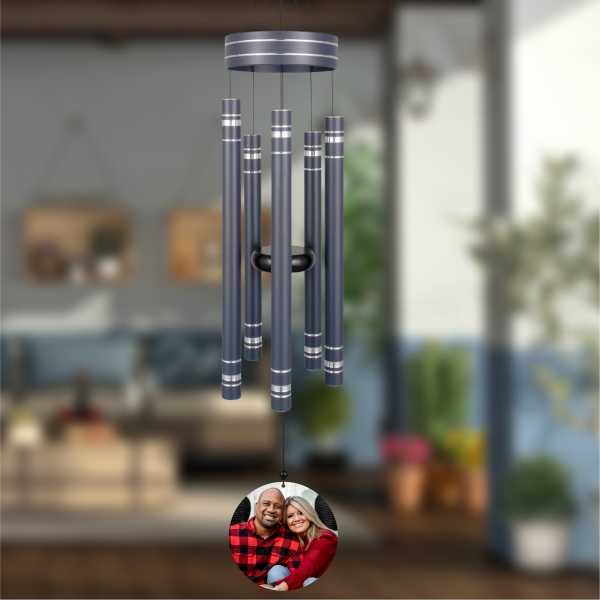 Love Lives Here Wind Chime
One gift that never grows old is the gift of music and choosing a gift that can provide a soft melody for the couple to enjoy every day, is exactly what wind chimes were made for. The Love Lives Here Wind Chime is more than just an ordinary gift and you can place it very high on the list of unique anniversary gifts that you can give the happy couple. These beautiful blue chimes have gorgeous silver etching and can be personalized with a photo of the happy couple.
You can also add a separate gift message to this gift if you have a little something special to boost the positive vibes on the couple's very special day.
---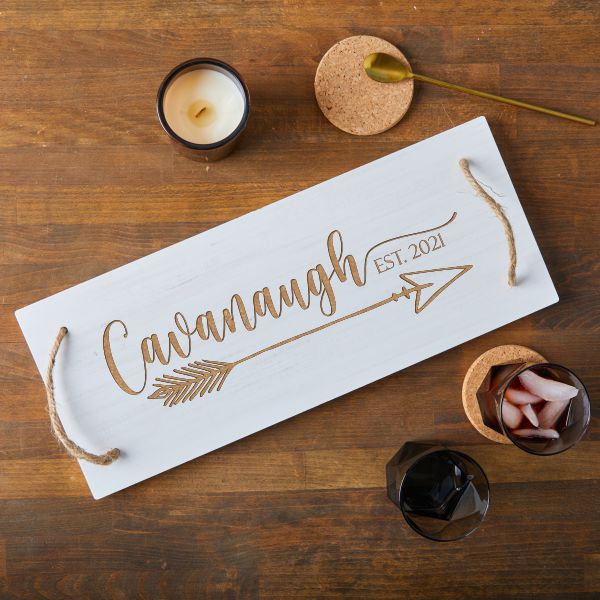 Family Tribe Serving Board
If you were thinking of planning a family gathering to celebrate the happy couple's anniversary, then this next gift idea will be the perfect choice for the occasion. The Family Tribe Serving Board is not only a great personalized anniversary gift, but it also works great as a conversation piece in the home or during a party. Make sure this is the first gift they open because they will definitely want to use this at the party, just to show off how beautiful it is and how thoughtful their friends and family really are.
To personalize this serving board, all you need to do is add the last name of the couple and the year that they were established. This is all you need to make sure this gift will be one that they remember and can use over and over again.
---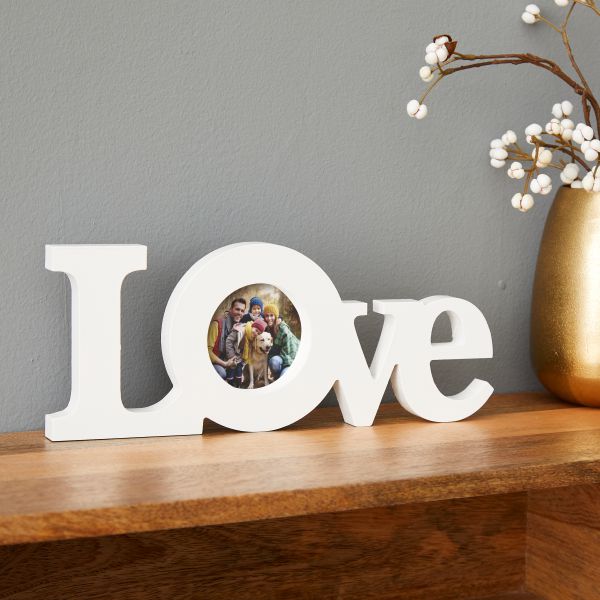 Love Desk Plaque
Sometimes, all you want to do is to make sure the couple can display their love in the most unique way, and there is a particular gift that is perfect for such a gesture. The Love Desk Plaque is ideal for making sure the couple not only sees the love they have within their relationship, but they can also have a little something extra to help them display that love within their home. If you have a favorite photo of the couple, you can add it to this plaque and really make it stand out among all the other gifts, while giving the couple something they will be able to place anywhere within their home.
---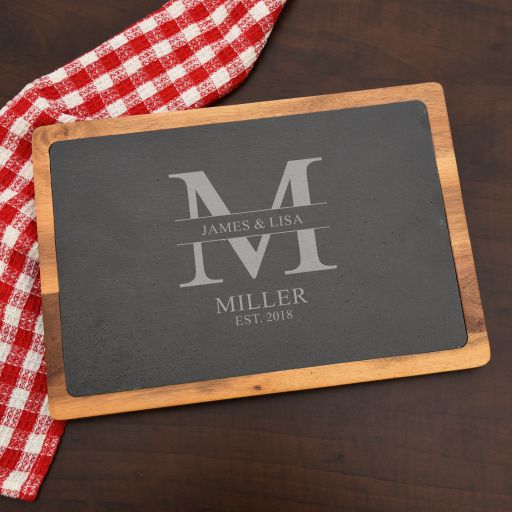 Split Monogram Personalized Cutting Board
Unique anniversary gifts can come in all different shapes and sizes, but finding that perfect gift to match the couples hobbies or interests, is truly an amazing adventure. If you know that the couple loves to cook for every meal or even just baking for fun, then you can choose a gift that fits the needs of the culinary couple. The Split Monogram Personalized Cutting Board, is going to be best gift idea for any couple that plans on doing a lot of cooking and need the right tools to get the job done at its best.
Just to be sure you can personalize this cutting board just right, you can add the last name, first names and established year for the couple, making it a very fun and creative gift they will definitely enjoy.
---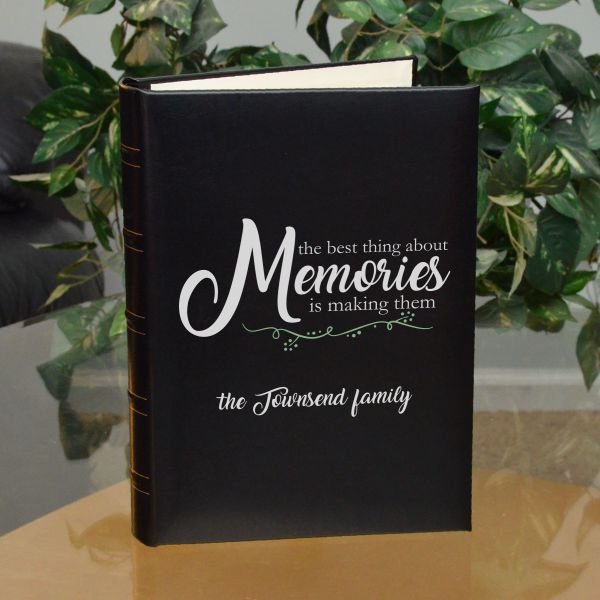 Family Memories Photo Album
There's nothing sweeter than being able to share the best memories possible with friends and family and the couple might just be on the same thought process as well. If this is the case, then anything that can help the showcase all the photos they've collected would be the best idea ever. For this gift idea, consider the Family Memories Photo Album to make sure they can have unique anniversary gifts, but also some that can be shared all their loved ones.
This is an easy personalized gift because all you have to do is add the family last name and you are well on your way to an amazing gift that they can enjoy every single day of their lives and share that joy with others.
---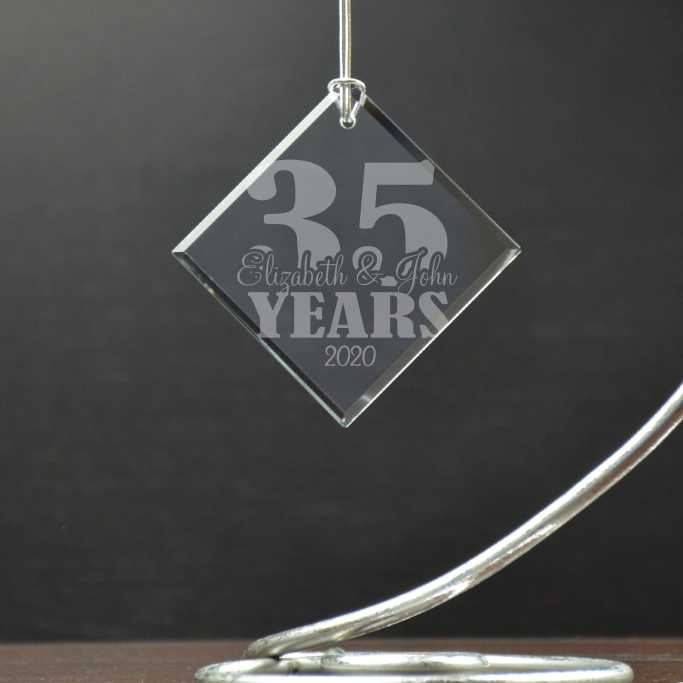 Personalized Anniversary Ornament
The greatest gifts can come in small packages and there's no exception for a gift as wonderful as the Personalized Anniversary Ornament. This gift is made extra special if you know the number of years the couple have been together because you can add it to this ornament, making it an amazing gift for the couple to display however they please. Personalized anniversary gifts like this are not only classy, but they also make it easy for anyone to see how many years the couple's love has been going strong.
Be sure that you also add the couple's names during the personalization process so they can really have a one-of-a-kind personalized gift that's been made, with love, just for them.
---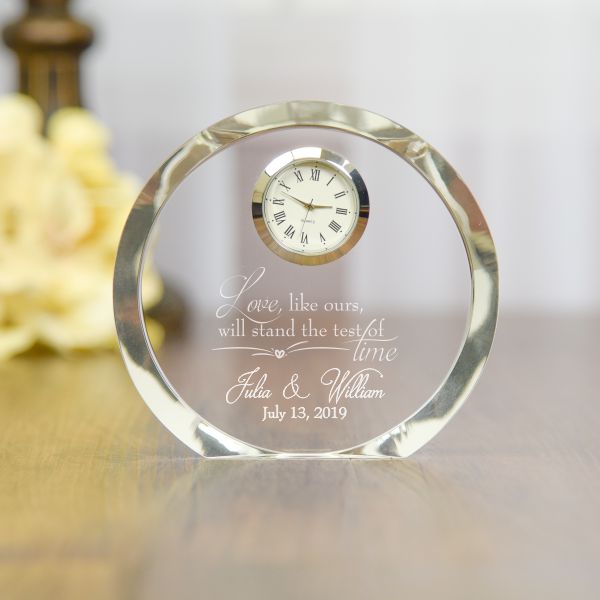 Test of Time Personalized Wedding Clock
Any relationship that can withstand the test of time deserves to be displayed in an elegant or regal way, and there is one very special anniversary gift that can represent the couple's love in just the right way. The Test of Time Personalized Wedding Clock is the ideal gift for helping the couple show off how much they have meant to each other throughout the years and how that love with last for many years to come. All you will need to do is add the couple's names and their wedding date to this clock to make sure it's one of many unique anniversary gifts that they will happily receive.
---
There are so many different kinds of anniversary gifts that are out there and choosing the perfect one might seem a bit intimidating at first. Choosing personalized anniversary gifts will always be a huge hit with any couple because personalized gifts show just how much you think of them and how much you can see that they are truly in love. Small gifts, like crystal ornaments and clocks, give you a chance to help the couple display the years of love they have between each other in a truly timeless way that is both creative and unique.
Any couple that loves to entertain guests or simply love to have gatherings for friends and family are going to love gifts that let them make use of their culinary and hosting talents. This is where a serving board and a cutting board are going to be the best choice of unique anniversary gifts. They can help them show off their culinary skills and play the perfect host to their guests as well.
For a couple who will really appreciate having a physical image to showcase their love, wind chimes, a plaque, or a photo album are all the gift ideas you can use in this situation. Choosing fun personal photos as part of an anniversary gift will leave them happier than ever. The cheerful couple can enjoy all of these gifts daily as a way to see how much their love has grown and to know how far it will take them into their promising future.