Personalized Gifts for Grandma
Oct 18th 2022
There comes a time in which you want to shower your grandparents with all the love and attention they could ever want and there could be a million ways in which you show them how much you care about them. But what about when it comes to time to make grandma, specifically, feel her very best and give her the love that you know she will appreciate? This is the time that you can do so much to give her a great time and also a chance to get a little creative with how you celebrate grandma in general.
There can be a number of different fun things that you can share with grandma and do for her, that can help her see just how much you love her, but you can also choose great gifts for grandmothers that you know she will love. It may be because it's her birthday, grandparent's day, or just a day to celebrate having grandma in your life, but no matter the occasion, you can give her a wonderful gift that's created just for her to enjoy. Personalized gifts for grandma can be anything you could think of and often times, the best gifts are the ones that involve some grandma's favorite things to do.
If there's anything that you can think of that grandma does on daily basis, even if it's part of what she might consider a boring routine, you can always find a gift that can make that routine that much easier for her. You can also choose a gift that just might spice up her routine and give her a reason to celebrate every day. There's also no reason to struggle with the gift that you want to give grandma because these are some of the best gift ideas that grandma will definitely love to receive.
---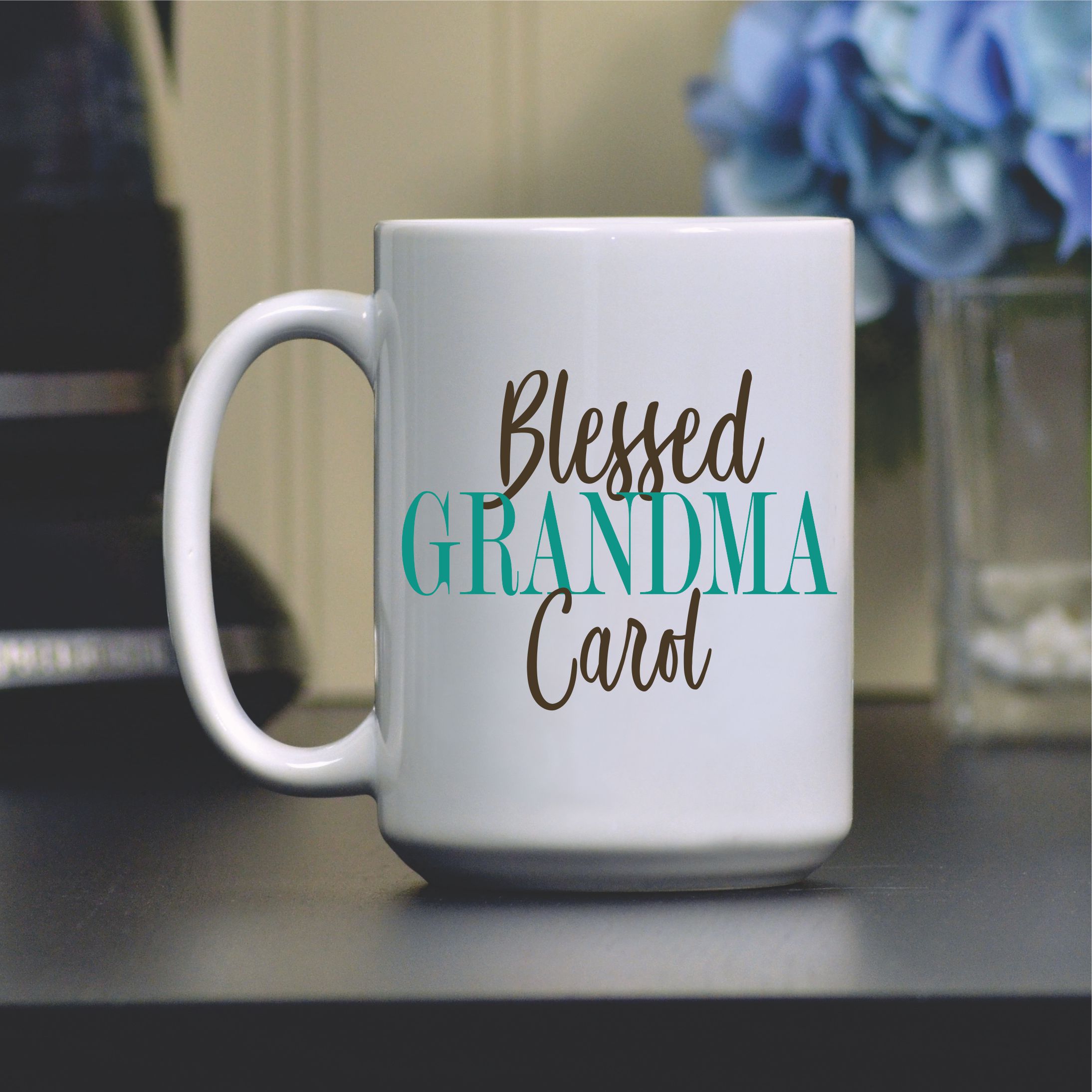 Blessed Grandma Coffee Mug
There's nothing greater for grandma than waking up to her favorite cup of coffee and she will be more than excited to have a wonderful gift to help her do just that. The Blessed Grandma Coffee Mug is the perfect personalized gift for grandma because you can personalize it just for her, so she can enjoy using it every day. Adding grandma's name to this coffee mug is the best way to go because she will have something to call her own, but also a wonderful gift that she can reflect upon each day.
---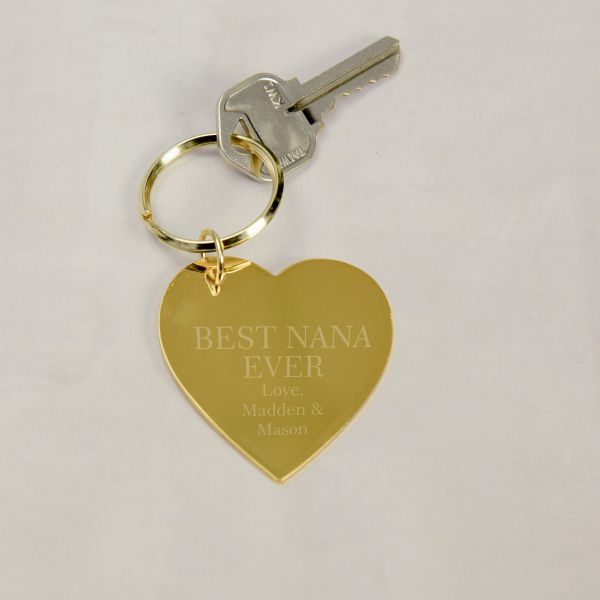 Best Nana Ever Keychain
A smaller gift that grandma can carry with her throughout the day is the type of gift that she will appreciate because it allows her to keep something wonderfully made, very close to her heart at all times. The Best Nana Ever Keychain is exactly the type of gift for grandma that can be kept close whenever she wants to have something special with her to remind her how much she is loved. For a wonderful gift like this, you can add a short message for grandma so she can read it whenever she needs a quick smile and wonderful memories.
---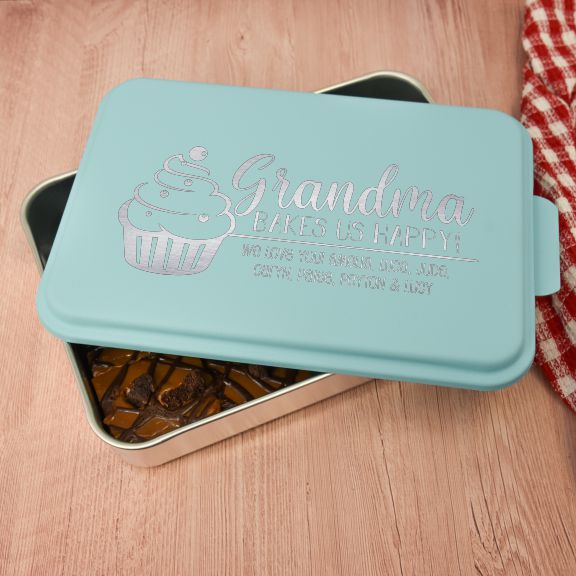 Grandma Bakes Us Happy Personalized Cake Pan
Great gifts for grandmothers come in all shapes and sizes and one of the best things about finding the perfect gift for grandma is the fact that you can choose a personalized gift to help make her day brighter and tastier. To give grandma a gift she can really use, you can choose a wonderful personalized gift like the Grandma Bakes Us Happy Personalize Cake Pan, which she can use to help her with her all her baking fun. Add a short message to this cake pan and you will definitely give grandma the best give she could ever receive for all her cooking adventures.
---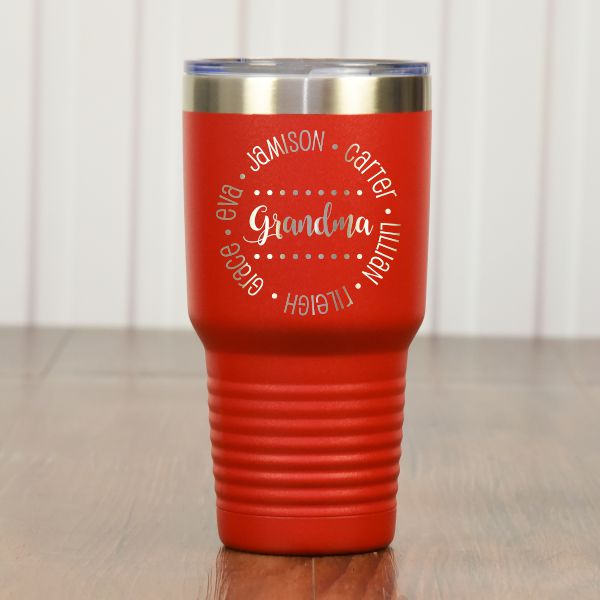 Grandmas Travel Tumbler
If grandma has any travel plans, then she will definitely need to make sure she has everything that she needs to go along with her on her travels. The Grandmas Travel Tumbler is the perfect gift to give grandma so she can be sure to have her favorite beverage with her at all times. You can add a name or nickname, add the grandkid's names and even choose a color that grandma will like best, making this the ideal traveling companion for grandma.
---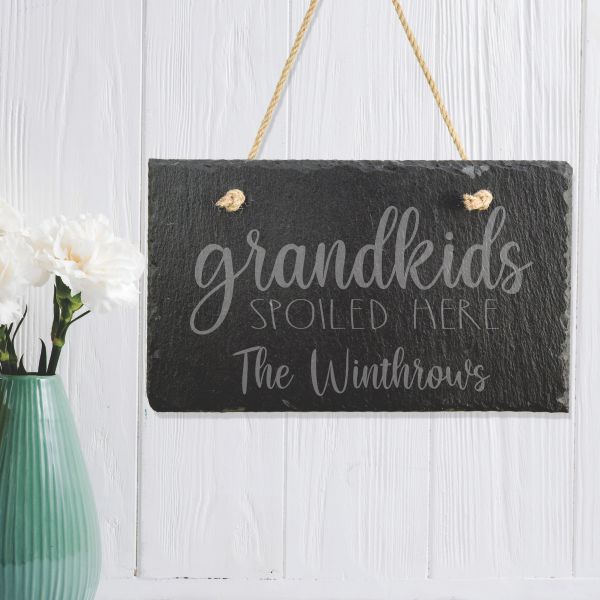 Grandkids Spoiled Here Personalized Wall Sign
You can't possibly go wrong with home décor and grandma is sure to love a sign that says all that she needs. The Grandkids Spoiled Here Personalized Wall Sign is the ideal gift to give grandma so she can display it wherever she would like, but also have a great way to remember how much she's loved. Just add the family's last name to this wall sign and you can call it one of the best personalized gifts for grandma.
---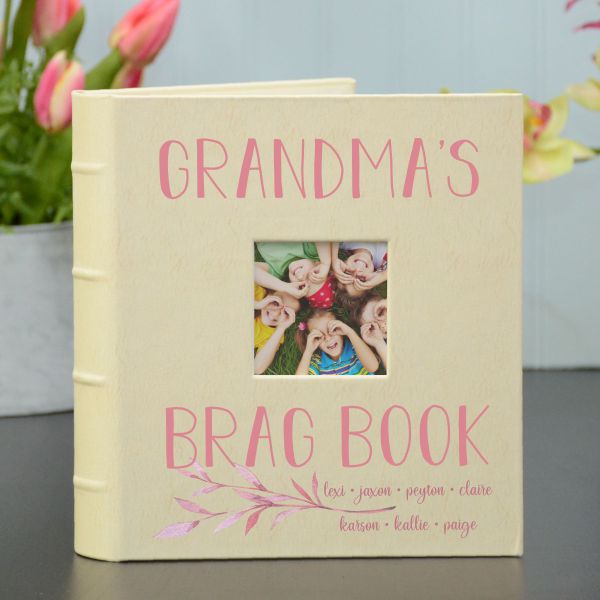 Grandmas Brag Book Personalized Photo Album
If you want to give grandma a chance to brag a little more than she already does, all you have to do is provide her with the means to do so and that can be in the form of a very creative gift. The Grandmas Brag Book Personalized Photo Album is a great way to give grandma a chance to brag, but also a great way to give her some amazing photos that she can enjoy every day. You can add the grandchildren's names to this photo album and consider a separate gift message to help add that special touch to this incredible gift for grandma.
---
Recipe For A Wonderful Grandmother Cutting Board
When grandma's in the kitchen cooking, you know that means some delicious meals are headed your way and that also makes for a great reason to give grandma a useful and unique gift. The Recipe For A Wonderful Grandmother Cutting Board is all you need to get grandma in the cooking mood any time. You can even add a message to this cutting board to give grandma a great cooking experience as well as sweet memories of those who love her very much.
---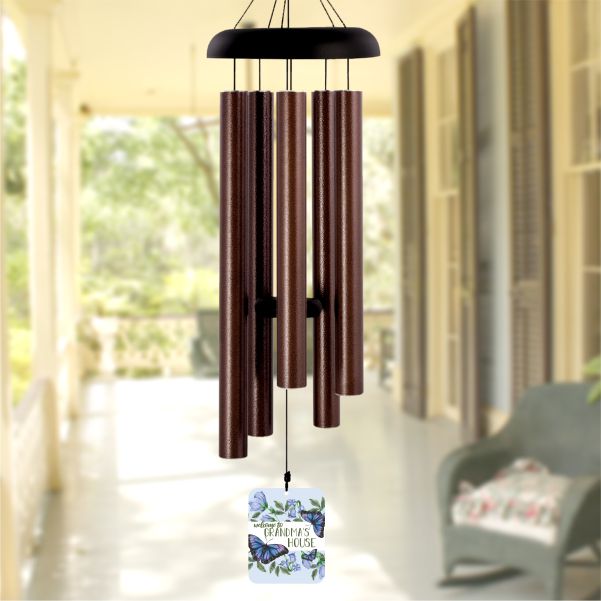 Grandmas House Personalized Wind Chime
Great gifts for grandmothers can include a lot of things, but one thing that grandma will really enjoy is something that gives her a peaceful tune throughout her day. The Grandmas House Personalized Wind Chime is a wonderful gift that gives grandma a reason to sit inside or outside and enjoy the sweet sounds that can help her relax instantly. To make this a wonderfully personalized gift, all you need to do is add a short message and grandma will absolutely love every minute that she gets to enjoy this incredible gift that comes from those she loves most.
---
Considering how amazing all of these gifts are, it's not hard to see that grandma would be pleased to receive any one of them during the time in which you want to just celebrate having her in your life. Personalized gifts for grandma are wonderful and going with gifts that make her daily routines better is just one of the many reasons that grandma will be more than excited to receive any of these gifts. Any grandmother that loves to bake desserts is going to love to have a cake pan as part of her cooking tools.
If you want grandma to take more time to relax, then you can make sure relaxes in just the right way by getting her a coffee mug to enjoy her time relaxing on the porch and a beautiful wind chime to help give her something amazing to listen to. A grandma that loves to travel will probably want to take her favorite beverage with her so getting her a travel tumbler is definitely the best way to go as far as great gifts for grandmothers. When considering a smaller gift that's easier for grandma to carry with her everywhere, you just have to think small and go with a unique and personalized keychain so she can easily keep it with her at all times.
Home décor is always something that grandma will appreciate having in her life and a wall sign that's just for her is perfect for celebrating having her in your life. To give grandma lasting memories that she can look at whenever she wants, a photo album is a wonderful way to do just that. Each of these gifts gives grandma so many things to be appreciative of and you can make her day extra special, just by giving personalized gifts to cherish forever!