Personalized Loss of Sister Memorial Gifts
Jul 26th 2022
For anyone who has ever lost someone they care about, you probably understand that it's a time of pain, but also a time to come together to help each grieve properly. When losing a sister, that pain can be even greater than you could ever realize. This is still a time to look out for and comfort those who are going through such a tragic time.
You might be considering the different ways in which you can help someone who has lost their sister and what would be best for someone in this type of situation. Anyone grieving may only need a little bit of time alone, to spend time with their friends, or something that still connects them to all the positive memories they had with their sister. When you think about these types of ideas, you can also look into loss of sister memorial gifts.
Choosing gifts that can help with all of these healing situations is not as hard as you might think and if you really want to make sure your thoughtfulness of the situation comes across, you can choose personalized gifts for loss of sister. Personalized gifts are very creative in their own way and they also make the statement of showing that a person really cares about the recipient. If you're feeling a little lost on what to get, here are some wonderful gifts that can help anyone who has lost their sister, find a way to carry their memory onward.
---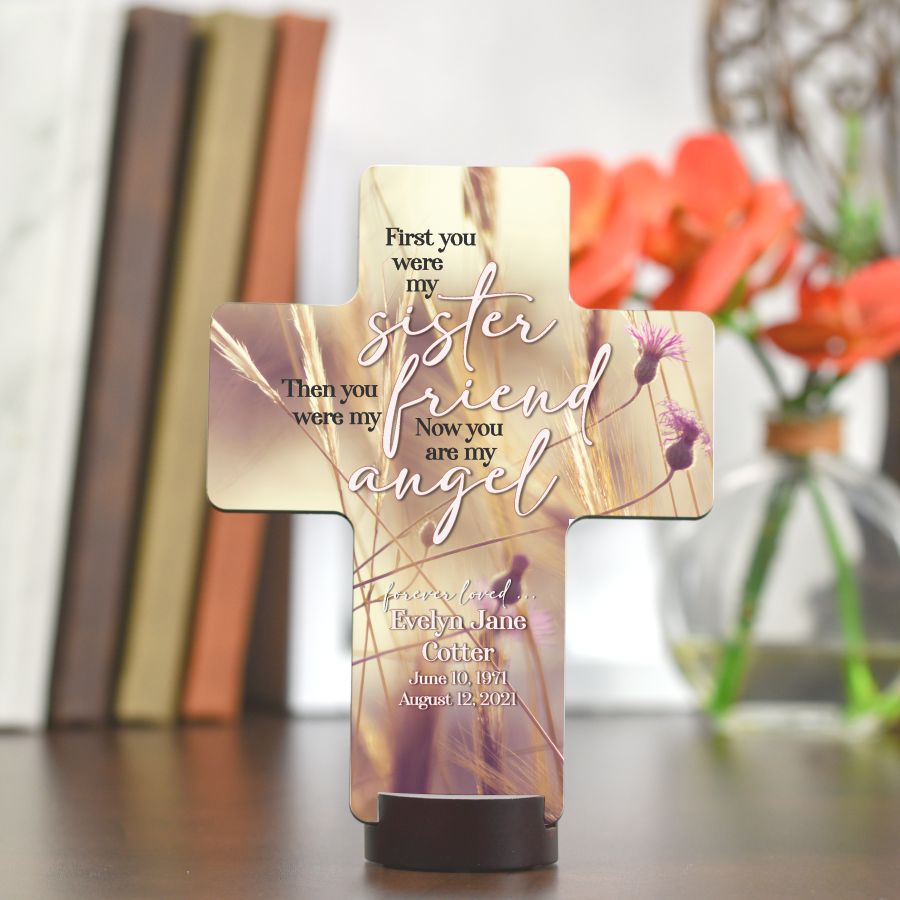 My Sister My Angel Memorial Cross
Having a small item that can be sat around the home or office is one way that anyone who has lost a sister can have a small piece of remembrance anywhere they would like to have it. The My Sister My Angel Memorial Cross is a beautiful cross that you can personalize with dates and a name. This little treasure for loss of sister memorial gifts is exactly the type of gift that anyone would appreciate having because they can literally carry it anywhere they need to go.
---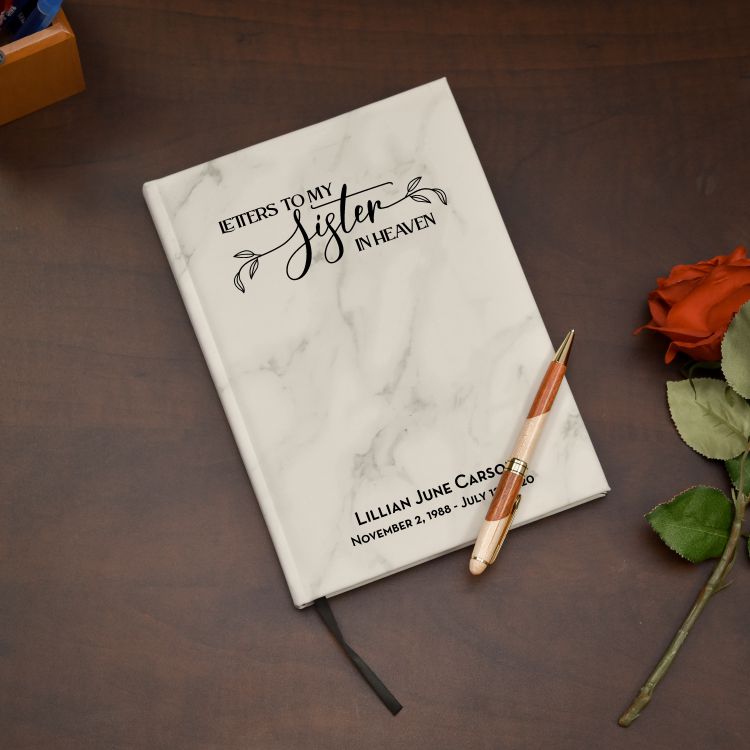 Letters To My Sister In Heaven Journal
Having a safe way to release all the emotions that a person may be bottling up, especially during a time in which they have lost their sister, is crucial to the grieving process, but also a good way to show someone you care about their mental and emotional health as well. The Letters To My Sister In Heaven Journal is one way that you can show your good intentions, but also provide an outlet to someone who may be having trouble with dealing with the loss of a sister. You can even have this gift wrapped and add a separate gift message to convey how much you really care and want to help.
---
Sister In My Heart Memory Plaque
For a gift that can be placed anywhere inside the home and admired for the positive memories it brings, something as simple as a plaque is definitely a good choice as personalized gifts for loss of sister. The Sister In My Heart Memory Plaque has an endearing quote where you can place a name and dates just below it and have a beautiful rose image surrounding part of it. It's a lovely way to not only give positive reminders, but also help anyone have a memorial gift in honor of their sister.
---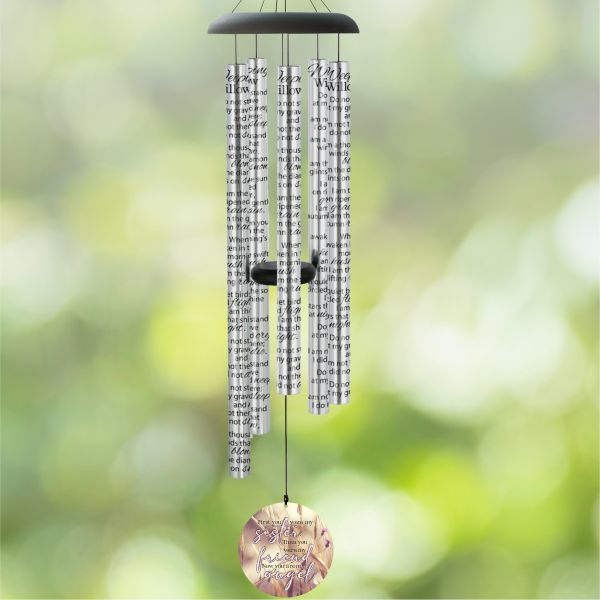 My Sister My Angel Remembrance Chime
Having something amazing that can be placed indoors or outside is the type of memorial gift that many would appreciate and actually be able to use every day. The My Sister My Angel Remembrance Chime is a beautiful silver chime that has a place for a photo and name to be placed on a sweet charm, which hangs from the bottom of the chimes. This is the kind of gift that provides soothing sounds and can help with making sure a person can stop to enjoy the little moments and joys in life, despite the grief that they are facing.
---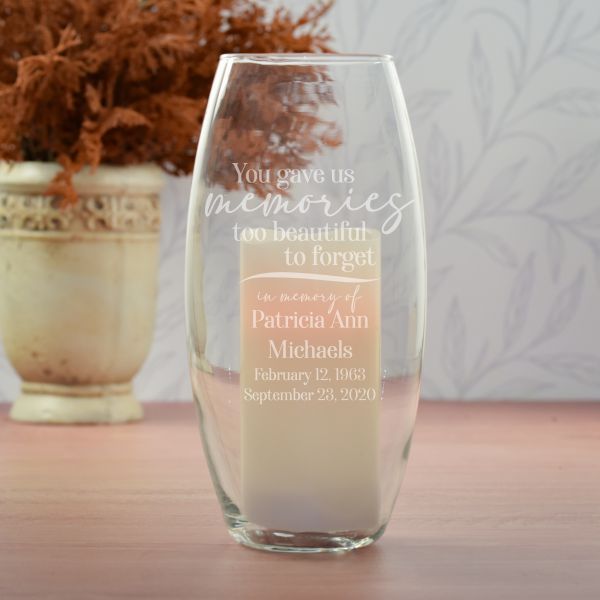 Beautiful Memories Hurricane
For something a little unique, but still something that a person can place anywhere they would like, you might consider glass décor with a special meaning. Loss of sister memorial gifts like the Beautiful Memories Hurricane glass are perfect for providing just enough of décor and class together to give the recipient peace of mind and wonderful memories of their sister. If you want to personalize this hurricane, you can add a name and dates that will be shown just below the sweet quote "You gave us memories too beautiful to forget".
---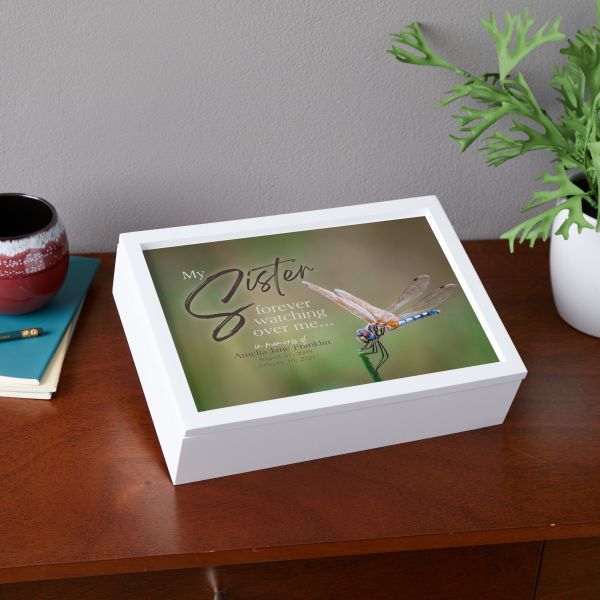 Sister Watches Over Me Keepsake Box
A great way to help someone grieve is to give them something in which they can store several precious memories and then have the ability to look back on those memories whenever they want. The Sister Watches Over Me Keepsake Box is the right kind of gift for this situation and you may even want to consider adding a special touch to this gift. Aside from personalizing it with a name and dates, you can take some time and get together special photos, notes, jewelry and other memorable pieces that you can add to the box before giving it as a gift.
This is probably one of the best gift ideas you can find considering it takes all aspects of grief into consideration and provides a beautiful way for someone to remember and honor their sister's memory.
---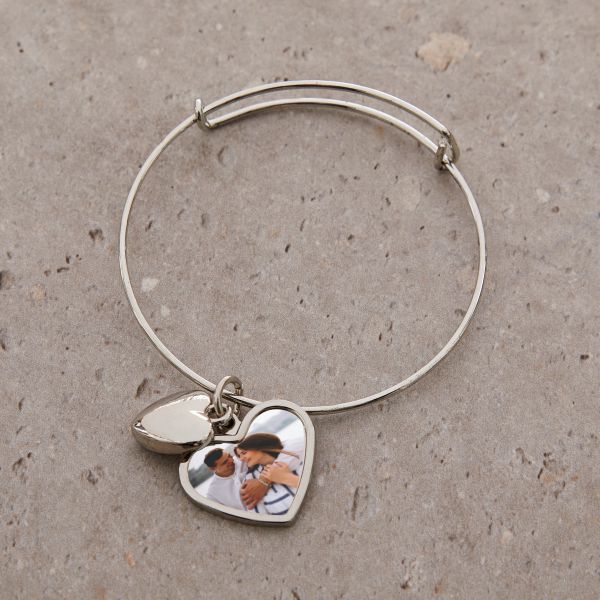 Personalized Photo Charm Bracelet
There is nothing sweeter than being able to carry around a little reminder of someone who was very near and dear to your heart and that is why photo jewelry is one of the best personalized gifts for loss of sister that you can choose. The Personalized Photo Charm Bracelet is a gift that lets you choose a favorite photo, but also lets you choose between a circle, heart, or square for the shape of the charm. This gift is wonderful in that it can be taken anywhere and can give a daily reminder of the good times the recipient had with their sister.
---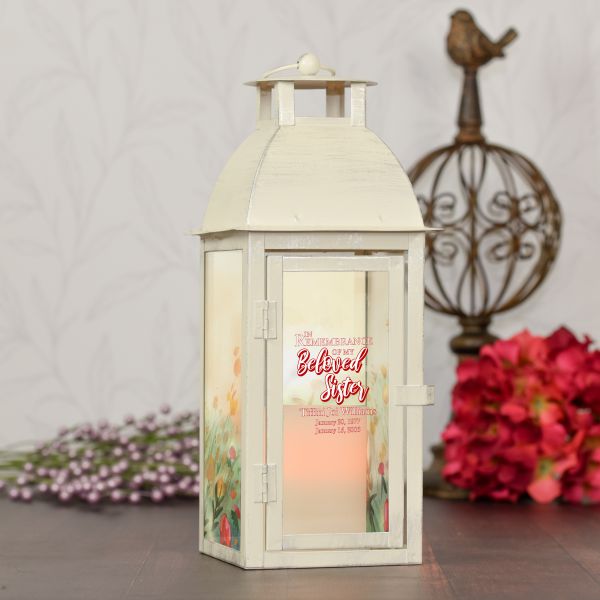 Beloved Sister Memorial Lantern
Loss of sister memorial gifts that can light up the darkness are symbolic gifts that are appreciated for their thoughtfulness, but also because they are often the little light of positivity during a time of grieving. A brightly colored lantern is just one way that you can help put grieving hearts and minds at ease and it also makes for a wonderful addition to any home or garden. The Beloved Sister Memorial Lantern is an amazing personalized gift because it brightens even the darkest times, but you can also personalized it with a name and dates for a personal touch.
---
With all the choices that you have in loss of sister memorial gifts, you can take time to choose the gifts that you think would help a person grieve in a positive and safe way. Sometimes, all a person needs is a way to carry on their thoughts and memories of their sister and this is where the keepsake box and charm bracelet would come in. If you are looking to find something really unique for someone who had a truly unique sister, then you can consider the hurricane as a gift option to beautifully remember their sister and be able to place that memory anywhere in their home.
Some recipients may have an area of a garden just for planting special flowers in memories of loved ones and because of this, they may need something to bring sweet thoughts into their garden. A lantern is not only the perfect way to give them a little light of memories, but also a unique way to light up an already special area of their garden. Wind chimes can also be the perfect gift for a garden area so the recipient can enjoy gentle tones while thinking of sweet memories of their sister.
A plaque and cross are personalized gifts for loss of sister than can be placed anywhere in the home to help remind them of all the good times they had with their sister, while a journal can give them the chance to write down all their thoughts and get their feelings out. All of these gift ideas can help with anyone who is grieving the loss of their sister and are all healthy ways in which to honor their sister as well. They help with bringing a little bit of piece and light to a dark situation and also provide comfort when they need it most.