Personalized Retirement Gifts for Coworkers
Jun 6th 2022
It's finally time for some of your coworkers to get the relaxation they deserve and their retirement may be the first step in their relaxing time. The company may also decide to throw a party in their honor and as a proper send off for all their dedicated, hard work throughout the years. Whatever the plans are for the party, you can bet that there will be one particular part of the celebration that might leave you a little stumped: choosing retirement gifts for co-workers.
The good news is that retirement time is actually one of the easier times to choose the perfect gift for a coworker. It gives you a chance to put some extra thought into the exact gift that you want to choose for the right person. If nothing comes to mind when trying to figure out the perfect gift, you can bet that personalized retirement gifts are going to be a huge hit with any coworker.
Worried about which retirement gift you can choose for which coworker? That's not a problem at all because there are more than enough gifts that can work for any coworker you choose. Here are some of the best choices in retirement gifts that are not only unique, but easily the best gift ideas out there.
7 Day Weekends Retirement Travel Mug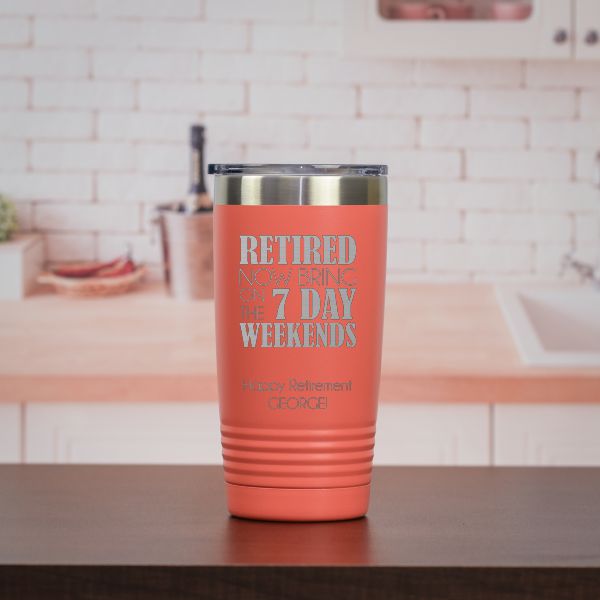 A well-known fact is that everyone enjoys a perfectly good travel mug and it's probably the most universal gift you could ever find. If you are searching for the perfect personalized retirement gifts, then you are in luck because the 7 Day Weekends Retirement Travel Mug is the ideal gift to give when you find out your coworkers are retiring.
You can choose the perfect personalizations with this mug by choosing a favorite color and leaving a short message that can be displayed on the cup. It's all you need to make the perfect gift for any coworker.
Travel mugs make great gifts for several reasons and many of those reasons revolve around traveling, which is to be expected during the time a person starts their retirement. With this handy personalized travel mug, your coworkers will have a little something to call their own and a wonderful mug to keep their drinks cold or hot.
Eat Drink Be Retired Cutting Board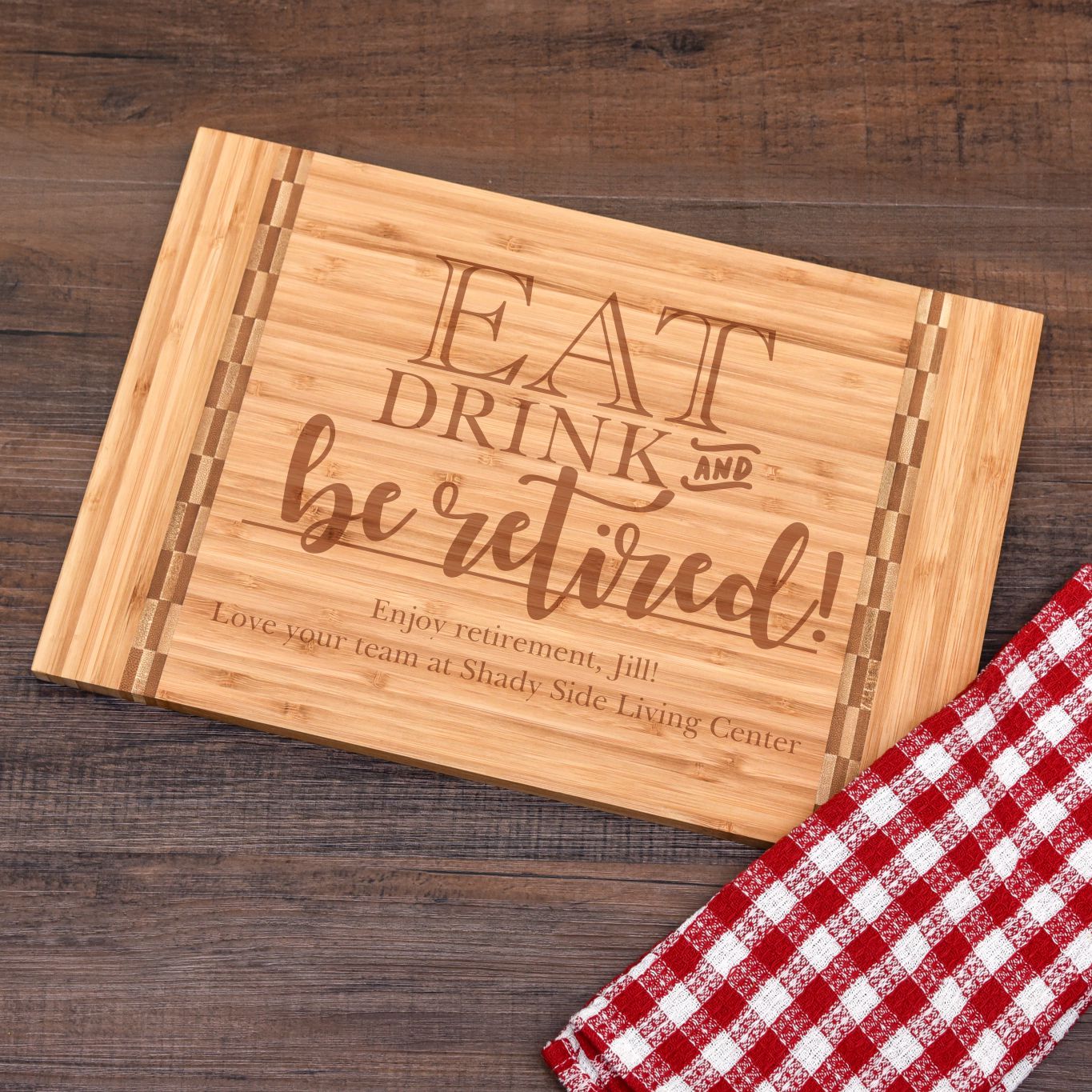 Retirement time is also a great time for many of your coworkers to catch up on their cooking and that includes making some delectable dishes in their free time. They can really do their best chopping with the use of a helpful cutting board and the Eat Drink Be Retired Cutting Board will definitely be very useful as a choice of retirement gifts for co-workers. The best dishes start with having the best kitchenware and a cutting board is essential to making sure everything runs smoothly from start to finish.
This cutting board is more than just a classy gift because you can also personalize it with a short message. That very message will be displayed on the front of the cutting board so your coworker will definitely enjoy this very special gift.
Hello Pension Retirement Chime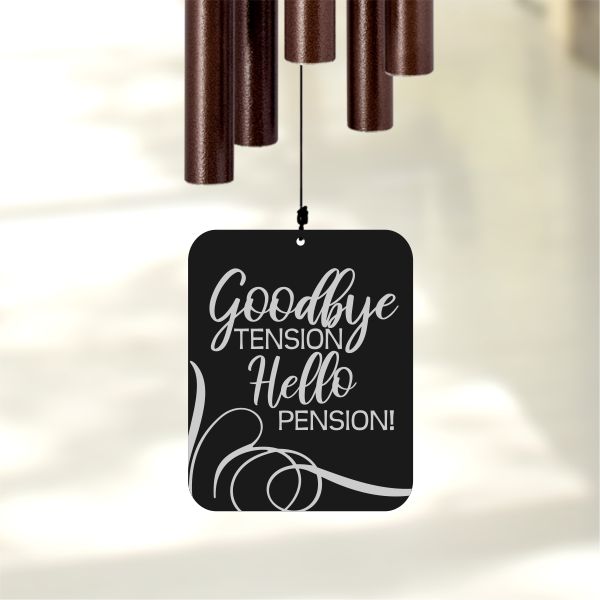 Being retired means that your coworkers will have all the time in the world to do absolutely nothing and enjoy some peaceful sounds while they're at it. Some of the most relaxing sounds they will hear can come from wind chimes and choosing the perfect personalized retirement gifts is easy with the Hello Pension Retirement Chime. This chime is just what every retiring coworker needs to get some relaxation in and a few natural tunes as well.
You can also add a short message to this chime that's displayed on the charm. This is an especially great retirement gift when an entire department wants to get together and give a gift to the retiree. Don't forget that a separate gift message can also be added so everyone can come together for a few words of encouragement and congratulations.
Hello Pension Cigar Holder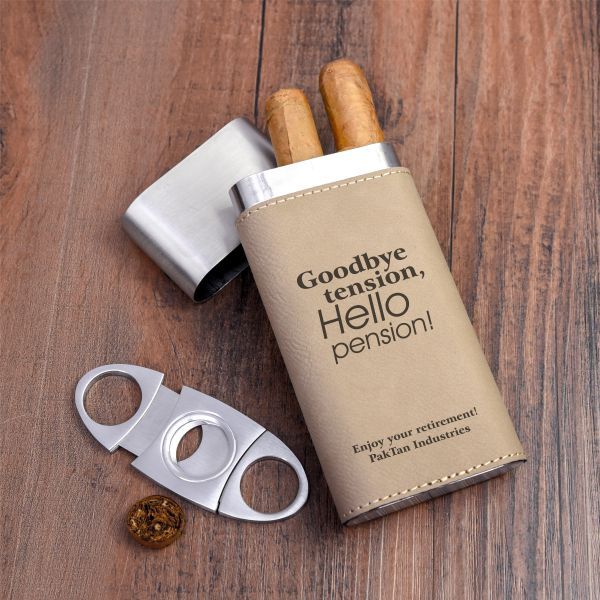 When keeping with the "relaxing" themed retirement gifts for co-workers you can also consider another gift that will help a coworker relax in classy style. The Hello Pension Cigar Holder is just the right gift for anyone retiring coworker that wants to enjoy every moment of their freedom from the workforce. This cigar holder can be personalized with a message so it can be a great gift for a group of coworkers to give with their own special touch on a message.
Life Begins at Retirement Personalized Clock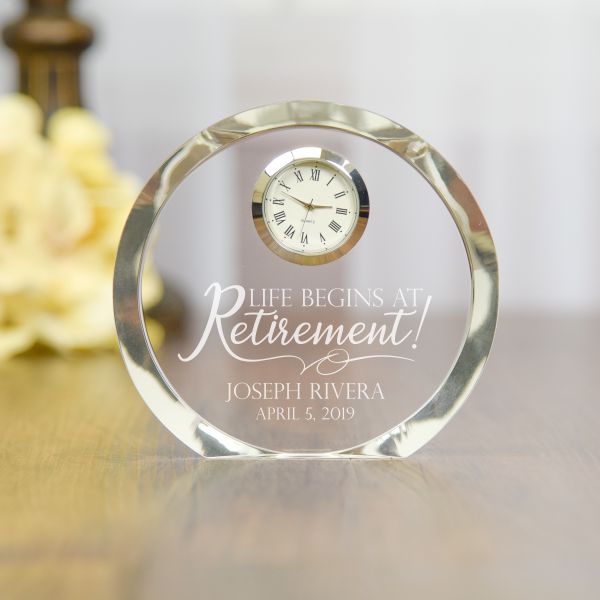 Whether you're the head of the company or simply an employee that wants to find the perfect gift for a retiring coworker, there's one particular gift that makes a statement in the best kind of way. The Life Begins at Retirement Personalized Clock is a gift with two powerful meanings in one. As part of retirement gifts for coworkers, this clock can represent the "time" given to a company and the precious crystal shows the appreciation on behalf of the company and coworkers.
As an added bonus for this gift, you can personalize it with the name of the coworker that's retiring, but you can also add the date of their retirement as well. It's a unique and beautiful gift that works for any retiree.
Rocking the Retired Life Wind Chime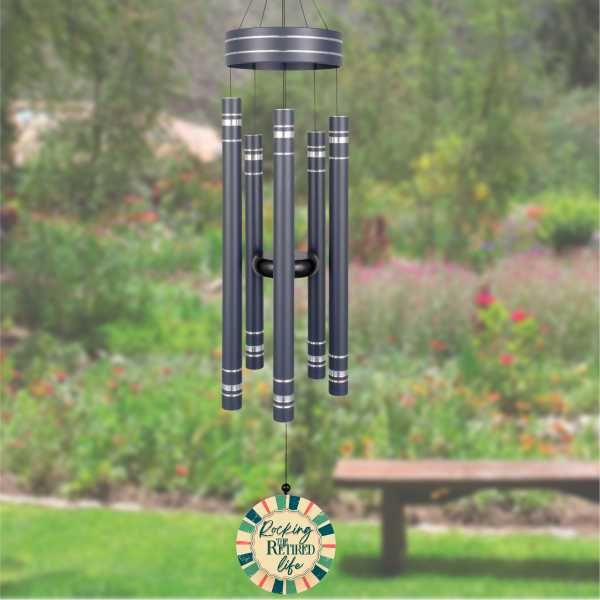 The Rocking the Retired Life Wind Chime is another musical gift that works great as part of personalized retirement gifts and the fact that it can be personalized is just one of best qualities about this gift. These unique navy blue and silver chimes can have a message added to the charm at the end and also a separate gift message can be added as well. It's another one of those beautiful-sounding gifts that can be appreciated by any retiring coworker.
This is an especially great gift for any coworkers who loves the outdoors and plan on spending a lot their retirement time outside. They can sit back, relax, and enjoy the wonderful sounds of this amazing wind chime.
Wine All You Want Retirement Gift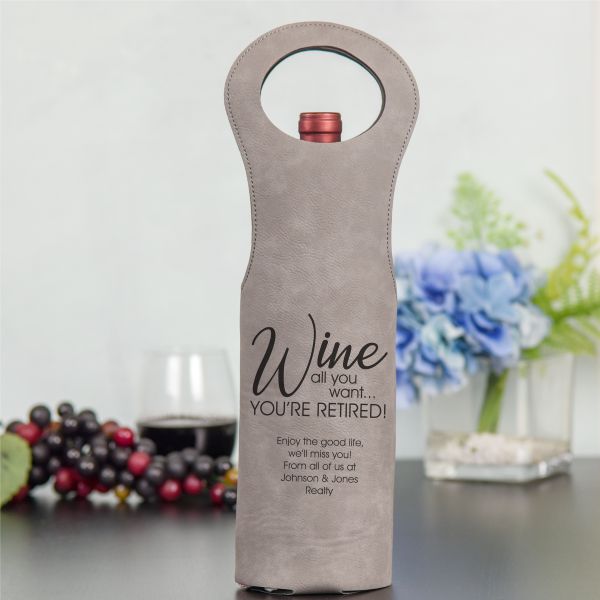 If you're looking for more of a fun gift that you can give a coworker as part of their personalized retirement gifts, then you can really have fun with the Wine All You Want Retirement Gift. This type of gift gives you a chance to be very creative because you can choose a gray or brown leather wine bag and add a message to this bag as well. It's a great quality wine bag that can really stand out among retirement gifts.
If you really want to make this retirement gift special, there are a few things that you can do like giving this gift as a group and buying this wine bag in both colors. When you have the colors set, you can come together to pick out your co-worker's favorite type of wine. Add those bottles of wine to the bags and also add a separate gift message to make this the ideal gift for any coworker who's retiring, but also loves their choice of wine.
No matter the coworker you are choosing a gift for, these are all gifts that anyone would love to have, especially as part of any personalized retirement gifts that are given at the company party or outside of it. Not only do personalized gifts show a level of appreciation and thoughtfulness, but they also show your coworkers that you really know how to pick out the perfect gift. Travel mugs are something that everyone can use every single day and the same can be said for a personalized clock.
Wind chimes are that type of gift that literally everyone can enjoy and choosing them as retirement gifts for coworkers is a way to get everyone exactly what they can enjoy during their retirement, especially if they like relaxing sounds. A wine bag and cigar holder are gifts that let the recipient know that you want them to do nothing but relax and have a great time during their retirement. A cutting board is an ideal gift for the coworker who plans on cooking up plenty of dishes during their retirement.
Any gift you choose is going to be loved by your coworker and you can feel good knowing you got them something that is memorable, useful, thoughtful and fun. Retirement is a time for relaxation, enjoying plenty of free time and getting through more than a few bucket list travels. These gifts are perfect for getting a head-start on all the fun that comes with retirement!