Personalized Retirement Gifts for Men
Jul 6th 2022
Any man that makes it to the retirement stage of his life is always considered accomplished and it can be celebrated by both the company they are retiring from and with friends and family. It shows that a man has been hardworking and strived to make sure that he has completed all his working goals in life. If you know a man that has reached this stage in life, then you can help him celebrate his success in a number of different ways.
For many, a party is often given at work and if you happen to be the one who's helping to plan it all, then you know there are a lot of decorations and arrangements to be made for the retiree. Even if you are a part of the family and want to get all the family members together to celebrate his retirement, then there will still be a lot to get planned and even more to think about when it comes to the actual "celebration" part of the party. Gift planning is essential and you may even want to consider getting together a list of retirement gifts for men that everyone can chip in and buy for the retiree.
If you are planning on giving a gift yourself or maybe you want to give some ideas to others about what they can give, then consider personalized retirement gifts for him on his special day. Personalized gifts are such a thoughtful touch to any party or celebration, especially if it is in celebration of a milestone achievement in anyone's life. Giving a personal gift allows you to add that special touch to a great gift and also makes the gift more meaningful for the retiree.
---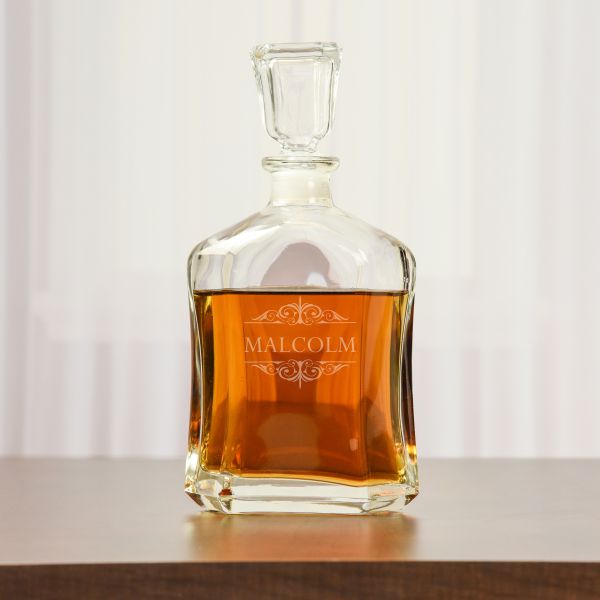 A Gentlemen's Whiskey Decanter
Since you might want to keep to a theme of relaxation for retirement, why not consider a gift that will definitely win every time. A Gentlemen's Whiskey Decanter is a gift that will be more than just the favorite for the retiree because it will remind him to take a moment to enjoy his retirement to the fullest. Personalized retirement gifts for him are always going to be a huge success with the retiree because they know how much you care and how much you want them to enjoy their free time after years of working hard.
---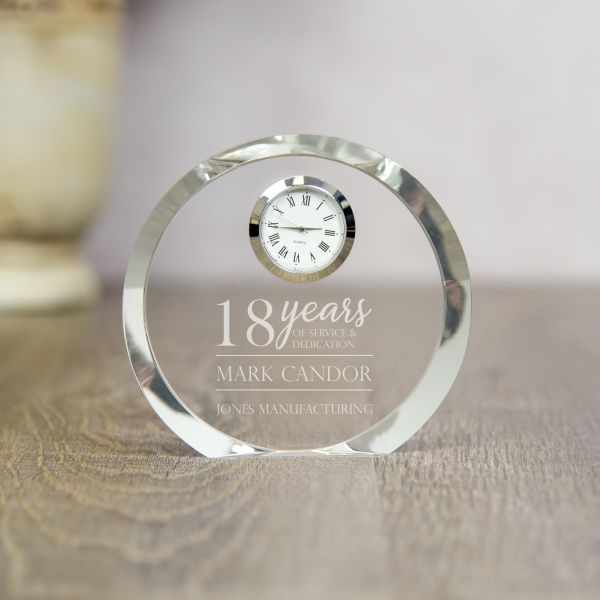 Dedicated Service Crystal Clock
There's nothing more timeless than a retirement gift that can include a classy design, while still representing a meaningful life full of work accomplishments. The Dedicated Service Crystal Clock is a beautiful retirement gift that doubles as a reminder of years of hard work and pushing through it all to achieve retirement goals. The best part about this clock is the way that you can personalize it.
For the happy retiree you can add a name, company name, and the number of years of service. It's a really memorable and sweet way to honor a hardworking man in his retirement days.
---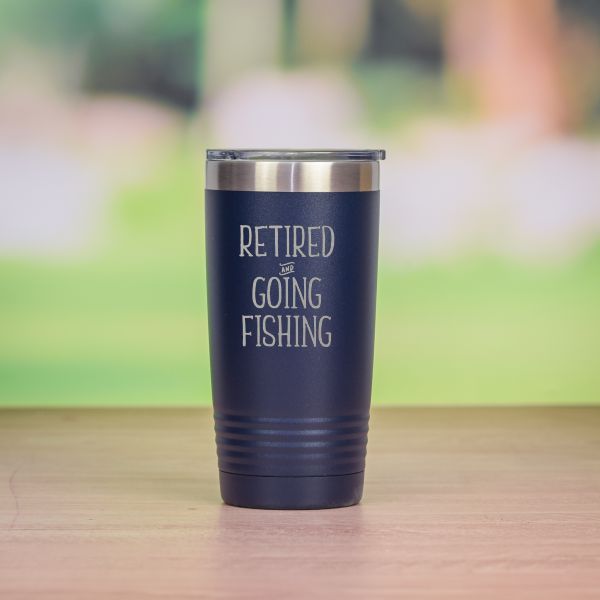 Finish The Sentence Retirement Travel Mug
A travel mug is exactly what any man would need to actually start planning his retirement fun and learning to relax a little instead of spending his days working away at his job. If you're looking for the perfect mug for the job, then the Finish The Sentence Retirement Travel Mug is just the right kind of gift to help keep him completely hydrated, but also gives him the chance to travel without worries of not having his favorite drink right there with him. If you want to personalize this travel mug, all you have to do is choose between the colors blue, coral, and black, as well as choosing a sentence to complete the phrase.
As far as retirement gifts for men goes, this is sure to be a winner with all men, especially if they are already making traveling plans.
---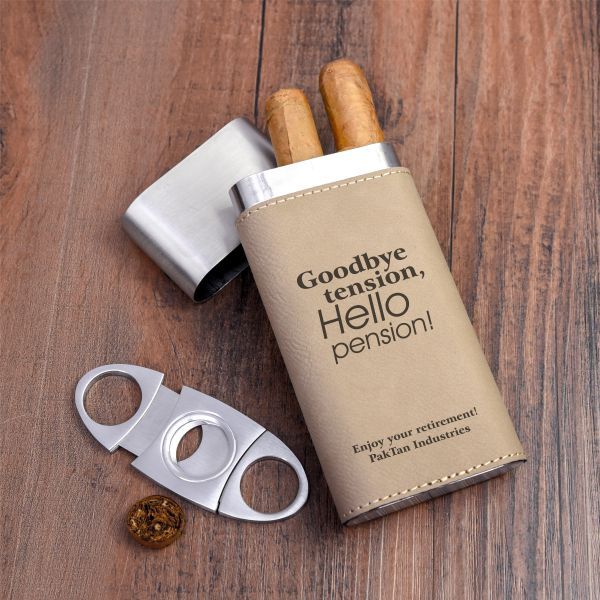 Hello Pension Cigar Holder
Giving the kind of retirement gifts that allow a man to relax as much as he wants, are the best types of gifts you can consider, especially when you are planning a retirement party for him and some of the guests are not sure about what gifts would be best. The Hello Pension Cigar Holder is just one of many ideas for a great retirement gift that he will enjoy, but one that might also encourage him to relax a little in his retirement days. This cigar holder also comes with a cutter so he'll be well-prepared every time and you can even add a short message to it that will be displayed on the holder as well.
---
Personalized Fishing Lure
If you want to keep with the many ways in which you can motivate a retiree to relax, then consider his hobbies or maybe something he hasn't had a chance to do. Fishing is just one of many choices he has as an option to relax in his retirement time and a Personalized Finishing Lure is exactly what he needs to get his best fishing done. If you want to personalize this fishing lure, all you have to do is think of a really sweet or fun message that can be added right to the front.
Not only will he love the fact that he has a wonderful fishing lure waiting for him, but he can also enjoy endless hours of fishing to his heart's content.
---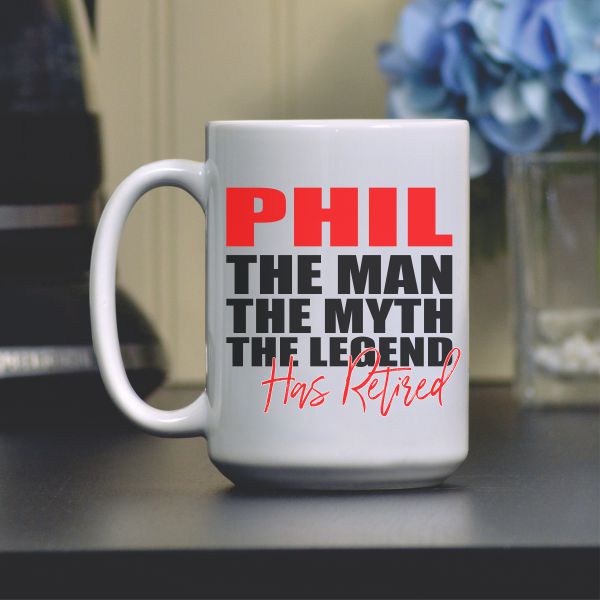 The Legend Has Retired Coffee Mug
If morning coffee is a much needed thing for him, then you know the best type of retirement gift is going to be one that he can use to enjoy his coffee every day. Retirement gifts for men can include coffee mugs because it's a great way to show them that you understand how important their coffee is to them and that they need it to start their day off right. The Legend Has Retired Coffee Mug is a great retirement gift choice that can be personalized just by adding a name to it.
This way, whenever he takes a moment to sip his favorite coffee, he'll think of the wonderful person who considers him very special.
---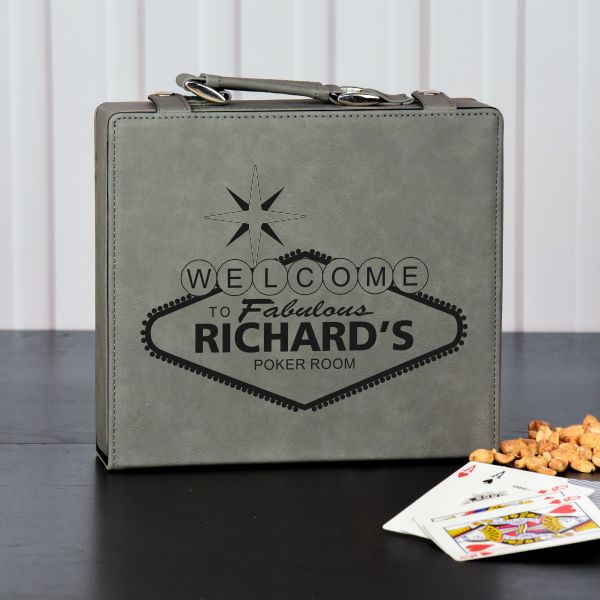 Vegas Style Personalized Poker Set
Retiring means it's time to relax a little and enjoy the finer things in life, like being able to get together with friends and have some fun. Some men might enjoy making things a little more interesting in their retired time by having fun with the Vegas Style Personalized Poker Set that allows them to get friends together for high or low stakes fun. Personalizing this poker set is easy because you only have to add a name and choose between brown or gray colors for the poker set case.
If you're planning personalized retirement gifts for him, then you know this is the kind of gift that will leave him happy every time he plays it.
---
Planning any retirement party is going to be a lot to handle, much like any situation, but that doesn't mean that it's going to be impossible, especially when it comes to figuring out the ideal gifts to give the retiree. Personalized retirement gifts for him can be anything from a coffee mug or travel mug, which allows him plenty of chances to hydrate with his favorite drink and even take it on-the-go. A whiskey decanter would not only give him motivation to relax in style, but it is also a good way to motivate him to get that home bar together and enjoy the fruits of his labor.
If you want to focus more on getting the retiree to relax then you can also take into consideration the poker set, cigar holder, and fishing lure. All of these are sure to help him relax as much as he wants to, while still enjoying gifts that can be used every single day and remind him of how much his hard work has been appreciated throughout the years. These types of gifts are also great ways to hang out and stay in touch with the retiree any time he starts to miss all his work buddies.
The crystal clock is a classy gift for a lot of reasons and it's often one of the most appreciated retirement gifts for men because it's a physical representation of the hard work and time they have spent within a company. There are more than a few personalized gifts for him on this list that qualify as something really special to give and you can consider buying multiple gifts as a group to make it a really special gift-giving event. No matter what you choose to do, he's sure to appreciate all that went into planning and celebrating such a special occasion as retirement.