Personalized Retirement Gifts that Speak Volumes
Sep 29th 2020
The day has finally come…Someone who has worked hard all their life and the time has finally arrived for their retirement to kick in. You know they deserve it and you want to give them something that equals to a "Thank you for all you've done, now enjoy your life!" Personalized retirement gifts that speak volumes are a great way to show your appreciation to anyone you know that is retiring or has already retired.
To get you started on your gift shopping for a retiree, here are some great ideas you can choose from!
Personalized Clocks are Great Retirement Gifts
There's no better statement piece than a clock, but not just any clock will do. A personalized retirement clock is an ideal choice to remind any retiree that life beings at retirement! Clocks are literally timeless gifts to give for any occasion, but for those who are retiring or already retired, it can be a great reminder to take a moment in time and appreciate your life!
Wind Chimes for The Avid Retired Gardener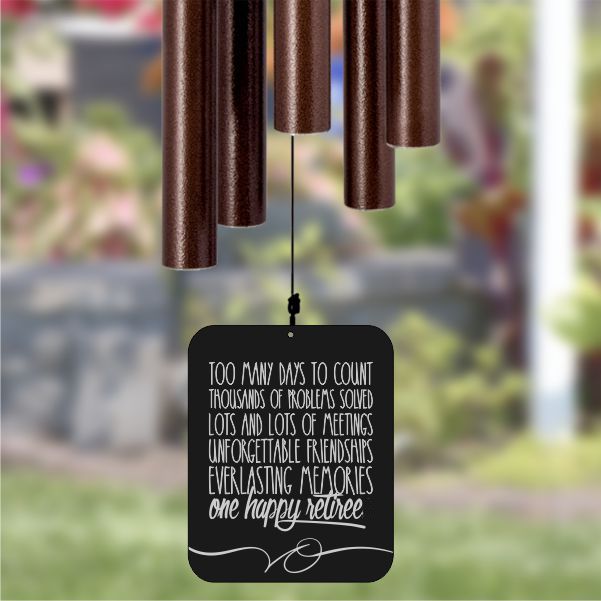 Since there will be plenty of sunny days for the retiree to take in the gentle breezes outside, why not let them enjoy the relaxing melody of wind chimes while they're at it? Wind chimes as retirement gifts are great for individuals who love natural and melodic sounds.
Aside from the relaxing sounds wind chimes make, they are perfect for helping your favorite retiree sit back, relax, and relish the day ahead of them. Wind chimes are perfect personalized retirement gifts that speak volumes, literally, for the retiree who you know is the avid gardener. The retiree will enjoy listening to their tune while they tend the flowers and be reminded of all the friendships they made during their work-life.
Personalized Decanters and Glasses for the Sophisticated Man
For a classy gentleman you should go with an equally classy retirement gift! Whiskey decanters and glasses are great as personalized retirement gifts and can be appreciated for years to come. The classic decanter and glasses set is great for personalizing with the retiree's last name in an elegant design. They are sure to love and use a thoughtful and well-presented gift such as this. This beautiful personalized decanter is also available without the 4 glasses in case as well. Pair this decanter with a bottle of the retiree's favourite scotch or bourbon for them to enjoy as a nightcap after their busy days of doing whatever it is they want!
Who Doesn't Love Fun Coffee Mugs?
The I'm Retired! Coffee Mug can let our retirees brag a little and have fun doing it. On the front is a comical message: "I'm retired and you're not!" and on the back you have plenty of room to leave a message that's straight from the heart.
If you want something a little different, you can always choose the sarcastic yet witty "Congrats on being a quitter" retirement coffee mug. Remember that it's their retirement and sarcasm is definitely allowed.
Whether you choose a personalized clock or wind chimes as a retirement gift, just the gesture itself is what counts. For a humorous soul, comical coffee mugs are a sure win and decanter sets are always welcomed by classy gentlemen as personalized retirement gifts.
Now that their hard work is over, give our retirees gifts that help them realize it's time to live their best life!