​Personalized Valentine's Gifts She Wants
Feb 2nd 2022
Valentine's day is a busy day for gift-giving. If you're celebrating with a significant other this year, the pressure is on you to find the perfect Valentine's Day gifts for her. Whether you've been dating a week, or you've been together for years, you want to find something as special as she is.
Some women expect flowers or candy on Valentine's, but those gifts are a little cliché. Your special lady friend deserves something unique. You might consider finding personalized Valentine's Day gifts for her this year.
Finding the perfect gift may still have you at a loss. We're here to help take the mystery out of your gift-giving adventure. Check out this list of seven unique Valentine's Day gifts for her. Perhaps you'll find the perfect thing among our favorites.
Love Personalized Wall Canvas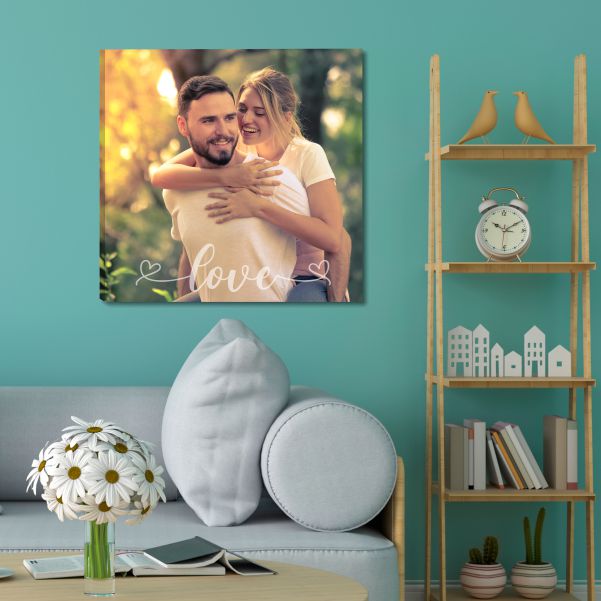 In today's world of selfies, social media, and cloud storage you sometimes forget the importance of a physical photograph. Nothing quite captures a memory like a picture. Many women have a favorite photograph. Usually, it's one that captures a special moment or a precious person.
Commemorate your love by having a canvas created from her favorite picture of the two of you. The square canvas is available in one of three sizes: 12-inch, 16-inch, or 20-inch. It's a cotton canvas that has been stretched on 1-inch bars. It's then personalized with the picture you choose and the word "love" in white across the bottom.
Let her know you value her memories. Choose this canvas as one of your Valentine's Day gifts for her, and make her favorite picture a beautiful piece of home décor.
Hail the Queen Water Bottle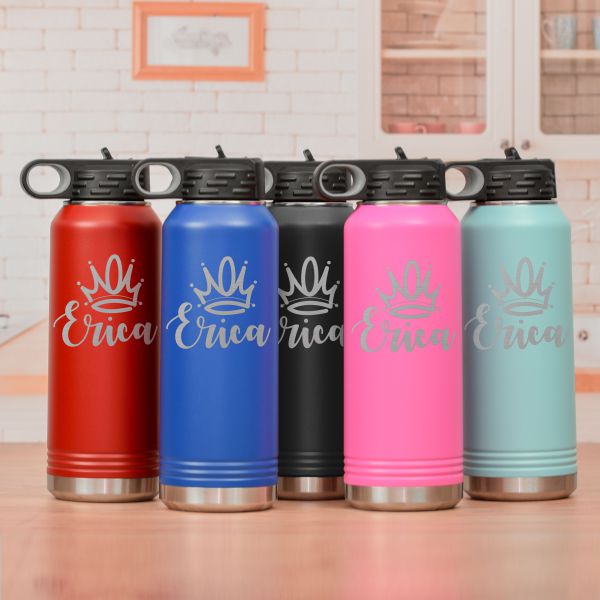 Staying hydrated is an important part of today's busy lifestyles. People on the go are often found with a bottle of water in their hands. Help your girl stay hydrated with one of these personalized Valentine's Day gifts for her.
The stainless steel Hail the Queen water bottle holds 32 ounces of her favorite liquid. It's available in multiple colors and features a flip-top lid and removable straw. Each bottle is decorated with a crown and can be personalized with your special lady's name.








Love Desk Plaque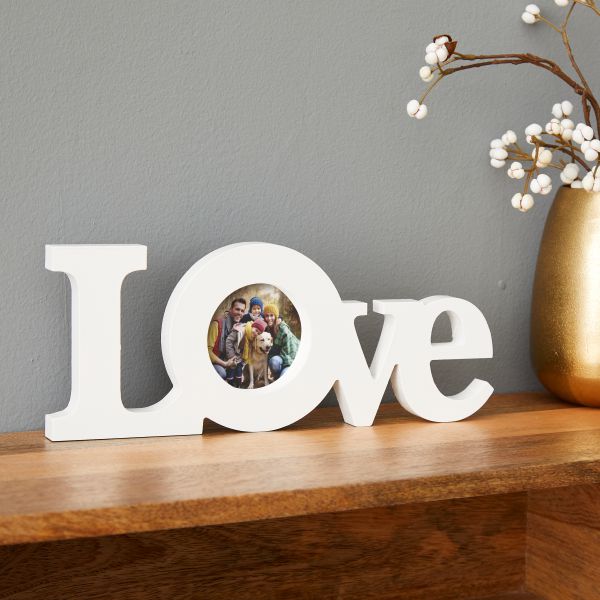 Are you looking for something to adorn your sweetheart's desk? This decoration perfectly combines a personalized gift with a simple expression of love. It's literally the word "love" spelled out.
The neutral color of the plaque will fit into almost any room. You personalize this piece by adding a picture in the center of the "o" in the word. Simplicity meets beauty with this desk decoration.










Foodie Dice
Does dinner time cause undue stress? Is planning meals becoming more of a chore than a matter of sustenance or enjoying pleasant company? These dice are the perfect choice to take the guesswork out of cooking.
When you're choosing your Valentine's Day gifts for her, remember even an everyday task like cooking dinner can have an element of fun when you look for it. The Foodie Dice includes 5 base dice and 4 dice that represent seasonal vegetables. Meal inspiration is quite literally "a roll of the dice" with this set.
100 Dates Scratch Off Poster
Is your date night more of a stuck in a rut night? You've done the same thing for so long now that it's becoming routine. You're even beginning to wonder if she finds you boring. This 100 Dates Scratch Off Poster will add mystery and adventure back to your dating routine.
When you choose this poster as one of your Valentine's Day gifts for her, you're giving a gift that continues giving. On date night, she will simply scratch off a date on the poster to reveal your activity for the evening. The activities range from quiet things to do at home to adventurous nights out. You will both enjoy the time spent together doing new things.
Heart Shaped Bamboo
This heart shaped bamboo can be multiple Valentine's Day gifts in one. The bamboo satisfies the desire to give your special lady flowers. The bamboo itself symbolizes good luck and good fortune. You can choose a single, double, or triple heart design.
Each shaped bamboo arrangement is situated in a glass planter and surrounded by decorative stones. If you're looking for something more than a plant, even one as special as this one, you can add chocolates to your gift. Still not quite enough? Add a panda plushie to the mix.
Whichever combination you choose, your special lady is sure to appreciate that this bamboo is not your typical flowers and candy. It's not every day you give her your heart on a stem, literally.
Tea Forte Petite Presentation Box
Tea can calm your nerves or brighten your mood. This presentation box features ten teas for your gal to sample at whim. On a cool day, a hot cup of her favorite tea may just be the relaxation tool she needs.
This assortment is beautifully packaged in a gift box that has been tied with a satin ribbon. When she opens the box, she will find a guide that will help her choose the perfect flavor to suit her mood. She will think of you every time she sits down with a relaxing cup of tea.
What's Next
Personalized Valentine's Day gifts for her allow you to celebrate the unique person she is. Gifts that incorporate her favorite pictures show her that you value her memories. The ones you customize with a name or a date let her know you remember the important things. When purchasing your Valentine's Day gifts for her, don't settle for less than the best.
Your special lady deserves gifts as unique as she is. Sure, you could play it safe and buy something traditional like jewelry or flowers. Will that let her know how special she really is to you? Choose the gift that is as unique as your story.