Practical Housewarming Gifts
Mar 15th 2022
For new homeowners, a housewarming party is an event that marks the beginning of something great. Here, friends, families, work colleagues or invited acquittances gather to congratulate the new homeowners on achieving such a feat. In congratulation, it is normal to bring gifts for new homeowners. However, choosing the right housewarming gifts can be a challenge.
Before choosing a housewarming gift, always remember every occasion or scenario in life deserves its gift and that gifts are supposed to reflect that you care. Caring about what you gift the new house owner would be intensified by getting personalized housewarming gifts. Check through our list of personalized housewarming gifts for impressive ideas to celebrate someone's moving into a new home.
Personalized Wind Chime
There is a way the chimes in a wind chime strikes each other, producing that alluring sound that announces the presence of the wind. Therefore, for homeowners you suspect are into nature, a wind chime could be the number one personalized housewarming gift for them.
There are many designs you can choose from. However, we would recommend the family personalized wind chime. It will show you have the family you are giving in mind. This is because it allows you to insert the family photo in its sails. It is also aesthetically pleasing, being made from nice navy blue aluminum and having a silver etching on it. The wind chime has a length of 36 inches with the family surname and first names inscribed on them.
Home Sweet Home Block Sign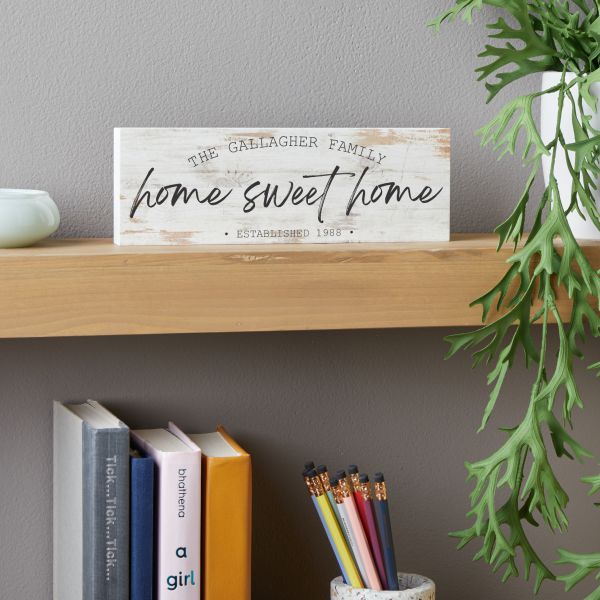 Truthfully there is no better place than home, and with this statement, you have a source of a small yet significant gift. You can help them say their home is a castle by gifting them a woode
n block sign engraved with a good inscription, family name, and a housewarming date.
We have many designs, but none is as pleasing as the Home Sweet Home Wood block sign. This personalized housewarming gift has engraved on it the recipient's family name and the family's established year. It measures about 3.5" x10" and is normally placed on shelves, tables, or other flat surfaces. The Home Sweet Home wood block sign is affordable and can make the perfect housewarming gift!




Family Initial Lantern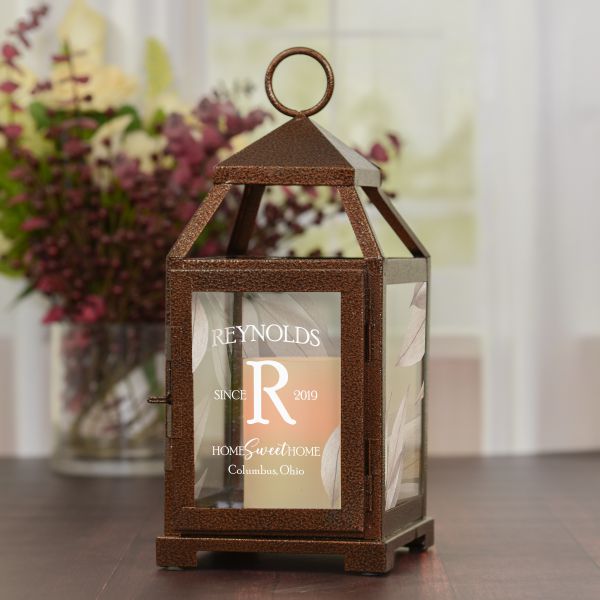 There is this special attraction we have for old fashioned items. For example, many consider the British Queen's old car one of the most unique cars ever. Bringing such a love for unique things with a higher value can be something you latch on to when getting a gift. We would personally recommend this gift for new house owners in the suburbs. Like the others, there are many designs. However, the best one that represents the family value is the Family Initial Lantern.
The family initial lantern has a simple and elegant design. It has an inscription of the recipient's information, such as the last name, the family's "established" year, city, and state. What makes it unique is the iron body with burnished copper glaze and the acrylic side panels with openings at the top. This durable lantern is lighted with a single 4-inch LED candle with batteries (not included). Great for weddings, housewarmings, and more!


Personalized Bless the House Light Box
You can never go wrong by gifting new homeowners something that would complement their home décor, and one gift you can consider is a Light Box. What makes it unique is its personalization. The gift has its family's last name added to the bottom and a beautiful poem behind it. When you turn it on, a lovely open-field scenery will show.










Family Adventures Personalized Frame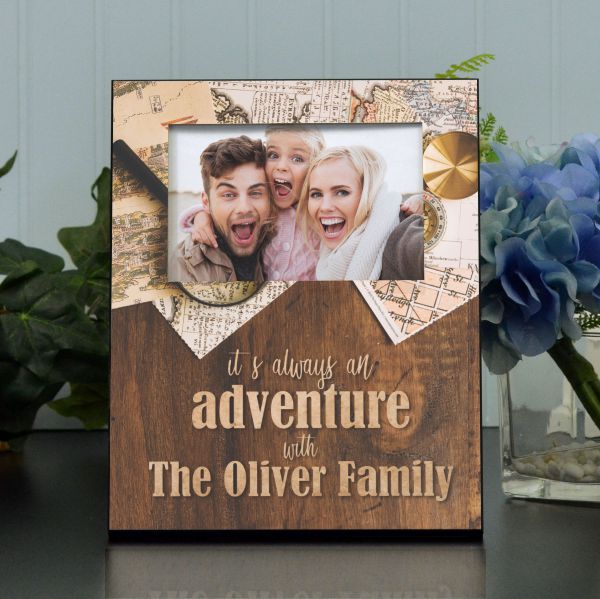 Are you very close to the family? If yes, the perfect gift can be our family adventure photo frame. The Family Adventures photo frame is the ideal gift for homeowners with a sense of adventure. The family frame features a wood-toned background, a suitable picture, and an easel back for tabletop display. It measures 8x10 inches and includes and can hold a 4x6-inch photo personalized with the family's last name.








Personalized Cutting Board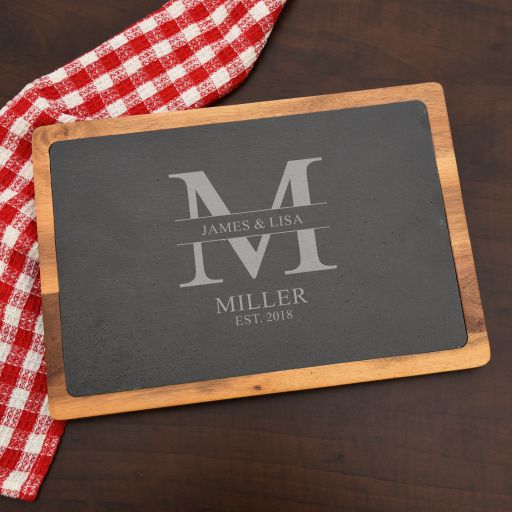 Do you think the new homeowners have a love for cooking? If yes, a cutting board with other gifts can be the perfect gift. It will allow them to create wonderful culinary together. We would recommend the Split Monogram Cutting Board due to its unique properties.
First, it is made of acacia wood and has a dimension of 13 x 9 inches. It also has a sturdy slate insert making it easy to wash. The most unique thing about this gift is the personalization which includes the new owner's first name, last name and the housewarming date.
Personalized New Home Ornament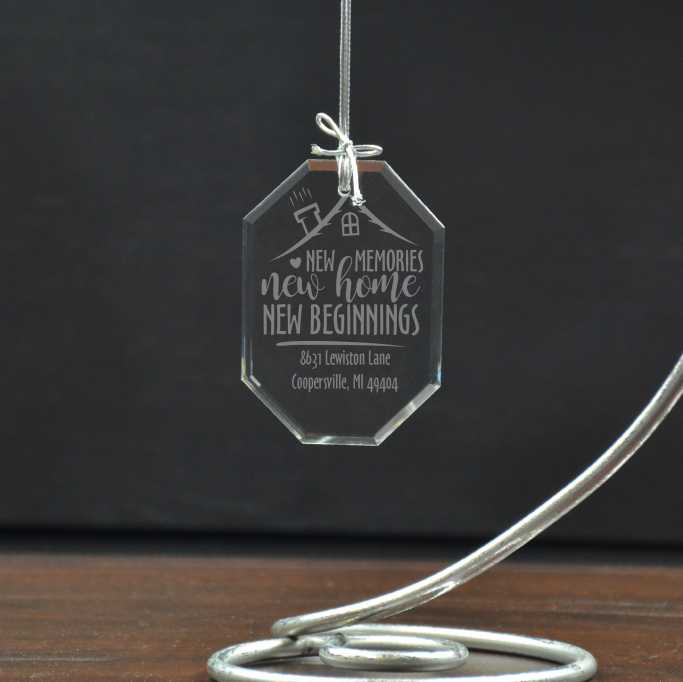 One of the sure-proof gifts for new homeowners is something that reflects a unique sense of style in their home decor. Personalized ornaments such as the New Home, New Beginnings Personalized Ornament will be something that speaks value.
The ornament is hexagonal, and engraved on it are the words "New memories, new home, new beginnings." It has a dimension of 4x3 inches, and together with an ornament stand, you have a gift you can display in the living room.








Guides on Choosing the Right Housewarming Gift for New Home Owners

Did you find any gifts for new homeowners on our list? If yes, congratulations. Pack it in a unique style and present. However, follow our guides on choosing the right housewarming gift for new homeowners.
Understand the New Owners
The housewarming gifts listed above have a particular feel and were tailored to specific people. If they don't appeal to you, you should understand the new owners before thinking of the gift to get. If they love nature, something that complement nature should be the right one. For people into cooking, cooking-related gifts would suffice.
Personalization
The gift you should get should reflect the owner and yourself. Therefore, personalized gifts are the better ones. They could be tumblers, floor mats, etc., but they should reflect whatever ideal is needed. It could be the recipient name, the poems reflecting their value, etc. This form of personalization is better than a normal gift due to what they represent.
Don't think about the cost
A perfect gift is not necessarily a costly gift. Therefore, most people will get personalized gifts for loved ones. This doesn't mean that you shouldn't get a costly gift. If you have a gift that reflects your ideal, you should get it.
Be Creative
Creativity is an important part of gifting. You can also ensure that the packaging is out of this world, aside from getting the right gift. For example, you could wrap the gift using a beautiful packaging material or style.
Include a Bit of Yourself
When we gift people, we unconsciously gift them a part of ourselves. Therefore, whatever you want to get, let it reflect your ideal. Consequently, you will come to their minds when they look at it.
Conclusion
Getting the right gift housewarming gift can be a challenge. While some people would consider getting a costly gift, the best gift speaks of the heart. Therefore, the best gift would be personalized housewarming gifts to imprint their minds.