Remembering Loved Ones During The Holidays
Dec 15th 2022
The holidays are a wonderful time to share with family and friends, as well as create precious memories to remember for years to come. During this time it's a great idea to think about all of those you want to share in the Christmas spirit with, but it's also a time to think of others in a different way. There are so many who have lost loved ones, but still want to be able to share in the holiday celebrations by remembering them during this time.
Remembering a loved one is made even more special during the holiday season and there are several ways in which you can do this. Whether you're looking to celebrate the life of a loved one that has passed on or make sure their memory is part of the holiday celebrations, you'll be able to find the perfect way to do just that. You may want to consider things like personalized memorial gifts and that's perfectly okay.
There are literally so many ideas that you can do to make sure your loved ones are remembered throughout the holidays and these ideas can be shared with family and friends to help them as well. For some ideas, you may want to even consider a group effort to have everyone get to know more about a lost loved one than they knew and also bring some positive memories to the table that others may not know about. If you still feel a bit stumped on ways that you can help remember loved ones during the holidays, here are some wonderful ideas to help you through the holidays.
Memorable Holiday Dishes
If there are lost loved ones who made favored holiday dishes, then everyone would appreciate having those same dishes show up during the holidays. Getting together for Christmas is also a time to share different dishes with one another and this is the perfect time to make something very special that will fill everyone's hearts with joy. If you can find their exact recipe, that's great, but if not, you can create something as to it as possible.
Just making the extra effort to bring a dish that everyone can have fond memories of, is all it takes to help remember loved ones during the holidays. You can also encourage friends and family to do the same if they have favorite dishes from any lost loved ones that they are especially fond of. It gives them a chance to bring something that warms their hearts and lifts their spirits during the holiday season.
You can also get the children involved in this type of memorial idea and have them help make different dishes with them. It's a great way to keep up with a family tradition, but it's also a good way for them to honor someone they love as well.
Photo Table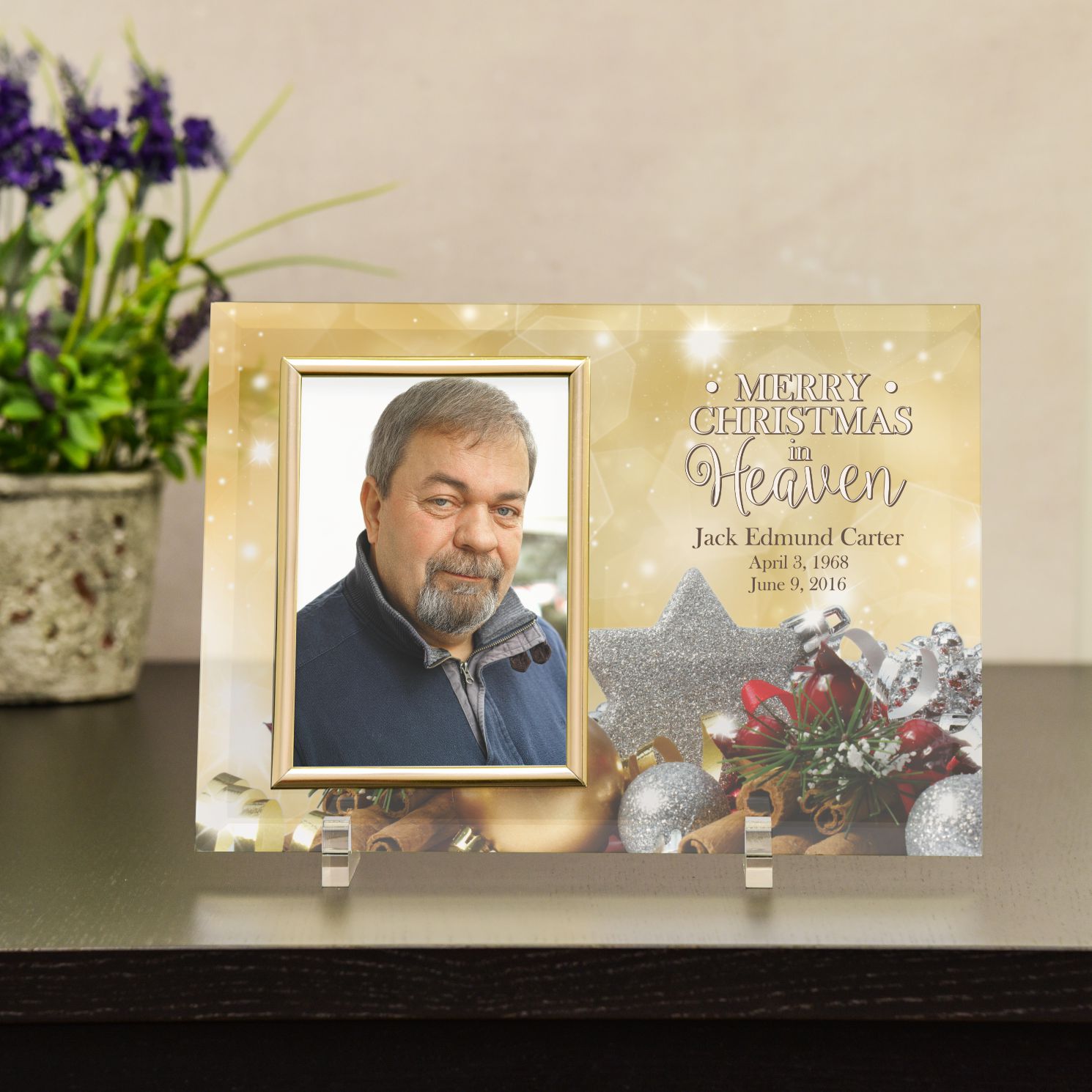 A photo table is a wonderful idea that helps everyone within the family celebrate a loved one in their own special way, but also have a chance to look back on some very fond memories as well. To start a photo table, have a space on a table or an entire table cleared and decorate however you like for the holidays, but remember to leave space for plenty of photos from family and friends. Everyone can have a special photo that they can place on the table, representing a loved one that they have lost and their favorite memory of them.
ometimes this can also be a great way to celebrate a loved one in a unique way and having a personalized frame that helps with their memories of them is one way to do this. The Merry Christmas In Heaven Memorial Frame is a great gift idea for yourself or even a loved one who may want a special way of celebrating someone they love for the holidays. You can add their name and the dates to this frame and make it a sweet and loving addition to the photo table.
This is also a great personalized memorial gift that anyone would appreciate having for Christmas, especially as a beautiful way to celebrate a favorite memory of a loved one.
Lighting A Candle
Probably one of the most traditional ways to honor a loved one is to light a candle in their memory, but this doesn't have to be an ordinary candle for such a memorable occasion. During the holidays, you may want to have a candle that's extra special and something that can be considered a great idea for sharing with others as well. This is where personalized memorial gifts can come into play and this particular gift is one that you want to give for the holidays, but also keep one for yourself.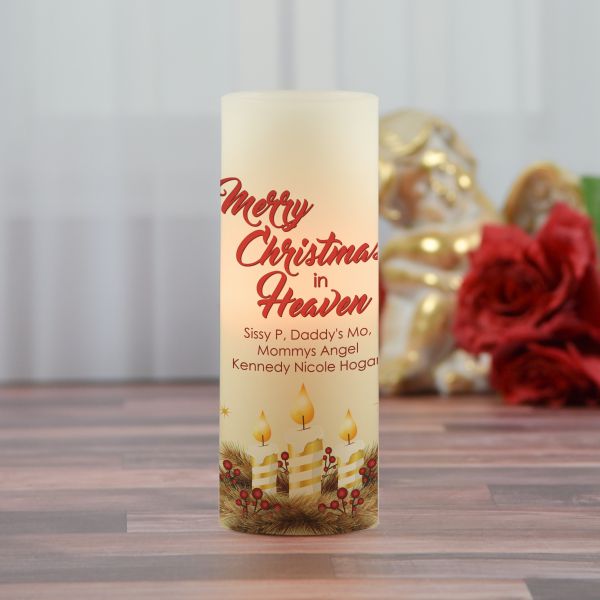 The Merry Christmas In Heaven Memorial Candle is a wonderful idea to give as a gift and to keep for yourself as well. When it comes time to light candles, this would make for a beautiful memorial and a very special way to help remember a loved one during the holidays, but also beyond the holidays as well. This candle has a beautiful Christmas theme that goes perfectly for the holidays and even has a place to add the name and dates of a loved one that you or your friends and family would like to remember.
You can even make this candle into a special tribute time during the holiday celebration and have everyone light the candles at the same time, in memory of all of those they have lost. Not only does this help lighten the mood and share special memories together, but it also gives everyone a chance to do something positive in memory of their loved ones.
Write A Letter To A Loved One
Writing letters may not be what many would think as a way to celebrate a loved one during the holidays, but these are no ordinary letters, and the meaning behind them is considered very special during the holidays. When writing a letter to a lost loved one, include everything you feel and what you want to tell them as a little update on the holiday season or life in general. Everything that you wish you could say to them can be written down in these letters and kept in a special place year after year.
The purpose of these letters is to remember loved ones, but also because it helps to get feelings out and calm grief during the holiday season. You can have a special box of some kind that you can store the letters in and have them as a reminder of all the things that you've wanted to say, but maybe never had the chance to.
Personalized Ornaments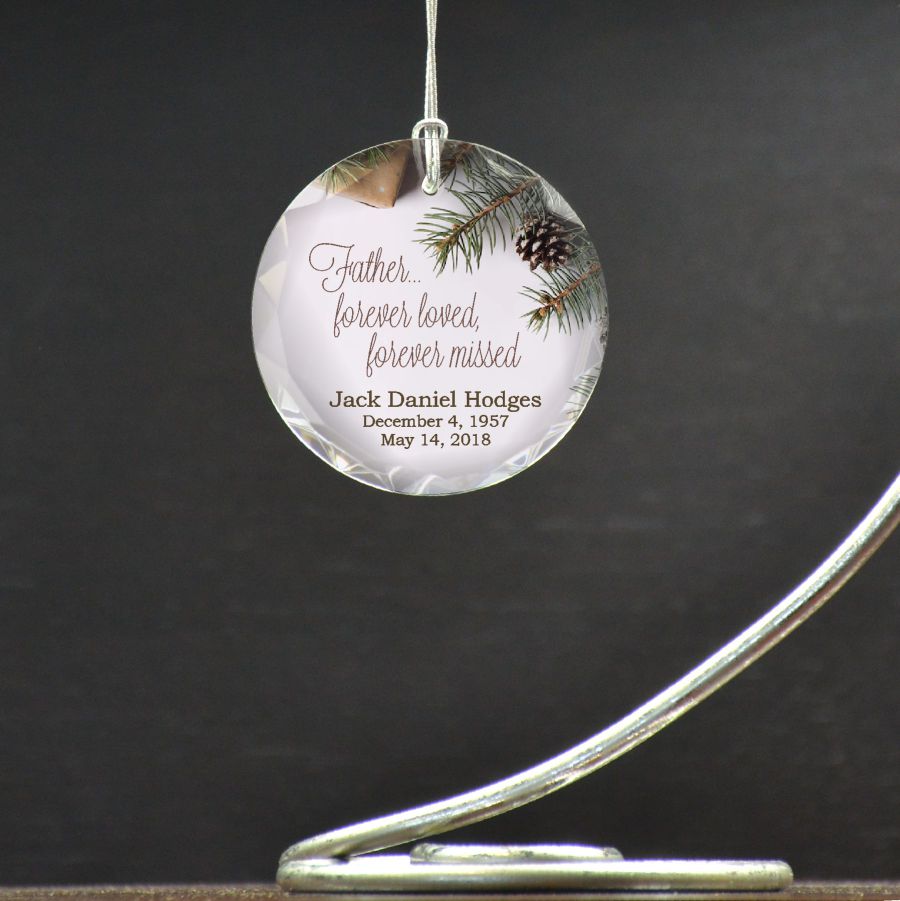 One of the very best ways to celebrate Christmas is by creating personalized ornaments that can be used every year and this is the same idea that you can use when it comes to remembering loved ones. Personalized ornaments give you a chance to honor someone special with every ornament you create. If you want to honor a lost loved one or you know someone who would like to do the same. For specialized ornaments, like to a father, you can look at a sweet gift idea like the Loved Father Ornament that can be easily personalized for anyone.
Personalized Christmas gifts like this can be more special than you know and the fact that it can be personalized with a name and dates, will make it an even more amazing gift for someone who wants to have a lost loved one celebrated during the holiday season. For ornaments like this, you can also purchase a stand with the option to either display the ornament on the tree or have a special place to sit the ornament itself. If giving as a gift, you can always add a separate gift message to let the recipient know much you care about them and want to celebrate the life of a loved one with them.
All of these ideas are great for making sure lost loved ones are still remembered during the holiday season, but they are also great for helping many handle grief during the holiday season. All the good memories of loved ones can be share amongst family and friends, creating a positive time for everyone involved. It's a great way to make sure the holidays leave a peaceful and yet memorable tone for everyone involved.