Surprise Mom with these Mother's Day Gifts
Apr 25th 2023
If there's ever a time to fully enjoy a day, Mother's Day would be it and it's also the best time to do your greatest shopping adventures. This year, you can make Mother's Day the best ever by choosing Mother's Day gift ideas that are more than a little unique and make mom happier than ever on her special day. If you've been thinking about what to get mom, consider something that can be personalized so that mom will know you put a lot of thought and love into her creative gift.
With there being so many gifts that you can choose from, it's easy to understand that it can be a little difficult trying to pick out one that mom will love the best. There's no need to worry because you can find plenty of gifts that mom is sure to be more than happy about. Here are some great items that you can choose for mom to enjoy.
Kitchen Conversions Personalized Cutting Board
Sometimes moms just love to be in the kitchen and they love to cook up something special even more and that's exactly why a gift that brings out mom's best cooking side is going to be ideal. Mom would really appreciate anything that can be used in the kitchen, but choosing personalized mother's day gifts is going to be the best idea because you can get something she will love. You can also personalize it in a way that makes her want to show it off to everyone that comes across her kitchen.
One of the best gifts you can consider would be the Kitchen Conversions Personalized Cutting Board because it gives mom something she can use, but also something that let's her simply display it as kitchen décor. Personalize this with a first name and that's all you need to have this gift handy and ready to give to mom.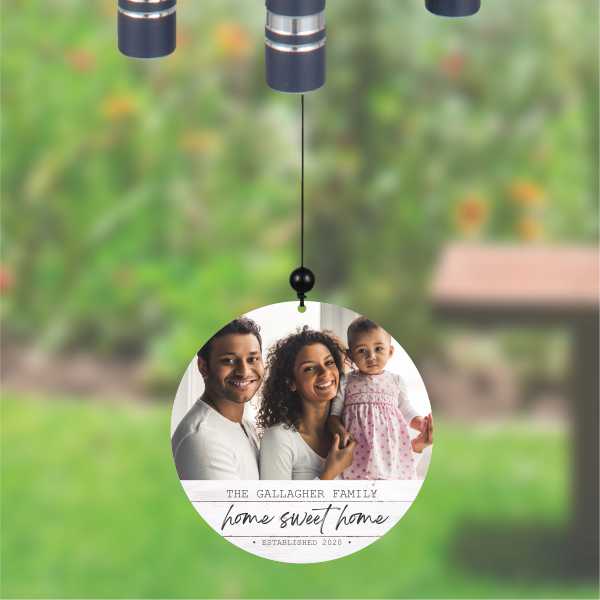 Home Sweet Home Wind Chime
Wind chimes are always a classic when it comes to giving them as gifts and you can bet that any mom would love to listen to their beautiful sound throughout each day. If you think mom would love to have these around her house, then consider the Home Sweet Home Wind Chime as a part of gifts for mom. This wind chime is a little different from the rest because you can personalize it in a number of ways.
Just add the established year, family last name and even pick out a photo to make this wind chime a truly touching gift that is guaranteed to make mom smile big.
Moms Treasures Keepsake Box
Wanting to give mom plenty of memories and really make her day wonderful is all you could ever ask for and one way of doing that is getting her a memorable gift for Mother's Day. Considering all the choices you have available, finding Mother's Day gift ideas is a breeze, especially when you have unique gifts like Mom's Treasures Keepsake Box. This keepsake box is a wonderful gift to give mom because she case store many things that are close to her heart within it.
All you need is to add the children's first names to this box and you have the ideal personalized gift just for mom. You can also consider adding some other small items to this keepsake box, just to give mom some extra surprises on her happy day.
Personalized Photo Charm Bracelet
When you think about what you want to get mom for Mother's Day, you know that you can never go wrong with jewelry. That especially applies to jewelry that can be personalized perfectly for mom. This is why personalized Mother's Day gifts like the Personalized Photo Charm Bracelet are the ideal choice for mom on a day when she should feel extra special.
Bracelets are simple and classy, giving mom a chance to wear them whenever she wants, but also giving her something to make her everyday look shine.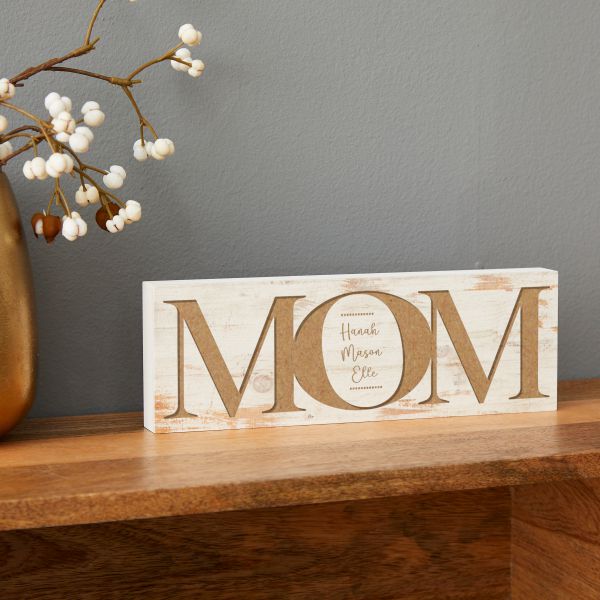 Mom Block Sign
There's nothing better than home décor for a mom you love very much and you can easily find the best there is in home décor that goes perfect as Mother's Day gifts. A simple kind of home décor gift you can consider would be the Mom Block Sign that mom can enjoy putting anywhere in her home. Gifts for mom, like this, are great because you can easily personalize it just for mom.
Just add the children's first names to this sign and mom will have a very sweet gift made just for her. It'll also be a gift that she can easily share with the whole family and enjoy for years to come.
Best Mom Ever Personalized 20oz Travel Mug
If mom is someone who loves to travel as much as she can, then you can bet she can use an extra companion to go along with her. That companion can be a very amazing Mother's Day gift for her to enjoy with all her travels. The Best Mom Ever Personalized 20oz Travel Mug is a wonderful gift to motivate mom to stay hydrated no matter where she goes and gives her the ability to stay stylish along the way.
Personalized Mother's Day gifts, like this travel mug, are more than enough to make mom very happy. You can even consider buying a few of these for her so she can always have one ready to be on the move, just like her. Either way, having a travel mug personalized for her will give her a great gift for Mother's Day and a good reason to stay hydrated.
Mama Bear Water Bottle
Making sure mom is happy is one thing, but making sure she's healthy is another. Consider a gift that helps her stay stylish and healthy at the same time. Mother's Day gift ideas like a water bottle are helpful in so many ways and really show mom just how much you care about her and her health. A great choice for a gift would be the Mama Bear Water Bottle that you can personalize in a sweet way.
To personalize this beautiful water bottle, just pick a favorite color for mom, and add her name, and the children's names. She will more than love this gift because she'll get more than just a pretty water bottle. She'll have a wonderful reminder of the love her family continually shows her.
Blessed Mom Coffee Mug
All moms need coffee and when you can get them something to help with their love of coffee? You have something that mom is also guaranteed to love more and more every day. If this sounds like the kind of Mother's Day gift you would love to give mom, then the Blessed Mom Coffee Mug is perfect in every way.
Personalized Mother's Day gifts can be just as easy as this when you want something simple for mom on such a sweet day. You can also have this gift wrapped just for her, just to add a special touch.
So many of these gifts work great for Mother's Day and they even work well if you want to include them as part of a set. If mom likes to be in the kitchen, then you know she can always use a classy coffee mug and a cutting board to go along with it. Now if mom enjoys the outdoors then you have plenty of options to go with like a chime to listen and relax with or a travel mug and water bottle to help keep her going through all her adventures.
Home décor never gets old so going with a block sign that mom can place anywhere is a great choice if you want to give her plenty of options on what to do with her gift. If you want to be truly sentimental with mom, then there's always the keepsake box that you can person for her and even add in the charm bracelet as well. Both of these gifts are sweet and something mom can enjoy every day.
Mother's Day gift ideas like these are all wonderful in their own way, but they also give you a chance to be creative in the gifts that you give to mom. Personalized gifts will make her feel extra special and truly feel every bit of the love that she's sure to receive on Mother's Day!