Thoughtful Anniversary Gifts for Your Husband
Mar 1st 2022
Your anniversary is just around the corner and you are searching for the perfect anniversary gift for your husband. You want a gift that tells him how much you still adore him while showing the world he is one-of-a-kind. Unique anniversary gifts are a wonderful way to express your undying commitment and celebrating your love for him. Consider purchasing personalized anniversary gifts for him to take the uniqueness of the gift up a notch.
When you are searching for the perfect anniversary gift, think about his hobbies or his unspoken passions. Those are good starting points for finding the anniversary gifts he will never forget. To help you with your search, we've compiled a list that includes unique anniversary gifts and personalized anniversary gifts for him. These are eight of our favorite anniversary gift ideas for the man who makes your world go round.
Test of Time Personalized Clock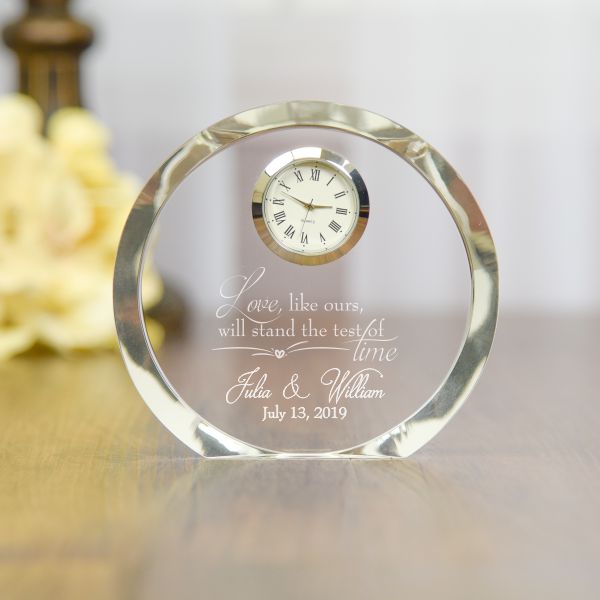 He'll never forget your anniversary again with this beautiful Test of Time Personalized Clock. The clock is made of crystal and features silver hands and black Roman numerals. There's a silver ring encircling the face of the clock as well.
Personalized items make unique anniversary gifts, and this one can be personalized with your first names and your wedding date. It will look beautiful anywhere he chooses to place it including on his desk in his office at work.
Personalized Happy Couple Picture Frame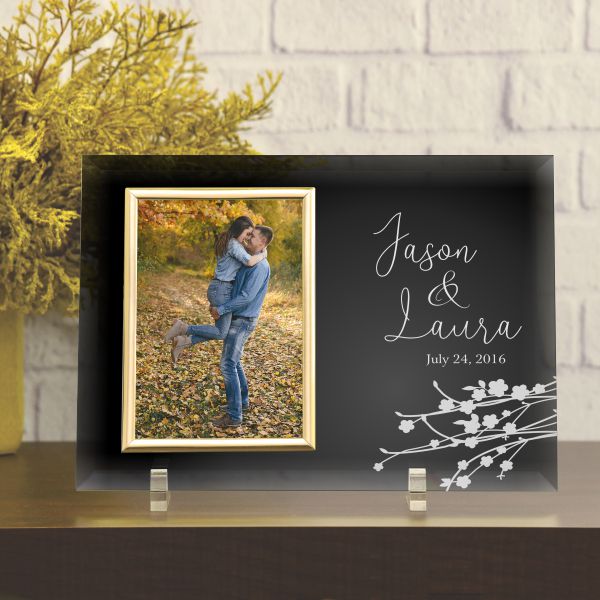 When you are searching for personalized anniversary gifts for him, don't overlook this personalized picture frame. The frame itself is 8x10" and holds a 4x6" vertical photograph. Place his favorite picture of the two of you inside it, so he can be reminded of your happy moments any time he looks at this frame.
The picture frame features a delicate flower motif and can be personalized with your names and your wedding date. It will nicely adorn his desk when you place it on the included stand.
Masterclass Subscription
Unique anniversary gifts are the ones that focus on who he is. This Masterclass subscription is the perfect way to celebrate his interests. He can learn about any subject that has captured his imagination like adventure photography, writing screenplays, or cooking.
With a Masterclass subscription, he can follow his passion without ever leaving the couch. Pros in the field teach the classes. For example, Jimmy Chin teaches about adventure photography. What better way to learn than from someone who is already living the dream?
Vankyo Mini Projector
Does he love movies or watching old home videos that he had digitized? Give him the gift of his own drive-in theater. This mini projector is perfect for watching movies indoors or out. Simply set up a screen or project images onto an empty wall.
The mini projector is Wi-Fi-compatible. You can use it with your iPhone, your Android device, your laptop, or even a TV stick. If he's a gamer, he'll love that it's also compatible with a variety of gaming systems.
Giant Wooden Yard Games
When considering unique anniversary gifts, think about his favorite activities. Does he like playing board games with friends or family? If so, these giant wooden yard games could be the perfect choice for him.
This set of four games includes a 4-in-a-row game, a tumbling tower game, a set of oversized dice, and a Scandinavian game called Kubb. These are not personalized anniversary gifts for him, but they will bring hours of enjoyment nonetheless. The games are made of wood (with the 4-in-a-row discs being plastic). Also included are carrying cases for the pieces made from canvas or nylon.
Take Your Pick Guitar Pick Set
Are you looking for unique anniversary gifts for the guitar-playing love of your life? He's sure to love this guitar pick set. You choose whether you want inspirational sayings or expressions of love engraved on the picks. These aren't customized, they are pre-selected phrases, and you choose the theme you want.
Each set has three picks (each with a different saying) made of pewter. The picks are set into a wooden display case that will complement virtually any décor. Show him you appreciate his artistic nature by presenting him with this beautiful set of picks.
Apple Watch Strap Made From Wine Barrels
Everyone's Apple watch looks basically the same. Unless, of course, you use one of these unique anniversary gifts to make it stand out from the crowd. This Apple watch strap has been created from recycled French wine barrels.
The aged wood of the wine barrels gives this watch strap a unique, rustic look. It has been reinforced with stainless steel to make it more durable and even more beautiful. The band is compatible with Apple series 3, 4, and 5 watches. Show the world he is tech-savvy with uncompromised style when you give him this wine barrel watch strap.
Maine Shore Lobster Dinner for Two
It's said the way to a man's heart is through his stomach. If that's true of your man, and if he loves seafood, this gift is the one for him! It's a romantic dinner of lobster and other seafood delivered right to your door.
This meal features two lobster tails, eight scallops, eight shrimp, a dozen mussels, and two ears of corn all marinated in a lemon herb butter. This is the luxury of a lobster dinner without a ton of extra work. You just thaw the food (it's shipped wrapped in foil), heat it, and serve it. You can cook this on the grill for an extra touch.
Wrap It Up
Searching for just the right anniversary gift for your husband can seem a little daunting. You want him to know how much you adore him while still celebrating the fact that he is a unique individual. Finding unique anniversary gifts isn't an impossible task. The key is to put thought into his favorite hobbies and his hidden talents.
This list of unique and personalized anniversary gifts for him is by no means exhaustive. These are just eight of our favorites from the multitude of choices available.