Thoughtful Anniversary Gifts For Your Wife
Aug 4th 2022
If you're thinking that you have all the time in the world to plan the perfect anniversary, maybe consider thinking ahead and getting the perfect start to any anniversary by buying the perfect gift. You can always set the perfect mood and tone by picking out the ideal place to have the ultimate meal or even plan on cooking a special trio of breakfast, lunch, and dinner for your wife on your anniversary. Combine that with the perfect scenery and you almost have the right setting.
A few things you might need to make a part of the plan would be personalized gifts for your wife on the anniversary and exactly which of those gifts could be the best way to say "I love you". It might seem like that is a difficult task, but you have more options available to you than you might think. There are so many personalized gifts to choose from that you might even want to get a few of them to really make her day.
Having a little bit of trouble figuring out the perfect gift? Then here are some wonderful anniversary gift ideas that the wife is sure to love and the best part is that these gifts can be personalized in just the right way to make the Mrs. very happy.
---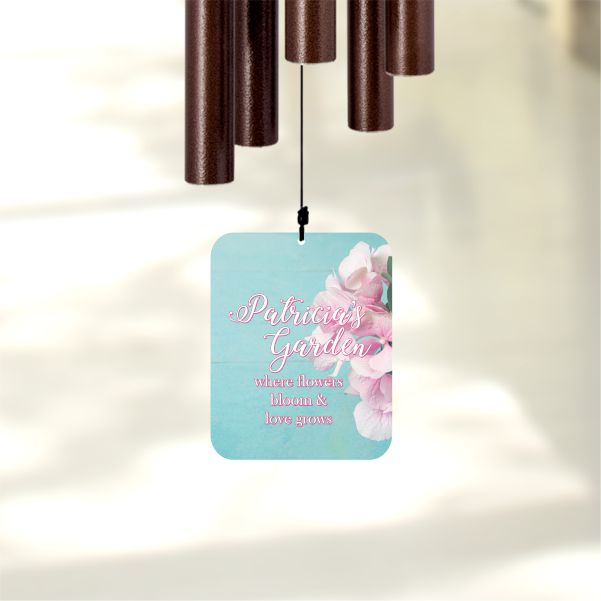 Love Grows In Her Garden Personalized Wind Chime
For any woman who loves to have a garden full of blossoming flowers and natural walkways, there's a little something extra that you can add to her favorite at-home getaway. The Love Grows In Her Garden Personalized Wind Chime adds just enough of a whimsical look to the garden and fills it with beautiful natural tones from any gentle breeze. Aside from how beautiful this chime is, you can also personalize with her name and give a very unique gift.
---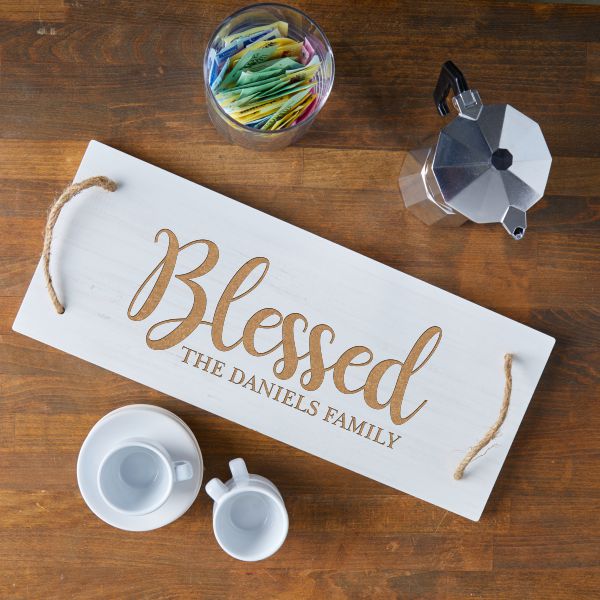 Blessed Serving Board
Gift ideas for your wife can include a lot of different items for the home, but a personalized serving board might just be that décor piece that she's been looking for. You can add the family name to the Blessed Serving Board and make it a special gift that she'll never forget. This also makes for a great conversation piece whenever family and friends are over for a little get-together.
---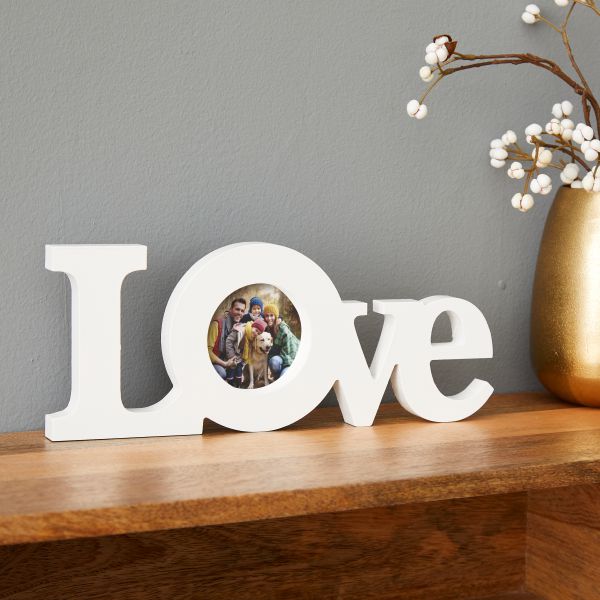 Love Desk Plaque
There are an endless amount of gift ideas that you can get your wife, but if you want to consider something in the range of home décor, you can go with the very unique Love Desk Plaque. Other than having the wonderful word "love" as the actual shape of the plaque, you can also add a photo to this and make it extra special. No wife could resist having such an amazing piece of décor in their home.
---
Bless This House Light Box
Another interesting piece of décor that works great as personalized gifts for wife is the Bless This House Light Box which sends a warm tone throughout any room it is placed in. You can choose to keep it small or go for the larger version of this light box, as well as add the family last name to it. The name will be displayed just below a beautiful poem that makes for the perfect anniversary gift.
---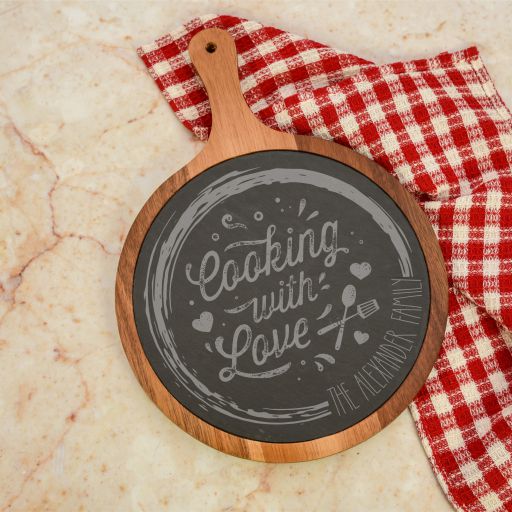 Cooking With Love Slate Cutting Board
Does the wife love to cook or does she enjoy just being in the kitchen and making sure the kitchen is decorated just the way she likes? Then getting her a gift like the Cooking With Love Slate Cutting Board is just what she will be looking for. Just add a family last name to this gift and she will be able to use this as the ideal décor or as the best accessory to cooking all her delicious dishes.
---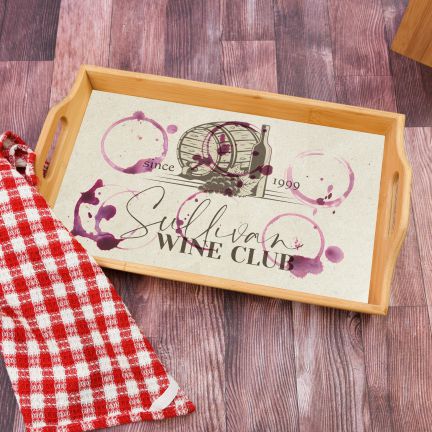 Wine Club Personalized Serving Tray
Gift ideas for your wife, that can also include her love of wine or hosting, should always include the right serving accessories. The Wine Club Personalized Serving Tray is that type of gift that just keeps on giving because your wife can use it for a number of reasons. You can also add the established year and family last name to this and make a wonderfully created anniversary gift.
---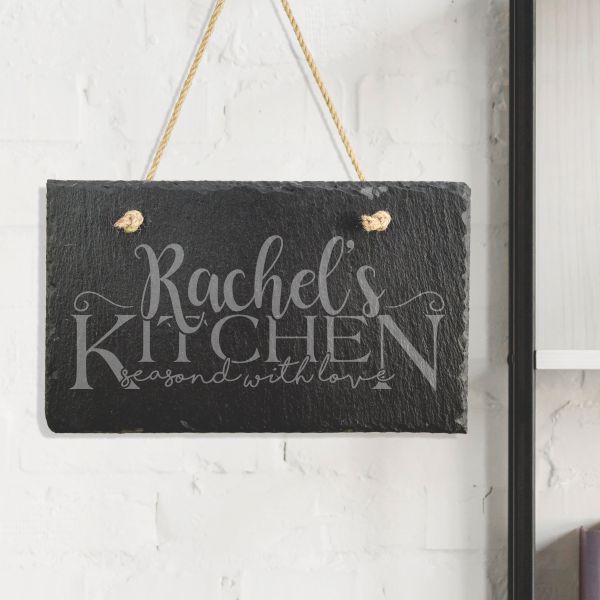 Her Kitchen Personalized Slate Sign
If the kitchen really does belong to her, then your ideal gift to her is going to be a sign that shows just that. After adding her name, the Her Kitchen Personalized Slate Sign is going to be a gift she can truly appreciate and helps everyone know that the kitchen is officially hers.
---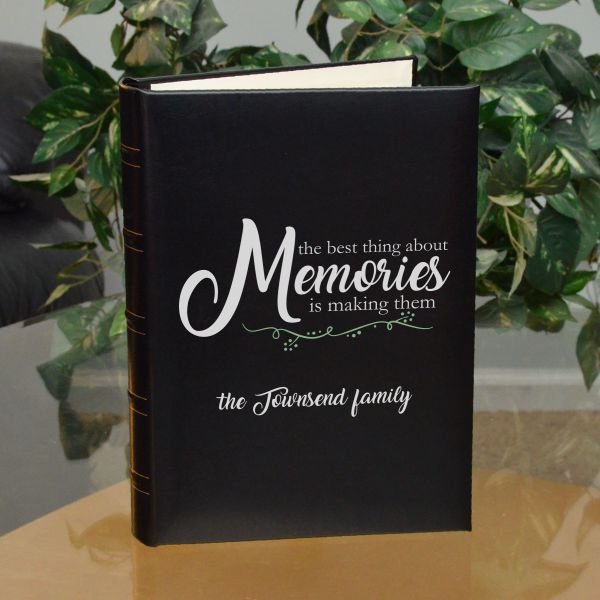 Family Memories Photo Album
What could be more magical than having all of the family memories all in one place where your wife can enjoy them whenever she wishes? Personalized gifts for wife like the Family Memories Photo Album give you a chance to help your wife collect the most precious memories to her. Add the family last name to this photo album to make it one that she can easily see as her own and cherish it even more on her anniversary.
---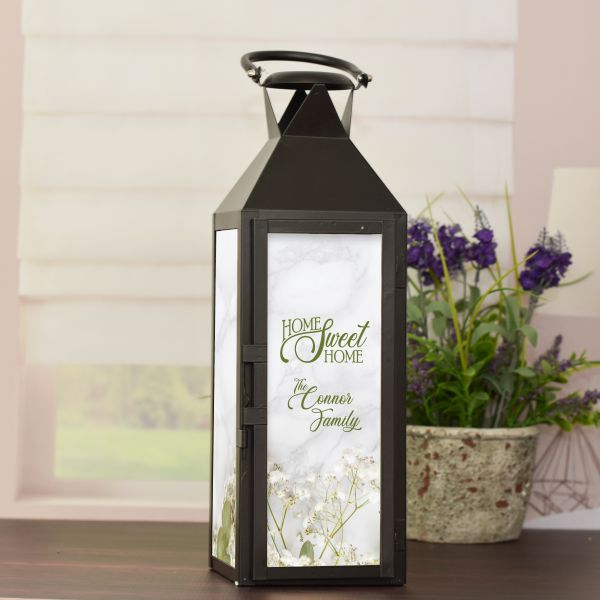 Home Sweet Home Lantern
Does the wife enjoy anything that lights up her life or her home? Then she will absolutely love the Home Sweet Home Lantern that can be personalized with the family last name and has a sweet quote to match the lanterns overall beauty. It's the perfect anniversary gift that your wife can hang pretty much anywhere inside or outside of the home.
---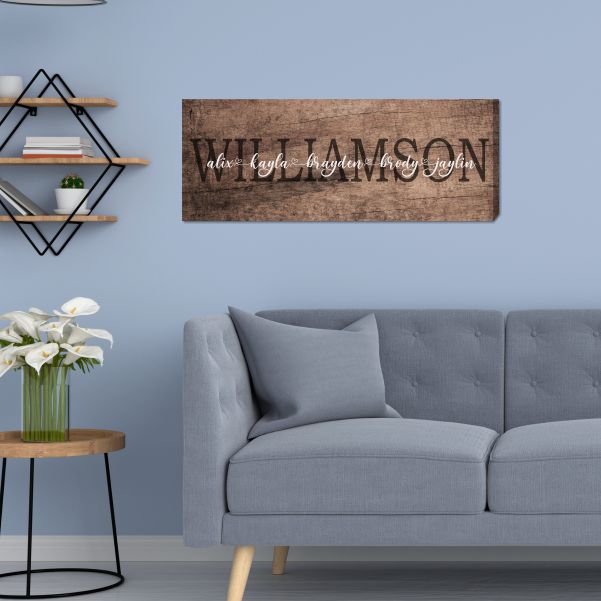 Our Family Custom Canvas
In keeping with the home décor themes, you can consider buying her something to fill up any empty spaces on the wall with something special and meaningful. The Our Family Custom Canvas is great as part of gift ideas for your wife because you can add the family last name and also the names of individual family members. You'll be able to give her a unique gift with a beautiful meaning to go along with it.
---
Personalized Brass Heart Keychain
A gift that she'll be able to carry with her everywhere is a gift that she will truly appreciate and the Personalized Brass Heart Keychain is the ideal gift that fits this perfectly. The best part about this gift is that you can add a short message that will be displayed on an adorable heart charm. Whenever she needs a reminder of just how much she's loved, she can just look at this wonderful gift.
---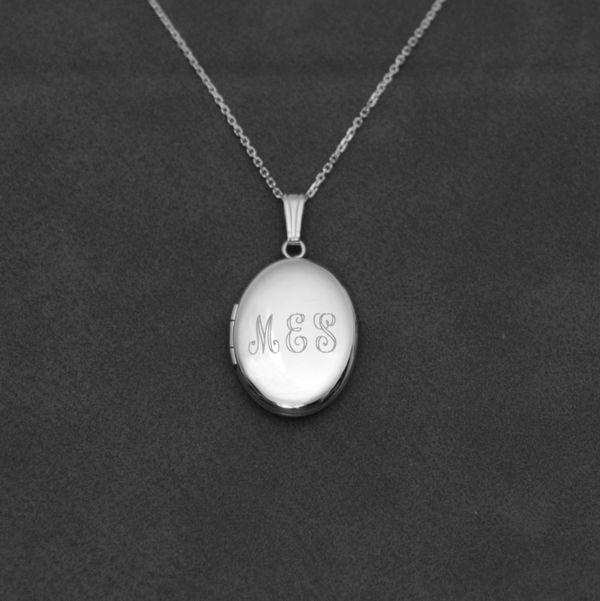 Personalized Oval Locket Necklace
Something meaningful that is also considered a very classic anniversary gift would be jewelry and the Personalized Oval Locket Necklace is a great gift idea for this category. You can add initials to this locket necklace, but also consider adding a personal photo before gifting this locket. Gift ideas for your wife, like this locket, are a wonderful idea to add more than just words, but also help add that extra something to make the gift even more amazing.
---
Overall, there's an endless amount of incredible anniversary gifts that you can actually choose and many of these gifts can be personalized in a way that can help you celebrate your anniversary in the best style possible. Wind chimes and lanterns are the types of anniversary gifts that are great as indoor or outdoor décor which can make the wife very happy. Wives that love home décor are going to go crazy over gift ideas for your wife like serving boards, cutting boards and serving trays.
Indoor home décor gifts like a plaque, canvas, photo album or sign are wonderful in that they can be enjoyed every single day. A light box is the ideal anniversary gift that can provide a beautiful warm glow to the home and give a little bit of serene peace for the wife, any time she needs it. A keychain and locket necklace are small gifts, but they carry a beautiful message with them, especially as anniversary gifts.
No matter if your anniversary is a ways off or right around the corner, these are the types of gifts that can make your anniversary day a special one that she will remember for a long time to come. You have plenty of choices that you can look through and enjoy buying because these are all such unique gifts to give as an anniversary gift. What better way to celebrate time spent together than with thoughtful gifts that are full of personalized surprises!