Thoughtful Memorial Gift Ideas
Apr 15th 2022
There's a time in everyone's life when they have lost someone they were close to and with that loss comes an even harder time for acceptance and remembrance. For many, having a physical object to reflect on all the good memories can help in dealing with a loss. With this in mind, you might be wondering what type of object or even a gift could help in this type of situation?
With gifts that are for sentimental or memorial purposes, you can choose something that helps reflect upon all the good times a person has had with the person they lost. The gift can be anything that brings them happiness or joy of any kind and it can also be unique.
So many personalized sympathy gifts are out there that can help with accepting loss and remembering loved ones. There are plaques, candles, pendants, journals, key chains, and even wind chimes that can give new meaning to memorial gifts and help the recipient remember the good times they had with their lost loved ones. Here are some of the best and most thoughtful memorial gift ideas that you can share with family and friends.
Darkest Days Memorial Lantern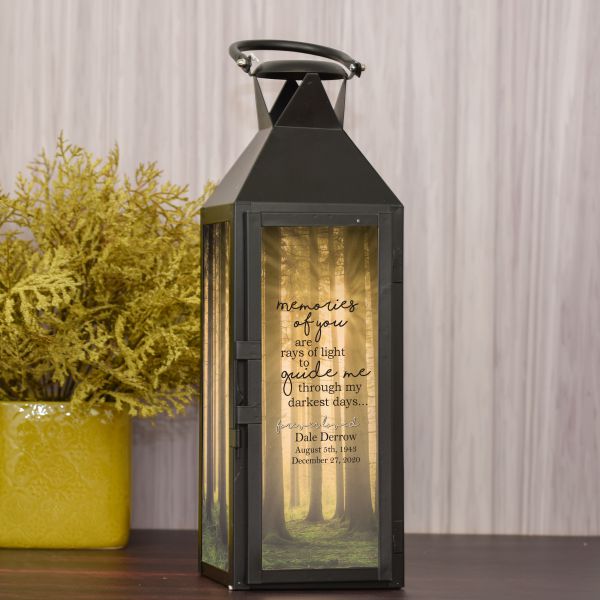 When remembering a loved one, there are several gifts that come to mind, but nothing quite as warm and memory-filled as lanterns. They can be placed inside the home as well as outside, spread throughout gardens, and hang from any porch to light the way. This is why sympathy gifts like the Darkest Days Memorial Lantern are comforting.
After personalizing this by adding a name and dates, it can be given as a gift to someone who may need a little extra light in their life. This lantern gives off a beautiful ambient glow that's very calming and fills every corner of the heart with warm memories. Keep it on in honor of a loved one that has passed on and to fill your surroundings with sweet memories.
Forever Loved Personalized Candle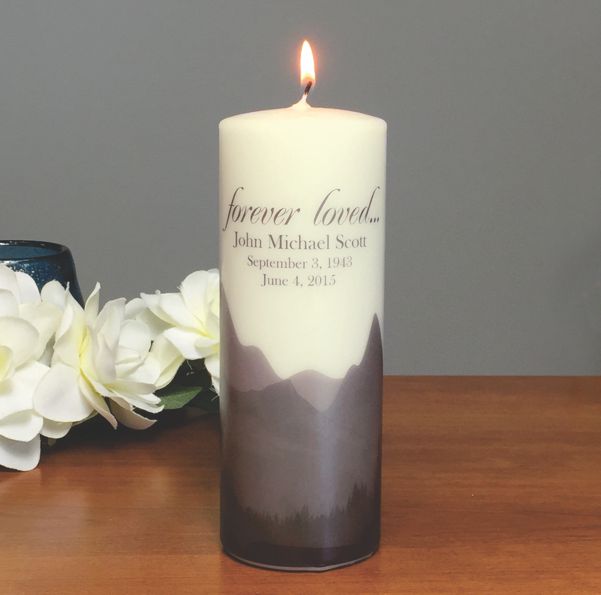 The same way that lanterns help to light a path, candles can be a warming reminder of lost loved ones as well. The Forever Loved Personalized Candle is a simple way to help anyone remember someone they have lost. It has a peaceful mountain background that goes beautifully with the personalization above it.
Add the name of a lost loved one as well as the dates to make this one of the sweetest personalized sympathy gifts you could ever give. To make this an extra special gift, you can include a separate gift message with words of encouragement and support.
Never Forgotten Oval Key Chain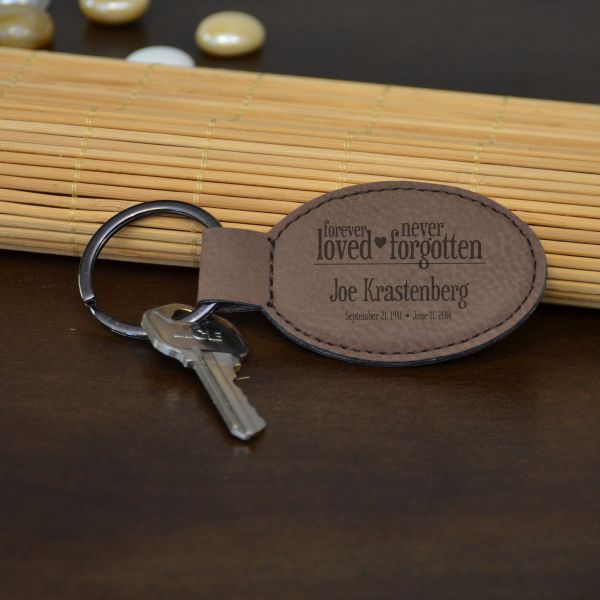 Keychains are one of the simplest gifts that can be given on any occasion and the Never Forgotten Oval Key Chain is one that can help anyone remember the good times they had with a loved one. It's a beautifully crafted leather keychain that can be personalized with a name and dates. You can even choose between a light or dark brown leather, so you can be sure the person receiving this will truly appreciate it.
A keychain as a sympathy or memorial gift is truly special because it is something that can be taken anywhere and also be a reminder of happy times. What better way to keep someone close to you than to have a memorable keychain wherever you go?
Cardinal's Appear Cross Plaque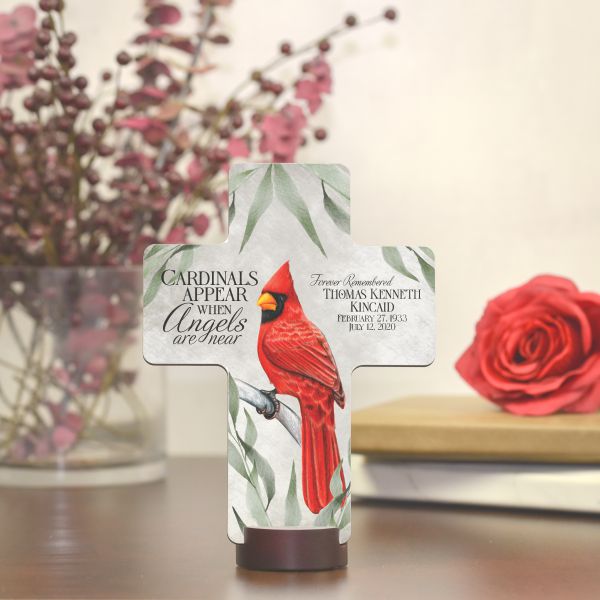 Many believe that cardinals are spirits of loved ones that appear in our path as a sweet reminder. To embrace that thought, personalized memorial gifts like the Cardinal's Appear Cross Plaque would breathe a breath of fresh air into anyone's life. It's a memorial plaque that has a beautiful cardinal perched elegantly on a branch.
A name and dates can be added to this plaque to make a truly special memorial gift that anyone would appreciate and feel the love and warmth of a loved one as well. When placed in the stand, it becomes a household favorite, providing positive memories of those who have passed on.
Memory Becomes a Treasure Keepsake Box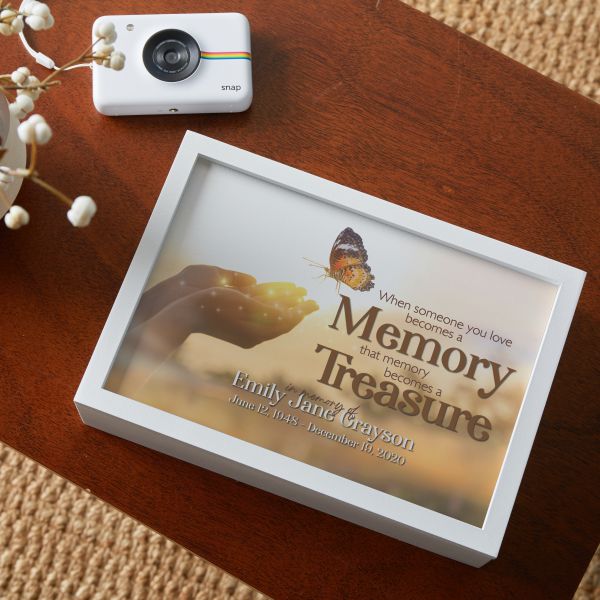 A keepsake box has become one of the most cherished ways to celebrate the life of a lost loved one. With the Memory Becomes a Treasure Keepsake Box, sweet memories can be protected and treasured forever. Any personalized sympathy gifts that you want to get for someone can be placed in this keepsake box.
Any time the recipient wants to enjoy pleasant memories, they can open it up and take a look at the many happy memories placed inside. A name and dates can be added to the top of the box to make this a truly memorable gift.
Forever and Always Heart Plaque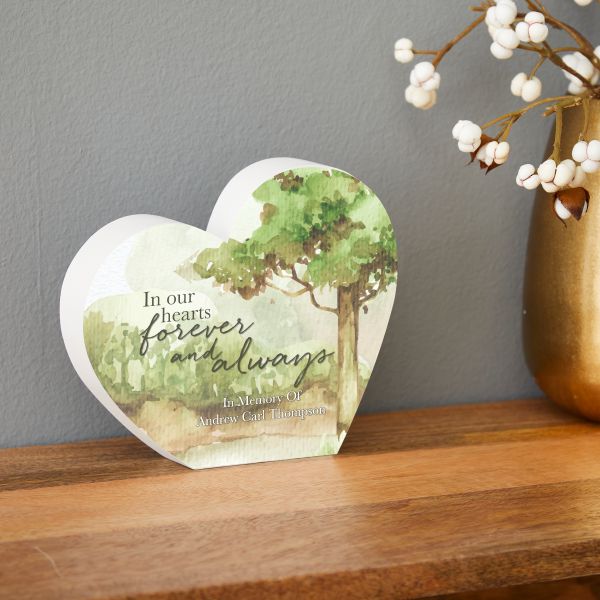 Another plaque that represents the positive memories of lost loved one is the Forever and Always Heart Plaque. It has a gorgeous watercolor nature background and sweet words of remembrance on the front. Sympathy gifts such as this can be cherished every day, for many years and placed anywhere in the home because of its freestanding design.
This colorful plaque is the ideal gift for anyone who just needs to have a brighter spot in their day or good memories to reflect upon. With a message saying "In our hearts forever and always" it's easy to see why this wonderful treasure makes such a sweet memorial gift. Most importantly, giving this as a sympathy gift will brighten the day and bring a heartfelt smile to the recipient.
Your Life Remembered Personalized Memorial Journal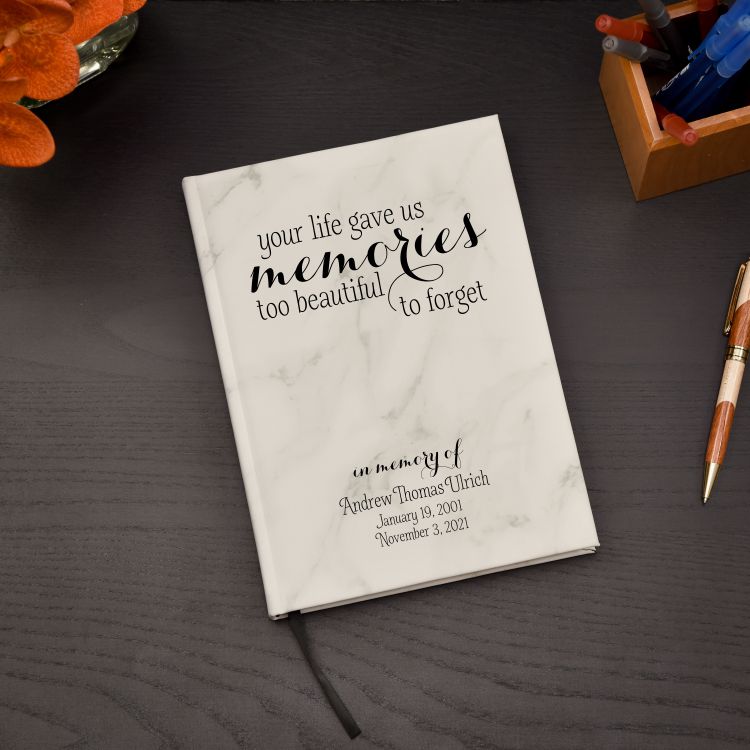 One of the sweetest ideas for personalized memorial gifts would be a journal and the Your Life Remembered Personalized Memorial Journal would be a wonderful way to share the most precious memories of a lost loved one. With a name and dates added, as well as choosing the perfect color, this journal will be ready for the recipient to enjoy.
It can also become more than a journal and used as a scrapbook, holding precious moments, memories, and special photos. Sometimes writing down thoughts and feelings can be comforting for many, so this journal is more than just a gift. It can help lift a heavy weight off of many hearts.
Memory of Portrait Chime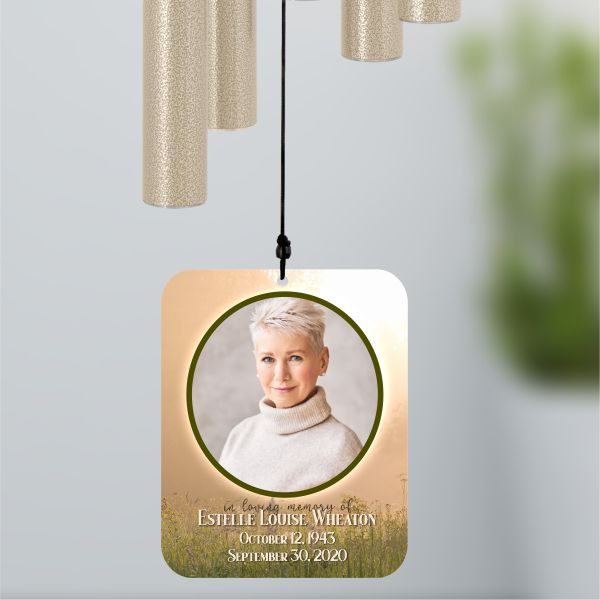 Personalized photo gifts tug at the heart strings, but give a wonderful way to remember a lost loved one. The Memory of Portrait Chime is one of many personalized memorial gifts that allows you to add a wonderful photo, name and dates to it. A separate gift message can also be added to give a more meaningful touch to this very special gift.
This wind chime can hang outside any home and the recipient can enjoy a soothing melody of the chimes while letting the soft tones remind them of sweet memories of their loved one. This simple, yet beautiful wind chime can be given as a gift to friends or family members in honor someone who has passed on in their lives.
Sterling Silver Pierced Heart Disc Pendant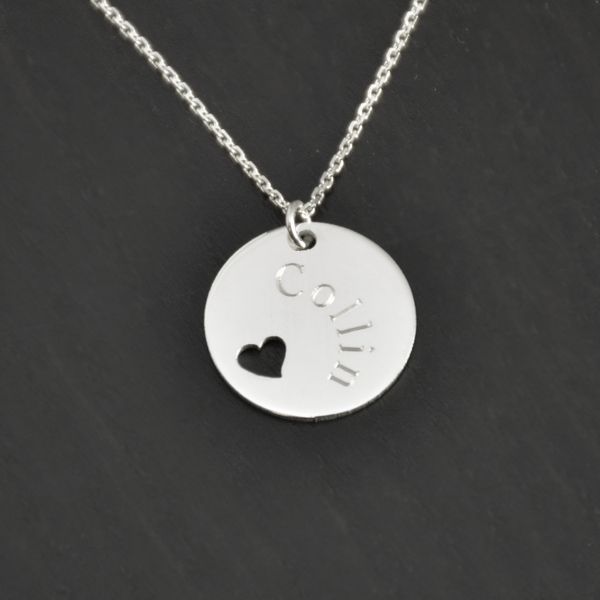 One of the simplest and nicest memorial gifts that you can buy would be the Sterling Silver Pierced Heart Disc Pendant, which is not only a very classy design, but holds an incredibly heartfelt meaning. This beautiful sterling silver necklace can be personalized with a loved one's name that surrounds the heart cutout, symbolizing the love that is felt for that person. It's a way to keep that very special person close to your heart and in their memory always.
This personalized heart pendant is a sympathy gift that can be shared with other gifts such as the cross plaque or keepsake box. No matter which you choose, it will go perfectly and enhance the meaning of such a wonderful memorial gift.
Remembering loved ones that have passed on can be very hard for many to handle, but that does not mean that sympathy gifts can't shine some comforting light their way. If you know of anyone going through a tough time and want to give them a little something to lighten their load, then consider a keepsake box and a pendant. Candles and plaques are another way that you can send some positive vibes their way.
Plaques are a sentiment to lost loved ones that help them be remembered every day and journals are a way for anyone to write down their greatest memories of lost loved ones. The same can be said for keychains that can be kept with them always and bring good memories flooding back at any time.
Just knowing that someone thought well enough of them to give someone a memorable sympathy gift will make their day a little bit brighter and help them remember the good times they had with their loved one. Choosing the right personalized memorial gifts can make all the difference in the world!