Top Personalized Father's Day Gifts
May 5th 2022
Looking forward to finding the perfect gift for Father's Day, but not quite sure what to get dad? Not to worry because there are plenty of gifts out there that dad will love and the majority of the really special gifts are personalized. You can choose a travel mug, cutting board, serving tray, or even a fishing lure.
There are also more gifts that can be personalized in just the right way, such as a growler, hammer, or garage sign. Even a personalized coffee cup can make dad smile and give him a very useful gift at the same time. Take a closer look at all the possibilities you have for your Father's Day gift ideas!
Personalized Dad Travel Mug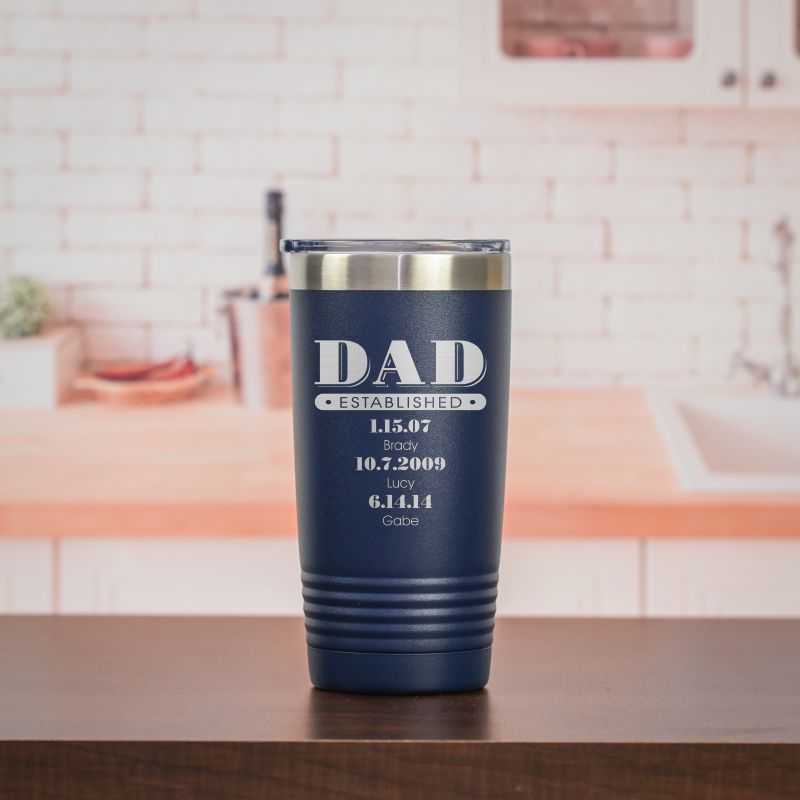 For the traveling father, the Personalized Dad Travel Mug is just what he needs to keep him on the go and keep his favorite beverage hot or cold while he runs all his errands. Aside from being able to add the kid's names and birthday's you can also include a separate gift message for dad that can be the perfect touch to this amazing gift. If dad's favorite color happens to be blue or black then you can happily choose his favorite for this personalized gift.
To make this a little more wonderful for dad, try matching this gift up with another personalized gift to create the perfect gifts for dad and be sure he has the best Father's Day possible.
Grill House Personalized Slate Cutting Board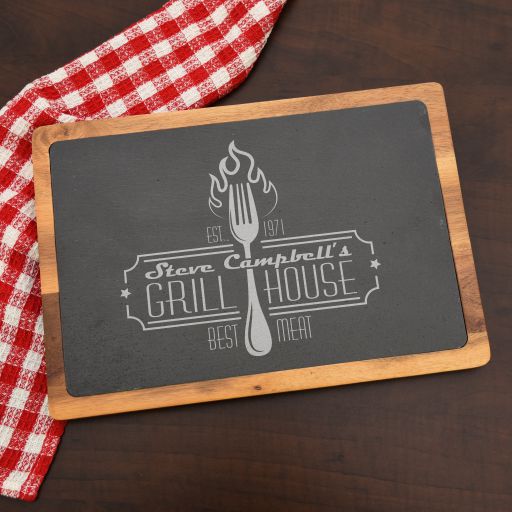 Among the gifts for dad that you might choose, you can also consider the Grill House Personalized Slate Cutting Board. Any dad who loves to cook, will love having any addition to their kitchen and what better gift than a cutting board that dad can use over and over again. Aside from being able to add dad's name and birthday, you can rest easy knowing that dad will have exactly what he needs to slice and dice all his meals.
BBQ House Personalized Serving Tray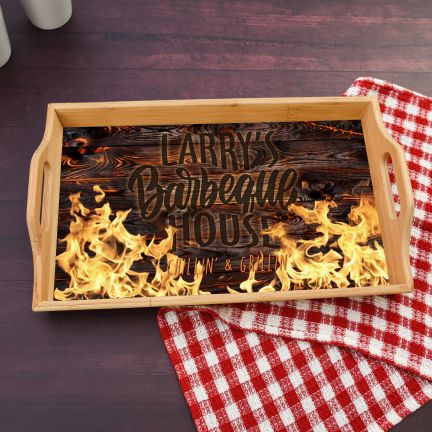 Does dad consider himself a chef or does he happen to own his own restaurant? Maybe he likes to host parties at home, complete with serving all his delectable dishes? Then when you are considering Father's Day gift ideas, consider getting him the BBQ House Personalized Serving Tray.
The flaming hot design of this serving tray goes well with any of dad's kitchen décor and lets him serve up his best meals in style. You can add his name to make this a really unique personalized gift and even add in a gift message separately to give dad some extra love on Father's Day. He is sure to get all the attention with this stylish kitchen addition and he's guaranteed to know how much he's loved.
Really Great Dad Fishing Lure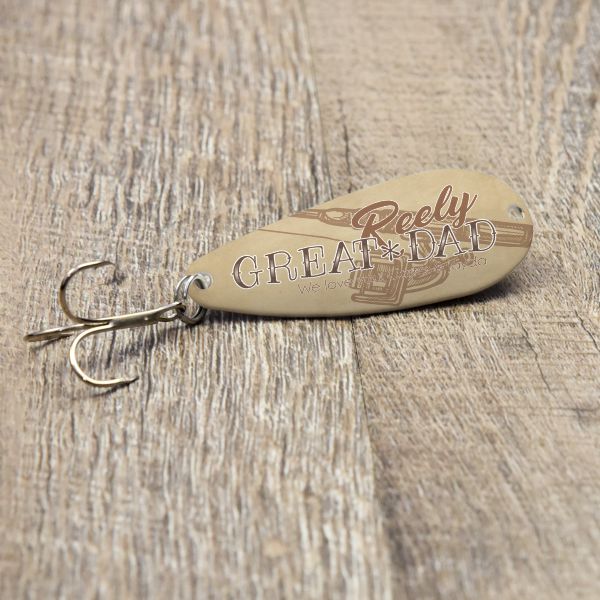 When searching for the best of the best personalized Father's Day gifts, consider something unique that dad can use, but also represents something he really loves. If dad calls himself a fisherman or just fishes as a fun hobby, then a truly amazing gift for him would be the Really Great Dad Fishing Lure. Not only is this a wonderful Father's Day gift, it's also a gift that gives dad a reason to simply relax and do what he loves best.
Other than the great statement of "Reely Great Dad" on this fishing lure, you can also take a little space below it and add a short message to dad. It can be a simple message or you can even add the kid's names to this space for an even more personal touch. No matter how dad plans on using this lure, he will enjoy just looking at it and remembering the love of the family that thought to give him such a sweet and fun gift.
Est Dad Growler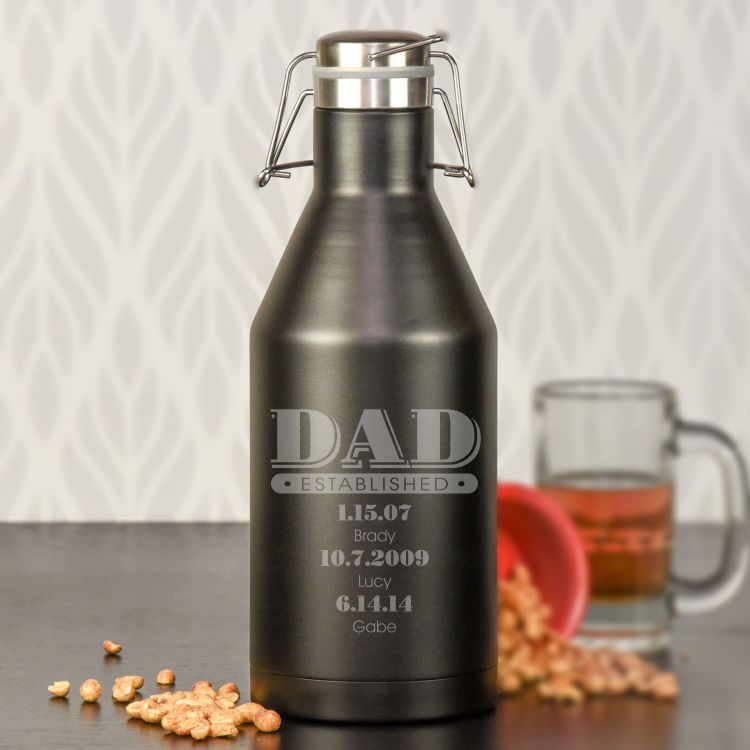 Father's Day is about more than just giving gifts to dad and making sure dad knows that is just as important as anything else. The day that he becomes a dad is essentially the most precious moment in the world and should be celebrated in a very special way. A personalized gift that shows how much you love dad, but also shows off the day he became a dad, is the ideal gift.
The Est Dad Growler is the perfect way to do all this and make his Father's Day the best ever. It's a large growler that lets you add the name of the kids and their birthday's as well. Every time dad uses or just looks at this growler, he will be reminded of his wonderful kids and every day that his life was changed for the better by becoming a father.
Building Memories Hammer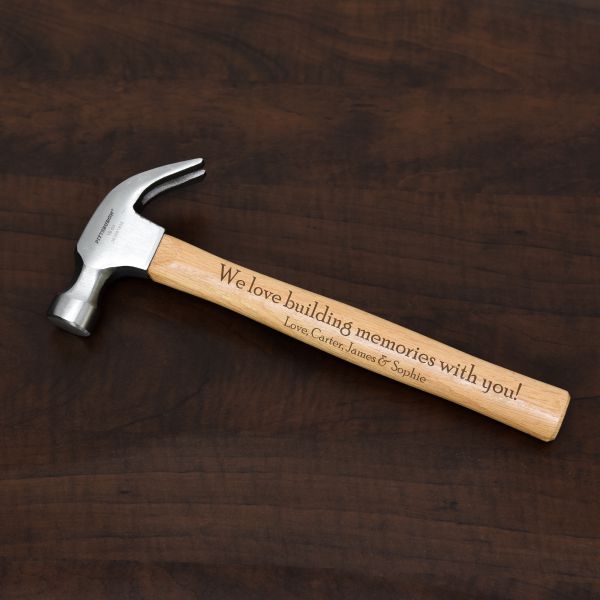 A dad who likes to work with his hands is a dad that can always use a few extra tools in his bag and the Building Memories Hammer can be part of a bundle of gifts for dad. This is a great gift that can be from the kids to dad or from the grandchildren to grandad. One of the best and most memorable parts of this gift is being able to add a gift message to the side of the hammer.
You can get creative with the personalization of this hammer and add the names of who the gift is from. If you want to add even more to this wonderful gift, a separate gift message is always a great way to say just how you feel and give dad all the love and support in the world. Building memories can be made easier when using this hammer as the ideal personalized gift on Father's Day.
Custom Garage Sign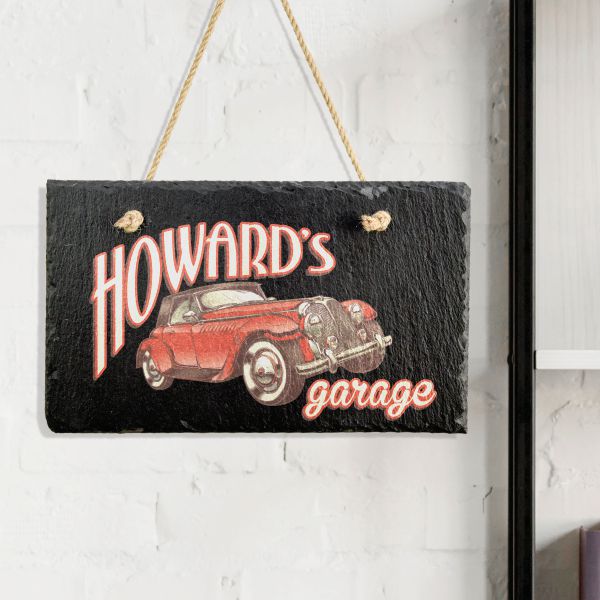 Is dad into classic cars or does he just enjoy all things garage-related? If so, the Custom Garage Sign is one the best father's day gift ideas you can get him that he can enjoy throughout the day, every day. Adding his name to this sign, along with having a classic car image just below it, turns this sign into a special gift that dad will absolutely love.
He doesn't need to have a garage in order to enjoy this sign. He can also put this in his favorite room, just to show off his passion to everyone around. It's sure to be more than a conversation piece when friends a family visit and dad can have a blast sharing this sweet gift with everyone he holds dear.
Dad Personalized Coffee Cup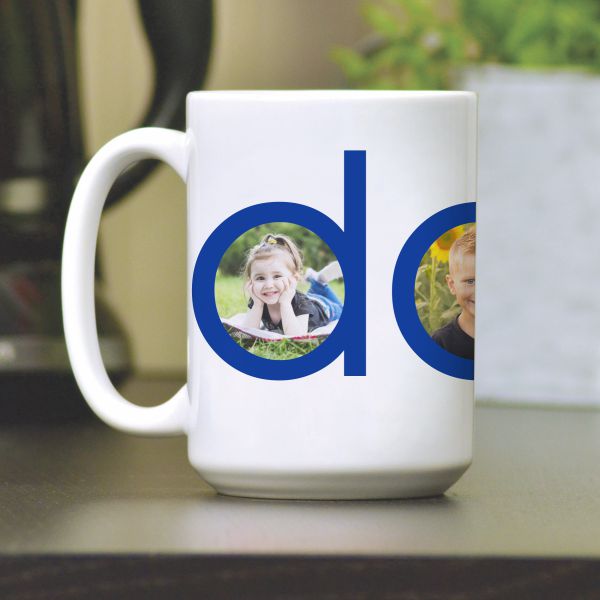 No matter where dad goes, his coffee cup shouldn't be too far behind him. Whether he's working around the house or just relaxing the day away in his man-cave, he can use the Dad Personalized Coffee Cup to keep his caffeine levels high and good energy flowing. Take a few fun pictures or grab some memorable ones from the photo collection and add them as a final touch to this simple, yet thoughtful Father's Day Gift.
When you're looking for great personalized Father's Day gift ideas, a coffee mug is always appreciated by dad and he will be even more surprised to find such a wonderful gift customized just for him. He can have his morning coffee, or any beverage, handy from the moment he wakes up and have nothing but wonderful memories to go along with it.
Whatever gifts for dad you choose, he's sure to love anything personalized and unique. These are all gifts that are made to give dad a great smile on his special day. If you want to get creative and buy him a few things, then you can combine these gifts in any way you like.
A serving tray, growler, and coffee cup make a great gift set for any dad that enjoys cooking and relaxing with his favorite beverage in hand. The fishing lure, garage sign, and hammer are personalized Father's Day gifts that can be given as a set to a dad who really wants to spend more time enjoying his hobbies. The travel mug and cutting board make a great gift set for the dad that loves to move, but also enjoys cooking up his favorite tasty meals.
You can literally mix these gifts up however you like to make the perfect gift set for dad or use them as separate gifts. Either way, he will definitely love the thoughtfulness and creativity that goes into each gift. Be sure to give dad a separate wonderful message to make his Father's Day the best he's ever had!