Traditional Anniversary Gifts by year
Nov 8th 2022
Anniversary gifts are so unique in every aspect and there are so many ideas that you can have to incorporate those gifts into celebrating any anniversary. You can throw a party if you want to and invite friends and family to the celebration. You can also go with a more romantic couples night out or just stay in for celebrating your anniversary.
With so many ideas, you might also want to consider gifts that fit with the fun of the occasion and personalized anniversary gifts are the best option for this. With most anniversaries, couples still enjoy celebrating in a traditional way, which can also be shown through choosing gifts that represent each year mark for an anniversary. Traditional anniversary gifts can be paired with a wonderful day full of fun and really make a great anniversary celebration.
The most common anniversaries that you would celebrate with traditional gifts would be the 1st, 3rd, 5th, 10th, 15th, 20th, 25th, and 50th anniversaries. All of these are the main anniversaries that have creative elements that are matched with them. Here's your chance to learn what elements match with anniversaries and the unique gifts and celebrations that you can match to them.
1st Anniversary: Paper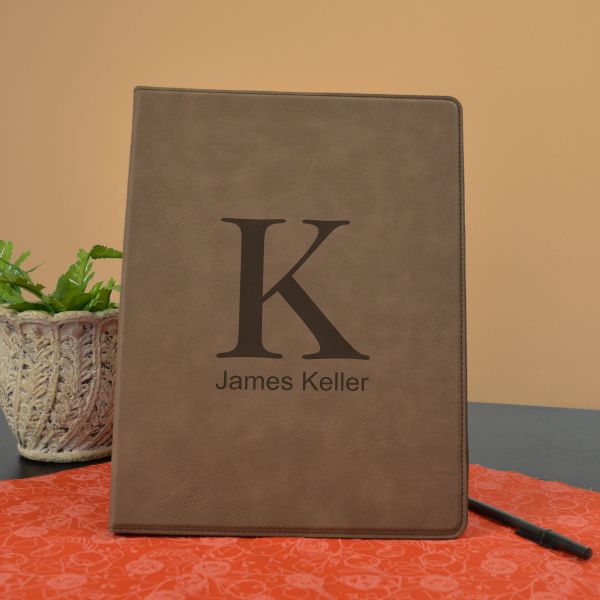 When you want to keep it traditional for your anniversary, you can go with what matches to the first anniversary and that would be paper. It might seem a little difficult to think of a gift that can be associated with paper, but it's much easier when you consider personalized anniversary gifts. The Classic Personalized Portfolio is just the right gift for a first anniversary and keeps with the "paper" theme.
Just add a name to this portfolio and it will be more than ready to give as an anniversary gift, but also the type of gift that can be used every day. Your significant other is sure to love this unique personalized gift.
3rd Anniversary: Leather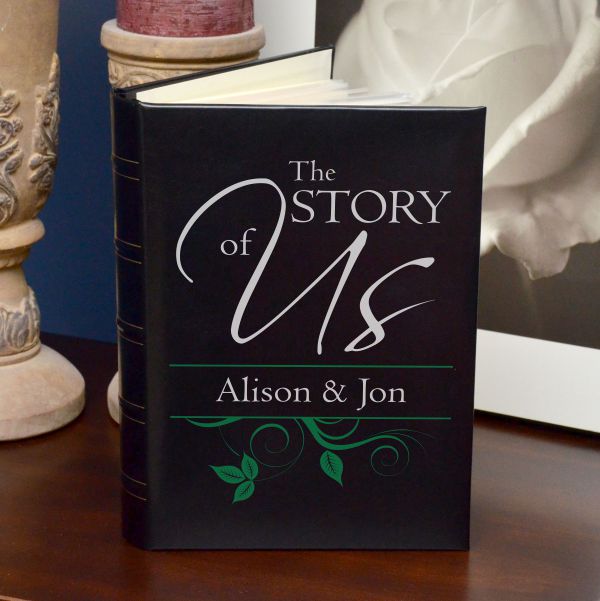 One of the most interesting anniversary elements is the fact that leather is used to represent the third anniversary and you can get very creative when it comes to finding a gift for it. Something that works as a wonderful gift of memories, but also a great way to represent the third anniversary, is the Story of Us Album. You can add the couple's first name on the front of the album, making it personalized and a wonderful way to share memories together now and in the future.
If you want to add something extra special to this gift, just decide on a separate gift message and also pick out some wonderful photos to get started on the album.
5th Anniversary: Wood
Getting creative with a wood gift is not as hard as might have thought because there are so many wood gifts that can be personalized and turned into something wonderful. There's something that works perfectly for personalized anniversary gifts, especially for the 5th anniversary. The Family Tribe Serving Board is a great gift that can be personalized with the family's last name and the established year, creating an amazing gift that anyone will absolutely love.
There are so many uses for this serving board which makes it great for everyday use or just being used as home décor to accent kitchen and dining areas.
10th Anniversary: Aluminum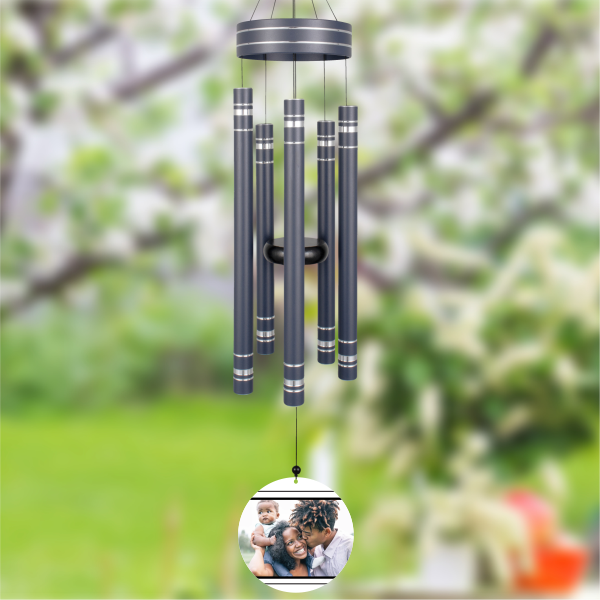 The 10th anniversary is considered a very special anniversary and the first big milestone before hitting the big numbers for most couples. On this anniversary, aluminum is the element that is considered traditional and there are more than a few choices when it comes to the right gift that can fit with the aluminum idea. The Our Family Personalized Wind Chime is a wonderful choice for a traditional gift that still lets you personalize it perfectly for your significant other.
There are a few ways that you can personalize this wind chime and the fact that you can add a photo of your choice is one of the best personalizations. You can choose a fun photo or a very memorable moment that means a lot to you and your significant other. Just add a family last name and first names to the wind chime to make it the perfect traditional gift on the aluminum anniversary.
15th Anniversary: Crystal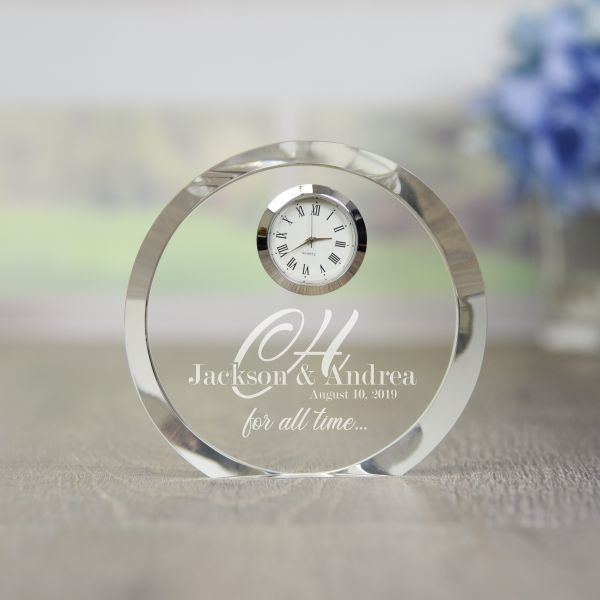 A wonderful anniversary to celebrate is the 15th anniversary and the fact that this one is all about crystal is one of the most traditional ways you can enjoy this occasion. There are definitely plenty of crystal gifts that can be considered for personalized anniversary gifts with this one, but one that stands out above the rest is the For All Time Personalized Crystal Clock. With so many ways to personalize this gift, you can make sure that your significant will love it.
You can add first names to this clock and also the initial of the last name, as well as the wedding dates. All of this is displayed right on the front and below a beautiful clock that represents all the wonderful times spent together as a couple. If you want to make this a little more special than usual, all you have to do is add a separate gift message or even get this clock gift-wrapped.
20th Anniversary: Platinum
For the 20th anniversary, it deserves a metal that matches and you can just call it the platinum edition of the relationship because platinum always represents the 20th anniversary. There are plenty of ways to make this anniversary a fun one and you can do it by having fun plans like painting together, making pottery, having a movie marathon, going out to dinner, or even just having a small get-together. Whatever you choose for your platinum anniversary, you can always make it special by celebrating in unique ways.
25th Anniversary: Silver
The silver anniversary is a great time to show off 25 years of being together and enjoying each other's company, but also a great time to get together for a celebration worthy of the silver anniversary. There are so many ideas for celebrating the silver anniversary and being able to decorate with everything silver makes it even more fun. You can even have silver cake, silver flatware, balloons, and more to make sure every inch of the anniversary represents 25 years of happiness.
50th Anniversary: Gold
One of the most memorable anniversaries is the fiftieth and it's one of those anniversaries where you have to celebrate to the fullest, in honor of being together for so long. It's amazing to see any relationship, let alone a marriage, come to such a wonderful number and it's important to make special memories for the occasion. Celebrating 50 years can be through having a huge party and inviting family and friends to it.
You can also celebrate with a romantic dinner or just have a special night in where you cook your favorite foods and order in. Either way, celebrating the 50th anniversary is monumental and a memorable milestone for any relationship.
Celebrating an anniversary is already a special thing to do, but it's also interesting to see just how many different types of gifts can be given and what the gifts can help represent. The 1st, 3rd, and 5th anniversaries are always special in that any couple is still considered "newlyweds" for fun. It's also a great time to get those special gifts that represent paper, leather, and wood for the right anniversary.
When you want to celebrate a 10th, 15th, or 20th anniversary, this is the time when you are considered well into your years of life together and you want to show it through the right type of anniversary gifts. This is why aluminum, crystal, and platinum are the popular choices of what's going to represent each of these anniversaries and gives you plenty of options when it comes to choosing personalized anniversary gifts to match. These are also the anniversaries that are considered the start of a lifetime for many couples and it's sweet to celebrate them in unique ways.
The 25th anniversary is a major milestone for any relationship and it's no wonder that it's represented by silver among all the elements. Even more amazing is that this would be the 50th anniversary that takes the highest element of gold to represent it and there are definitely plenty of ways to use gold in the celebration. No matter the anniversary, there are plenty of traditional gift ideas that can help you share in these very special moments and make your significant other happier than ever.