Traditional Retirement Gift Ideas
Sep 14th 2022
When anyone thinks of retirement, you think of a time in which to relax as much as possible and enjoy the time that you no longer have to get up for the 9 to 5 job every day. This is also a great time to enjoy all the simple things in life, get out and travel, and also take some time to catch up with old friends. Retirement is all about enjoying life after giving so much of it to the working world and to help any retiree in their quest for the perfect retirement life, you can offer up some amazing personalized retirement gifts.
If you think you might have trouble figuring out the perfect retirement gifts, you don't have to worry because there are so many choices that are sure to be perfect for the retiree. All you have to do is think about what any retiree would want or need in their retirement, so they can enjoy their favorite things in complete style. These can all be simple choices like travel mugs, wind chimes, or even a personalized decanter.
All of these are wonderful gifts that a retiree will truly appreciate and there are even more choices for gift ideas that you may not have thought about. If you're still having trouble thinking of gift ideas for the retiree then here are more gifts that you can bet will be perfect to give as the greatest retirement gifts.
---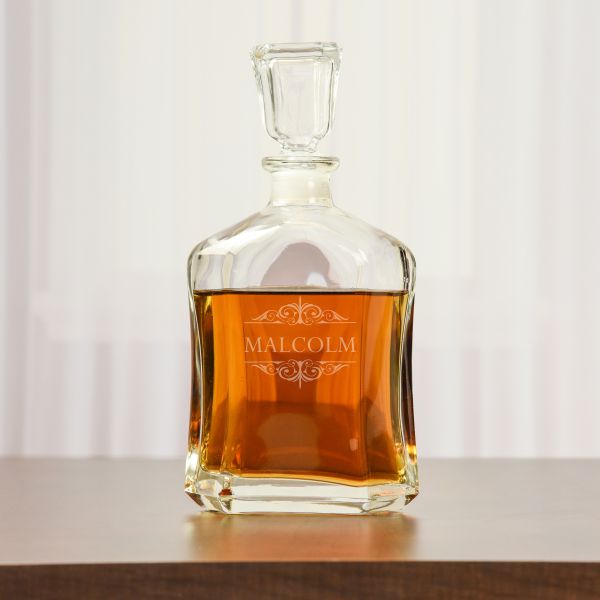 A Gentleman's Whiskey Decanter
For the gentleman who plans on retiring, giving him something to help with his daily relaxation is a great way to go when choosing traditional retirement gifts. If you want something that's truly considered an amazing gift you can take a look at A Gentleman's Whiskey Decanter, which you can easily personalize to fit the retiree perfectly. All you have to do is a name to personalize this decanter and it will be perfectly displayed right on the front so everyone will know who this wonderful decanter belongs to.
---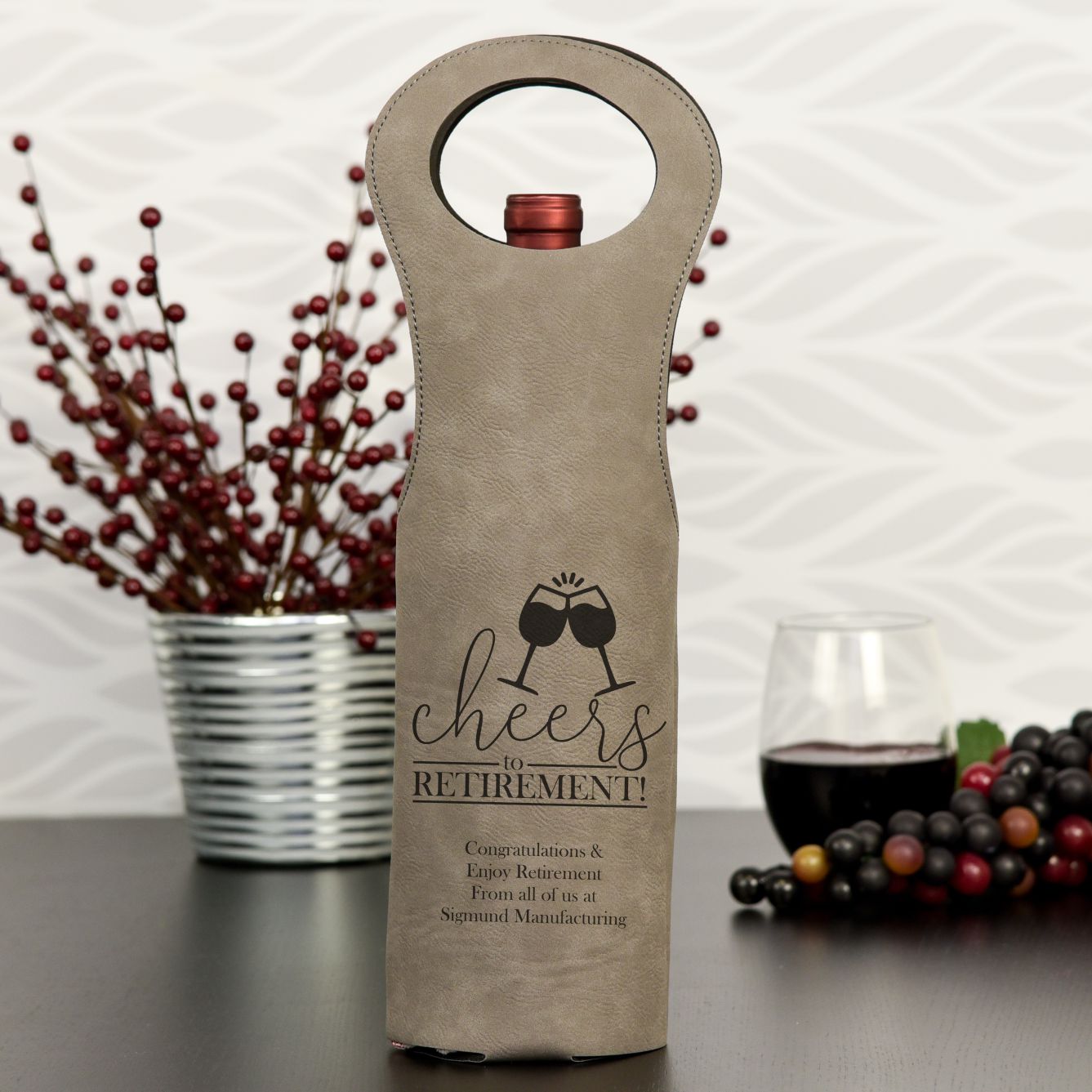 Cheers To Retirement Wine Gift Bag
When encouraging a retiree to take some time to relax, you can consider getting them personalized retirement gifts that give them a little bit of courage in that department. The Cheers To Retirement Wine Gift Bag is a great idea for offering up a wonderful gift that the retiree can use during their retirement and the personalizations come straight from the heart. You can choose a gray or brown for the faux leather color and also add a short message for the retiree to enjoy when they receive the gift.
If you want to go the extra mile with this gift, you can consider buying the retiree their favorite bottle of wine and placing it in the bag before giving it as a gift. Add a separate gift message to show your true appreciation for their working years and give them a gift they'll always remember.
---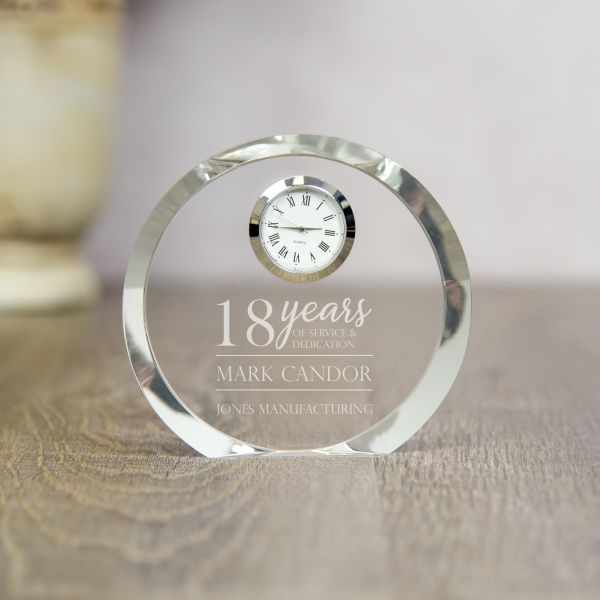 Dedicated Service Crystal Clock
If there are ever going to be traditional retirement gifts, then you should know that a crystal clock is as timeless as it gets. The Dedicated Service Crystal Clock is a classic when it comes to showing a retiree how much their hard work has been appreciated over the years. You can personalize this clock in multiple ways including adding the company name, name of the retiree, and the number of years of service.
To make this gift one to remember, consider adding a separate gift message and having this crystal clock gift wrapped. It's the perfect way to show extra care to a gift given to someone who has many years of dedicated service.
---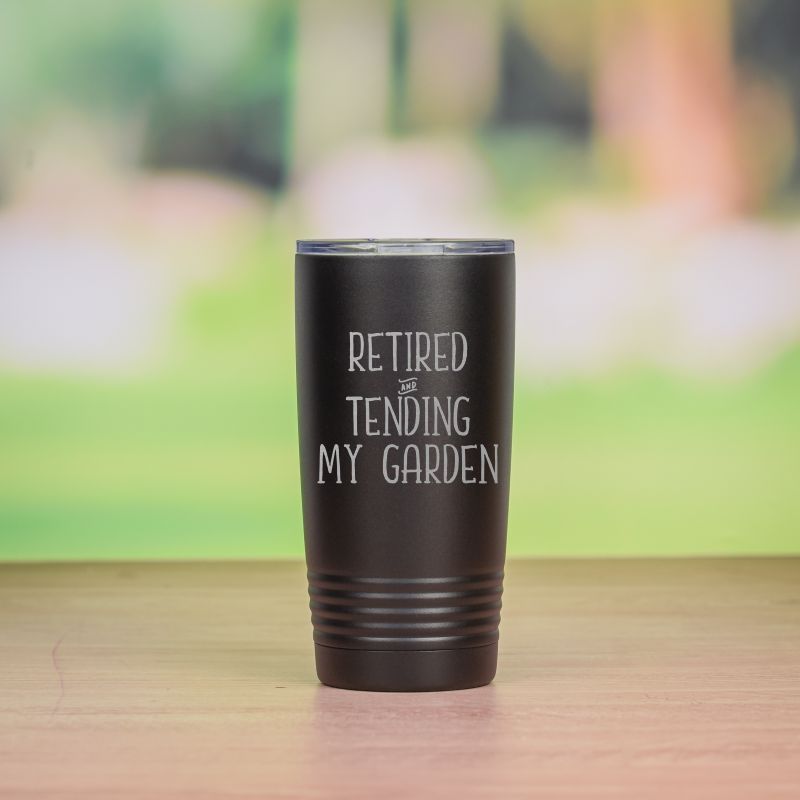 Finish The Sentence Retirement Travel Mug
If you really want to give a little fun to the retiree, then you can choose a gift that encourages them to travel and get a good laugh in while they're at it. The Finish The Sentence Retirement Travel Mug is the type of mug that lets the retiree grab their favorite drink and go go go! You can add a message to finish the sentence on the front of this mug and choose between navy blue, coral, and black for the color.
It's a great way to have some fun and give the retiree exactly what they need to help with all their travel and relaxation plans.
---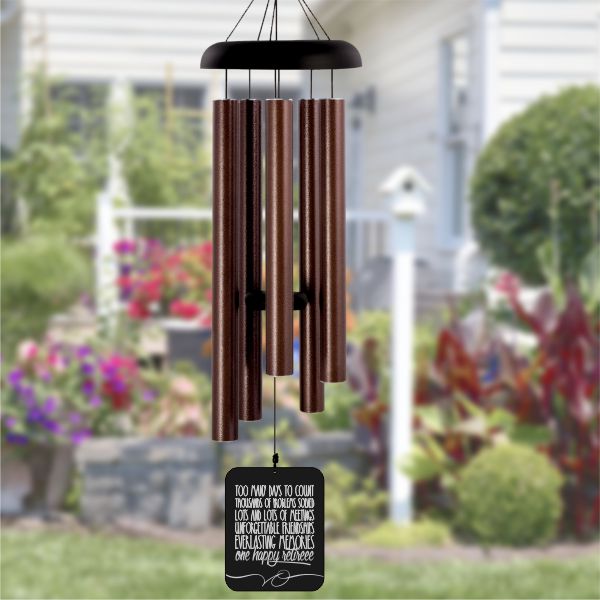 One Happy Retiree Wind Chime
If there is one type of retirement gift that is always enjoyed, it's wind chimes and the One Happy Retiree Wind Chime is perfect as a personalized retirement gift for anyone you could think of. These chimes are the classic bronze color and can be personalized with a message that's displayed on a wonderful charm at the bottom of the chime. Any retiree is going to love this chime because it will give them something wonderful to listen to while they are taking all the time they need to get their relaxation in.
The great part about choosing chimes as a retirement gift is that they can be placed either inside or outside of the home and still enjoyed just as much. This makes this a very versatile gift that the retiree will absolutely love.
---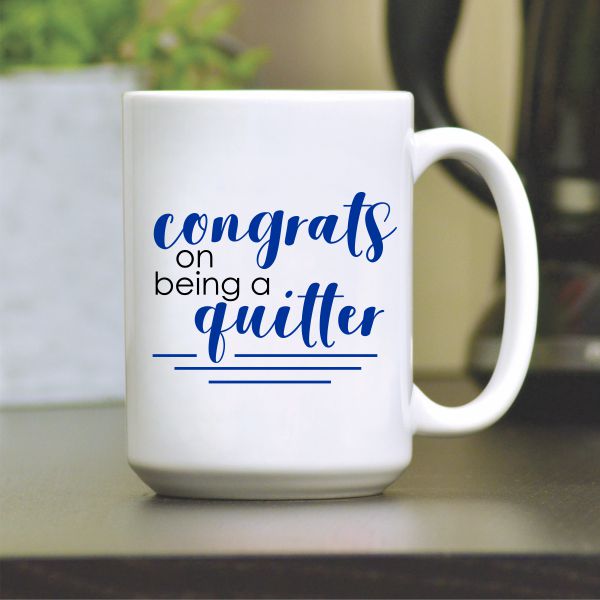 Quitter Retirement Coffee Mug
Having all the time in the world to sit around and enjoy a good cup of coffee is part of the enjoyment of retirement and having a stylish coffee mug to go with it is the best way to kick off a relaxing milestone in life. Retirement gift ideas like the Quitter Retirement Coffee Mug is perfect for making sure the retiree can take all the time they want, every day, to enjoy a great cup of coffee and relax as much as they want. The great personalization that you get with this coffee mug is that you can add a message that will be displayed right on the side, for the retiree to easily see and enjoy.
You can add a message that is touching and sweet or choose to give the retiree a good laugh with a message that's funny. Either way, they are sure to love this mug throughout their retirement.
---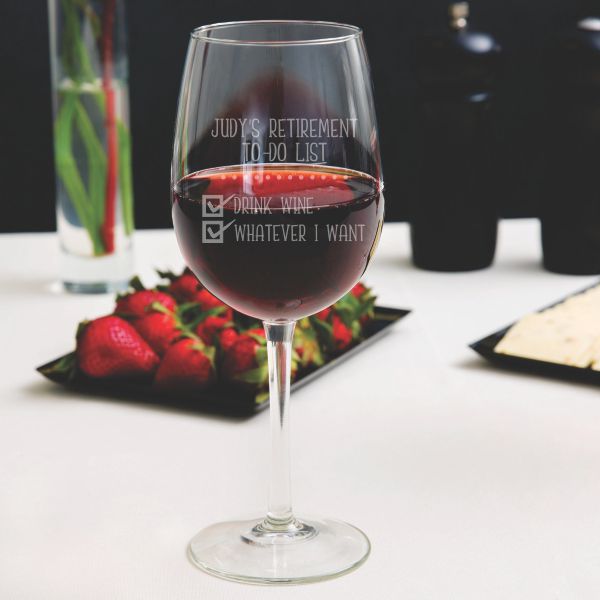 Retirees To Do List Wine Glass
When it's time to relax, it's also time to take a break and enjoy the very best in life. The best way to do that is to enjoy personalized retirement gifts that help with all the relaxation time that anyone could ever want and the Retirees To Do List Wine Glass is just the right gift for this occasion. With the personalization for this gift, all you have to do is add a name to it and this will be ready to be given as a very special and fun retirement gift that everyone will love.
Giving this wine glass as a retirement gift is a great way to help in the relaxation process that comes with retirement. If you want to make this an amazing gift, you can actually purchase several of these and give them as a gift set to the retiree. They'll be more than prepared for relaxing days with this wonderful retirement gift.
---
When taking a look at all of these gifts, it's easy to see why there are plenty of choices for the best-personalized retirement gifts and it's also easy to see that personalizing any of these gifts can make them extra special. A decanter that can be personalized is the perfect gift for any gentleman who wants to spend his retirement days enjoying the finer things and can also help him relax whenever he needs to. A combination of wine gift back and wine glass would make for a great retirement gift set and help the retiree relax in classic style.
If you want to keep things really traditional then the crystal clock is a win every time and it is also a great retirement gift idea that a company can consider giving all retiring employees. A wind chime is one of those retirement gifts that encourages the retiree to get as much relaxation in as possible and can also be great for drifting off to a gentle sound. Travel mugs are the type of retirement gift that encourages many travels, near and far, and make for a wonderful take-a-long gift.
Coffee mugs are the type of gifts that always work for being one of the most popular gifts, no matter the occasion, because they can be taken along anywhere and let anyone enjoy their favorite beverage. All of these gifts have unique personalization and also help a retiree in many different ways, including enjoying every aspect of their retirement. Try combining some of these to work as retirement gift sets and make the retiree extra happy about living their best life!