Unique & Personalized Outdoor Fall Decor
Sep 7th 2023
Fall is a season filled with warmth, colors, and festivities. As the leaves change and the air turns crisper, it's the perfect time to transform your outdoor space into a welcoming haven for the fall holidays. One delightful and customizable way to do this is by adding personalized garden flags to your decor. These charming flags not only celebrate the spirit of the season but also provide a unique touch that sets your home apart from the rest.
In this blog, we'll explore the world of personalized garden flags for the fall holiday season, from the design possibilities to the heartwarming messages they can convey. Let's dive in and discover how you can elevate your outdoor decor this autumn.
1. The Beauty of Fall: Setting the Scene
Before we delve into the world of personalized garden flags, let's take a moment to appreciate the beauty of fall. This enchanting season brings with it a kaleidoscope of warm colors, from fiery reds and oranges to deep, earthy browns. The crisp air carries a hint of nostalgia, and pumpkin-spiced everything seems to be the flavor of choice.
One of the most appealing aspects of fall is the opportunity it provides for outdoor gatherings and celebrations. Whether you're planning a Halloween party, Thanksgiving dinner, or just want to create a cozy atmosphere for family and friends, personalized garden flags can be an essential element of your fall decor.
2. Personalized Garden Flags: What Are They?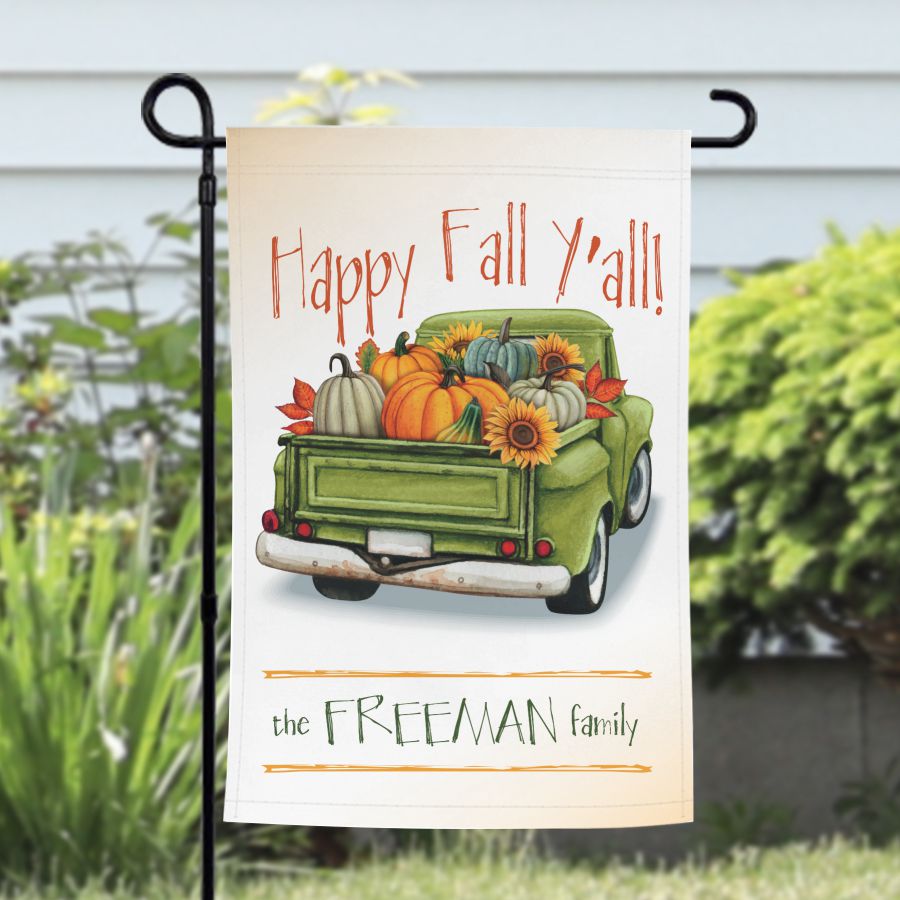 Garden flags are a popular form of outdoor decor, typically made from durable and weather-resistant materials that can withstand the elements. They are designed to be displayed in gardens, along walkways, or outside your home to add a touch of color and personality to your outdoor space.
Personalized garden flags take this concept to the next level. These flags are not only adorned with beautiful fall-themed designs but can also be customized with your own text or images. This means you can add your family name, a festive message, or any other personal touch that captures the essence of your fall celebrations.
3. Design Possibilities: Capturing the Spirit of Fall
Fall offers a rich tapestry of design possibilities for personalized garden flags. Here are some popular themes and elements you can incorporate:
Autumn Leaves: The iconic red, orange, and yellow leaves of fall can be a central design element. Imagine a garden flag adorned with a cascade of colorful leaves, creating a warm and inviting atmosphere.
Pumpkins and Gourds: Pumpkins are synonymous with fall, and they make excellent design choices for personalized flags. Whether you prefer whimsical or elegant depictions, a pumpkin-themed flag instantly evokes the spirit of the season.
Harvest Scenes: Depicting scenes of bountiful harvests with cornucopias, apples, and other fall fruits and vegetables can create a visually appealing and inviting flag.
Halloween: For those who love the spooky side of fall, Halloween-themed garden flags featuring witches, ghosts, and jack-o'-lanterns can add a touch of whimsy and fun to your decor.
Thanksgiving: Celebrate gratitude and togetherness with Thanksgiving-themed flags. These can include images of turkeys, cornucopias, and heartfelt messages of thanks.
Scarecrows: Scarecrows are another classic symbol of fall. A garden flag featuring a friendly scarecrow can instantly infuse your outdoor space with autumn charm.
4. The Personalization Element: Adding a Unique Touch
What truly sets personalized garden flags apart is the ability to customize them with your own text or images. Here's how you can add a unique touch to your fall holiday flags:
Family Name: Including your family name on the flag not only adds a personalized touch but also makes it clear that your home is ready to welcome guests for the fall holidays.
Festive Messages: Whether it's "Happy Fall Y'all," "Trick or Treat," or "Give Thanks," festive messages can set the tone for your fall celebrations.
Dates and Events: If you're hosting specific events or gatherings during the fall season, consider adding the date and event name to the flag to create anticipation and excitement.
Monograms: Monogrammed flags with your initials can add an elegant and timeless touch to your outdoor decor.
Quotes and Sayings: Choose a meaningful fall quote or saying that resonates with you and your family. This can be a beautiful way to express the essence of the season.
5. Quality and Durability: Flags That Last
Personalized garden flags are not just about aesthetics; they also need to withstand the elements. When choosing a personalized garden flag, look for the following features:
Durable Material: Opt for flags made from high-quality, weather-resistant materials like polyester or nylon. These materials are designed to withstand rain, wind, and sun exposure, ensuring your flag remains vibrant throughout the season.
Double-Sided Printing: Some flags offer double-sided printing, which means your personalized message is visible from both sides. This is ideal for flags that may be viewed from multiple angles.
Fade-Resistant Inks: Ensure that the inks used for printing are fade-resistant, so your flag's colors stay vibrant and true to the design.
Easy Installation: Look for flags that come with a sturdy flagpole or stand for easy installation in your garden or front yard.
6. Versatility: Flags for Multiple Fall Holidays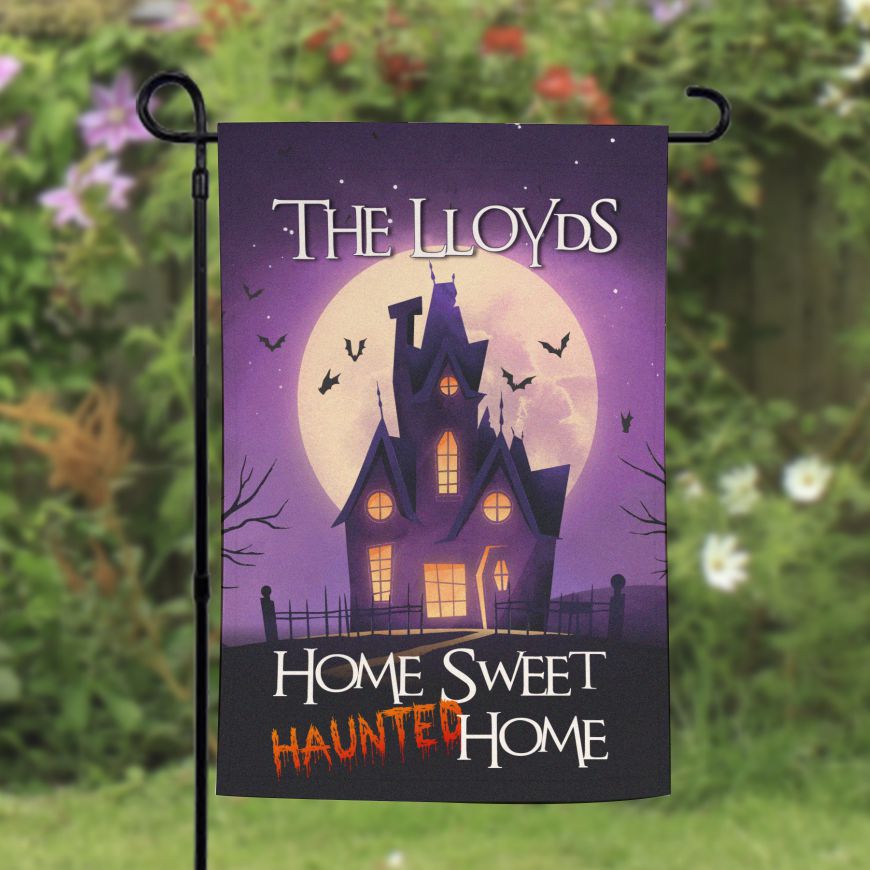 One of the great advantages of personalized garden flags is their versatility. While they are perfect for individual fall holidays like Halloween and Thanksgiving, many designs can also work well throughout the entire fall season. This means you can enjoy your customized flag from the moment the leaves start changing until it's time to decorate for the winter holidays.
7. Gift-Worthy Decor: A Thoughtful Present
Personalized garden flags also make thoughtful gifts for friends and family. Consider surprising a loved one with a customized flag that celebrates their favorite aspects of fall or a flag that bears their family name, creating a unique and heartwarming gift.
8. The Final Touch: Completing Your Fall Decor
Once you've chosen the perfect personalized garden flag, it's time to think about how to incorporate it into your overall fall decor. Here are some ideas:
Flag Placement: Garden flags are typically displayed outdoors, but you can also use them indoors as part of your fall decorations. Consider placing them in potted plants, near your front door, or along a pathway.
Coordinate with Other Decor: Your flag should complement the rest of your outdoor decor. Consider matching it with fall-themed wreaths, pumpkins, and other seasonal elements.
Lighting: Adding string lights or lanterns can create a warm and inviting ambiance, especially for evening gatherings.
Outdoor Seating: If you have outdoor seating, consider adding fall-themed cushions and blankets to create a cozy atmosphere.
Table Settings: If you're hosting a fall feast, consider coordinating your table settings with your personalized flag's colors and design.
As the fall season approaches, there's no better way to welcome it than by adding personalized garden flags to your outdoor decor. These flags not only capture the essence of fall but also allow you to express your unique style and sentiments.
Whether you're celebrating Halloween, Thanksgiving, or simply the beauty of the season, a personalized garden flag adds a heartwarming and memorable touch to your outdoor space.