Valentine's Day Gifts He Will Love
Jan 13th 2022
Now that Christmas is over, and the New Year has dawned, it's time to turn our attention to the next big gift-centered holiday. Valentine's Day is just around the corner. Many people turn their thoughts to ideas of romance and date nights. Candlelit dinners, roses, and chocolates are traditional gifts but don't forget the guys on your list like gifts, too. Flowers and candy may be just fine for your special guy. A romantic candlelit dinner may be right up his alley. If so, great! You're ahead of the game. However, if you want to go beyond the predictable, you might consider looking at unique Valentine's Day gifts for him. When choosing the perfect gift for your special guy, consider his favorite activities or hobbies. Favorite colors, beverages, and his heritage are also worth consideration. Choosing personalized Valentine's Day gifts for him will add a special touch he is sure to appreciate. Levels of personalization range from simple monograms to meaningful messages you create yourself. If you're still at a loss when it comes to finding gifts for your favorite guy, we're here to help you. We've scoured the internet looking for gifts he will love to receive. We wanted to find some unique Valentine's Day gifts for him and some personalized Valentine's Day gifts for him. We found a multitude of good options. We decided to highlight 10 of our favorite finds.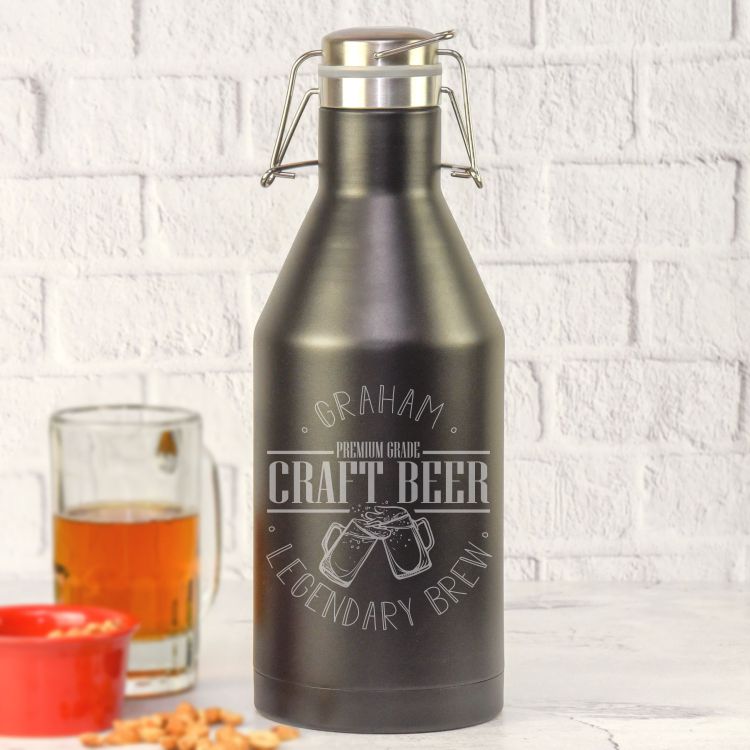 The beer lover in your life will love his own personalized growler that holds up to 64 ounces of his favorite brewed beverage. The bottle is BPA-free and is black with silver lettering. The bottle reads Premium Grade Craft Beer Legendary Brew, and you can personalize it with your Valentine's name. The tightly sealing lid keeps the beer inside. When you order this growler, you also get the option of creating a personalized card to include with your gift.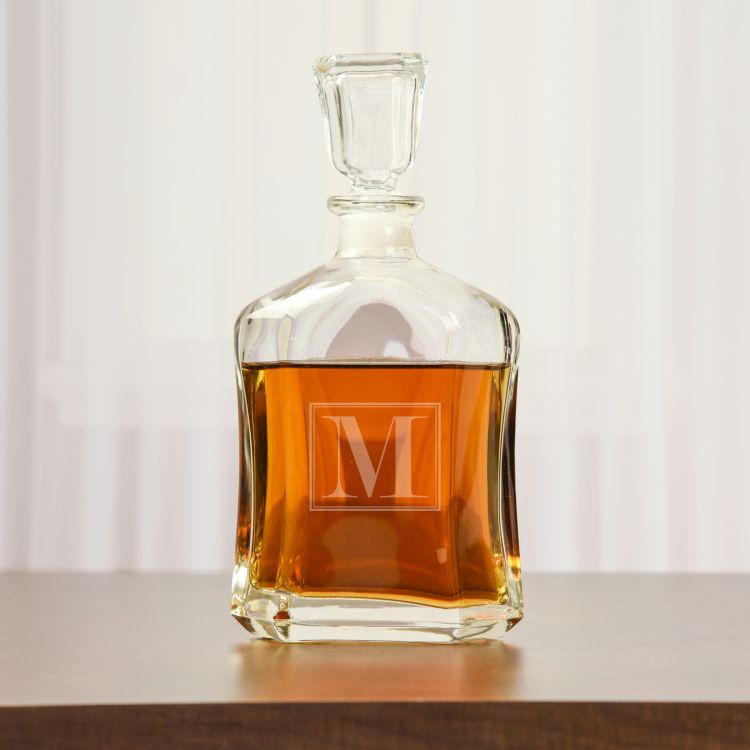 Does your Valentine love whiskey or a good Scotch? This beautiful glass decanter is a perfect gift for the sophisticated man in your life. The Italian-made bottle holds 23.75 ounces of his favorite Scotch or whiskey. It features a glass stopper that fits tightly to preserve the flavor of whatever beverage is inside. The prominent single letter monogram adds another level of classiness to this beautiful, yet useful, conversation piece. As with the beer growler, you have the option of creating a personalized gift card to include with this decanter.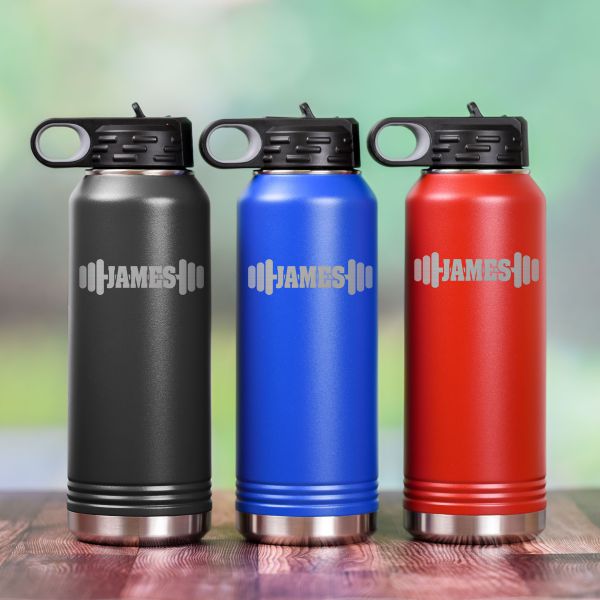 The athlete in your life will appreciate this personalized 32-ounce stainless steel bottle. It features a flip-top lid and a removable straw. The variety of colors available means you can choose the color he loves most. This bottle, featuring a weight lifting image, can be customized with a name. Now, your favorite guy will stay hydrated while enjoying his favorite activity. A bonus is that personalization means that no one will accidentally take his bottle home leaving him thirsty. The company offers you the option of having this gift wrapped before it is shipped. You also have the opportunity to create a personalized gift card to include with the package.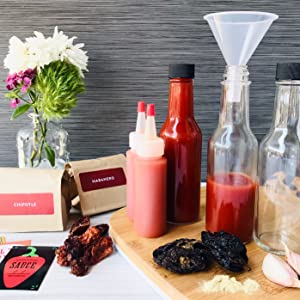 Is your favorite guy a fan of hot sauce? If he is putting hot sauce on everything or he is routinely searching the grocery aisles for his new favorite flavor, then this is the gift for him. Now he can make his own hot sauce right at home. This DIY hot sauce kit includes ingredients, instructions, six bottles, and six labels for the creative names he chooses for his creations. The kit also includes gloves and a funnel. He will need a saucepan, a blender or a food processor, and some measuring spoons to successfully create his sauces.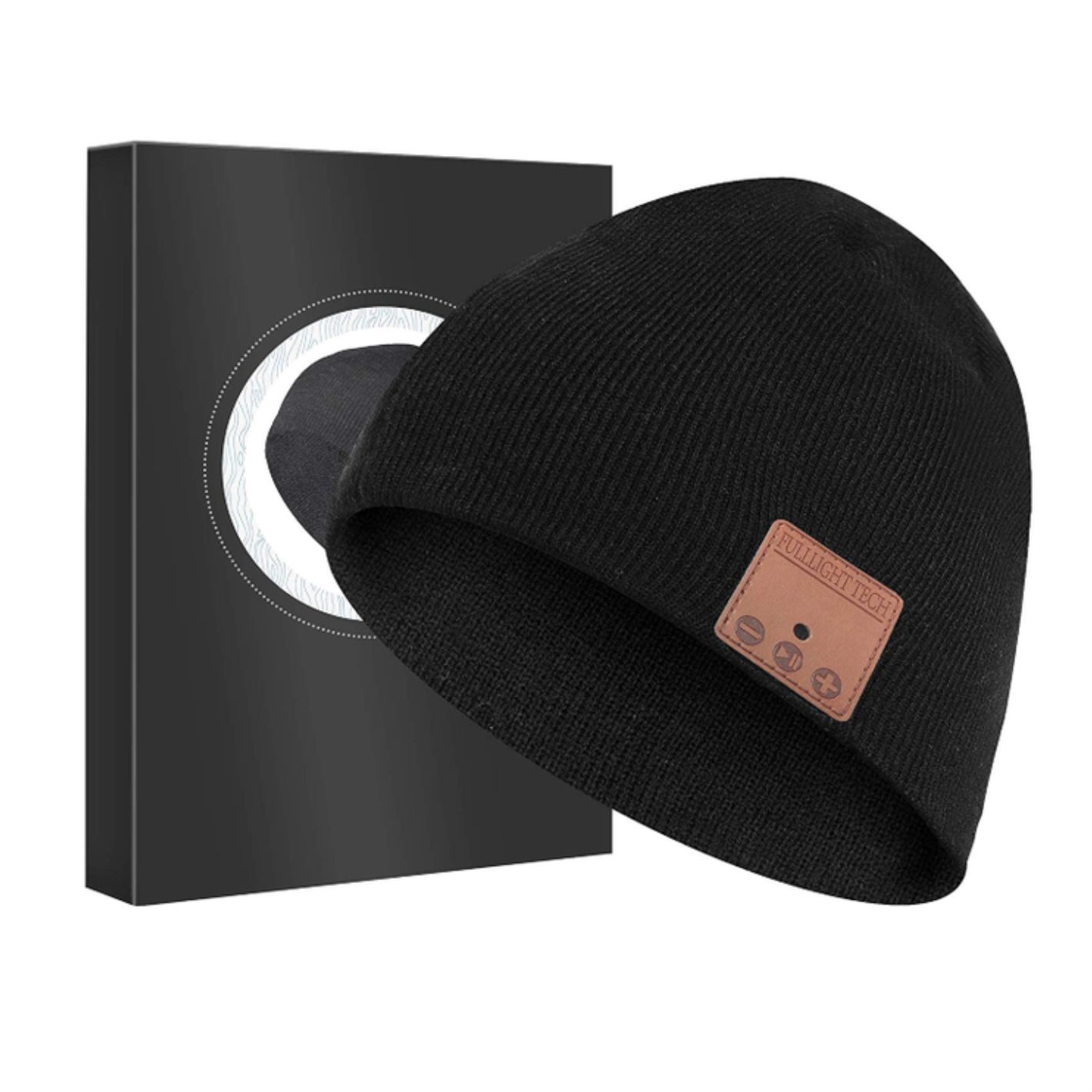 If you have a cold-natured music lover that needs a Valentine's gift, look no further. This soft, double-knitted beanie will satisfy his craving for warmth. The built-in Bluetooth speakers are perfect for listening to music on the go. These rechargeable headphones provide up to 16-20 hours of listening enjoyment. The headphones are also great for hands-free phone calls. If the beanie gets dirty, it isn't a problem. Your guy can just remove the headphones and wash the hat.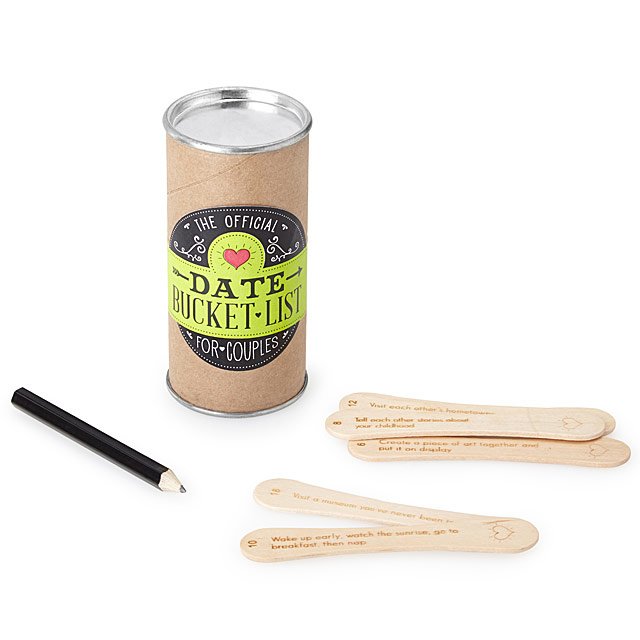 Who says his Valentine's gift has to be enjoyed by him alone? Why not choose something you can enjoy together? This gift is something you can use to plan fun date nights. When you're at a loss for something to do, you choose a stick from the can. Each stick has a fun activity for the two of you to use for planning your date night. The tasks vary from romantic interludes like a night of stargazing to intellectual pursuits like attending a lecture together. When you finish each task you can use the included pencil to put the date on the back of the stick to remember your time together.
In Summary
These are six of the many products available for the special guy in your life. With creative thinking, you can find unique Valentine's Day gifts for him. Personalized gifts are a unique way to celebrate your man's individuality by recognizing his hobbies or favorite activities. We found practical gifts, fun gifts, and gifts that are both practical and fun. The personalization options here range from a single monogram to a full-length message you can create yourself. Each of the unique Valentine's Day gifts for him allows you the opportunity to recognize the things that make him as unique as the gift you chose. Of course, there are as many options for Valentine's gifts as there are men to receive them. Creativity is the key to choosing the exact right gift for the man in your life. He could even like the candy and flowers that many people traditionally associate with romance. Whatever you choose, the gift will be special not because of the item you have purchased but because of who receives it.