Winter Weddings – Unique Favors for your Guests
Nov 17th 2020
Winter weddings are nothing short of magical. There's crisp cool air, gentle breezes here and there, and scenic backdrops all around. You might have prepared well and got the wedding mostly organized, but what about when it comes to choosing the perfect wedding favors?
Winter weddings mean unique favors for your guests and here are plenty of personalized options that you can choose that will leave your guests in awe and with a good amount of appreciation!
Personalized Candle Tins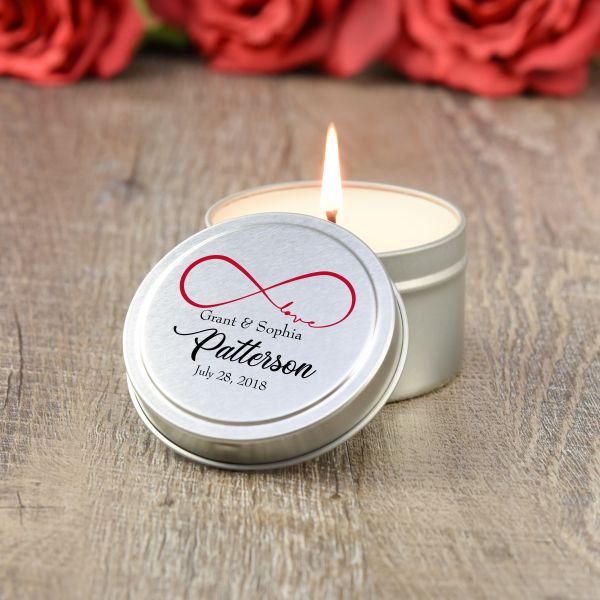 There is literally no better symbolization for a wedding than candles. You can share your amazing day even more with candle tins. These are the type of personalized wedding favors your guests will love. The Mr & Mrs Wedding Favor Candle is a classic choice. The natural soy blend is great idea because it means everyone will get to enjoy it. They're beautiful and considerate of all of your guests.
Wine Glasses with Style
Serving wine at the wedding or just want to give a truly unique wedding favor? The Monogram Wine Glass or Couples Wedding wine glass are amazing choices that let you display your initials at their best. Wine glasses are personalized wedding favors that guests will certainly want to display in their homes. There's something about them that makes everyone happy.
Bottle Openers to Remember the Day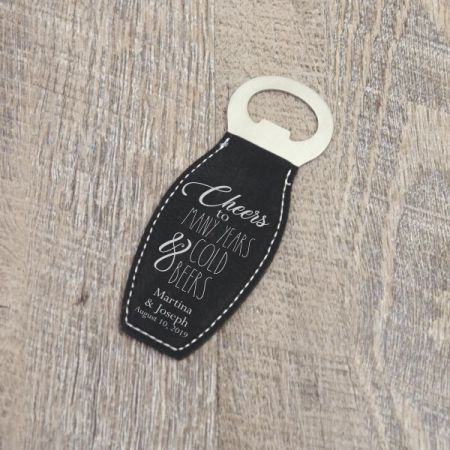 Bottle openers are a necessity for many and they sure do come in handy when you need them. For personalized wedding favors, the Thank You bottle opener is a fun way to thank your guests for coming and sharing in your special day. You can add the names of the bride and groom and you are all set to have your guests enjoy a fun and thoughtful gift. These bottle openers also double as keychains so they really do make very convenient wedding favors.
Coolies Keep Canned Drinks Cold
Coolies are yet another fun wedding favor that you can choose for your guests. You can let everyone know just how deep in love you are with the Drunk In Love Wedding coolie that lets you add the bride and groom names and the wedding date. They're something everyone can use and they will enjoy keeping it for a long time to come.
Custom Engraved Shot Glasses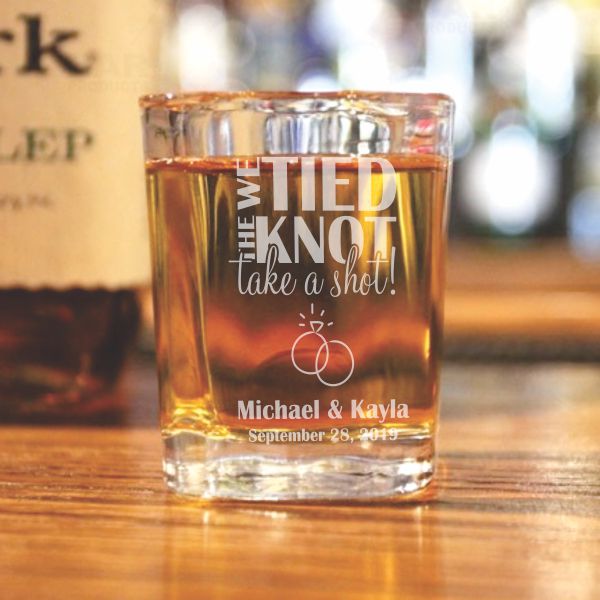 Now, with shot glasses, you can really have some unique choices. Whether you go with the Mr & Mrs or the classic Wedding Favor shot glasses, your guests are sure to love them. There's even a sweet We Tied the Knot shot glass that features wedding bands and a place for the bride and groom names, as well as the date. These shot glasses are one of the best personalized wedding favors you could ever choose.
So go ahead and take your pick of these amazing wedding favors. Let them cool off with the coolies, have a sip from a classy wine glass or enjoy lighting their own personal candle with a candle tin. Winter wedding or not, there's always a good reason to find unique favors for your guests!