Personalized Gifts for Grandpa
Oct 12th 2022
Every once in a while, you want to do something special for family members, and celebrating them in a very special way is exactly what many will appreciate. When you treat grandpa to something special you can do a number of different things like having a surprise celebration in honor of him, treating to his favorite meal at his favorite restaurant, or just spending an entire day doing whatever he wants to do. All of these things are such a great way to let grandpa know just how wonderful he is and just how much you love him.
If you want a little something more that you can do for grandpa, then consider some personalized gifts for grandpa. Choosing the right gifts to go with the perfect day with grandpa, can really make a memorable one for him and also make his day that much brighter. There are so many wonderful gifts that you can consider getting grandpa and when you choose gifts that are personalized, you can present grandpa with gifts that he will cherish and remember.
If grandpa has any hobbies or just anything special that he likes to do from day to day, then you will have a very easy time choosing a gift for him and an even greater time personalizing it. Grandpa will be happy no matter what you choose, but you can give him a little extra good feeling by giving him a gift that comes straight from the heart. Here are some gifts to consider for grandpa that are guaranteed to make his day and keep him smiling.
---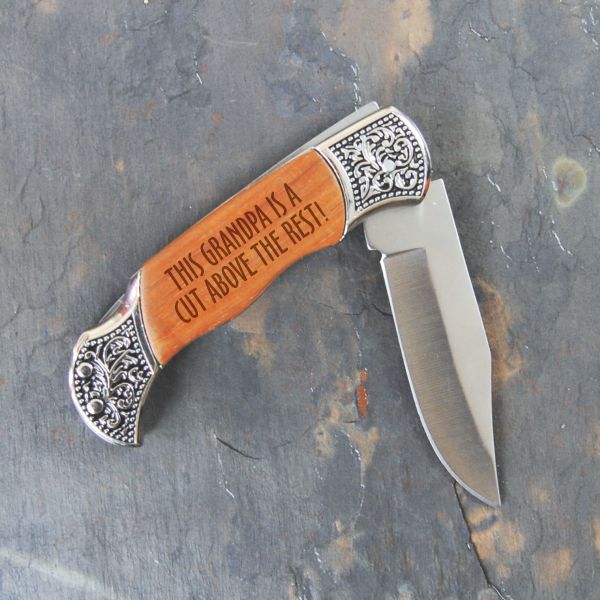 Cut Above Personalized Knife for Dad or Grandpa
One of the first gifts to consider when you are thinking of what you can get grandpa is a gift that can be of use to him, no matter what he does in his day-to-day activities. The Cut Above Personalized Knife for Dad or Grandpa is the perfect gift to fit this description and you can even have it personalized just for grandpa. Because this is such an amazing knife, you can add two lines to personalize it and give grandpa something very special to read every time he wants to know just how much he is loved.
Grandpa can have a lot of uses for a personalized knife and many of those uses can be for everyday tasks like cutting a wire or fun tasks like wood carving. A pocket knife like this can be a great gift for grandfathers and a very useful tool that can join grandpa on any outdoor adventures. Having this pocket knife personalized allows him to keep something very sweet, very close to his heart.
---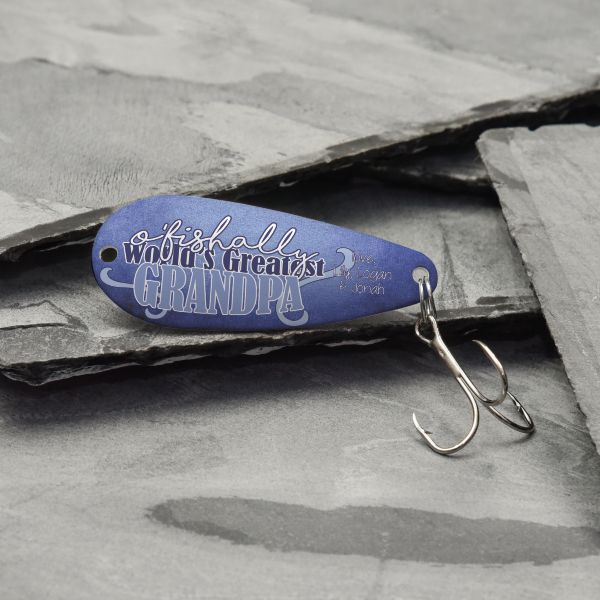 Worlds Greatest Grandpa Fishing Lure
When it comes time for grandpa to relax a little bit and enjoy the outdoors, he can of course take a knife, but he might need something more to go along with it. The World's Greatest Grandpa Fishing Lure is just the perfect personalized gift for grandpa that will help him really get in the fishing game and relax as much as he wants to. There's always room in grandpa's tackle box for a wonderful fishing lure like this one and grandpa can think of all the amazing people who love him every time he uses it.
What's so great about this fishing lure is that you can actually add a short message to the side of it and make a special reminder to grandpa that he's the best grandpa in the world. It's also a great way to make sure he never loses track of such a great fishing lure while searching through his tackle box. You can even take the time to add a separate gift message to this gift and give grandpa an awesome surprise to go along with a very unique fishing lure.
---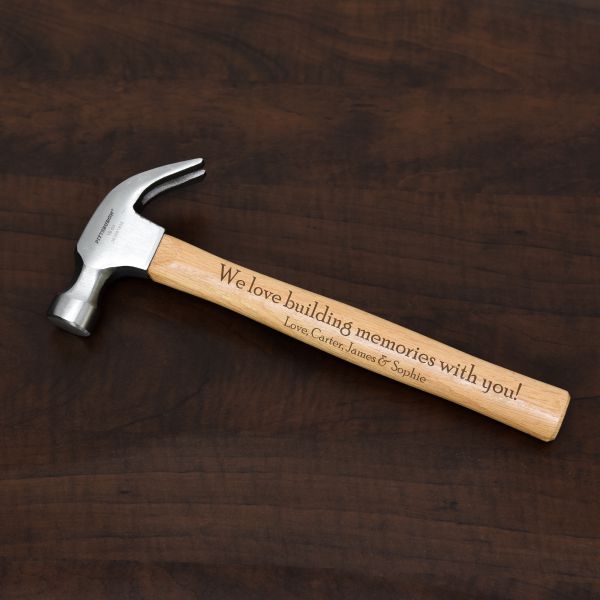 Building Memories Hammer
If grandpa likes to build whenever he has some free time or just loves to work with his hands, then you can consider a gift that will help him with all his building needs. Adding to his tool collection is definitely one of the best ways to help celebrate just how special grandpa really is and how much he means to you each and every day. The Building Memories Hammer is more than just an ordinary tool and when you combine that with the fact that it can be personalized, it makes for the ideal gift that grandpa will really enjoy.
To personalize this hammer, all you need to do is add a short message that will be displayed right on the handle for grandpa to easily see. You can even add in a separate gift message and have this hammer gift wrapped to make it even more special for grandpa. Either way, grandpa is sure to love such a thoughtful gift and have more than enough fun using it.
---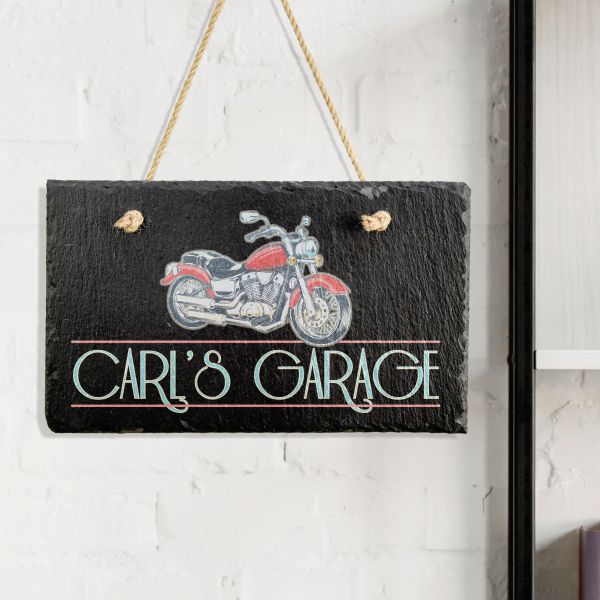 Motorcycle Garage Sign
If grandpa has his own shop or maybe even just his own workspace in general, then he will definitely need some décor to go along with it. The Motorcycle Garage Sign is one of the most creative personalized gifts for grandpa that he will be more than proud to display in his fun space. You can add grandpa's name to this slate sign and have a great, made just for him, that he can display however he wants.
Worlds Greatest Grandpa Mug
When grandpa wants to relax a little, he can take some time out with a little health from a coffee mug made just for him. The World's Greatest Grandpa Mug is a very unique gift that grandpa will really appreciate having around, especially because it can remind him of the love that his family has for him, every time he uses it. Great gifts for grandfathers start with a mug like this, which can be personalized with a favorite photo and given as a very memorable gift for grandpa to enjoy.
This is a very wonderful way to let him know that he really is the world's greatest grandpa.
---
Awesome Grandpa Cutting Board
If grandpa is really into cooking or just enjoys being in the kitchen, making up delicious dishes and creating some tasty snacks, then he's going to need a gift that can help him keep up with his cooking abilities. The Awesome Grandpa Cutting Board is all that he will need to start making the best meals ever and he can be very stylish while he's creating some wonderful desserts. If you're looking for personalized gifts for grandpa that can definitely make him happy but also keep up with his cooking hobbies, then this cutting board, which can be personalized with a sweet message, is the ideal gift for grandpa to really enjoy.
---
Getting grandpa some amazing gifts is much easier when you have a chance to see just how many unique gifts are out there for you to choose from. A grandpa who has a lot of hobbies has plenty of chances to get the perfect gift and a hammer can help him along the way when it comes to keeping his hobbies close. Personalized gifts for grandpa, which can also count towards his hobbies can easily be a pocket knife or fishing lure as well.
For the grandpa that just likes to go about his day at an easy pace, considering a gift that can help him take it easy is a perfect idea. This is when you can choose a personalized mug to make sure he gets to enjoy a tasty beverage no matter where goes, but also so that he can take a moment to relax while enjoying that delicious drink. Great gifts for grandfather can also be something that grandpa can use within his home and a garage sign is a perfect idea for a gift that's not only unique but also a gift that allows him to admire the love of family on a daily basis.
For the grandpas that love to stay in the kitchen or just love to show off their cooking skills, you know that a cutting board is perfect for him to enjoy with plenty of love and fun going into every meal. All of these gifts are so much more than just the regular grandfather gifts because they allow you to express your love to grandpa and show him just how much you appreciate having him in your life. Choose one or choose a few to make grandpa feel special today and every day for years to come!