Sizzling Summer Wedding Ideas
Feb 16th 2022
There are several benefits to having an outdoor summer wedding, including a stunning backdrop, vibrant seasonal florals, and blue, sun-filled skies, to mention a few.
However, this is also a season when the temperatures soar, and the very idea of being without air conditioning sends some people's pulses over the roof. You've done everything you can as a couple to ensure that you're both as fresh as possible on the big day. But what about your visitors?
Many people are traveling long distances to share this thrilling event with you. And you don't want them to look back to only recall how uncomfortably hot and sweaty they were as you exchanged vows. Here are some fantastic ideas for keeping your guests cool during your outdoor summer wedding.
Provide Hand Fans
Summer weddings are often hot, so consider keeping your guests cool and collected with a hand fan. You can opt for folding fans as they can add some flair to the celebration. These simple and stylish fans may be personalized with the couple's name and reused throughout the summer, whether at future weddings or beach trips.
Another twist to this idea is to have your wedding program made as a hand-held fan with a theme inspired by your florals and décor.
What's more? This concept can easily double down as a perfect wedding favor and keepsake for guests.
Looking for another wedding favor variation? Why not get a handheld/portable fan with a mister? On a hot, high-temperature day, this small yet powerful gadget will be a lifesaver.
Misting Station
When it comes to misters, why not go all out and acquire a few misting stations for guests? Give them an opportunity to cool off whenever they want with a misting station. Though it may be pricier, your guests will definitely appreciate it.
Offer Sunglasses
Just because your future looks so bright together doesn't mean your guests need to suffer. If you're having a summer beach wedding, you can't go wrong with sunglasses as wedding favors.
Regardless of the type you give your guests, sunglasses are a terrific item to keep them happy, cool, and from squinting during the ceremony and reception. Distribute shades so that your guests are not blinded by the light throughout your wedding.
Not only will your guests receive some cool new sunglasses, but they will also have a party favor that they can really utilize.
Straw Hat Wedding Favors
Maintain the relaxed, laid-back atmosphere at your summer beach wedding by setting up a station where friends and family can pick up stylish straw hats.
These fun hats will keep guests cool and shaded during your outdoor celebration. And, they will last long after your wedding. A great keepsake for guests.
Parasols
Throw guests some shade! Parasols are a fun and practical way to keep cool. These wedding favors are something your guests will appreciate on your big day, especially if you are expecting clear skies.
Parasols provide shade from the sun's harsh rays, but they also serve as a fashionable accessory in candid wedding photographs later in the evening!
Choose some that match your wedding theme or colors to provide your photographer with a never-ending supply of exciting photos to snap.
Guests would appear sophisticated with a parasol in hand. And, they will also shield everyone from harmful UV rays. Who doesn't like a prop that serves double purposes?
Shaded Wedding Lounge Area
Guest will appreciate that you set up a shaded spot for them to relax, kick up their feet, and enjoy a drink.
Your guests will appreciate it if you've arranged a shaded area for them to relax, rest, kick up their feet, and sip a drink.
Refreshing Appetizers
Begin your summer celebration with light, fresh fare, starting with your appetizers. How cool and delectable does watermelon feta mint skewers sound?
Everyone likes watermelon during summer! Have your caterer slice little pieces and attach them to stakes for easier eating—and while you're at it, make sure you have enough personalized cocktail napkins on hand.
Beer Bath
A steady supply of cool alcoholic beverages is a surefire approach to keep your guests happy and pleased all day. A beer bath filled with an assortment of ice-cold beverages is ideal for a casual outdoor event. Replace the bathtub with a canoe, wheel barrel, or wagon. Include these modern bridesmaid and groomsman pilsners for a more fun experience.
Beer Coolie Favor
Nothing screams summer like a can cooler. Spare your loved ones from the unpleasantness of drinking warm beer with koozie wedding favors. Set the drink accessories by the beer bath so they are put to immediate good use.
Give each guest a unique wedding koozie that includes the state in which you were married. This personalized drinkware may be carried during a casual summer event and then utilized for a long time.
With several colors to choose from, you may select a shade that complements your wedding theme.
Mugs
Mugs may be associated with the colder months. However, camp mugs will send guests back to their summer sleepaway days. This drinkware can also be set next to the beer bath. A perfect sip companion.
Cocktail Popsicles
Who doesn't love a refreshing popsicle on a hot summer day? Serve popsicle cocktails at your wedding to keep your guests cool and refreshed.
Provide guests with homemade or store-bought popsicles that are guaranteed to be a crowd-pleaser and delightful treat.
Infuse with fruits and herbs for extra flavor and prettiness. Focus on flavors like mint, cucumber, and berries. These are always crowd-pleasers.
Ice Cream
Serve ice cream instead of (or in addition to) cake as a summery touch on your wedding dessert. You can have a roll-up truck arrive at your wedding celebration. Offering guests where to get ice cream scoops on a sunny day will be an absolute delight.
Shot Glasses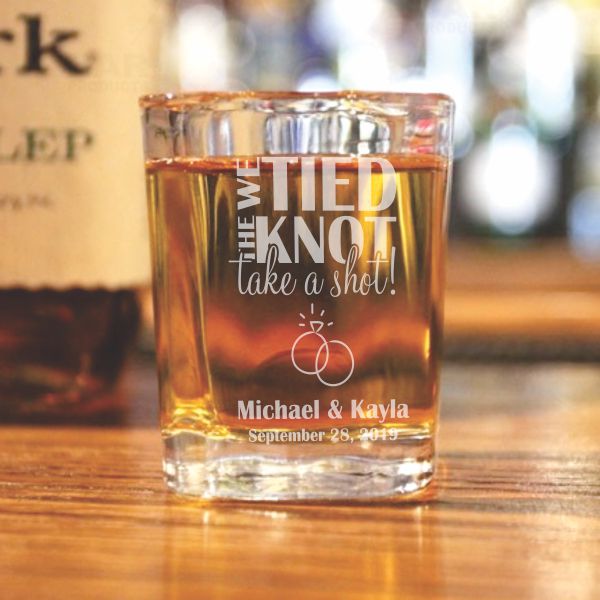 A shot is the best way to commemorate a special moment. While shot glasses are delicate, they survive a long time, so you can be certain that your guests will use them for years to come. Cheers!




Personalized Stainless Straw
Dump the controversy over plastic straws and go for stainless steel straws instead. Not only will your guests be able to reuse them, but they will be reminded of your day with each sip thanks to a unique engraving of the newlyweds.
Mason Jars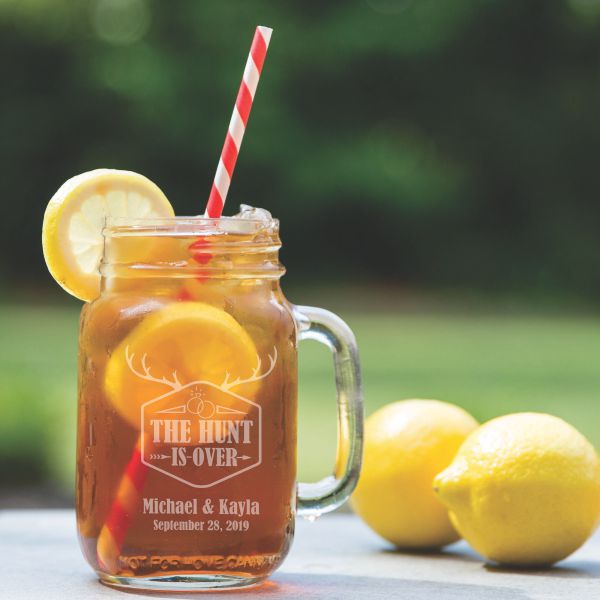 Signature cocktails are not only a terrific wedding concept, but you can amp up the oomph by turning each drinkware into a wedding favor. Guests can sip lemonade (and whatever else they choose) from this drinkware for the remainder of the summer.




Flasks
When it comes to summer weddings, another vehicle for celebratory adult beverages is always a smart idea. These handmade flasks fit the bill well.
Have a (Coconut) Water Station
With a coconut water station, you can keep your visitors hydrated while also providing them with A+ social media content. The tropical beverage will quench their thirst, and the coconuts are aesthetically pleasing.
Make the Bar a Focal Point
At your summer wedding, you'll most certainly be outside, and nothing screams cool like a bar outside. Guests may enjoy their beverages in the sunshine, and the bar can be decorated with flowers and foliage garlands, or it can be situated against a lovely beach backdrop.
Opt for a Summer-Friendly Dessert Station
Do you want to really wow your guests? Make a summer-friendly dessert table with icy delicacies like ice cream or Popsicles to keep everyone cool on the dance floor. Alcohol-spiked shaved ice is a wonderful, adult-friendly way to take the idea to the next level!
Set Up a Refreshments Station
With a range of delectable, refreshing, and hydrating beverages, you can help guests beat the heat when they arrive. This will keep everyone balanced before the cocktails begin to flow.
You can put up a refreshment bar with cucumber water and iced tea on the back of a painted antique truck for a creative twist.
Provide Mini Margs
When summertime arrives, who doesn't like a cool margarita? At your cocktail hour, serve adorable mini margaritas to take your guests to the tropics.
Minimize Time in Direct Sun
The last thing you want to do is make your guests stand in the sun for hours on end. While we recommend keeping the time between your ceremony and reception as short as possible at any time of year, it's especially important when temperatures rise. Reduce the amount of time you spend outside without shade, and attempt to schedule your wedding for the cooler times of day, such as a sunset ceremony and evening reception.
Conclusion
There's a "stay cool" concept to help any couple get ready to say "I Do" in the warmer months, whether you're searching for creative, easy, fancy, or budget-friendly. Above all, your guests will appreciate your efforts to make their summer fun as easy as possible!