Unique Retirement Gifts for Women
Jan 25th 2022
Freedom from work at last!!! That is the first thing that comes to the mind of most retirees, followed by how they go about enacting the several plans they already have in mind. Retirement day is one of the days many women look forward to. They take the day very seriously. Okay, let us say they take it a little less than their birthdays, children's birthdays, and of course their wedding day.
While no woman retiree will say it aloud, they want and deserve gifts. However, choosing a gift for them can be challenging. For instance, some people will go with any gift, while others will go for something unique. Uniqueness can vary based on many factors; however, no matter what the woman has planned for her golden years, there's a perfect farewell gift for her. To make it easy, here are a few personalized retirement gifts for women and how to choose the right one.
Personalized Retirement Clocks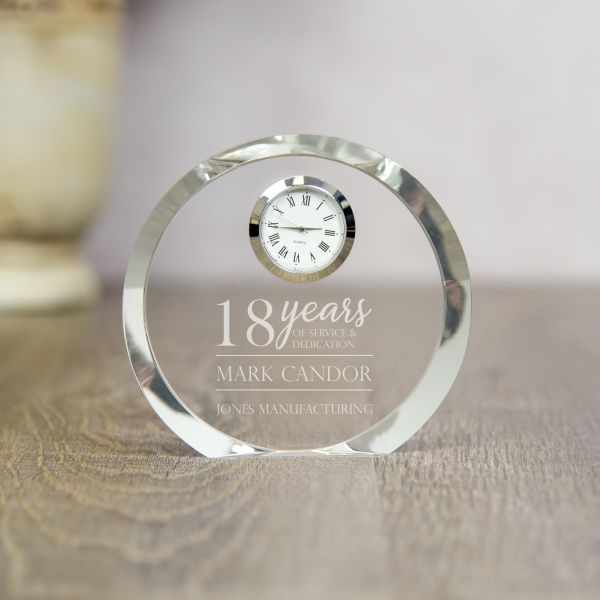 Getting a personalized clock is beautiful as it reflects a unique sense of style. There are many designs to choose from. For example, one that ranks high among wall clocks for retiring women is the dedicated service crystal clock. From the name, it is made of optic crystal. It also has an overall diameter of 4½ inches, a clock face diameter of 1 inch, and a replaceable battery,

Aside from the beauty and sense of style associated with this gift, other reasons why we think it should be number one on your list are its simplicity and personalization. We doubt that a retiring woman would say a no to a clock bearing her years of service and dedication, the recipient's name, and the company. Would you?
Personalized Retirement Cutting Boards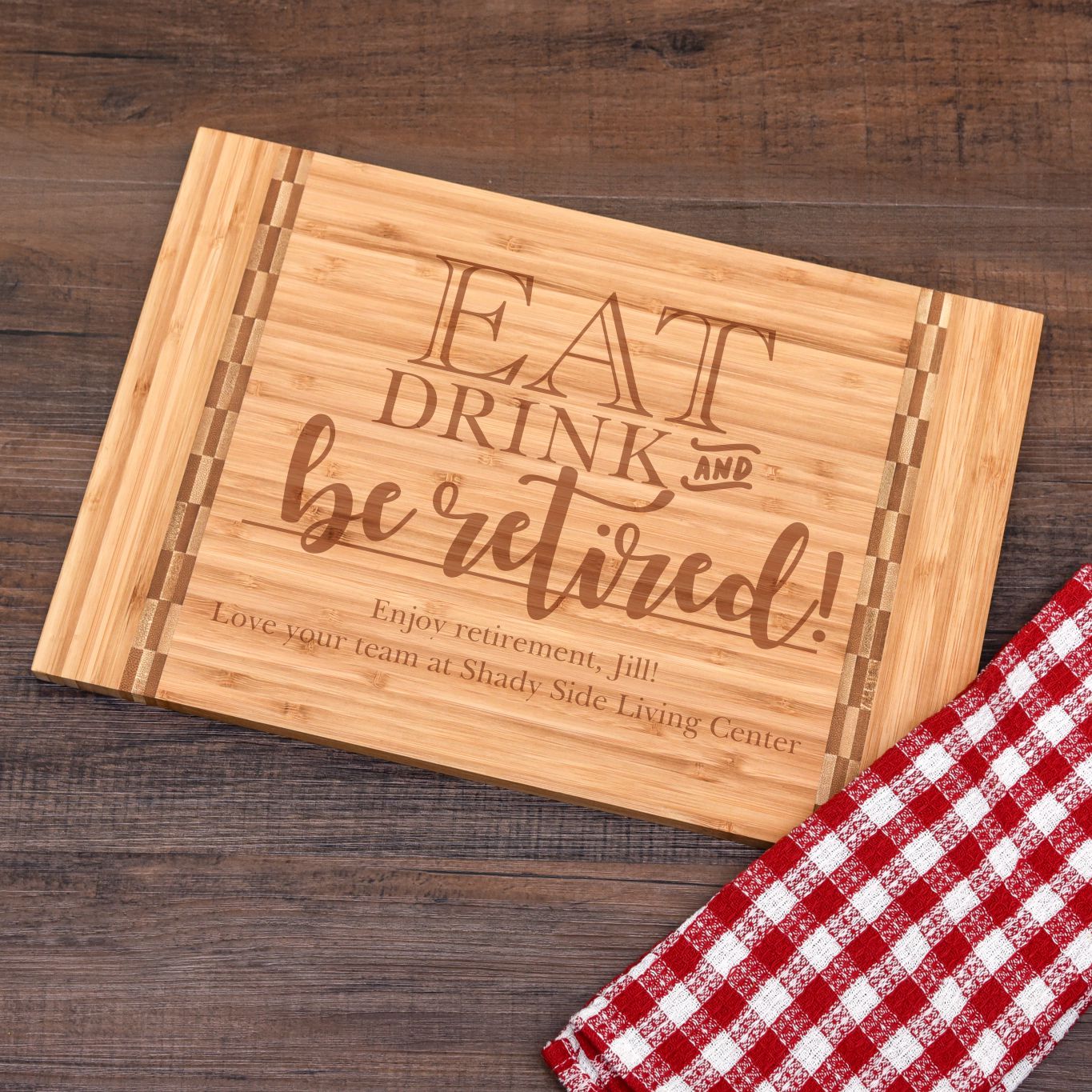 Imagine your mom pulling a kitchen drawer and bringing out a cutting board with the inscription, "Enjoyment your retirement Mummy, love Jill." We believe you picture your mother smiling while she continues cooking.
A cutting board is one of the best things for retiring women known for loving cooking. There are many designs with different inscriptions but there is something about the Eat, Drink and Be Retired Cutting Board.
This personalized gift is made from a bamboo cutting board with butcher block inlay. As a result, each gift is personalized based on the grain. It measures 15 inches by 10 ¼ inches by ½ inches and laser engraving is used for personalization. However, depending on your requirement, the engraving depth and color shade can vary.

Personalized Retirement Wind Chimes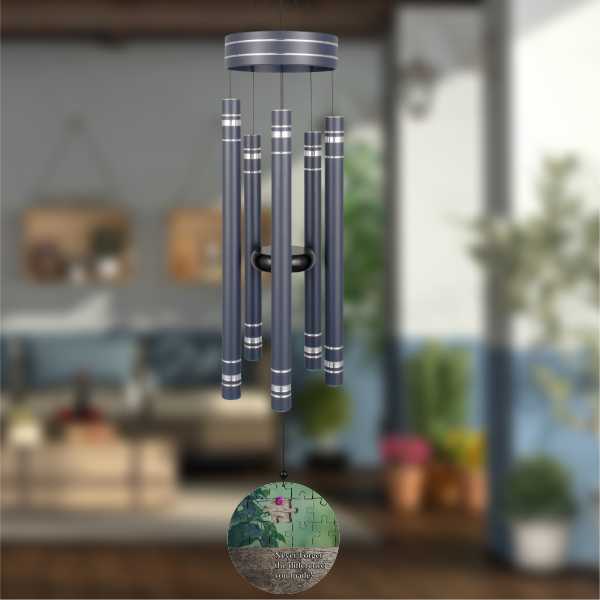 There is that tingling sound of the wind chime that is alluring. The way they strike each other, producing an inconsistent melody, announcing the wind while the wind blows through your hair. A beautiful idea when looking for a personalized retirement gift for women into gardening and nature.
There are many types of personalized gift wind chime you can get. However, one that seems to appeal to us is the You Made a Difference Retirement Wind Chime. The wind chime has a durable pewter powder coated finish, all-aluminum construction, adjustable striker for the perfect tone, and a wind sail that contains an engraved message for the retiree.

Personalized Retirement Travel Mug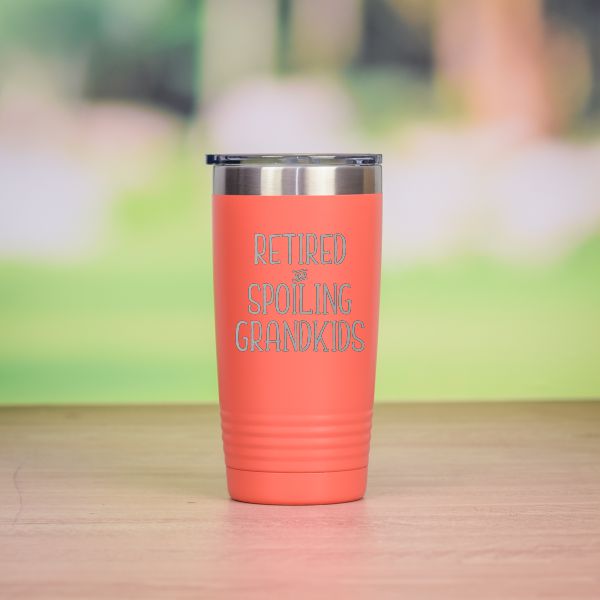 Take an early morning sip from a personalized retirement mug, and you will know that there is something unique about such a cup. Well, that is only possible in the hand of a retired person as the mug gives a feeling of someone free from the hustle-bustle of the day.
There are many types to go for, but one that is more aesthetically pleasing to us is the Finish the Sentence Retirement Travel Mug. The travel mug comes in three colors (navy blue, black, and coral) and can hold up to 20 ounces of liquid. It also has double-wall insulation with a clear lid. What makes this product the perfect retirement gift is not only its amazing quality but its personalization. There is a low tendency to say no to such a perfect gift.
How To Choose the Right Gift
Before a gift for women retiring from work, here are some tips you should consider that will help you choose the right one.
Tip #1: You Don't Have to Spend a Large Sum of Money
You don't have to spend a ridiculous amount of money on a gift to have a perfect one. Sincerely, most people (not even only retired women) don't really care about getting them a highly pricey gift. If you want to get a gift at a high cost, you can definitely get that. However, a simple personalized gift can make a difference in memory and set you apart from the crowd.
Tip #2: Get to Know Her Hobbies
Understanding a person will definitely help you select the right gift for them. If you are a colleague at work with the retiring woman, you should infer her hobbies. If not, you can get from her family and friends what her hobbies are. From there, you can get something perfect. For instance, for women that love gardening, a personalized gift wind chime or a lantern would be a sweet gift. What of those that love cooking? A cutting tray?
Tip #3: Be Creative
Many people love creativity, and retiring women are no exceptions. Choosing the right gift for the retiring woman involves creativity and the packaging should also be creative. For instance, instead of wrapping the crystal clock in regular wrapping paper, why not find a more beautiful packaging material or style. It also wouldn't be bad if you make gifting an event, especially if you are colleagues at work. It would leave a mark on her heart how beautiful the act was.
Tip #4: Personalization Can Make a Difference
Nobody would say no to a gift that bears information about themselves or something they like. Therefore, personalized gifts are the best gifts to give women retiring. It can include a phrase they find amusing, their initials, or a quote that means much to them.
Tip #5: Avoid Age-Related Gifts
If possible, don't gift people retiring a gift indicating their age. Most retiring women do not like being idle and might start a business or part-time work after retirement. Getting a gift that indicates how old they are can be a little somehow to them
Tip #6: Include a Bit of Yourself
Unconsciously when we gift people, we make them remember us. Therefore, it is proper to make the gift include a bit of yourself. While you get a personalized gift for them, ensure that when they look at it, they remember you with a smile on their face.
Conclusion
Getting the right gift for a retiring woman can be challenging. Whether you are in a workplace or a family and friend, you can choose from our list of personalized retirement gifts for women that will leave an imprint on their minds.